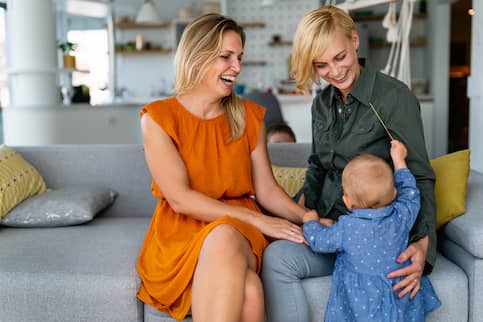 VA Cash-Out Refinance: Definition, Requirements And More
Published on November 22, 2021
The Department of Veterans Affairs (VA) provides several benefits to eligible homeowners with current VA loans, including the ability to convert home equity into cash with a VA cash-out refinance. This type of cash-out refinance helps you tap into most or all of the equity in your home.
Let's take a closer look at a VA cash-out refinance and how it works. Then, we'll explore the unique refinance requirements for this cash-out refi option.
What Is A VA Cash-Out Refinance?
A VA cash-out refinance replaces your current mortgage with a new VA home loan. If you're eligible for a VA loan and looking to utilize your home equity to take cash out for debt consolidation, renovations or another reason, you can get a loan for up to the conforming loan limit or more if you're willing to make a down payment. You also have the option to refinance a non-VA loan into a VA-backed loan if you qualify, which is likely to have better terms than other mortgage options, such as conventional mortgages.
When Is A VA Cash-Out Refi A Good Idea?
If you know your current home's appraised value, you likely already know how much cash you can take out against your home equity. This is great for homeowners who need a little extra money for home improvements or repairs, debt consolidation, a college or retirement fund or other financial needs.
You may also be able to get better loan terms if you refinance your FHA or conventional loan into a VA loan. This could include locking in a lower interest rate, securing lower monthly mortgage payments and even eliminating mortgage insurance fees. Being able to fully utilize your home equity to convert it to cash is just one of the numerous features a VA loan offers eligible active-duty service members, veterans and their families.
How Does A VA Cash-Out Refinance Work?
VA loans are backed by the federal government, which lowers the risk for the lender, allowing for better loan terms. The process to get a VA cash-out loan isn't much different from applying to refinance with any other loan. You'll shop around for the best terms before choosing a VA-approved lender, and then you'll submit a loan application.
Cash-Out Refinance Requirements
To unlock VA loan benefits, you'll need to show your lender a VA Certificate of Eligibility (COE), which essentially confirms that you've met one of the following requirements to qualify for the loan:
You're a veteran with 90 or 181 days of continuous active-duty service or you served a total of 90 or 181 days active-duty (requirement varies by when you served).
You're active-duty service and have served 90 consecutive days.
You had 6 years of creditable service in the Reserves or National Guard or at least 90 days under Title 32, with at least 30 days being consecutive.
You're the surviving spouse of a service member who died in the line of duty or from a service-related disability.
It's worth noting that service-time requirements don't apply if you were discharged due to a service-related disability.
Your COE is crucial to qualify for the VA loan benefits. To convert all of your home equity into cash, you'll also need to meet your lender's minimum credit score requirement. This credit score can vary by lender, but Rocket Mortgage® requires that borrowers have a score of at least 620. If you have a credit score below 620 but above 579, you can cash out up to 90% of your home's equity.
Cash-Out Limits And Restrictions
Until recently, Rocket Mortgage clients had to leave 10% equity in their homes when doing a VA cash-out refinance. You no longer need to leave 10% equity in your home if you have a credit score of 620 or higher and you're using a VA loan to take cash out. While having the ability to convert 100% of your home's value into cash can give you increased financial flexibility, there are some restrictions you should know about.
Although the VA itself doesn't have loan limits, many lenders use conforming loan limits as a guideline. The conforming loan limit for 1-unit properties across most of the country is $647,200, but it may be higher if you have more units or live in a high-cost area.
Other than those restrictions, all the usual VA loan guidelines apply. If you're getting a fixed mortgage, your debt-to-income ratio (DTI) – a measure of your monthly debt payments compared to your monthly income – should be no higher than 60%. For adjustable-rate mortgages (ARMs), this limit is 50%.
VA Funding Fee
Don't be surprised to make it through the loan application process and see a VA funding fee at closing. According to the VA, the fee is meant "to lower the cost of the loan for U.S. taxpayers."
While the VA funding fee can often be rolled into your mortgage, you're responsible for paying the closing costs when you close on a VA cash-out refinance. Check with your lender to determine exactly how much you owe at closing.
How To Get A VA Cash-Out Refinance
Applying for a VA cash-out refinance is similar to a standard mortgage process, though you'll need to meet the qualifications for a VA loan. Start by comparing VA lenders and choosing the option that offers the best rate and loan term for your financial situation. Then, you'll get your COE and complete your application to refinance. This step includes submitting all necessary mortgage documentation, like pay stubs, bank statements and W-2 forms.
After completing your application, your lender will order a home appraisal to determine how much equity you have in your house and the amount that's available to withdraw with the refinance. Finally, you'll go through the underwriting process and close on your new loan. You'll also pay closing costs and sign any documents to finalize the cash-out refinance.
VA Cash-Out Refinance Rates
VA mortgage rates tend to be lower than conventional or FHA loan products because VA cash-out loans are considered less risky for lenders. However, your refinance rate can depend on other factors connected to your personal finances. For example, your credit score and property value often play a role in the rate you're offered.
Stay updated on current cash-out refinance rates and compare VA lenders to see which one will offer the lowest cash-out refi rates to meet your financial needs.
VA Cash-Out Refinance Vs. VA Streamline Refinance
If you're looking to lower your rate, change your term or both, it could be worth your time to look into a VA Streamline Refinance (also called an Interest Rate Reduction Refinance Loan, or IRRRL).
The first major benefit of a VA Streamline Refinance is that you can refinance to potentially lower your rate or change your term even if you owe more on your home than it's worth. You can get a VA Streamline loan amount for up to 120% of your home's current value. If you're currently a Rocket Mortgage client, you can do this with a median FICO® Score as low as 620.
The other big benefit of the VA IRRRL is the reduced VA funding fee. Instead of a monthly mortgage insurance charge, VA loans have a one-time funding fee that may be paid upfront or rolled into the loan. On Streamlines, this fee is only 0.5% of the loan amount.
As with all VA loans, the funding fee on Streamlines can be waived if you're receiving VA disability or applying as a surviving spouse of a veteran who died while in service or as a result of a service-related disability. If you're a Purple Heart recipient serving in an active-duty capacity, you're also exempt from the funding fee.
The Bottom Line
A VA cash-out refinance can be a great option if you plan to use the money to improve your financial circumstances by renovating your home, advancing your education or embarking on another financially worthwhile endeavor. Remember, refinancing resets the clock on your loan term, so you may be looking at another 30-year loan.
If you have any interest in a VA cash-out refinance loan or VA Streamline, we can certainly help. Apply for initial approval online to see how you qualify.