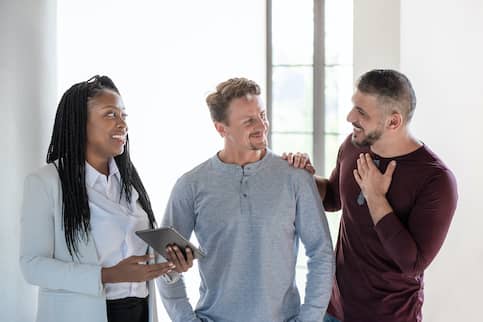 Refinance Appraisal: What You Can Expect And How To Prepare
Published on September 20, 2021
Refinancing your home can offer some major perks: For example, you might get a more favorable interest rate. You might change your financing terms. You may tap into your home's equity as part of the refinance.
Some of the steps will seem familiar. For example, you'll still have to get an appraisal as part of the refinance process – just like you did with your original home purchase.
Let's go over refinance appraisal basics so you smooth the path to your refinance. You may have a few different options, whether you're buying, selling or refinancing.
Getting A Home Appraisal For A Refinance
First, let's go over the exact definition of an appraisal. An appraisal refers to the estimated market value of your home. An appraiser determines the value of your home by inspecting your property and comparing it to recently sold homes in the area. When your home undergoes a purchase appraisal, you cannot be present. Unlike with a purchase appraisal, you can be present for the refinance appraisal.
Let's learn more about why you might want to refinance and go through the steps for getting a refinance appraisal.
Why Do Homeowners Refinance?
Why might you want to refinance your mortgage? Let's take a look at some of the following reasons:
To get a lower interest rate or monthly payment through a rate and term refinance: A rate and term refinance lets you change out your current mortgage for a new mortgage agreement. You'd likely do this to achieve a more attractive interest rate and financing terms.
To convert your equity into cash for home improvements or debt consolidation using a cash-out refinance: A cash-out refinance allows you to kill two birds with one stone: You convert your home's equity into cash and refinance your mortgage at the same time.
To change your loan from a fixed-rate to an adjustable rate mortgage (ARM) or vice versa: A fixed-rate mortgage refers to a mortgage in which the interest rate remains the same for the duration of your loan term. In other words, you'll keep the same interest rate for the life of your loan.
An ARM, on the other hand, refers to a home loan with an interest rate that is fixed for a period of time and then adjusts over time due to market conditions.
To get rid of private mortgage insurance (PMI): If you pay less than 20% down for a conventional mortgage, a mortgage backed by either Fannie Mae or Freddie Mac, two government enterprises, you'll have to pay PMI. Most PMI payments roll up into your monthly mortgage payment. A lender usually cancels PMI once you reach 22% equity in your home, or once your principal balance reaches 78% of the original value of your home. Refinancing can get you there faster.
Do any of these reasons encourage you to refinance? If so, let's go more in-depth on a refinance appraisal.
Do You Need An Appraisal To Refinance?
A lender almost always requires an appraisal when you choose to refinance because they want assurance that they aren't lending more than what your home is worth. A refinance appraisal can determine if the home has depreciated at all since its purchase.
The main instances in which you might not have to undergo an appraisal include for FHA, VA or USDA loans.
What To Do With A Low Appraisal
Sometimes an appraisal comes in low. This means that it could cause problems for you – you may not be able to take out as much equity.
If your appraisal comes in too low and shows that you're underwater, your lender won't allow you to refinance. Remember that the lender cannot have had any influence or conversation with the appraiser regarding the valuation of your property. By law, lenders cannot influence the value of a home.
If your home appraisal comes in low, borrowers have a few options:
You can contest the appraisal and request a new one if it comes back lower than you expected, but be prepared to offer plenty of proof that your home actually is worth more than how the appraiser valued it.
You can pay the difference in your closing costs, but if the appraisal dips much lower than the loan amount, this may not be an affordable option.
You may have to wait to refinance until the home values in your neighborhood go up.
What Do Appraisers Look For In A Refinance Appraisal?
Appraisers look into a few critical factors that they use to determine how much a home is worth. So, what do appraisers look for in a refinance?
They take a look at the following components of your home to determine your home's value:
Condition of the interior and exterior
Condition of the home's utilities (plumbing, electrical, HVAC, etc.)
Number of rooms in the home and any additions
Upgrades and improvements made to the home since its purchase
Location of the home
Comparable sales in the area
Your Refinance Appraisal Checklist
You can do a lot to improve your chances of getting a higher appraisal of your home. You certainly want to do as much as you can to eliminate the risk of having a low appraisal, so consider the following tasks before an appraiser comes to your home in our handy refinance appraisal checklist:
Add some curb appeal to the exterior of your home, such as adding attractive landscaping or flagstone walkways.
Declutter and organize the interior of the house. Pick up toys, remove excess items from the walls and more.
Test and repair the home's major systems. If an HVAC system needs repairing, for example, replace or fix it prior to the appraisal.
Consider making small upgrades that increase your home's value, such as refreshing the paint in your home and fixing worn carpeting or scratched wood floors.
Research comparables, or "comps," in your area yourself through public property records.
Appraisal Options For A Refinance
Depending on your lender, the loan program you choose and loan guidelines, you may encounter the following types of appraisals aside from a traditional in-house appraisal visit:
Drive-By Appraisal
A drive-by appraisal, also called a summary appraisal, means that an appraiser takes a look at the outside of your home and also looks at real estate records to appraise the value of your property. Usually, appraisers in a drive-by look at the exterior of a building quickly, and for a lower price, obtain an estimated value of your home.
Hybrid Appraisal
A hybrid appraisal looks a lot like a traditional appraisal. However, in this case, the appraiser does not complete both the home inspection and the appraisal report. Instead, the process gets split into two parts, and a different person completes each section.
Desktop Appraisal
A desktop appraisal looks more similar to a drive-by appraisal, except that it doesn't involve an outside inspection at all – it occurs at an appraiser's office. The appraiser uses tax records and information listed on the multiple listing service (MLS) and does not do an in-depth examination of a home in person.
No-Appraisal Refinance
Some refinances won't require an appraisal, dubbed "no appraisal refinances." The following loans do not require a refinance appraisal:
FHA Streamline refinance: An FHA Streamline refinance doesn't require an appraisal and can help you lower your interest rate and monthly payment if you have an FHA loan.
VA Interest Rate Reduction Refinance Loan (IRRRL): A VA loan also has a Streamline refinance option, called a VA Streamline refinance, or Interest Rate Reduction Refinance Loan (IRRRL). It also doesn't require an appraisal because the VA knows the value of your home and relies on that figure for your refinance.
USDA Streamline: Similar to both FHA and VA loans, a streamline refinance for a USDA loan also doesn't require an appraisal because you go directly from one USDA loan to another. Rocket Mortgage® does not offer USDA loans.
How Long Does A Refinance Take After An Appraisal?
A refinance typically takes 30 – 45 days to complete from start to finish, but how long does a refinance take after appraisal?
When the appraisal comes in, it shouldn't take longer than two weeks to close on your mortgage. However, it's impossible to tell you exactly how long your refinance after your appraisal will take because other third parties can delay the process.
Your lender can help you gauge how long the process will take. Make sure you're as forthcoming with information as possible so you don't inadvertently delay the process.
The Bottom Line
Homeowners who choose to refinance can find several options and some may not require an appraisal. When required, the refinance appraisal has to be supported by changing market conditions and/or documented improvements made to the property.
You can get your refinance started by applying today with Rocket Mortgage.
View Your Refinancing Options
Call our Home Loans Experts at (800) 251-9080 to begin your mortgage application, or apply online to review your loan options.
Start Your Refinance Online