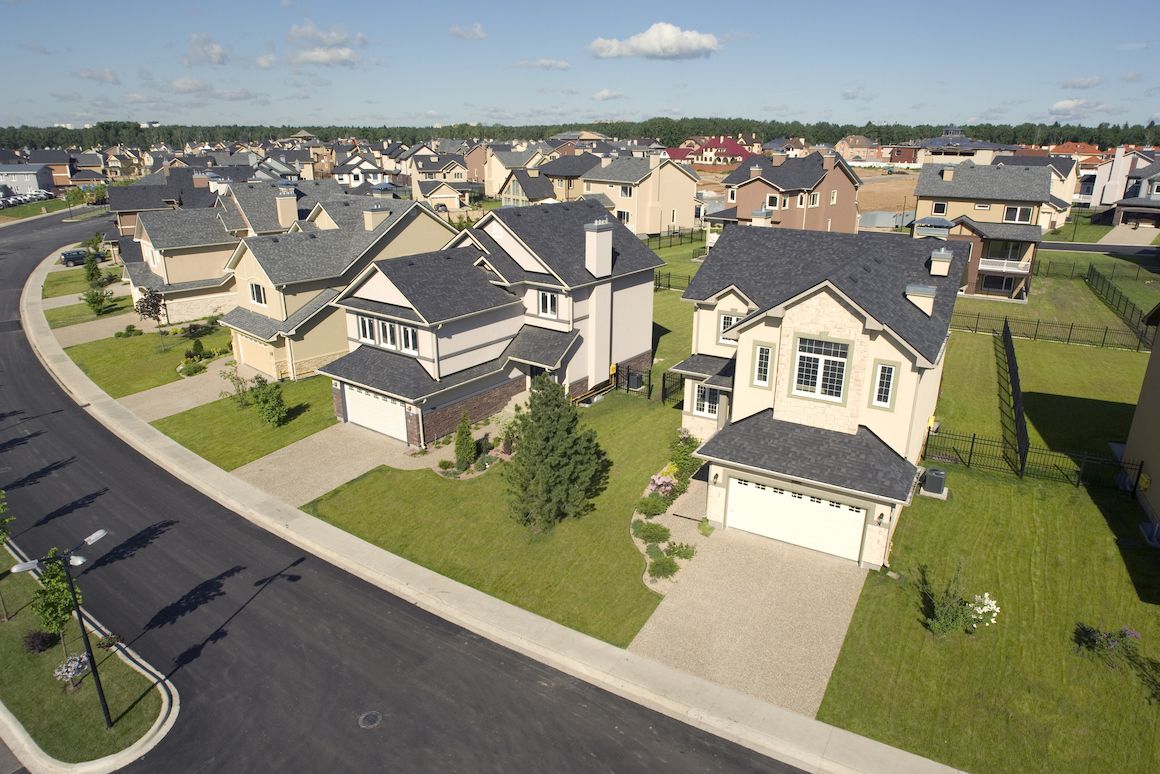 How Much Is My House Worth? A Home Value Guide
Published on December 5, 2019
Considering it's likely your biggest asset, you should know how much your house is worth. While having a clear sense of your home value is crucial if you're planning to sell your property, it's also useful to know even if you don't plan to sell anytime soon.
For those of you who want to make improvements on your property, you may need some help paying for the work that needs to be done. If you're seeking a home equity loan or line of credit, lending institutions will want to know the value of your home before offering you any funds.
Regardless of what stage of homeownership you're currently in, it never hurts to learn more about your assets. By reading this article, you'll learn about home value, its influences, and how it's determined. We'll also go over how you can potentially increase your home's value before getting it appraised.
What Is Home Value?
Home value is the prospective sale price of a property (also known as the current market value). Home value depends on a variety of factors, including the home's size, condition, features and location, as well as real estate market pressures like availability and interest rates.
6 Factors That Influence Home Value
Figuring out how much your house is worth is not an easy calculation as there are many influencing factors. When evaluating your home's value, you need to consider your house itself – the square footage, rooms, features and condition – as well as where it's situated – the land it's on, the neighborhood it's in and the market in which it would be selling.
1. Home Size And Rooms
When it comes to home value, size matters – both outside and inside your house. The size of the lot your home sits on can affect its worth immensely. While homes can be renovated to increase their size, land cannot, so the acreage of your property will be a vital measure in determining its value.
The square footage of your house enables professionals to be more objective in creating an evaluation as they calculate the price per square foot. Home buyers also tend to use this calculation to determine whether the pricing of homes is competitive enough.
Beyond the square footage, the total number of rooms is also factored in. Home buyers look for homes that have the most livable space, which tends to include everything but unfinished basements, attics and garages. So, the more livable space you have in your home, the higher its value will be.
A fundamental driving force of home value is the number of bedrooms and bathrooms present in a house. Homes that have more bedrooms and bathrooms can more comfortably accommodate people, which is why they're preferred. Bedrooms that have windows and enough room for at least a double bed are more desirable. In some states, bedrooms must have windows to be considered legal.
Homes are also worth more when the number of bathrooms is equivalent to the number of bedrooms. En suite bathrooms are always favored, but there should also be a powder room accessible from the common area.
2. Home Features
Features that tend to increase the value of your home the most are those that are uncommon for homes in your area. Esteemed features often include state-of-the-art appliances, media rooms, gyms, pools and driveways that lead to garages.
High-tech and energy-efficient homes are very popular these days. Buyers like the convenience of having remote-controlled security and climate, as well as saving money through solar panels and geo-thermal systems.
Yet, real estate trends can influence the desirability of home features significantly, which is why the value of certain features tend to change over time. For example, while homes with formal dining rooms were once highly coveted, it's now houses that have great rooms with open layouts that are in the most demand.
When determining whether your home has features that will increase its value, the best method is to survey the houses in your area to see how they stack up. Your living room may have a fireplace, but it probably won't impact the value of your home if every house on the street has one, too. However, if your house is the only one in the neighborhood that has a private balcony off the master bedroom, you can bet that it will increase your home's worth.
3. Home Age And Condition
No one wants to buy a home only to find that they have to pour money into it to make it livable. Homes that are older or in worse condition can be money pits, which is why many buyers seek out new construction.
Home value diminishes with the more maintenance the house requires. Therefore, newer homes that are in mint condition receive the highest purchasing prices on the market.
However, age can be a selling point. If your home was built at the turn of the 20 th century and has well-preserved architectural details, it will gain more attention because of its historical significance.
Regardless of your home's age, you want to ensure that the foundation, roof and siding are all structurally sound, and all the HVAC, electrical and plumbing work is up to date. An engineering report can help you determine if the condition of your home will increase or decrease its value.
4. Location
As the old saying goes, home value is all about "location, location, location." While there are undoubtedly other relevant factors, where you decided to put down your roots will have an extraordinary impact on what it's worth today.
Why is that? Well, home value trends in one's city or neighborhood influence how much potential buyers will be willing to pay for it. Homes in more popular areas will garner higher prices than homes in areas that are in less demand.
Where your house is located – its proximity to highways, good schools, shopping centers, etc. – will play a role in how eager others are to buy it. So, when deciding whether the location of your home is likely to increase or decrease its value, you should think about the convenience of your area, the safety of your neighborhood and the vacancy of homes nearby.
If the streets around you are filled with empty houses, that will negatively impact your home's value. However, if your neighborhood is teeming with residents and there is rarely a home for sale, there's a good chance yours will be worth more.
5. Comparable Sales
Home value changes over time because it's largely determined by how much someone is willing to pay. The best indication of what a buyer will be willing to pay for your home is what other buyers have paid for similar homes in your neighborhood.
That is why all real estate professionals will consider comparable sales, or comps, when providing a home valuation. Professionals run comps to see what your home is worth. Homes are viewed as comparable based on their square footage, number of bedrooms and bathrooms, features, style and specific location.
Relevant comps will be homes that have sold within the last 90 days since the market fluctuates so often. However, depending on your area and timing, finding comps can be difficult. Sometimes it can be necessary to look back 6 months to find relevant sales for valuation purposes. For comparable sales to accurately evaluate a home's value, there must be at least 3 properties considered in the calculation.
6. Real Estate Market Factors
Just as recent sales in your area impact the value of your home, so does the inventory of homes currently for sale. The homes that are being listed on the market represent your home's competition. However, you have to be careful when considering current listings as they often represent what homeowners wish to get from the sale of their house and are not necessarily accurate.
In a buyer's market, there may be a slew of homes being listed that are similar to yours. If this is the case, your home will be viewed as less valuable because it's one of many. On the other hand, if the supply of homes in your area is minimal or the homes that are available are smaller, more outdated or in worse condition, you'll find that your home is worth more.
However, it's not merely the local market that impacts home value. The national market does as well. Current economic conditions can play a large role in the valuation of your home. When the economy is weak, unemployment rates rise and buying a home is far more of a risk. If consumer confidence is low and potential buyers are worried about their future finances, they will be more reluctant to pull the trigger on a new house.
The annual percentage rate will also factor into your home value because it is the full cost of borrowing funds. APR includes the interest rate and the fees that a lender charges a borrower to originate a loan. If mortgage interest rates and fees are too high at the time you put your home on the market, buyers, who require financing, will be less likely to purchase a home.
You may think you'll get lucky, but according to the National Association of REALTORS ®, 86% of buyers required financing to purchase a home in 2019. Since home value is based on what buyers are willing to pay for it, the needs of potential buyers must always be considered, and they will be based on current market conditions.
4 Ways To Determine Home Value
There are a handful of methods for getting a home valuation, but they're not all created equal. While some are convenient and more affordable, they don't necessarily give you an accurate assessment of your home. By learning the differences between the various strategies, you can decide which is best for you.
1. Use A Home Value Estimator Online
Although using a home value estimator online may seem like an easy way to determine the value of your home, you should be wary of these free tools. These home value calculators, which are more formally known as automated valuation models, may appear reliable, but they rarely are.
The benefit of using the AVMs provided on home value websites – like Zillow, Redfin and Realtor.com – is that they provide you with a basic understanding of your home value immediately.
The issue with using online home value calculators is that they do not provide accurate valuations. These tools use algorithms to estimate the value of your home based on recent sales in your area and the data they can access through the public record, which is why most merely ask you for your home address.
The information that AVMs use to calculate your home value is confined to records, such as property tax assessments, deeds of ownership and property transfers. So, anything that isn't present in those records – like upgrades, improvements and unique features – isn't accounted for.
If you're selling your home, basing your asking price on the output of an online home value estimator can cause you to lose out on thousands of dollars. So, yes, using a home value calculator is effortless and straightforward, but its valuation should be considered nothing more than a starting point.


2. Analyze Market Trends
The Federal Housing Finance Agency's House Price Calculator is another online tool that homeowners like to use. The problem with this tool is that it doesn't calculate the actual value of a house.
Instead, it looks at the extent to which the value of homes in your state or Metropolitan Statistical Area has increased or decreased since you purchased your home. So, while it can assess the appreciation or depreciation of your home in that time frame, it knows nothing of your specific neighborhood, what recent sales have been, what improvements you've made, etc.
Rather than relying on broad tools to figure out how much your home is worth, it's much more effective to try to analyze market trends on your own. Although real estate agents typically run comparative market analyses, which analyze the purchasing prices of similar homes in the area that have sold recently, you can do your own examination.
While they may not have a complete list, there are quite a few websites you can use to browse the homes that have recently sold in your neighborhood. Pick out the houses comparable to yours. The more homes you pull out, the more reliable your valuation will be.
Once you have found at least three, you can calculate the average price to gain insight into what you could sell your own home for. However, this strategy will only get you so far. As you know, even houses similar to yours will have key differences.
A proper valuation will not only average the sale price of the homes but also account for these critical differences. Calculating the price per square foot may get you closer to your home's true value, but it's still not factoring in the rooms and features. Therefore, to use comps to get an accurate evaluation of your home, you need to adjust the prices to make up for the elements these homes have that yours lacks, or vice versa.
Still, you would need explicit knowledge of the market to determine how having an extra bathroom, for example, increases the value of your home. Without this market awareness, it can be nearly impossible to adjust for all the differences between your home and the comps.
3. Speak With A Real Estate Agent
To begin with, real estate agents get better comps than you because they have access to better tools. They can run a comparative market analysis based on the information they gain from the local Multiple Listing Service, which has a more complete rundown of all sales in your area.
Real estate agents will also go beyond the comparable sales and consider what makes your home different. They'll factor in the condition of your home, the number of rooms, the upgrades and improvements you've made, etc. They'll consider all of the features that your home has that the comps lack.
Another benefit of speaking to a real estate agent is that agents can offer tips for how you can increase the value of your home. While an appraiser will come by and provide you with a final estimate of your home value, a real estate agent will show you how to improve it. With their knowledge of the industry, they're able to create a punch list of minor repairs and updates that can help you get a more money for your home.
4. Get A Home Appraisal
Home appraisals are often considered the ideal way to determine your home's value. While a real estate agent will provide you with a home valuation based on what the agent thinks your home will sell for, an appraiser will tell you how much your home appears to be worth.
Lenders tend to rely on appraisers for home valuations because they consider the appraisal process to be slightly more rigorous. Appraisers will run comps just like real estate agents, but they'll dig deeper into the public records, research more information about your neighborhood and complete a thorough inspection of your home.
Appraisers will open every door, turn on every faucet and check every appliance. They'll examine the structural integrity of your home and the condition of your electrical, plumbing and HVAC system.
Home appraisals tend to cost $300 – $400, which is why some homeowners prefer to get the opinion of a real estate agent instead. And, even if you do get your home appraised before putting it on the market, your home will more than likely be appraised again when any potential buyer inquires about financing.
4 Ways To Increase Home Value
Before you get a home valuation, there are steps you should take to prepare. You want to ensure that your estimate comes back with the highest price possible, so you should try to increase the value of your home the best that you can. Here are four common ways to do this:
1. Itemize All Upgrades And Improvements Made
Before you have any real estate agent or appraiser survey your home, it's useful to make a list of all of the upgrades and improvements you've made over the years. If you've added a new water heater, fixed the foundation or updated the kitchen recently, you want to ensure that the work is factored into your home value.
The upgrades and improvements you've made may not be evident to others, which is why you need to have a list ready to present to any real estate professional who will be assessing your home. Take a tour through your house, stroll around your land and itemize everything you've done to you enhance your property. Your list will ensure that the professional evaluating your home doesn't miss anything.
2. Assess What Work Needs To Be Done
No matter how recently you've purchased or renovated your home, there will always be work that still needs to be done on your property. Don't think that it will go unnoticed. Any professional who provides a valuation of your home will be looking out for problems.
It's vital that you're aware of all of the issues your home may have beforehand. So, go through your entire property again and make another list. This list should include all of the upgrades and improvements that need to be made. Look out for peeling paint, crumbling siding, broken appliances and any damage that may detract from the value of your home.
3. Make Repairs
After you've made a list of the work that still needs to be completed on your home, consider what repairs you can affordably make before having your property value assessed. Adding a fresh coat of paint to the exterior of your home, mowing the lawn and trimming the trees are great places to start as they are cheaper and will greatly improve your home's curb appeal.
You're probably not going to take this opportunity to finally finish your basement, but you should fix leaking faucets, reinforce your doors and seal cracks around your windows. All easy repairs should be made immediately, and you should consider working on some of the more significant issues. By speaking to a real estate agent, you can get a sense of which repairs will be the most useful in increasing your home value. This is the best way to maximize your time and budget as not all work will lead to a return.
4. Organize And Clean Your Home
Although the organization and cleanliness of your home do not directly impact its value, they do make an impression on real estate professionals and buyers alike. If your home is dirty and disheveled, it will appear to be smaller and in worse condition.
That's why deep cleaning is always necessary when you're trying to increase the value of your home. Make sure that storage areas are not overflowing – tidier closets, attics and basements look bigger. Get rid of anything that's blocking any doorways and crawl spaces – every part of your property should be easily accessible before it's evaluated.
Final Thoughts On Home Value
Remember, there are a number of factors that will influence your home value. The big ones will be your home's square footage, number of bedrooms and bathrooms, condition, location and the recent sales nearby. When estimating its value, be sure to go beyond the average home value estimator you find online. As convenient as these tools are, they will lead you to miscalculate your home's worth by thousands of dollars.
Instead, speak to a real estate agent. Agents have the tools and experience necessary to find appropriate comps and adjust the sales price based on the unique aspects of your home. Furthermore, agents will be able to help you decide what repairs are most crucial for you to make in order to get the best price for your home. Home value is not easy to gauge, which is why it is always useful to have help.

Looking for a real estate agent?
Visit Rocket Homes Real Estate LLC to get connected with an experienced agent in your area.
Find an Agent