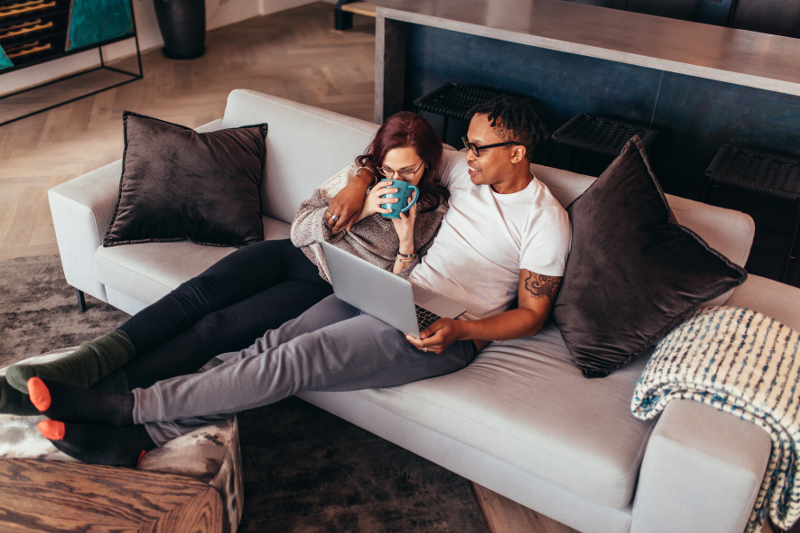 Who's Involved When Buying A Home?
Published on April 11, 2019
Buying a home can be a complicated process with lots of people involved. From bankers to real estate agents and others, each person has a specific role when handling your mortgage.
Knowing who is involved and what role each person plays can help you understand what to expect at each stage of the mortgage process. The details can vary from by lender; this article explains what to expect when you apply to buy a home through Rocket Mortgage ®.
Buyer
It all starts with you – the buyer. Before you approach a lender to begin the mortgage process, there are several things to consider:
What kind of home and location would best suit your needs?
How much could you comfortably pay on a mortgage loan each month?
How long would you want to live in the home?
Knowing these things can help the process go more smoothly.
Your lender will require a lot of documents and information from you when you apply for a mortgage. Some of these include proof of income documents (paystubs, W-2s, etc.), bank statements and tax returns. If you're buying a house with someone else, such as a spouse or family member, make sure this person is prepared to apply for the mortgage and has financial information readily available, as well.
Finally, if there are any events coming up that could impact your income or credit score, bring them to your lender's attention. Examples include getting a new job, opening or closing a credit account and purchasing a vehicle.
Seller
Just as there may be more than one buyer, there may be more than one seller. And, the seller isn't always the homeowner. It's not uncommon for financial institutions, housing development companies or government agencies to sell homes.
A seller has the option to sell the home as "For Sale by Owner" but will typically hire a listing agent. Regardless, it's in your best interest to have a real estate agent represent you when shopping for a home.
We'll explain the role of each agent shortly.
Ultimately, the seller's goal is to sell the home for the best price possible, as quickly as possible. The reason for selling can influence the listing price and willingness to negotiate. For example, if sellers have a high loan-to-value ratio on their home, they might not be as willing to negotiate a lower price.
Home Loan Expert
When you're ready to start looking for a home, it's best to start by speaking to a Mortgage Banker, or Rocket Mortgage ® Home Loan Expert, to discuss what type of loan you can get. The Home Loan Experts at Rocket Mortgage ® help you decide which loan options are best for you based on your qualifications and budget. They'll use this information and their knowledge of the mortgage industry to determine which loan programs you qualify for and how much home you can afford, so you don't waste time searching for homes outside your price range.
Home Loan Experts will also help you apply for a mortgage. Your lender will issue a letter (often called an approval, preapproval or prequalification letter) stating how much you can afford. You can share this letter with your real estate agent to start shopping for a home and let sellers know you're a serious buyer.
It's important to note the difference between Mortgage Bankers and Mortgage Brokers. Mortgage Brokers connect borrowers with several lenders to find the best home loan solution. Mortgage Bankers work for the lender that you borrow from, such as Rocket Mortgage ®.
Real Estate Agent
Because finding a home and making an offer can be a complex process, it's helpful to have a trained professional by your side. That's where real estate agents come in.
Real estate agents are licensed in negotiating sales and purchases. When you buy a home, there are typically two agents involved:
A buyer's agent who helps you buy a home
A listing agent who lists the home and helps the seller sell the home
Your agent will negotiate the home purchase with the listing agent on your behalf, rather than having you negotiate directly with the seller. Let's take a look at each agent's role and responsibilities.
Buyer's Agent
After you've been approved for a mortgage loan and know how much home you can afford, a real estate agent can help you find a home and prepare an offer.
Your agent will help you browse home listings and schedule in-person viewings. An experienced agent can serve as a knowledgeable resource on everything from average home costs in the area to neighborhood safety ratings, performance of nearby schools and more.
When you find a home you'd like to buy, your agent will help you prepare an offer, negotiate the price with the listing agent and guide you through completing the purchase.
The buyer's agent is also sometimes called a "selling agent." However, this doesn't mean the agent is representing the seller. The agent is still negotiating on the buyer's behalf.
Listing Agent
The listing agent, also referred to as the "seller's agent," represents the home's seller. This agent's objective is to sell a client's home as quickly as possible and for the best possible price.
Among the many tasks a listing agent performs, one of the most important is preparing listing presentations to potential buyers.
When buyers find a home they're interested in buying, there's a lot of information they may want to know, such as the home's past and present prices and history on the market, and comparable home prices in the surrounding area. In many cases, a seller will hire a listing agent because of the agent's knowledge about a particular location.
Purchase Specialist
Once you've worked with a Home Loan Expert and your loan application is approved, a Rocket Mortgage ® Purchase Specialist will guide you through the rest of the mortgage process until your closing date. The specialist's role is to direct and inform everyone involved with your mortgage, including you, the real estate agents and the title company.
Purchase Specialists gather necessary documentation from you. If anything is missing or incorrect, they'll be the ones to let you know.
When it comes to third-party items such as the home's appraisal, title or insurance, they'll tell you what's required and address any questions or concerns you may have. They'll also keep you and your agent informed so you always know what is happening with your loan application. All of this is done to ensure that you reach your anticipated closing date.
Underwriter
Before you can close your loan, an underwriter must approve it. An underwriter reviews your mortgage application, including your credit history, income and ability to repay the loan.
Earlier, we mentioned that Purchase Specialists will let you know if any of your documents are missing or incorrect. They receive this information from the underwriter reviewing your application. Your Purchase Specialist and underwriter will communicate regarding the details of the documents you submitted.
The underwriter also reviews the home appraisal, completed by a third-party appraiser, then places a value on the home you plan to buy. Once the underwriter determines your application meets guidelines, your loan will be approved for closing.
Home Inspector
As the buyer, it's your responsibility to hire an inspector to evaluate the home you're looking to buy. The inspector will perform a detailed check of the home's construction and compile a list of anything in need of repair or replacement. This includes electrical, plumbing, and heating and cooling systems.
The inspector will also evaluate structural components of the home such as doors, windows, walls and the roof. The results of the home inspection can (and should) play a part in determining the home's final selling price.
The inspector works directly with you, not with your lender or real estate agent. Make sure you request to be at the home during the inspection so any questions or concerns you may have can be addressed.
Finally, get the inspection report in writing. The result of the inspection will determine whether you decrease your offer amount, ask the seller to make repairs before continuing with the sale, or back out of the sale altogether.
Home Appraiser
Before a lender decides how much you can borrow to buy a home, an appraiser will be contacted to determine the home's value. While your lender will schedule the appraisal, by law, it will be conducted by a third party who has no interest in the outcome. Lenders typically add the appraisal fee to the overall closing costs.
The appraiser doesn't represent any particular person or company involved in the mortgage process. However, the appraisal has to meet specific requirements set by the lender. These requirements are expressed in the purchase contract and vary across loan programs. Several factors play a role in determining a home's appraised value, including:
The home's size, condition and market value
The general condition of the neighborhood
Home sales in the surrounding area
Once an appraisal is complete, the appraiser will report the information to your lender and set a value on the home.
Your appraisal plays an important role in closing your loan. If the appraisal value is lower than the amount you're offering, the lender will not approve the loan. For example, say you offer $200,000 with a $10,000 down payment, but the home appraises at $180,000. To get approved by your lender, you would either need to put more money down or negotiate the price to match the appraised value.
Title Agent
Once your offer on a home has been accepted, you'll approach the closing phase of the mortgage process. However, before you close on your new home, a title agent will need to verify that the seller is the property's current and rightful owner.
A title is the legal right for someone to own property. A title's documentation provides information such as a property's ownership history, boundary lines and permitted use. These records are filed with the local government so an official record of the home's rightful owner can be accessed whenever the home is bought and sold.
The title agent will review property records to be sure that no one else can claim ownership of the home you're about to purchase.
Once the property's title is verified, the agent can issue title insurance. This can protect you and your lender against any claims or legal fees that result from disputes about who owns the home.
Closing Agent
When it's time to close on your home, a closing agent will facilitate the transaction. This agent acts as a neutral third party between you and the seller and typically works with the title company.
The title agent's attendance at closing ensures all required legal documents are explained and signed, the payment is transferred to the seller, the property is transferred to the buyer, and the sale of the home is properly recorded and filed with county records. Once the documents are signed, the closing agent delivers them to the title company for proper recording.
Because title companies often maintain the buyer's escrow account, a closing agent can also be referred to as an "escrow agent." After the purchase contract is signed, the agent accepts money from the buyer and the buyer's lender. These funds are then transferred to an escrow account and disbursed according to the purchase contract.
Mortgage Servicer
A mortgage servicer is a company that tracks, receives and processes your loan payments. It also manages your escrow account. Because tax and insurance rates change over time, servicers analyze your escrow account to make sure you're paying the right amount for each. Typically, your servicer will review your escrow account and make adjustments once a year.
Depending on the company, your mortgage lender may also be your mortgage servicer. Many lenders hire a servicing company, which means your mortgage payments will go to a company different from your lender. Rocket Mortgage ® handles servicing for 99% of the loans it originates, meaning you'll get the same great client experience managing your mortgage account that you received when you applied for your loan.
Start The Process
When you're ready to get started in the mortgage process, our Home Loan Experts are here to help you. Give us a call today at (800) 251-9080 or get started online at Rocket Mortgage®.
Home Affordability Calculator
Calculate the home price you can afford using your income and the amount of debt you have.
Calculate Now