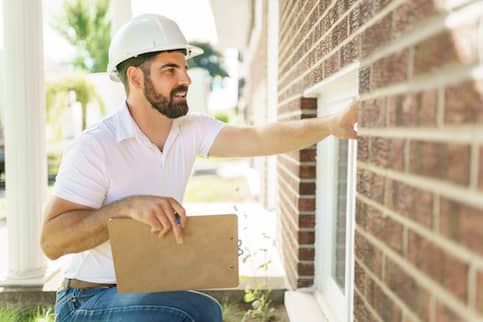 Pest Inspections: What You Need to Know
Published on April 15, 2023
Many consider pests to be pesky, but they can also be quite pricey. According to The National Pest Management Association (NPMA), termites cause an estimated $5 billion in damage to structures in the U.S. each year. It's important, then, to take preventative measures against pest infestations. One way to do so is by getting a pest inspection — a sometimes overlooked, but necessary step to buying a house.
What Is A Pest Inspection?
A pest inspection involves a trained professional coming out to thoroughly search a property for any critters that could pose harm to the structure or the persons inhabiting it. During an inspection, the inspector will comb through the interior and exterior of your home while looking for evidence of bugs, wood decay and other hazards.
A pest inspection isn't to be confused with a home inspection, which looks at a home's main structures and features. Rather, a pest inspection focuses solely on finding any unwanted creatures that may be lurking in crawl spaces, basements, attics, garages and entry points in the home.
What Pest Inspectors Look For
What inspectors look for during a pest inspection will vary slightly depending on the location of a property, since region-specific hazards must be checked. For example, an inspection conducted in the Southwest would likely search for scorpions where one in the Midwest would not.
Regardless of location, though, inspectors will be on high alert for evidence of wood-destroying insects such as beetles, carpenter ants, termites and carpenter bees. They will also check for common pests like cockroaches, bed bugs, rodents and moths.
The inspector will also look for evidence of structural damage done to floorboards, baseboards, walls, siding and more. They may do this by using special tools such as thermal imaging cameras, moisture meters, and other devices that detect issues not visible to the naked eye.
A pest inspection should be exhaustive, targeting all areas that creatures could be found including:
Every room of the home
Crawl spaces and the subfloor
Decks and porches
Attics, basements, garages and roof voids
Outbuildings (sheds, etc.)
Fences and retaining walls
Baseboards, door frames, cabinets, closets and floorboards
What's In The Pest Report?
After completing a thorough inspection, the inspector will send you a detailed pest report. This will include an overview of any pests found, the damage done and suggestions for treating the issue. The report will also bring attention to pest-related matters that could cause concern in the future.
When Do You Need A Pest Inspection?
There's a lot that goes into buying a new home. For this reason, it may be tempting to forgo a pest inspection during such a hectic time. However, getting an inspection before moving in can give you peace of mind — knowing that you're moving into a home free of pests.
Regardless of a property owner's personal preference, though, there are some instances where a pest inspection is required:
VA loans require a pest inspection in most states.
Before approving a loan, mortgage lenders can stipulate a property must receive a pest inspection.
The appraiser can require an inspection if they notice signs of infestation during the home appraisal.
How Much Does A Pest Inspection Cost?
HomeAdvisor reports that, as of April 12, 2023, the average cost of a pest inspection is $100. However, prices will vary depending on the home's location and size, as well as the company hired to perform the inspection. To find the best deal, consider getting an estimate from multiple companies before choosing one. You can also ask your real estate agent if they know of any pest inspectors who are both budget-friendly and professional. Open
You may even find that you won't have to pay anything at all, as it's up for negotiation who foots the bill for the pest inspection. Depending on the type of loan used to purchase the home, a buyer, seller or lender may pay for an inspection. Sellers might consider including the inspection as a part of the seller concessions to make the offer more enticing to prospective buyers. If the buyer is using a VA loan, they are not permitted to pay for this inspection in most states.
See What You Qualify For
You can get a real, customizable mortgage solution based on your unique financial situation.
Get Started
FAQs About Pest Inspection
Here are answers to a few of the most frequently asked questions about home pest inspections.
Are pest inspections required?
While there is no federal law that requires a pest inspection when buying a home, your mortgage lender may require one. For example, you usually need a pest inspection if you're getting a VA loan. Or if a home inspection shows signs of pests, it's likely that further professional inspection will be required.
How long does a pest inspection take?
A pest inspection usually takes anywhere from 30 minutes to an hour to complete. However, the actual duration will depend on several factors, including the size and layout of the home, what the inspector is searching for and how accessible the spaces are.
Is pest control worth investing in once I buy a home?
The damage done by pests could end up costing you thousands of dollars in home repair, and even pose a threat to your home's health. So — even after buying a home — it may be worth it to invest in monthly or quarterly professional pest control treatments.
Does homeowners insurance cover pest damage?
Most home insurance policies do not cover pest damage unless it was outside of your control. It is generally seen as the homeowner's responsibility to take preventative measures against pest infestations. Of course, though, each situation is unique. So, it's best to contact your insurance company to find out if pest damage is included in your homeowners insurance plan.
The Bottom Line: Pest Inspections Are Usually Worth It
Like pests themselves, a pest inspection may initially seem like a nuisance — nothing more than an unnecessary expense. In most cases, however, a pest inspection is well worth it. Not only can getting one potentially save you thousands of dollars in home repair and protect your health, it can also make for a peaceful, pest-free living experience once you settle into your beautiful new home.
If you're ready to take the first step towards homeownership, start the mortgage application process today!