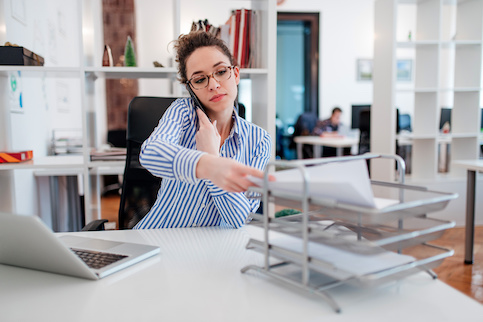 Mortgage Loan Originators: What Are They And What Do They Do?
Published on February 8, 2022
When it comes to home loans and real estate transactions, there can be a lot to keep track of, and some may wish they had someone to guide them through the process. That's where a mortgage loan originator can help.
This article will explain the job of a mortgage loan originator, and how they can help borrowers find the mortgage they need and buy the home they want.
What Is A Mortgage Loan Originator?
A mortgage loan originator, or MLO, guides mortgage applicants and borrowers through the mortgage approval process, from preparing the loan application through closing. MLOs are licensed by state and national authorities, and they're knowledgeable about all the different types of mortgages.
When you see the term "mortgage loan originator," it can refer to a couple of different things. A company that does mortgage originations, like Rocket Mortgage®, is an MLO. A person who takes you through the process of originating a mortgage loan, from application to closing, is also an MLO.
People who are MLOs may work on behalf of a single company that originates mortgages, or they may be a mortgage broker who takes your application and works with one of several companies.
Since an MLO can be either a person or a company, it's worth trying to understand their unique roles in helping you get a mortgage.
Mortgage Loan Originator: The Person
Of all the parties involved in a mortgage, one of the first people you talk to is likely to be a mortgage loan originator. They may also be referred to as a loan officer.
In some cases, this person is a mortgage broker. A mortgage broker will take your application and show you your options from several lenders so you can compare prices and servicing policies.
A mortgage loan officer's job is to guide you through the mortgage approval process. In a refinance, that might mean helping you with the paperwork, taking documentation and figuring out the loan amount and type that fits your goals.
In a real estate purchase transaction, you want to get a mortgage approval (often called a preapproval) before you go shopping for a home to know how much you can afford. The MLO will be able to make that determination based on your credit, income and assets.
Whether it's a purchase or refinance, the next step for the MLO after taking a complete application and collecting documentation is to get it through underwriting – the process of making sure that you qualify for the mortgage based on your finances as well as the type of property you're getting.
Finally, the MLO will make sure that your loan gets to the closing table. It's at this point that you reap the benefits of your loan, either in the form of a new house or the financial benefits afforded by a refinance.
It's important to know that the responsibilities of an MLO may fall to one person or several people depending on who you work with. At Rocket Mortgage, you'll get to work with several Home Loan Experts who are skilled in different stages of the process so that you get the highest-quality experience all the way through.
Mortgage Loan Originator: The Lending Institution
While the term "mortgage loan originator" can refer to the person originating your mortgage loan, it can also mean the institution responsible for funding that loan. In the mortgage industry, loans are made through either bank or non-bank lenders.
Some mortgage loans are funded by traditional banks who hold your checking and savings accounts, lines of credit and other investments. Meanwhile, non-bank lenders like Rocket Mortgage specialize in mortgages.
Regardless of which institution initially funds your loan, it's probably not the end of the line. Very few banks or other lenders hold a ton of loans in their portfolio to collect payments over the life of the loan because they prefer to get money on a quicker basis to make more loans.
To help accomplish that goal, the majority of mortgage loans are backed by one of several major mortgage investors, including Fannie Mae and Freddie Mac, as well as the Federal Housing Administration (FHA) and the Department of Veterans Affairs (VA). Loans that meet these institutional investors' standards are insured by them before being packaged into mortgage-backed securities and sold on the bond market.
It's worth noting that your lender can hold onto the servicing rights of your loan even after it's sold to an investor. This means that they continue to collect your payments and manage your escrow account on a monthly basis. You would also still contact them if you were going to have trouble making your payments.
Mortgage Loan Originator
FAQs
Now that you know what an MLO is and what they do, there are probably a couple of other questions that come to mind. Let's run through them.
Does a mortgage loan originator need a license?
When you're taking financial advice from someone, it's reasonable to want them to be licensed and to be able to trust that they have the know-how to back up what they're talking about. In the mortgage industry, this can be handled a couple of ways.
Every state has different requirements for mortgage loan officers and brokers. There's state-level licensing required for someone to be able to originate mortgages. These include certifications or licenses that an individual loan officer must have and licenses that must be maintained by the institution funding the loan.
For nationwide banks, there are federal registrations, but non-bank lenders and local originators will have their MLOs licensed at the state level.
Lenders are also required to comply with the Secure and Fair Enforcement for Mortgage Licensing Act of 2008, or the SAFE Act. This act requires that federal and state licensing for MLOs be published in the Nationwide Mortgage Licensing System and Registry (NMLS).
The NMLS directory allows clients to check on the licensing and registration details of individual lenders and their MLOs to make sure they're properly licensed.
What is a typical mortgage loan originator salary?
The answer to this question depends on whether the originator is independent or employed by a lender.
Mortgage brokers are independent of any one lender and work with a variety of products across lenders. They are paid either directly by the client or – more commonly – on a commission from the lender they give a loan to.
When an MLO is an employee of an individual lender, they work exclusively with that institution's product offerings. Pay structure is going to be variable depending on company policy, but it's typically a combination of commission plus an hourly rate or salary.
The Bottom Line
The role of a mortgage loan originator is to help shepherd your loan all the way from application through underwriting and to the closing table so you can get the keys or accomplish your financial goals.
An MLO can refer to both the person or people handling the loan origination process and the institution doing the loan funding. MLOs may work directly for mortgage lenders, or they may be a mortgage broker offering options for several different institutions.
If you're at a point where you want to start working with a mortgage loan originator to buy or refinance a home, apply online today with Rocket Mortgage and get started. You can also speak with one of our Home Loan Experts at (888) 452-0335.
Apply for a Mortgage with Quicken Loans®
Apply online for expert recommendations with real interest rates and payments.
Start Your Application