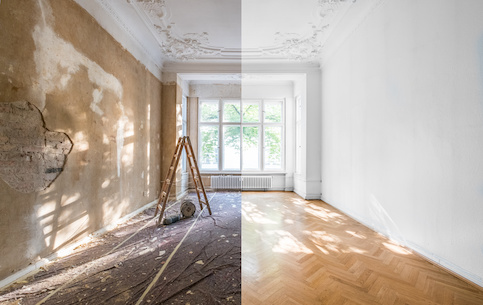 Is A Home Equity Loan A Good Idea?
Published on October 14, 2022
One of the most significant advantages of homeownership over renting comes from one word: equity. As you repay your mortgage, you build equity in your home, a powerful financial tool for accomplishing goals and improving your financial well-being.
A home equity loan allows you to access the equity in your home, turning years of mortgage payments into cash to use for any purpose. However, understanding the specifics is critical because the loan comes with strings attached. If you're wondering whether a home equity loan is a good idea, this guide will help clarify your decision.
What Is A Home Equity Loan?
A home equity loan is a lump sum of money you borrow based on the equity in your home. It's essentially a second mortgage that you repay monthly. Typically, home equity loans allow homeowners to leverage most but not all of their equity.
How Does A Home Equity Loan Work?
Home equity loans involve the following components:
You have to apply for the loan and obtain approval from a lender.
Lenders require borrowers to have a minimum credit score of 680, a debt-to-income (DTI) ratio of 45% or less in most cases, stable monthly income and usually 20% or more equity in the home.
Homeowners can borrow up to 85% of their home's value and receive the money in a lump sum to use however they want.
Home equity loans usually have fixed interest rates and term lengths ranging from 5 – 30 years. Shorter terms often have lower interest rates.
See What You Qualify For
Congratulations! Based on the information you have provided, you are eligible to continue your home loan process online with Rocket Mortgage.
If a sign-in page does not automatically pop up in a new tab, click here
Benefits Of Home Equity Loans
Home equity loans are helpful for the following reasons:
You can get a fixed interest rate for the life of the loan, meaning your monthly payment will never increase.
They have lower interest rates than personal loans, reducing monthly payments and overall costs.
You get the money in one lump sum and can use it immediately for any purpose (or multiple purposes).
You can claim a tax deduction on the interest if you use the money for home improvements.
Risks Of Home Equity Loans
Home equity loans also come with certain risks, such as:
Home equity loans use homes as collateral. As a result, you could lose your home if you default on the loan.
Your home's value could drop after you acquire the loan, so you might end up paying your original mortgage plus a second mortgage on a home worth significantly less than what you owe.
The loan will go on your credit report and could cause your credit score to drop. As a result, you may have more trouble getting a loan in the future.
You could borrow less than the maximum amount allowed and then realize you want to access more of your equity. In that case, you'll need to gain approval for another home equity loan and pay closing costs all over again.
If you want to sell your home shortly after getting a home equity loan, you could owe thousands if the home sale can't cover the balances of both your mortgages.
When A Home Equity Loan May Be A Good Idea
Because each individual homeowner has different circumstances, it's critical to discern whether it's wise to get a home equity loan. For example, a home equity loan could be ideal if you've built up equity over the last decade and want to remodel your bathroom. You'll receive a lower interest rate than a personal loan and have plenty of your equity left to use or continue building upon.
Or, if you have high-interest debt, such as from a credit card, a home equity loan can help you save money on interest. Since many credit cards have interest rates in the double digits, a home equity loan could save you significant money each month.
When A Home Equity Loan May Be A Bad Idea
While home equity loans are excellent for homeowners with debts or large expenses, they aren't always advantageous. For example, if you're planning on selling your home soon, a home equity loan will create an additional balance you owe. As a result, it could prevent you from selling your home if you can't repay your mortgage balance plus your home equity loan.
Additionally, high closing costs may make a home equity loan a substandard option. Specifically, closing costs for a home equity loan are 2% – 5% of the loan amount. On the other hand, alternative sources of debt, such as a credit card, allow you to make a large purchase without an upfront cost. Therefore, if you get a new credit card with a promotional 0% APR for the first several months, you could finance a project or pay off an old debt without paying closing costs or interest.
Alternatives To A Home Equity Loan
If a home equity loan doesn't seem right for you, other options can meet your financial needs.
A home equity line of credit (HELOC) might be better for homeowners with undefined financial purposes. For example, if you have a few home renovation projects in mind for the next couple of years but are unsure of the exact costs, you can access your equity and repay it repeatedly through a HELOC. HELOCs use your home as collateral just like a home equity loan, so avoiding default is crucial.
A cash-out refinance also lets you turn your equity into a lump sum payment. The difference is you still have one mortgage after the refinance, and you might receive an even lower interest rate if you have excellent credit. Like home equity loans, cash-out refinances have hefty closing costs.

A personal loan has the opposite set of advantages and disadvantages from a home equity loan. A personal loan requires no collateral, meaning you won't risk losing your home. However, the lack of collateral means you'll receive a higher interest rate and pay more for the loan.
Credit cards are straightforward financial tools for many purchases. Furthermore, credit card companies typically offer new customers 0% APR for several months to a year, allowing them to carry interest-free debt for an extended time. However, once it kicks in, the interest rate on credit cards is higher than almost every other form of debt.
Should I Get A Home Equity Loan?
A home equity loan can serve almost any purpose, such as helping you reduce your interest rate on existing debt, paying for your child's college tuition, or allowing you to renovate your home. However, their versatility and favorable interest rate come with the disadvantages of high closing costs and the possibility of foreclosure on your home if you default. That said, each homeowner should carefully weigh the pros and cons of home equity loans and other options before deciding if they should take out a home equity loan.
The Bottom Line
Home equity loans allow homeowners to use their equity to achieve their financial goals. Borrowers can receive tens of thousands of dollars with a low interest rate to use in any way. After receiving the loan, you'll make monthly loan payments alongside your original mortgage payment.
However, a home equity loan isn't right for everyone because of the high closing costs and risk of losing your home. Therefore, it's recommended that homeowners carefully consider all their options before moving forward with a decision. If you're interested in a cash-out refinance rather than a home equity loan, start your application online today.
Consolidate debt with a cash-out refinance.
Your home equity could help you save money.
Start My Approval