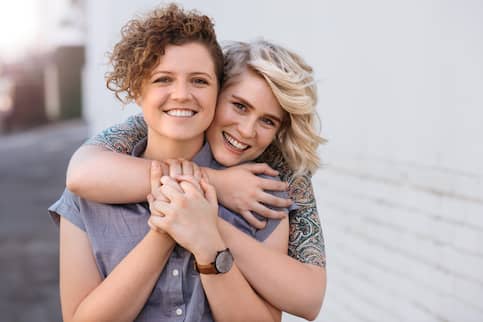 VA Loan Requirements: What Spouses Of Service Members Should Know
Published on January 20, 2022
Disclosure: This post contains affiliate links, which means we receive a commission if you click a link and purchase something that we have recommended. Please check out our disclosure policy for more details.
There is no question that the VA loans have numerous benefits for veterans and service members looking to buy a home or refinance their existing one. It enables them to get a mortgage with no down payment, much lower interest rates and no mortgage insurance.
However, many service members have questions about including their civilian spouses in the process of getting their VA loan. Here are the top three things that all spouses – and service members – should know about VA loan benefits.
Guide to VA Loans
Discover a more affordable loan option for United States Veterans, Service Members and spouses.
Read the Guide to VA Loans
1. Spousal Income May Qualify Your Family For A Larger VA Loan
More often than not, you'll find that with most military couples, one partner is a service member while the other is a civilian. Sometimes, these couples assume that the civilian's income or financial standing could be a problem or not count toward qualifying for a VA loan. That couldn't be further from the truth. In fact, the civilian spouse's income could actually help! If the civilian's income is substantial, it could potentially help the service member qualify for a larger loan.
The Department of Veterans Affairs (VA) allows spouses to cosign for loans. In this case, you could use the civilian spouse's income with the military spouse's eligibility for the VA loan. However, it's important to remember that the VA loan is no different from any other loan when it comes to your debt-to-income ratio and credit history. If your civilian spouse makes more but has a poor credit rating, that could hurt your chances of qualifying for a loan, regardless of your military standing.
2. Some
Surviving Spouses Can Apply For VA Loan Benefits
Prior to the signing of the Honoring America's Veterans and Caring for Camp Lejeune Families Act in 2012, only spouses of those who had died of military-related causes were allowed to apply for VA loan benefits. Today, those benefits have been extended for surviving spouses.
These kinds of surviving spouses can apply for a VA loan:
A non-remarried surviving spouse of a veteran or service member who died in service or from a service-related disability

A spouse of a service member who was missing in action or a prisoner of war for last least 90 days

A surviving spouse of a veteran who was rated totally disabled and was eligible for disability compensation at the time of death from any cause
3.
Divorce Can Complicate Occupancy And Entitlement On Existing VA Loans
Divorce is possibly the most complex issue when it comes to civilian spouses and VA loans. If you're an ex-spouse of a service member, you're not eligible for a new VA loan in the same way a surviving spouse would be. That's pretty straightforward.
It can get complicated when divorce is involved after you have a VA loan together. One way in which VA loans are different from other types of home loans is that the VA has very strict occupancy requirements on who can and cannot live in a home purchased using a VA loan.
However, if the civilian spouse is a cosigner, they're eligible to remain in the home without the service member living there. The issue arises when it comes to entitlement with a VA loan. The service member cannot restore their entitlement unless their ex-spouse refinances and/or pays off the VA loan in full.
The Bottom Line
It's important to keep in mind, whether you're a current spouse, surviving spouse or ex-spouse, that every situation is different and complex.
Ready to start the home buying process and move forward with a VA loan? The first step you'll need to take is to get a mortgage preapproval, so you can move forward in your home search with a good idea of how much loan you'll be approved for.
Apply now with Rocket MortgageⓇ to get started.
Guide to VA Loans
Discover a more affordable loan option for United States Veterans, Service Members and spouses.
Read the Guide to VA Loans