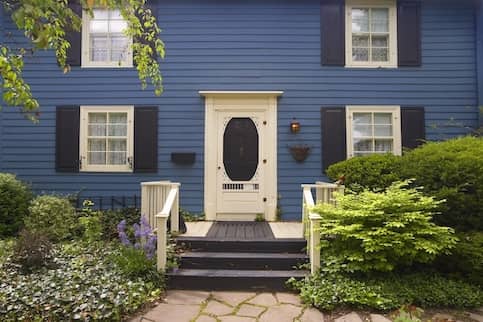 How To Get VA Loan Preapproval
Published on November 17, 2021
For decades, veterans nationwide have taken advantage of the benefits offered through a VA loan. In most cases, VA loans save home buyers money over the length of their loan. Whether it's to avoid a down payment, refinance the entire value of a home or simply have an easier time qualifying for a mortgage, those who have served should consider taking advantage of this benefit they've earned.
One of the first steps in pursuing a VA loan is getting approved for a specific amount so you can begin house hunting (many lenders call this "preapproval"). VA loan preapproval gives you an advantage when making an offer to buy a home so you and the sellers can be confident in your offer.
First, let's discuss the unique VA loan approval process.
How Does VA Loan Preapproval Work?
When seeking a mortgage, it's important for you and your lender to know you're well-qualified financially, but there's an extra step when it comes to VA loans.
VA Loan Eligibility Requirements
To get a VA home loan, you need a valid VA Certificate of Eligibility (COE). This shows you've met the minimum service requirements to be eligible for a loan through the U.S. Department of Veterans Affairs. Briefly, these are the requirements:
Served 181 days during peacetime (active duty)

Served 90 days during wartime (active duty)

Served 6 years in the Reserves or National Guard or 90 days under Title 32 duty, at least 30 of which are continuous

Survived a spouse who was killed in the line of duty or lost their life from a service-related disability
The VA website has more information on distinguishing between wartime and peacetime service. Service requirements are waived if you're discharged because of a service-related disability.
If you're a veteran, you'll need your military discharge document (DD 214) to verify your service time and get your COE. You can request this online if you don't have a hard copy. If you're currently serving in the military, you'll need your Leave and Earnings Statement (LES) to show your military status and income to qualify for a VA loan.
Prequalification Vs. Preapproval For A VA Home Loan
Aside from determining your eligibility for a VA loan, the other step to securing a mortgage approval is making sure you're in good financial shape to take on a mortgage. This is where mortgage lenders come into the picture. You'll need to get prequalified or preapproved so you can present a strong offer to sellers and their agents.
Prequalification
During a prequalification, mortgage lenders pull your credit score to get a look at your median FICO® score and any outstanding debts. They also ask for verbal or written estimates of income and any assets you want to use to qualify for the mortgage. This allows lenders to get your debt-to-income ratio (DTI) to help you estimate the maximum loan amount you could afford.
The key here is that, because your income and assets aren't verified, this is just an estimate. A preapproval is a stronger indicator of your current situation because lenders verify more of your financial details.
Preapproval
During a preapproval, mortgage lenders look more closely at your income, debt and other indicators of your ability to repay your mortgage loan. Let's take a look at some of the steps lenders will take and the documents they will ask for during the preapproval process.
Lenders will run

a hard credit check to fully understand your current debt load.

Lenders will ask for a statement of service (for active duty only) from your commanding officer to verify your income.
Lenders will need verification of employment, W-2s and pay stubs.
Lenders will want to see verification of assets including bank statements, retirement accounts or proof of other assets.
Lenders will also need to verify your identity using your driver's license and Social Security number.
See What You Qualify For
Congratulations! Based on the information you have provided, you are eligible to continue your home loan process online with Rocket Mortgage.
If a sign-in page does not automatically pop up in a new tab, click here
How To Get Initial Approval For A VA Home Loan
Follow these steps to apply for your Verified Approval Letter.1
1. Evaluate Your Finances
The home buying process is a big step, especially for first-time home buyers. VA loans offer an amazing opportunity for service members to get a loan with no down payment. However, you'll still need to meet the VA loan's financial requirements, so being in the best financial position will help your chances of approval.
Consider pulling your credit report and taking steps to increase your credit score. You'll also want to look at your outstanding debts and pay down any credit cards or other loans if possible. This help positively impacts your DTI. Anything you can do to improve your financial standing can help increase the chances of getting initial approval.
2. Get Your COE
If you haven't already, make sure you get your Certificate of Eligibility (COE) when you begin the home buying process. You'll need a copy of your discharge document (DD 214) to give to your lender to allow them to verify your COE.
3. Gather Your Documents
You'll also want to make sure you have other common documentation handy. Here's a list of some of the common documents you'll need to start your initial approval:
W-2s
Pay stubs
Proof of employment
Bank statements
Social Security card
Current driver's license
Having these documents on hand will help streamline your VA loan application.
4. Apply For Initial Approval For A VA Home Loan
Once you're in a solid financial position and you've gathered your documentation, it's time to submit for initial approval. Just get in touch with us via the link below or by phone.
Once we have your information, we'll evaluate your application to see if you qualify for a VA home loan. A representative will reach out if we need any additional information or documentation. At this stage, your eligibility and financials will be reviewed to determine the amount of loan amount you could qualify for.
5. Your Verified Approval Letter
If everything is in order and you meet the VA loan eligibility and Rocket MortgageⓇ guidelines, you'll receive a Verified Approval Letter. Just like a preapproval letter, a Verified Approval Letter lets you show sellers how much home you can afford. Once you have your letter, you can house hunt with confidence and present sellers and their agents with a strong offer on a new home.
Take the first step toward buying a house.
Get approved to see what you qualify for.
Start My Approval
FAQs About VA Loan Preapproval And Approval
The approval process can be a bit overwhelming for any home loan. We've got answers to your frequently asked questions on how to get approved for a VA home loan.
How long does it take to get preapproved for a VA loan?
The circumstances of each loan are different, but it doesn't take any longer to get approved for a VA loan than it would for a conventional or FHA loan.
How long is the preapproval letter good for?
Generally, preapproval letters last 60 – 90 days. This is because a home buyer's financial situation can change in a short period of time. Employment status, credit score and debt-to-income ratio can all shift quickly and could affect the loan amount mortgage lenders will approve.
The Bottom Line
If you're an eligible veteran, service member or surviving spouse looking to buy a home soon, it's essential to understand the requirements and processes for getting initial approval on your VA home loan. Being prepared will give you the greatest chance of being approved for your home loan quickly and easily.
Ready to take your next step toward homeownership? Apply for initial approval and let our mortgage experts help you through the process.
Apply Online with Rocket Mortgage
Get approved with Rocket Mortgage® – and do it all online. You can get a real, customizable mortgage solution based on your unique financial situation.
Apply Online
1 Participation in the Verified Approval program is based on an underwriter's comprehensive analysis of your credit, income, employment status, debt, property, insurance, appraisal and a satisfactory title report/search. If new information materially changes the underwriting decision resulting in a denial of your credit request, if the loan fails to close for a reason outside of Quicken Loans' control, or if you no longer want to proceed with the loan, your participation in the program will be discontinued. If your eligibility in the program does not change and your mortgage loan does not close, you will receive $1,000. This offer does not apply to new purchase loans submitted to Quicken Loans through a mortgage broker. This offer is not valid on jumbo loans or for self-employed clients. Quicken Loans reserves the right to cancel this offer at any time. Acceptance of this offer constitutes the acceptance of these terms and conditions, which are subject to change at the sole discretion of Quicken Loans. Additional conditions or exclusions may apply.