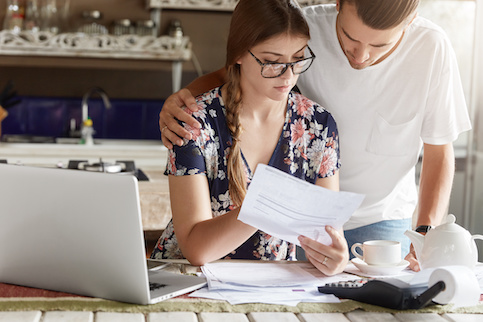 How To Refinance After Bankruptcy
Published on February 10, 2022
After going through bankruptcy, it can take a while to get your financial life back on track. If you have a mortgage you'd like to refinance, the question of when exactly you'll be able to get your financial life back on track is a vital one.
While it's possible to refinance after bankruptcy, it's not something you'll be able to do right away, and you'll need to do some work to prove to lenders that you're creditworthy. Here's what you need to know.
How
Bankruptcies Work: Chapter 7 Vs. Chapter 13 Bankruptcy
As an individual, the two types of bankruptcy you're most likely to take advantage of should you need to are Chapter 7 and Chapter 13.
Chapter 7 Bankruptcy
With Chapter 7 bankruptcy, your assets are liquidated and used to settle your debts. This means that certain items of value that you own, such as a car, jewelry or an investment account, can be sold to pay off your creditors. In some cases, you may also lose your home if any of the equity you have in it is eligible for collection.
Once completed, Chapter 7 wipes away most of your debts, though there are a few types that aren't able to be discharged; for example, certain types of tax debts are considered nondischargeable, meaning they won't be erased in bankruptcy.
Chapter 13 Bankruptcy
Chapter 13, on the other hand, reorganizes your debt into a payment plan that allows you to pay back your creditors over the course of 3 – 5 years. At the end of your repayment period, any remaining debt is discharged. With this type of bankruptcy, you can keep your property as long as you continue to make payments on it.
Chapter 13 bankruptcy stays on your credit report for 7 years, while Chapter 7 stays on your report for 10.
How Lenders View Each Type Of Bankruptcy
No matter which of these types of bankruptcy you file for, your credit score is going to take a serious hit and lenders are going to view you as a risky borrower for at least a couple years after your debt has been discharged.
However, Chapter 13 is sometimes viewed as slightly more favorable than Chapter 7 for potential lenders because Chapter 13 requires you to pay back some or all of your debts.
Ultimately, the most important thing is completing your bankruptcy – regardless of which type makes the most sense for your situation – and working to build your credit score back up so that lenders are able to work with you again in the future.
When Can I Refinance My Home After Bankruptcy?
To know when you'll be eligible to refinance, you'll first need to complete your bankruptcy waiting period. Depending on your loan type, Chapter 13 bankruptcies may allow refinance as early as a year into making payments (while you're technically still in the bankruptcy period) or up to 2 years after discharge. You can refinance your home after a Chapter 7 bankruptcy between 2 – 4 years after discharge.
It's important to understand the difference between your filing date and your discharge or dismissal date. Your filing date is when you begin the bankruptcy process, while the discharge or dismissal is when the process comes to an end.
Discharge means that the bankruptcy has been completed and your unpaid debts are written off. With Chapter 7, this will typically happen in a matter of months. Chapter 13 discharge happens once your repayment plan is completed, which takes between 3 – 5 years.
Dismissal is another way a bankruptcy filing can end, and means that your case has been dismissed either because you withdrew your filing or because you weren't following the rules of the bankruptcy.
With Chapter 13, FHA and VA loan borrowers may be able to refinance while they're still in bankruptcy, after they've made a year of on-time payments according to their repayment plan.
On conventional loans, you'll need to wait 2 years after Chapter 13 discharge to qualify for a loan. Remember that discharge on a Chapter 13 bankruptcy comes after you've completed your repayment plan, which also takes a few years.
For Chapter 7, the wait times after discharge are typically longer. On FHA and VA loans, it's 2 years after discharge or dismissal. On conventional loans, the wait time is 4 years.
Find A Mortgage Today and Lock In Your Rate!
Get matched with a lender that will work for your financial situation.
Get Started
Pros And Cons Of Refinancing After Bankruptcy
Once you've gone through the necessary waiting period and are again eligible to do so, you might wonder if refinancing your mortgage would be beneficial. There are several potential benefits to refinancing, particularly if you're looking to lower your monthly housing payments and keep your debt at a manageable level so that you can avoid having to go through a bankruptcy again in the future. However, there are also a few challenges that you should consider when refinancing after bankruptcy.
The Benefits
It can lower your monthly payments. If current rates are lower than the interest rate you're paying, refinancing to a lower rate can noticeably slim down the amount you'll pay each month on your mortgage.
You can lengthen your loan term. If lowering your monthly payment is a priority to you, you can also do so by refinancing into a loan with a longer loan term, lengthening the amount of time you'll have to pay back the loan.
You can increase your cash to cover your debts. If you're in need of cash, a cash-out refinance allows you to tap into the equity you have in your home. This can be useful if you want to complete a home improvement project or make repairs to your home.
The Challenges
It might not be enough to qualify for a loan. Even if you've met the waiting period requirements and are technically eligible for a refinance, it's possible that you still haven't improved your credit enough to qualify for a loan.
You may still need to pay closing costs. Depending on your refinance, you may also need to pay closing costs. This can be another hurdle if your bankruptcy left you with little savings.
Though it can be challenging to wait for things to get back to "normal" after a bankruptcy, you can get through it by focusing on limiting your credit spending where possible, budgeting to meet your financial goals and making on-time payments to build up your credit score.
Alternatives To Refinancing
If you're in need of assistance to minimize your monthly housing payments but a refinance is off the table, it may be time to look into some loss mitigation options. This might include one of the following refinancing alternatives:
If you're having trouble making payments or anticipate you will in the near future, be sure to reach out to your lender or servicer to learn what your options are.
How Do I Refinance My Home Loan After A Bankruptcy?
Step 1: Apply For A Refinance
To be eligible for refinance, you'll need to meet the lender's requirements at the time of applying. Typically, this means having a credit score of at least 620 for conventional loans or 580 for FHA loans. You'll also need to have equity in your home and an acceptable debt-to-income ratio.
When you apply, you'll need to provide some documentation proving that you have a steady income and outlining any assets you plan to use to qualify for the loan. Be sure to have these documents for both yourself and whomever else you may be applying for the refinance with, such as a spouse, ready to go before meeting with your lender. Typically you'll need to provide the lender with:
Two most recent W-2s
Two most recent pay stubs
Two most recent bank statements
If you're self-employed there may be additional information that you will need to provide the lender in order to be qualified for a home refinance.
At this stage, you may want to shop around and check rates with several lenders before making a decision, so you can get an idea of who has the best offerings.
Step 2: Lock In Your Mortgage Rate
Because interest rates fluctuate from day to day, you should ask your chosen lender whether they offer a mortgage rate lock, which will protect the rate you were given when you applied until you close on the loan. This rate lock period often lasts 30 – 60 days.
Step 3: Prepare For A Home Appraisal
To complete a refinance, the lender will likely require a home appraisal. This process ensures that they aren't lending more on the home than what it's worth.
A professional appraiser will evaluate your home and take into account the square footage, number of bedrooms, age of the home and its general condition. This is why it's a good idea for homeowners to prepare for an appraisal by cleaning up their home and taking care of any issues or defects that could affect the home's value.
A big part of the appraisal, however, doesn't just involve your home. The appraiser will also evaluate the sale price of comparable homes in your area to determine the market value of your home.
Step 4: Get Ready For Closing
Once everything is ready to go, you'll receive a Closing Disclosure then attend closing to go over the numbers and details of your loan, sign the necessary documents and pay your closing costs.
When you head to the closing, be sure to bring a government-issued ID or driver's license and a cashier's check for the amount you owe in closing costs.
The Bottom Line
The main thing to remember about refinancing after bankruptcy is that how long you'll have to wait will depend on which type of bankruptcy you filed for.
Because Chapter 7 wipes away your debts without repayment, the waiting period after discharge is longer than it is for Chapter 13, which allows the filer to restructure their payments and pay back a portion of their debt before discharge.
It's not something that will happen right away, but it is possible to refinance after a bankruptcy. Whether you've been through a Chapter 7 or Chapter 13 bankruptcy, you're one step closer to your goal simply by learning more about the process.
Interested in refinancing your home after filing for bankruptcy? Apply for a home refinance today.
Find A Mortgage Today and Lock In Your Rate!
Get matched with a lender that will work for your financial situation.
Get Started