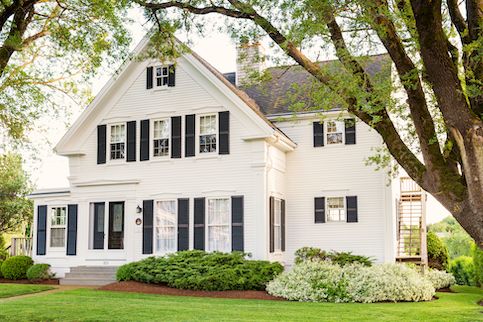 What You Need to Know Before Buying a Home "As-Is"
Published on February 22, 2021
In the housing market, if someone sells you a lemon, squeezing out some lemonade could mean wringing out your wallet as well. Purchasing a house in "as-is" condition means that there are no guarantees from the seller on the home's physical condition; you're accepting any faults that might exist.
Foreclosure is one common reason of a home being listed as-is. Many foreclosed homes are sold as-is because the previous owners may have left them in a questionable state. If the bank now owns the home, they don't want to invest in improvements or repairs, so they'll list the home as-is.
However, "not all as-is properties are distressed," says real estate agent Katie Messenger of Bello Dimora Real Estate Network. Financial concerns are a common reason that sellers choose to list a home as-is, removing them from the responsibility of repairs and the sometimes-costly fixes from home inspections. Or sometimes, the seller lives elsewhere and doesn't want to deal with managing the repairs before selling.
"Other times the house is in good condition, and it's an estate, so the executor may just want to sell the home and move on with as little hassle as possible," Messenger says.
When buying a house as-is, how can you be sure you're getting a deal and not a dud? Rocket Homes® broker Rosanna Rivera shares what you need to know before buying a home as-is.
Insist On A Home Inspection
When buying a house as-is, a home inspector is your friend. Getting a home inspection is an important part of any home buying, especially when you're buying a home as-is. "Every single home buyer in America should obtain a home inspection before buying a home," says Rivera. "Not only is a home inspection a crucial element, but as any real estate agent will tell you, it offers disclosures that an agent can't provide."
Even with a home inspection, the responsibility to disclose any known issues still remains with the seller. Obvious defects should be apparent in the home inspection; however, sellers must acknowledge any known hidden defects in the property disclosure form. If an expensive repair need is revealed in the home inspection that's much pricier than what the seller originally disclosed, then the buyer has the option to walk away.
Check out our home inspection checklist to make sure that you review all potential repairs before buying a house.
Great news! Rates are still low to start 2021.
Missed your chance for historically low mortgage rates in 2020? Act now!
Start My Application
Negotiate A Home Warranty
"A home warranty is a service contract that covers the repair or replacement of important home system components and appliances that break down over time," says Rivera.
Not only can a home warranty help save you money, but it can help home buyers rest a little easier with one less expense to factor in the budget.
Getting a home warranty can be a no-brainer when purchasing a home in as-is condition, ensuring the home buyer peace of mind rather than worrying over expensive repairs.
Hire An Experienced Real Estate Agent
Hiring a real estate agent or REALTOR® should be one of your first steps when looking at real estate. A seasoned REALTOR® or agent familiar with as-is properties will be able to walk you through the process.
According to Rivera, "An experienced agent has the knowledge to explain the as-is purchase contract slowly and thoroughly so customers understand and have no fear of purchasing a property as-is."
A seasoned real estate agent can help home buyers safely navigate the house-hunting process, avoiding potential money pits. "An experienced agent also can recommend service providers who can help obtain the right mortgage product, make home repairs, and so on," she adds.
A great real estate agent can also help determine the best offer for an as-is property, factoring in the cost of repairs for which the buyer is responsible. Real estate agent Nancy Brook of Billings, Montana, recommends designating 10% – 25% of your budget toward repairs when buying as-is. Discover how to find the right real estate agent to fit your needs.
Understand What's Being Sold As-Is
It's important to understand what part of the property is being sold as-is. It could be the entire house sale, or just specific components of the property. Common areas of the property that may be listed as-is are garages, roofs, pools, fireplaces and outbuildings, like sheds or barns.
Be sure to read and analyze what is being sold in as-is condition. It could be something small and easily replaced, like a deck, or it could be the whole property.
Research Financing Options For As-Is Home Sales
You won't have as many financing options buying a home as-is. Conventional mortgages, meaning mortgages not insured or guaranteed by the federal government, are available for some properties. The caveat here is that they can only have minor defects. Things like window cracks, cracked or damaged driveway and minor interior wall damage will usually be acceptable.
What lenders don't want to do is finance a property in bad condition. This is risky for them. If the condition worsens to the point where the property loses considerable value or is unlivable, the mortgagee may not want to pay back the loan.
If you are a first-time home buyer, purchasing a home as-is might not be the best route for you. The U.S. Department of Housing and Urban Development (HUD) offers many other ways for first-time home buyers to get assistance, through classes or financial aid. While HUD does not do their own loans, the Federal Housing Administration (FHA) does.
"As-is properties may not qualify for government-insured loans like FHA or VA," cautions Brook. "To qualify for this type of loan, properties cannot have defects like roof issues, chipping paint or other major deficiencies."
"FHA mortgages are very on-point about safety issues concerning plumbing, electric, lead paint, etc.," says Denise Supplee, a Pennsylvania real estate agent. "Though you may believe you are getting the 'deal of a lifetime,' your mortgage company may not agree," Supplee advises.
Is Buying A Home As-Is The Right Choice For You?
Buying a home as-is isn't for everyone. If you're a house flipper looking for a chance to profit, or if you're handy and know how to spot and fix issues, it may be for you. For many home buyers, an as-is home is too risky.
If you decide to look at as-is properties, hire an experienced real estate agent or REALTOR®, especially if this is your first. Get a home inspection to try to avoid any unwanted surprises. Do your research on lenders to make sure you have one that will fund an as-is purchase.
Apply for a Mortgage with Quicken Loans®
Call our Home Loans Experts at (800) 251-9080 to begin your mortgage application, or apply online to review your loan options.
Start Your Application