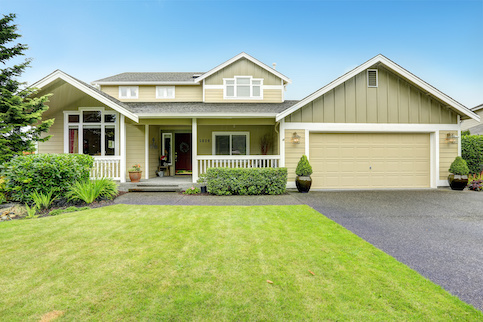 Using Your 401(k) To Buy A House: A Guide
Published on December 6, 2021
If you've been dreaming of owning a home, you've probably imagined yourself cooking in the perfect kitchen or having a fenced yard for the dog. But making that dream come true requires an incredible financial commitment – and the first step is to cobble together the cash you'll need for a down payment and closing costs.
You may be wondering whether you should consider using the money in your retirement account toward the purchase of a home. Before you decide, you need to be aware that there are both financial and legal considerations to take into account.
Let's examine the pros and cons, and see whether using a 401(k) to buy a house is right for you.
Can You Use Your 401(k) To Buy A House?
Retirement accounts are just that: money that's being set aside for you to use in your golden years. And if you've been carefully saving, you might be wondering if it's OK to tap those funds to use for something right now, like a home purchase, given that it's an investment in its own right.
One of the most common types of retirement plans is the 401(k), which is often offered by companies to their workers. It provides an easy way to earmark some of your salary for retirement savings, along with the tax benefits that a 401(k) brings. You'll be setting aside money without paying taxes right now and then will pay the taxes when you withdraw it, which ideally will be when you're in a lower tax bracket than you're in now. In many cases, companies also match up to part of your personal savings, which is another reason that 401(k) accounts are so popular, since that's essentially free money.
But those funds have been set aside specifically for your retirement savings, which means that if your plan allows you to withdraw it earlier, you'll pay a penalty, along with the taxes you owe given your current tax bracket. There's usually the potential to borrow from it, though, which may be a better option. (Note that you typically cannot borrow from an IRA plan, which is another type of retirement savings plan.)
So, while you can use your 401(k) for a first-time home purchase in most cases, the question is whether you should.
See What You Qualify For
Congratulations! Based on the information you have provided, you are eligible to continue your home loan process online with Rocket Mortgage.
If a sign-in page does not automatically pop up in a new tab, click here
Borrowing Against Your 401(k)
So can you use your 401(k) to buy a house, and more importantly, should you? Yes, the money is technically yours – so you can use it for anything you want or need it for, including as a 401(k) first-time home buyer.
While you can withdraw your money from the 401(k) plan in some cases, such as financial hardship, it can be more financially advantageous to borrow instead. But you do need to be aware of some of the potential downsides. Here are some questions to ask.
Does My 401(k) Allow Me To Borrow?
That, of course, is the first thing to find out, so check with your employer or HR department to see if your 401(k) plan allows loans.
What Are The Penalties, Fees Or Taxes Involved In Borrowing From Your 401(k)?
If you borrow the money, you'll be required to repay the loan, typically within 5 years. You'll be paying interest while you do it, which is generally at the interest rate of 2 points over the prime rate. But the interest will be used to pay yourself, which makes it a bit less onerous. However, remember these loans are paid with after-tax dollars so you're missing out on the tax benefits that make 401(k) accounts so attractive in the first place.
And note that if you use a 401(k) loan and then leave your job, the full amount must be repaid before you file taxes for the year in which you left your job (for example, if you leave your job in December, you only have until the following April 15 or whenever Tax Day falls to pay it back). If you don't, it's considered a withdrawal, which means it will be taxed at ordinary income tax rates.
What Are The Penalties, Fees Or Taxes Involved In Withdrawing From Your 401(k)?
If your plan allows you to withdraw the funds rather than borrow, you won't have to pay them back, but you'll experience a 10% early-withdrawal fee if you're under the age of 59 ½. That can be a big bite, especially when it's accompanied by the taxes you must pay on the amount owed.
What Are The Borrowing Limits For A 401(k)?
In general, you can only borrow up to 50% of your vested account balance or $50,000, whichever is less. Some plans may offer an exception if your balance is less than $10,000; you may be allowed to withdraw the entire amount. With a withdrawal, there are no limits on the amount, assuming your plan allows you to do so.
What Are The Pros?
Besides allowing you to make a purchase you might otherwise not be able to make, borrowing from your 401(k) is basically borrowing from yourself, rather than another lender. That means that you might not be losing as much money on interest payments as you would if you got the funds via another means.
What Are The Cons?
Besides the fees, your employer will likely stop their side of the match, if they were making one. Even when you're paying yourself back, your employer won't consider those funds a new contribution and therefore won't match it. It also might make it more difficult to qualify for a mortgage, as it can affect your debt-to-income ratio (DTI); you should still be sure to shop around to find a lender that can offer you the best program that fits your financial needs. And of course, you'll lose out on the compound interest your money would have been earning if you'd left it in the account.
Of course, if you decide to withdraw rather than borrow from your 401(k), the main con is the giant tax hit you'll suffer.
Using Your 401(k) For A First-Time Home Purchase
If you're still thinking that you might want to go this route, it's important to consider all the costs that will be part of owning a home, to make sure that you're not using your 401(k) as a way to fund a purchase that might be difficult to maintain. Looking at your retirement account balance might make you feel as though you have more money than you actually have coming in on a regular basis.
Buying a home might be the biggest purchase you make, but it's important to remember that it's not a one-time expense. Owning a home means regular costs for maintenance, upkeep, insurance, property taxes and much more. It's easy to get caught up in the excitement of house hunting and inadvertently make a first-time home buyer mistake that leaves you without sufficient funds to pay the ongoing expenses a home requires.
Should You Use Your 401(k) To Buy A House?
As you can see, there are a variety of drawbacks and risks involved in using a 401(k) to buy a house. These include:
Missing out on making new contributions while you pay yourself back

Having to pay penalties, fees and interest (sometimes at a higher interest rate) depending on the specifics of your company's 401(k)

Losing out on the compounding interest your money could earn if you left it in the retirement account

Missing out on your company's match

Finding yourself in a bind if you change jobs and have to pay your 401(k) back in a lump sum
Apply for a mortgage today!
Apply online for expert recommendations with real interest rates and payments.
Start Your Application
Alternatives To Using Your 401(k)
The good news is that borrowing from your 401(k) is just one way to pay for your home.
Nationwide Home Buyer Programs
There are also a wide variety of nationwide and local programs available to help first-time home buyers and low- to moderate-wage earners. There are programs to help home buyers with gathering the down payment, closing costs and getting a favorable mortgage.
Frannie Mae offers a credit of 3% of a home's purchase price if you participate in a first-time home buyer class offered online and go on to buy a HomePath.
State And Local Home Buyer Programs
The U.S. Department of Housing and Urban Development (HUD) maintains a list of local home buying assistance programs by state. Your lender may also be able to suggest sources of home buying help in your area.
Getting A Mortgage Without Assistance
There are also a lot of misconceptions about how much money you really need to buy a home. Many people think it's necessary to have a 20% down payment, but that's simply not true. You can get a conforming mortgage with a conventional lender with as little as 3% down.
Government backed mortgages are also low down payment options. You can qualify for an FHA home loan with 3.5% down. VA mortgages (which are limited to servicemembers and their families) and USDA loans (generally available in rural areas) often require no down payment. Rocket Mortgage® doesn't offer USDA loans at this time.
The Bottom Line: There Are Better Ways To Buy A House Than Raiding Your Retirement Saving
As you can see, home buyers have many options for getting the funding they need to buy a house. Borrowing or withdrawing from your 401(k) plan is financially and legally risky. Learn more tips for first-time home buyers in our Learning Center. If you would like to go over your financing options, you can apply online or give us a call at (888) 452-0335.