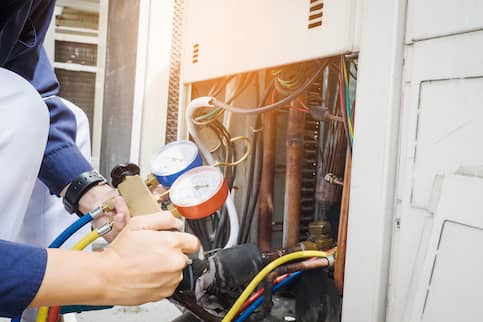 Are Home Warranty Plans Worth The Money?
Published on June 24, 2022
Disclosure: This post contains affiliate links, which means we receive a commission if you click a link and purchase something that we have recommended. Please check out our disclosure policy for more details.
When you buy a home with a mortgage, you must get homeowners insurance to cover your home in case you face a major peril, such as hail, fire, theft or if someone becomes injured on your property. You might also hear about home warranties when buying ahome. So, what is a home warranty and why would you want one?
A home warranty covers your home's major systems in the event that they need to be repaired, serviced or replaced. Your home insurance doesn't cover normal wear and tear on your home's major systems, so that's why you may want to consider getting a home warranty.
Are home warranties worth it? Yes, depending on a variety of factors, from how old your house is to how much money you have on reserve for unexpected repairs.
Apply Online with Rocket Mortgage
Get approved with Rocket Mortgage® – and do it all online. You can get a real, customizable mortgage solution based on your unique financial situation.
Apply Online
Is A Home Warranty Worth It For Me?
A home warranty could be worth it, depending on your situation. It's a good idea to assess a few factors ahead of time to decide whether a home warranty would make sense for you. Here are a few factors to consider when thinking about whether or not a home warranty is worth it for you.
When Is It Worth Getting A Home Warranty?
You may want to consider getting a home warranty if you:
Want coverage for out-of-pocket expenses for unexpected repairs.
Own an older home.
Have older appliances.
Worry about the cost to replace parts of your home that are more expensive, such as pools and roofs.
Don't have an emergency fund or want to use it for other things.
Don't feel confident that you can fix your home systems on your own when they break.
Don't want to track down a contractor yourself when something goes wrong.
Have used most of your savings to buy a home and want a backup.
Want peace of mind.
When Is It Not Worth Getting A Home Warranty?
On the other hand, you may not want to consider getting a home warranty if you:
Are buying a new construction home. You may already have a manufacturer's warranty on your appliances and other home systems.
Aren't sure whether your items have been properly maintained or know they haven't been properly maintained.
Think that the cost for the home warranty will cost more than the actual item you think may need replaced.
Would rather take the chance that nothing will break down in your home.
Would rather choose your own contractor instead of relying on the warranty company to choose your contractor.
What Does A Home Warranty Cover?
A home warranty commonly covers appliances and systems.
Appliances: A home warranty will cover major appliances like your stove, dishwasher, refrigerator, washing machine and dryer. Most appliance plan providers include the types of appliances that they will cover under the service contract. Most appliance plans don't include small appliances like electric mixers, though you can take an in-depth look at each company you're considering for more information.
Systems: Home warranty companies cover basic systems, such as hot water heaters, electrical, HVAC and plumbing systems – you can think of these as any systems that keep your home running. You can check to see whether home warranty plans include service checks and regular maintenance. Some home warranty companies only allow you to claim repairs or replacements.
Most home warranties do not offer coverage in basic plans for certain systems like your pool, spa, well pump or septic system or roof leak coverage. You must typically select an "add-on" feature for these home systems.
Homeowners Insurance Vs Home Warranty
Homeowners insurance should not be confused with a home warranty because they cover different parts of your home under different conditions.
A homeowners insurance policy covers specific damage done to your home – called covered perils. Each homeowners insurance company has a different list of covered perils.
Here's how homeowners insurance works at the very basic level. You pay a premium every month for homeowners insurance. Let's say that a fire that originated from your fireplace causes $10,000 worth of damage to your living room. Your homeowners insurance policy carries a $1,000 deductible, which is the amount you pay before your insurance company kicks in and pays out the rest.
Most homeowners insurance policies include coverage for your home and your possessions. However, if your HVAC system just stops working, your homeowners insurance won't cover the repairs – you must rely on a home warranty.
Home warranties cover repairs and replacements due to normal use and age of the appliance or system. You pay a flat service charge to a contractor when you report a claim.
Here's how this could work. Let's say your heater goes out. You call your home warranty provider and a licensed repair technician diagnoses the problem and makes necessary repairs. If the repair technician determines that the system needs to be replaced, the technician will arrange for a replacement system for the cost of your service charge.
Do Sellers Typically Pay For A Home Warranty?
In a buyer's market, a seller might pay for a home warranty if they need an incentive to close a sale. On the other hand, a buyer will usually pay for their own home warranty when it's a buyer's market.
A seller may want to purchase a warranty because it sometimes makes the property easier to sell and also protects them from complications that may come up after the sale goes through.
Take the first step toward buying a house.
Get approved to see what you qualify for.
Start My Approval
How Much Does A Home Warranty Cost?
A home warranty costs about $350 – $600 annually for a basic plan. This means that you'd pay $25 – $50 per month for your premium. These vary based on location, size of your home and your coverage plan. You'll also pay a home warranty fee for a servicer to come and make repairs, which usually runs around $100.
You may also have to pay a deductible, which varies depending on the warranty company. Some companies allow you to customize your premium, service fees and add-ons. Be sure to read the fine print on warranty cost before you decide to choose one warranty company over another.
Best Home Warranty Companies
Now that you understand the basics of what a home warranty is and whether you need one, the next step is to consider what company you should work with.
Here is the full list of the best home warranty companies, including a description for each of our top picks, American Home Shield and America's 1st Choice Home Club:
American Home Shield, which has earned a B rating from the Better Business Bureau (BBB) for customer satisfaction, offers a wide variety of coverages for various home systems and appliances. American Home Shield's annual fees range from $480 – $1,000+ per year. The company, which has been in business for 50 years, also offers add-ons such as roof leak repair, an electronic protection plan, pools and inground spas, septic pumps and well pumps. You can also choose between a $75 – $125 service fee.
America's 1st Choice Home Club offers a silver plan, platinum and gold plan and systems plan. The plans run from $518 – 709 annually and require a $75 – $125 service fee. The platinum plan offers coverage for 18 systems and appliances. The home warranty company offers 24/7 customer service and other perks, including free credit monitoring and family emergency services. The company even offers discounts on home security, household items, kitchen appliances, and more.
Homeowners can also hire their own contractors or choose from America's 1st Choice Home Club's technician database. The company guarantees parts and labor for the life of its membership. Its Platinum home warranty coverage includes service for washers and dryers, kitchen appliances, HVAC systems, water heaters, electrical systems, plumbing stoppages, ductwork and more.
The Bottom Line
A home warranty plan covers your home's major systems in case you need them repaired or replaced. A home warranty is different from your home insurance in that it can cover normal wear and tear on your home's major systems.
If you're considering getting a home warranty, it can be worth it, but it does depend on various factors, including your skill level with fixing appliances. It's a good idea to assess the factors discussed in this article before you decide whether a home warranty would make sense for you.
You'll want to do your research so you choose the right home warranty company for your needs. If you're in the market for a home warranty, get matched with a top home warranty company today.
Error rendering content unit:*[@Name='CTABlock_Unit']
The partial view 'Components/CTABlock_Unit' was not found or no view engine supports the searched locations. The following locations were searched: ~/Views/_AssetViews_/Omni/Components/CTABlock_Unit.cshtml ~/Views/_AssetViews_/Omni/Components/CTABlock_Unit.vbhtml ~/Views/_AssetViews_/Shared/Components/CTABlock_Unit.cshtml ~/Views/_AssetViews_/Shared/Components/CTABlock_Unit.vbhtml ~/Views/Omni/Components/CTABlock_Unit.cshtml ~/Views/Omni/Components/CTABlock_Unit.vbhtml ~/Views/Shared/Components/CTABlock_Unit.cshtml ~/Views/Shared/Components/CTABlock_Unit.vbhtml