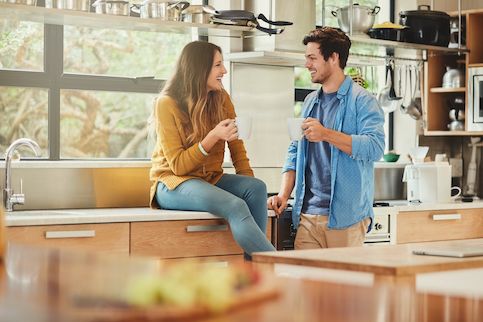 Rent-To-Own Homes: A Complete Guide To How They Work
Published on December 13, 2021
When buying a home, you'll need a good credit score and typically a down payment to qualify for a mortgage. But what do you do if you don't have good credit or are struggling with a lot of debt?
For those who are trying to decide between renting or buying a home, one option to consider is a rent-to-own home. But before you jump into a contract, it's essential to understand the process, rewards and potential risks.
What Is A Rent-To-Own Home?
A rent-to-own home – also called a lease-to-own-home – is purchased through a rental agreement with a homeowner. A portion of your monthly rent payments will go toward reducing the sales price of the house during the time of your lease. After that time is up – usually 1 to 5 years – you'll have an option to purchase the home.
These deals are more common in slow real estate markets where it's difficult for homeowners to sell outright. They can be a viable option for renters looking to achieve homeownership.
However, lease-to-own agreements lose appeal in seller's markets, when it's easier to sell a home. When there may be other offers on the table, why take on the risk associated with a rent-to-own agreement? The tenant may not qualify for a mortgage at the end of the lease period, or may trash the property and leave the owner with a mess.
To prevent this from happening, some landlords include a lease-purchase in their rent-to-own agreement. This legally obligates the renter to purchase the home at the end of the lease. Landlords who are OK with taking on such risks may keep the purchase of the home as an option instead of an obligation.
See What You Qualify For
Congratulations! Based on the information you have provided, you are eligible to continue your home loan process online with Rocket Mortgage.
If a sign-in page does not automatically pop up in a new tab, click here
How Does Rent-To-Own Work?
Rent-to-own agreements start when a buyer and a homeowner agree that the buyer can rent the property for a period of time. After that time, the buyer is required or has the option to buy the property, depending on the agreement type.
Buyers who enter into a rent-to-own agreement pay an extra premium – sometimes referred to as an option fee – on top of the rent. This premium goes toward the down payment on the purchase of the home. Usually, this payment is nonrefundable. Renters entering into this agreement should be reasonably sure they're going to buy the property at the end of the agreement.
Lease-Option Vs. Lease-Purchase
There are two different types of leases in a rent-to-own agreement: lease-option and lease-purchase. A lease-option gives you the choice to buy the home or not by the end of the lease. You're not legally required to purchase the home; however, if you choose not to purchase the home, you'll forfeit any money you paid toward the purchase during your lease.
A lease-purchase means you're legally obligated to buy the home by the end of the lease.
Before signing the rent-to-own agreement or lease, have a real estate attorney review the contract and explain it to you. It's important to understand the terms of your contract before signing it. You'll also want to speak to a lender to make sure you understand what you'll need to qualify for a loan when it's time to purchase the home.
Rent-To-Own Pros And Cons For Tenants/Buyers
As with any big decision, it's important to weigh the pros and cons of renting-to-own. Depending on your situation and your financial goals, it may benefit you to use this strategy to purchase your home.
Pros
A rent-to-own agreement gives people who would otherwise struggle to qualify for a mortgage loan the chance to hold onto a home they love while they build their credit, boost their income or take other steps to make themselves more attractive to mortgage lenders. The hope is that after the rental period ends, they'll be able to qualify for the mortgage they'll need to buy the home, maybe even at a better rate.
Another benefit of a rent-to-own is that it allows buyers to lock in a purchase price, which can be especially beneficial in a time when home prices are on the rise. If the option fee or a percentage of the rent is applied to the home's purchase price, you can also begin to build equity in the home before you even buy it.
Finally, renting-to-own allows tenants to try out the home or neighborhood while accumulating the necessary funds for their down payment.
Cons
Renting-to-buy does come with its share of pitfalls. Plenty can go wrong with these transactions. It's up to you to determine if the risks are worth the possible reward of becoming a homeowner.
If you decide not to buy the home in the future, you'll lose that upfront option fee payment with no home to show for it. You'll also be out all the extra rental money you paid each month that was supposed to go toward reducing the home's purchase price.
And even if you do want to buy the home after the rental period, you won't be able to if you haven't managed to fix whatever financial problems prevented you from qualifying for a mortgage in the first place.
You can also lose out if the home loses value during the rental period. Once you agree on a sales price with the seller, you won't be able to change it. For example, if you agreed to pay $200,000 for the home when you signed the contract, you'll have to pay that same amount even if the home is now worth only $170,000.
Of course, if the home rises in value during the rental period, you'll gain. You can buy that home for less than what you otherwise would have had to pay for it.
In some cases, if you're late paying your rent, you could lose the right to purchase your home and you'll lose all of the money you've already put into it. In other words, make sure you read the fine print in your contract and look for clauses like this.
Sometimes, there are issues with the home that you might not be aware of until you go to buy it. The seller may have issues with the title or may not own the property, or there may be major issues that a home appraiser won't approve. The best advice for this is to treat your rent-to-own agreement like an actual home purchase. That means getting a home inspection and doing a title search before signing anything.
Apply for a mortgage today!
Apply online for expert recommendations with real interest rates and payments.
Start Your Application
Rent-To-Own Pros And Cons For Landlords/Sellers
Sellers don't typically initiate a rent-to-own opportunity out of the kindness of their hearts. There are many reasons a seller may enter into this type of agreement. However, there are a few risks they take on as well.
Pros
If the seller is having trouble finding someone to purchase the home, a rent-to-own option could widen the pool of potential buyers by creating an opportunity for people who may have had their mortgage application denied.
Additionally, a person who has a vested interest in the property will take care of it better than someone who is only living there for a short time before moving on to the next place. They won't want to buy a home that is in shambles, so they'll take care of it like it is their own – because, someday, it most likely will be.
Since they're offering a special opportunity for people who eventually wish to purchase the home, sellers may be able to ask for a higher sales price and can potentially earn an income from renting-to-own.
And while it may be a downside if the renter decides not to purchase the home, the pro is that the seller does get to keep all of the extra money they paid each month to go toward the purchase price.
Cons
If the renter has a lease-option agreement, they're allowed to change their mind at the end of their lease and not purchase the home. Therefore, there's no certainty that the seller will sell their home at the end of the agreement. And while they'll get to keep any extra money the renter paid toward the purchase price, the seller will have to start the process all over again.
Often, people use the money they make from the sale of their house to put down on a new home. This won't be the case for sellers in a rent-to-own agreement. They typically don't get a large lump sum of cash from the renter.
Another disadvantage the seller may face is losing cash on the deal. If the purchase agreement locks in a sale price at the beginning of the lease and home values go up, they may end up selling the home for less than what it's worth.
On the flip side, if the buyer agrees to pay the fair market value of the home at the end of the lease and home prices drop, the seller would have been better off selling the home or at least locking the price in at the time of the agreement. It's a bit of a gamble for the seller.
How To Find Rent-To-Own Homes
If you're interested in finding a rent-to-own or lease-to-own home, a good place to start is filtering rental listings to those with a rent-to-own option. If you're renting somewhere you like, you could also see if it's something your landlord would be interested in.
You may have to look in less-popular areas. Most rent-to-own properties exist in markets where owners had a hard time selling the property. Your best bet is going to be finding someone who's a landlord and no longer wants to be.
The Rent-To-Buy Home Process In 5 Steps
There is more to rent-to-own than paying rent until you want to purchase the home. Assuming you've already found your property, the first step is working with the seller to draft and sign a rent-to-own agreement.
1. Obtain And Review The Rent-To-Own Agreement
First, you and the homeowner sign a contract stating the final sales price of the home or the agreement to pay fair market value for the home when the lease ends.
The contract will also indicate how long you'll rent the home before you have to decide whether to buy it, and how much your monthly rent will be. The contract should also state how much of your monthly rental payment will go toward reducing the final sales price of the home and what happens to any extra rent money you pay each month. In most rent-to-own agreements, that extra money is also nonrefundable.
An important consideration that many buyers forget to include in their contracts is home maintenance responsibilities. Your agreement should state who is responsible for routine maintenance and extensive repairs.
Local laws may complicate things because, in some areas, landlords are required to perform certain duties regardless of what your agreement states. You should consider hiring a real estate attorney to review the terms of the contract before you sign it.
2. Get A Home Inspection And Appraisal
Deciding to rent-to-own is as big of a decision as buying a home. In a lease-purchase agreement, you technically buy the home. Although you have the option to purchase with a lease-option, you're still committing to the purchase because some of your rent money will go toward that, and you'll lose that money if you decide not to purchase the home. That's why it's important to treat the rent-to-own agreement with the same caution as a traditional home purchase.
One way to do this is to order an independent appraisal on the home before deciding on a purchase price and signing a rent-to-own agreement.
The appraisal will give you the fair market value of the home so, if you're locking in a purchase price at the time of the agreement, you'll know you're not getting ripped off. Keep in mind, too, that if you agree on a purchase price now, you'll have to pay that price even if the home isn't worth that much at the end of your lease. And since a lender can't lend more than the appraised value of the home, you'll have to pay the difference.
You'll also want to schedule a home inspection before you sign the agreement so you don't get stuck having to purchase a home that may need a ton of repairs.
To protect yourself from a few common rent-to-own scams, ensure that property taxes have been paid to date and there are no liens on the property. Ensure the landlord actually owns the home and can legally rent to you before you give them any money.
You can do this by reviewing a recent tax bill, the title to the property or a recent mortgage statement. Before you sign the agreement and pay the option fee, have a real estate attorney review the agreement and explain your rights as a renter. Make sure you understand what happens if there are any missed or late payments.
3. Pay The Option Fee
After signing the contract, you'll pay a one-time fee that gives you the first opportunity to purchase the house at the end of your lease. This nonrefundable fee may also be called the option premium or option money.
The option fee prevents anyone else from purchasing the home while you're leasing it. These fees can vary, but they usually total around 1 – 5% of the home's agreed-upon final sales price. It's a bit like putting a down payment on a home.
If you decide to buy the home, the option fee is applied to the purchase price. However, if you decide not to purchase the home, you won't get that money back. In some lease-purchase agreements, you may not need to pay an option fee because you're already agreeing to purchase the house with no option to back out. Check your agreement and make sure you understand your financial obligations before signing.
4. Make Your Monthly Payments On Time
When you're in a rent-to-own agreement, it's imperative you make your monthly payments on time. A late or missing payment could void your agreement and you'll lose any money you already invested in the home. Even if a late payment doesn't void your agreement, the additional money you pay toward the final purchase price of the home may not be added that month.
Another reason to pay each month and on time is that it will help you continue building credit, which can help you in securing a mortgage at the end of your lease.
5. Shop For A Mortgage
When you're nearing the end of your lease agreement and getting ready to purchase the home, you'll want to shop for a mortgage just like a regular home buyer. Not all mortgages are the same – and neither are lenders. Different lenders will quote different interest rates and closing costs.
Using online tools, such as a mortgage calculator, can help you compare how much you can expect to pay per month with each lender's rate. By shopping around, you could save thousands of dollars. You also want to make sure you choose a lender that has your best interest in mind and will provide stellar customer service throughout your time as a borrower.
When you shop around for a mortgage, make sure you research the lender and not just the prices.
The Bottom Line: Is Rent-To-Own A Good Idea For You?
When renting-to-own, act as if you are purchasing the home. Take some time to make sure this is the right decision for you. If you can't qualify for a mortgage now, make sure you'll be able to by the end of your lease.
Do you have a plan in place for raising your credit or saving for a down payment? Will you be able to pay off some of your other debt or become more financially responsible by then?
You'll also want to consider the house and your future. In a couple of years, will you still love this home? By the time your lease ends, will you need a bigger home to accommodate your future lifestyle?
Along with thinking about your future, consider your present. Do you have enough money to pay a higher rent? Are you in a good financial position to make all of your payments on time? Have a chat with a financial advisor who understands your financial situation. They'll be able to help you determine if this is the right move to make right now and help set you up for a successful rent-to-own experience.
Whether you're ready to rent-to-own or deciding if it's right for you, you'll need to make sure you can qualify for a mortgage and consider getting preapproved.
If you're ready to take the steps necessary to purchase a home, get started online with Rocket Mortgage®.
Apply Online with Rocket Mortgage
Get approved with Rocket Mortgage® – and do it all online. You can get a real, customizable mortgage solution based on your unique financial situation.
Apply Online