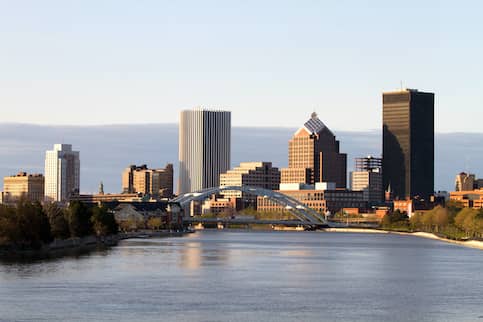 The Cheapest, Most Affordable Places To Live In The US
Published on July 14, 2021
Deciding where to live is rarely an easy process. For some, where you live may be dictated by what you do. But with increasing opportunities for remote work across the country, the question of where to put down roots is more complicated than ever before.
One big factor to consider when comparing potential homes is affordability, which extends far beyond the home itself and into the surrounding city. So where are the cheapest places to live in the U.S. in 2021?
When considering affordability, keep in mind that the cheapest places to live likely aren't the fastest growing or in the hottest real estate markets. Still, with lower costs of living, these cities can put you on the path for to brighter financial future.
Methodology
In order to determine the affordability of any given area, a common set of criteria must be used. In compiling data for this article, we leveraged cost of living index data from BestPlaces.net, which analyzes and accounts for the price of food, housing, utilities, transportation and miscellaneous goods and services across 383 metropolitan areas. Population data was collected from the U.S. Census Bureau.
Of course, this data represents average costs, meaning in each area there are people paying higher and lower than what this data reflects. Because of this fluctuation, it's crucial for each individual homeowner to do their own calculations to estimate their true cost of living. When you analyze an area's affordability, you should keep in mind the 50/30/20 rule. The idea of this rule is that you should put 50% of your income toward necessities – such as housing, utilities, and groceries – 30% toward discretionary spending, and the remaining 20% should be saved for future expenses.
The Midwest
The Midwest is widely considered the most affordable region in the country, with Midwestern states holding five out of the top 10 most affordable state rankings according to U.S. News.
Defined by the U.S. federal government, the Midwest officially includes Illinois, Indiana, Iowa, Kansas, Michigan, Minnesota, Missouri, Nebraska, North Dakota, Ohio, South Dakota and Wisconsin.
Danville, Illinois
Formerly a crucial coal mining hub, the city of Danville sits just near the Illinois-Indiana border and is only about 30 minutes from Indianapolis. The former mines located here were cleverly converted into lakes, making this area popular for fishing and other forms of outdoor recreation, spread across more than 15,000 acres of parkland.
Population:

30,479

Median monthly gross rent:

$695

Median monthly homeowner's costs

: $931
Lima, Ohio
About two hours northwest of Columbus, Lima is home to several college campuses, including the University of Northwestern Ohio, and is best known for its fully functioning oil reserve, which has been operating since the time of its discovery in 1855. Given its rich history, it's no surprise to learn that this city is home to a number of sites included in the National Register of Historic Places.
Population:

36,659

Median monthly gross rent:

$667

Median monthly homeowner's costs:

$879
Muncie, Indiana
Another historical destination, Muncie has thrived as a manufacturing and industrial center since the time of the Indiana gas boom of the 1880s. The city is home to a number of museums and monuments, including the Vietnam Veteran Valor Monument, as well as The Ball State University. As a college town, Muncie also boasts several art galleries, theaters and some vibrant nightlife.
Population:

67,999

Median monthly gross rent

: $722

Median monthly homeowner's costs:

$836
The South
As the second-cheapest region in the country, the South holds the other five spots on the top 10 most affordable U.S. states list.
Defined by the U.S. federal government, the South officially includes Alabama, Arkansas, the District of Columbia, Florida, Georgia, Kentucky, Louisiana, Mississippi, North Carolina, Oklahoma, South Carolina, Tennessee, Texas, Virginia and West Virginia.
Charleston, West Virginia
With a cost of living 10% below the national average, Charleston is not only the historic capital of West Virginia, but also an affordable place to call home. This city is a history buff's dream, with statutes of historic figures like Stonewall Jackson and Abraham Lincoln as well as a cultural center, which features a state museum and a theater that hosts multiple events throughout the year.
Population:

46,536

Median monthly gross rent:

$735

Median monthly homeowner's costs:

$1,174
Rocky Mount, North Carolina
Deriving its name from the Rocky Mountain Mills – one first cotton mills in North Carolina –Rocky Mount has a rich history that has flourished into a growing arts community. In addition to its own unique attractions, like an arts center and children's museum, Rocky Mount is only about an hour away from the state capital of Raleigh, including the conveniently located Raleigh-Durham International Airport.
Population:

53,922

Median monthly gross rent:

$793

Median monthly homeowner's costs:

$1,160
El Paso, Texas
Sitting along the Rio Grande, El Paso takes the best of American, Mexican and Native American cultures and seamlessly blends them for a unique cultural experience. This blend can be seen throughout the city – the El Paso Museum of Art features American and Mexican works spanning several centuries – and for those looking for more outdoor activity, El Paso is also known for attracting rock climbers by way of Hueco Tanks State Park.
Population:

681,728

Median monthly gross rent:

$837

Median monthly homeowner's costs:

$1,255
Apply for a Mortgage with Quicken Loans®
Call our Home Loans Experts at (800) 251-9080 to begin your mortgage application, or apply online to review your loan options.
Start Your Application
The Northeast
The second-most-expensive region in the U.S. is the Northeast. High land values and construction costs, coupled with the increasing migration of college graduates as they rush to city centers to find employment, has led to a lack of affordable housing options across the region. However limited they may be, affordable options still exist in this part of the U.S. if you know where to look for them!
Defined by the U.S. federal government, the Northeast officially includes Maine, New Hampshire, Vermont, Massachusetts, Rhode Island, Connecticut, Delaware, Maryland, New Jersey, New York, Pennsylvania and the District of Columbia.
Johnstown, Pennsylvania
About an hour and a half away from Pittsburgh, Johnstown is a small town that hosts popular annual events like the Flood City Music Festival and the Thunder in the Valley Motorcycle Rally. Defense, technology and health care are the driving industries here, with the area fulfilling contracts for the federal government and hosting one of the premier defense trade shows in the country.
Population:

19,195

Median monthly gross rent:

$523

Median monthly homeowner's costs:

$787
Erie, Pennsylvania
Also known as Gem City, Erie is the only Great Lakes port city in the state of Pennsylvania and gets its name from the lake it borders. In the summer months, the nearby Presque Isle State Park offers many outdoor activities from sailing to hiking – and in the winter, Erie is a part of the well-known Snowbelt and popular for winter activities due to its lake effect snow.
Population:

95,508

Median monthly gross rent:

$710

Median monthly homeowner's costs:

$1,007
Rochester, New York
The third-largest city in New York, Rochester has a wide range of attractions that would interest visitors and residents of all ages – from the second-largest children's museum in the country to the International Museum of Photography. Rochester is also a center for higher education, with numerous acclaimed universities and nationally renowned research programs.
Population:

205,695

Median monthly gross rent:

$848

Median monthly homeowner's costs:

$1,055
The West
Ranging from the Rocky Mountains to the Pacific Coast, the West is widely considered the most expensive region of the U.S. This is due to the fact that certain western cities, such as San Francisco, have some of the highest costs of living in the country. While not everyone can afford to live in these expensive markets, it's important to note that there are still affordable options spread across this region.
Defined by the U.S. federal government, the West officially includes Alaska, Arizona, California, Colorado, Hawaii, Idaho, Montana, Nevada, New Mexico, Oregon, Utah, Washington and Wyoming.
Pueblo, Colorado
Home to the annual Colorado State Fair, Pueblo is considered one of the best cities in the country for historic preservation. The Historic Riverwalk that lines the Arkansas River hosts a seasonal farmers market as well as various festivals and events throughout the year, and with fine art, museums and a wide array of restaurants, there is no shortage of things to do in Pueblo.
Population:

112,361

Median monthly gross rent:

$799

Median monthly homeowner's costs:

$1,133
Farmington, New Mexico
Farmington is considered the hub of San Juan County, fixated along the meeting of three rivers and offering a trade radius of 150 miles. The central location and pleasant weather make this city a hot spot for outdoor recreation. Historic Native American ruins sit nearby, with the Aztec Ruins National Monument and the Salmon Ruins just a short distance from the city center.
Population:

44,372

Median monthly gross rent:

$868

Median monthly homeowner's costs:

$1,374
Yuma, Arizona
Near the Arizona-California border, Yuma is particularly popular in the winter months due to its warm, dry environment. The city offers plenty to do outside – from playing a round of golf on one of numerous courses to bird watching at the Imperial National Wildlife Refuge – but it is also home to indoor attractions like the Yuma Territorial Prison State Historic Park, which dates to 1876.
Population:

98,285

Median monthly gross rent:

$891

Median monthly homeowner's costs:

$1,253
The Bottom Line: A Low Cost Of Living Lifestyle Is Possible
If you're looking for affordable living, it's important to remember that a low cost of living lifestyle may be possible in many different places. To find the best location for you, we recommend taking a deep dive into your monthly budget, including your income and all necessary expenses, to determine how much house you can really afford.
For those just starting their homeownership journey, first-time home buyer programs are available to pave the way regardless of your desired location. When considering your cost of living, it's also important to remember that interest rates are a significant factor – so once you have an eye on a property in an affordable area, it's a good idea to speak with a Home Loan Expert.