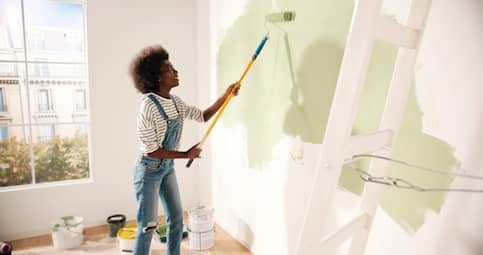 House Flipping: How To Profit On A Fixer-Upper
Published on October 15, 2021
Flipping houses is more popular than ever. Thanks to the popularity of home renovation shows, taking a dilapidated house and turning it into a sellable home now seems like a fun and profitable weekend hobby rather than the risky, time-consuming endeavor it actually is.
That's not to say it shouldn't be done or that it can't be rewarding, but you need to know what you're getting yourself into when you take on a fixer-upper. In this article, we'll explain house flipping and what you should know before taking the leap.
What Is House Flipping?
House flipping is when you buy a property as a real estate investment with the intention to hold onto it for a short time and then sell (or flip) it for a profit.
Fixer-uppers have risen in popularity over recent years, with 5.9% of all U.S. home sales categorized as house flips in 2020, according to Millionacres.com. A property is considered a flip when the home was purchased and sold within 12 months.
How To Finance A Flip Property
From choosing a property, to making renovations, to selling for profit, there are a number of steps involved with flipping property – but before you can do any of that, the first step is to secure financing. Depending on the scale of the project, there are several types of financing a real estate investor can obtain to flip a house.
Out-Of-Pocket Financing
Obviously, the most straightforward solution would be to pay for the house you plan on flipping in cash. If you can help it, it's best to avoid going into debt to fund a house flip. That said, you should also avoid using money earmarked for more important purposes, like your retirement funds.
Hard Money Loans
Not all lenders will offer mortgages for house flips. If a mortgage won't work, you may have to look to less traditional forms of lending, such as a hard money loan.
Hard money loans are short-term loans from private lenders. They can come with interest rates as high as 15%. While you should be careful and consider all aspects anytime you consider borrowing money, these loans can be useful for house flippers who need the funds to purchase property. Just make sure you're working with a reputable lender!
Cash-Out Refinance
It's possible to obtain a traditional mortgage for a house flip, but we don't recommend it. The mortgage process is lengthy, which means you may miss out on great properties while you wait for loan approval.
Instead, consider a cash-out refinance. If you've built equity in your primary home, this type of refinance allows you to tap into that equity while potentially lowering your monthly mortgage payments, which can be incredibly helpful to free up funds for your project.
Home Equity
If you own your own home, you could also consider getting a home equity loan or a home equity line of credit (HELOC). These loans allow you to utilize one of your most valuable assets – your home – but because of this they can also be quite risky, as your home is used as collateral on the loan.
If you plan on financing your flip with a loan, be sure to consider all the costs and fees you'll incur, and how that will cut into your profits from the flip.
Apply for a Mortgage with Quicken Loans®
Apply online for expert recommendations with real interest rates and payments.
Start Your Application
How To Flip A House
People often associate house flipping with demolition and design. Although those are crucial parts of the process, the project really begins before you even purchase a property. If you're an experienced flipper, you may already be familiar with what the process entails and feel more comfortable jumping in headfirst.
But beginners should be more cautious – following the necessary steps and considering how they will impact your life financially, mentally and emotionally is crucial.
Research The Market And Know Your Assets
To successfully flip a house, you must become an expert on the real estate market you're going to be selling in. If you don't, you risk putting more money in than you'll end up getting out. Understanding the process and how to interact with the real estate market will help you know how much you should spend buying the house, how to identify the home's potential value and how to price the house when you're ready to put it back on the market.
It's important not to try and increase the value so much that the house becomes overbuilt for the neighborhood it's in. When this happens, the house becomes harder to sell because houses tend to be valued similarly within neighborhoods. To avoid this, you need to do your research.
Learn about what features make a home more marketable in your area and focus on repairs that will increase market value. And when planning repairs, be sure to examine your own strengths and weaknesses – which jobs are you equipped to handle? Who will you need to hire for the jobs you can't complete yourself?
Create A Budget To Finance Project
In house flipping, budget is king. In fact, determining your budget should be one of the first things you do before finding the house to flip – otherwise you could unknowingly go you're your budget before you even begin repairs.
Every choice you make should serve your goal of generating a profit. To generate that profit, you need to figure out what your overall budget will be, and how much you can spend on each facet of it. When building your budget, be sure to consider the following factors.
Purchase price:

Figuring out how much you can spend on a property is your first task. This will help you price everything else in your budget.
Cost of repairs and labor:

Bring in the experts. Schedule a property inspection with a qualified inspector before you buy, and have contractors give you estimates on the work that needs to be done.
70% rule:

In real estate, you never want to spend more on a property than 70% of the after-repair value (ARV) minus the cost of repairs. ARV is the projected value of the home after repairs and renovations have been completed. For example, if you think you could sell a home for $250,000 after fixing it up and your general contractor says you'll need to put in around $50,000 in repairs, you shouldn't pay more than $125,000 for the property.
Keep in mind that you won't just be paying the costs of purchasing the property and reviving it. While you hold onto the property and wait for a buyer, you'll likely have other costs as well, such as loan payments or property taxes. Then you'll pay costs associated with the selling of the house, including agent fees and closing costs.
Find The Right House To Flip
In addition to online listings, real estate investors can look for fixer-uppers in several ways. Exploring local foreclosures, auctions and short sales can be a great way to find promising property in your area for a low price, but an even better option is to work with a REALTOR® or real estate agent, who can provide key insight as an industry expert.
Prioritize The Right Renovations
The renovations you do must boost the value of the home. But how can you know what will add value?
After you've completed all the necessary repairs, you'll need to make a lot of aesthetic decisions about how you want the house to look. When you're prioritizing your renovations, focus on updates that will look clean and modern while sticking within your budget.
Increase space and light:

Buyers look for warm, inviting spaces, so small, dark rooms are the enemy! You can increase your property's appeal by knocking down walls to create an open floor plan or adding skylights to provide more natural light in the space.
Update or renovate the kitchen:

Kitchens can become outdated quickly, making this one of the first rooms investors evaluate when trying to increase the home value.
Refresh the bathroom:

Bathrooms also show their age. Although some bathrooms may need a full remodel, you can spruce up your bathroom on a budget by adding new fixtures, cabinets and a fresh coat of paint.
Invest in new paint and flooring:

It seems basic but minimizing visible wear and tear can change the entire feel of the home.
Add curb appeal:

First impressions matter so the exterior of your home is just as important as the interior. Consider fresh landscaping and make sure all paint and siding is up to par.
If you're still stumped on where to start, a real estate agent or experienced flipper in your city can help give you some clues as to what the must-haves are for homes in the area. We recommend making a list of your most important renovations – or the ones most likely to earn a profit on the flip – and prioritizing those over all others.
Sell For A Profit
If you want to save money in REALTOR® fees, you can choose to sell the property yourself – but don't underestimate the value of an experienced agent. In some markets, choosing to sell your own property may delay the sale and add additional stress and money to your project.
Consider the time and energy it takes to show the house and ask yourself if you have the time and experience needed to do so successfully. If not, we recommend hiring a realtor to ensure you get the best return on your investment.
Real Estate Flipping Advantages And Disadvantages
As with any financial investment, there are no guarantees of success. To be successful in real estate flipping, you must balance the potential risks and rewards. Don't get in too far over your head before considering these factors – understanding all of the distinct advantages and disadvantages involved in the process can make all the difference in deciding whether a certain flip will be a good investment.
Pros Of Flipping Homes
Flipping houses is popular for a reason. With the right property and the right budget – at the right time – rehabbing real estate can have the potential to earn a sizable profit with a much faster turn-around time than other forms of investing. There's also the opportunity to learn new skills related to construction, real estate and negotiations.
Cons Of Flipping Homes
But these rewards also come with a lot of potential risk. The wrong property at the wrong time can mean potentially losing a lot of your hard-earned money. And even if you earn a profit in the end, you still have to consider the physical, mental and emotional pressures associated with the process.
The fact is that flipping a home requires a fair amount of sweat equity. The process can be stressful and time consuming and securing financing alone can be difficult. Needless to say, it's important to balance all of these factors alongside the potential reward to ensure you're prepared for all the process could entail.
The Bottom Line: Understand The House Flipping Process Before Getting Started
House flipping can be a great investment opportunity for the right person. If you're looking for a safe-bet investment where you can keep your money and leave it alone for long periods of time, this isn't what you're looking for.
If, however, you like working with your hands and are looking to take on a challenging project that can generate a sizable profit, you might find flipping to be a fulfilling and worthy investment. House flipping isn't for everyone, so be sure to weigh the potential risks and rewards before making an investment decision.
If you're ready to get started – or if you want to ramp up with smaller projects – check out the Rocket Mortgage® Learning Center for more homeowner tips!
Apply for a Mortgage with Quicken Loans®
Apply online for expert recommendations with real interest rates and payments.
Start Your Application