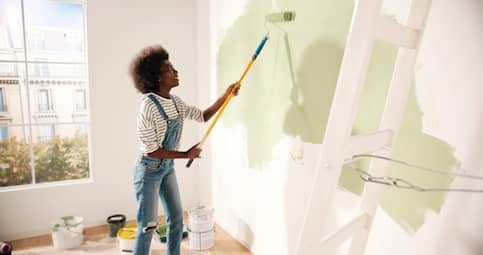 Flipping Houses: How To Get Started
Published on February 9, 2023
Flipping houses seems to be more popular than ever. Although home renovation shows make every flip seem like a walk in the park, flipping housing is a risky and time-consuming venture. Before you dive into flipping houses, there is a lot to consider. Let's explore how to get started flipping houses.
What Is House Flipping?
House flipping is when you buy a property as a real estate investment with the intention to hold onto it for a short time and then sell (or flip) it for a profit. Flipping a house often involves renovations, but that's not always required to turn a profit.
How To Flip A House
People often associate house flipping with demolition and design. Although those are crucial parts of the process, the project really begins before you even purchase a property. If you're an experienced flipper, you may already be familiar with what the process entails and feel more comfortable jumping in headfirst.
But beginners should be more cautious – following the necessary steps and considering how they will impact your life financially, mentally and emotionally is crucial.
1. Make A Plan
Successfully flipping a house requires a collection of different skills. You'll need to identify properties, crunch the numbers, close the deal, handle any renovations and list the property for sale.
Take some time to review the skills you have. For example, you might be a proficient handyman ready to tackle most DIY projects or someone with the right mindset for crunching numbers to find the best deal. In many cases, you'll have more than one skill locked down. But if you want to grow in other areas, invest in building those skills.
As you consider your options, nail down what type of properties you are most interested in. For example, you might prefer short-term rentals, vacation homes or solid single-family homes. Before you start shopping, determine whether you want to make repairs and sell, or hold on to the property as a rental.
There is no right or wrong way to get into flipping houses. But making a clear plan will help you avoid getting pushed too far off course.
2. Form Your Team
It's tempting to go it alone and keep all profits. But, as a long-term plan, it's often more important and more profitable to have a team. The right team can help you identify properties, process the sale and complete the renovations.
A few key members of your team might include a real estate agent who specializes in the type of properties you are looking for, a real estate attorney and a financial expert who can help access cash for purchases.
3. Arrange Your Financing
A traditional mortgage is often difficult to obtain for a flip. Even if you plan to live in the house, traditional mortgages require the property to be livable before you move in. That's not always the case with a fixer-upper.
Obviously, the most straightforward solution would be to pay for the house you plan on flipping in cash. If you can help it, it's best to avoid going into debt to fund a house flip. That said, you should also avoid using money earmarked for more important purposes, like your retirement funds.
Another option is a cash-out refinance. If you've built equity in your primary home, this type of refinance allows you to tap into that equity while potentially lowering your monthly mortgage payments, which can be incredibly helpful to free up funds for your project.
Alternative funding sources include crowdfunding the project, borrowing from friends and family, or working with a hard money lender. Explore all your loan options for house flipping before moving forward.
4. Make A Budget: Time And Money
In house flipping, budget is king. In fact, determining your budget should be one of the first things you do before finding the house to flip – otherwise you could unknowingly go over your budget before you even begin repairs.
If you don't stick to a budget, it's easy to get in over your head while flipping houses.
Decide How Much You Should Pay For A House: The 70% Rule
The financial details of a house flip vary. But many house flippers choose to abide by the 70% rule. With the 70% rule in place, you wouldn't spend more than 70% of a property's after-repair value (ARV) minus the cost of repairs on a property.
For example, if you think you could sell a home for $250,000 after fixing it up and your general contractor says you'll need to put in around $50,000 in repairs, you shouldn't pay more than $125,000 for the property.
Pad, Pad, Pad Your Estimates
The reality of any home renovation project is that it will almost always cost more and take longer than you originally anticipated. As a real estate investor, none of my renovation projects have finished on time. Since it is safe to assume the worst when creating your budget, leave room for issues in your estimated costs and timeline.
5. Find Your House
When you have the numbers all lined up, it's time to find the house. Even for experienced house flippers, finding the right house to flip is often the most challenging part of the process.
Below are some tips on finding the right house.
Lean On Your Team
When looking for your next flip, everyone on the team should understand exactly what you are looking for in a house. For example, you might be looking for a house with minimal renovation requirements or something in a particular part of town. As an investor, part of finding the right deal is effectively communicating what you want.
Foreclosures
Foreclosures represent a good opportunity for house flippers. As an investor, you can often scoop up foreclosures at a relatively affordable price. However, most foreclosure auctions come with an increased level of risk.
Short Sales
Many house flippers seek out homes in preforeclosure. Although the property hasn't been foreclosed on yet, the homeowner is in dangerous territory. As an investor, you can purchase the home through a short sale. You'll likely get a great deal, and the homeowner can avoid foreclosure.
Online
Many websites, like Attom, provide information about foreclosures and real estate markets. You can seek out deals by using the information provided by these kinds of sites.
6. Undertake Repairs
When flipping a house, the repairs might range from simple to complex. Even if you expect a short list of repairs, you'll likely run into unexpected repairs along the way. Before buying the house, paying for a home inspection can help identify issues that must be resolved.
Start by working on the necessary repairs. After the basics are done, you can focus on extra renovations to boost the value of the home.
7. Prepare For Sale
Once the renovations are completed, it's time to prepare for the sale. If possible, stage the home to maximize profits. If you don't have the resources to stage the home, work with your real estate agent to create the perfect listing.
8. Close On The Home
Finally, it's time to sell the house. As with every step, there are costs involved with selling a home.
If you want to save money in REALTOR® fees, you can choose to sell the property yourself – but don't underestimate the value of an experienced agent. In some markets, choosing to sell your own property may delay the sale and add additional stress and money to your project.
Consider the time and energy it takes to show the house and ask yourself if you have the time and experience needed to do so successfully. If not, we recommend hiring a realtor to ensure you get the best return on your investment.
Pros And Cons Of House Flipping
Every financial choice has advantages and disadvantages. Here's what to keep in mind with house flipping.
Pros
Explore the advantages of house flipping.
Profits: The last few years have seen huge appreciation in demand for move-in-ready homes. House flippers successfully bringing rehabilitated homes to market in the last few years have reaped a tidy profit.
Great side hustle: If you're a seasonal construction worker, for example, putting your skills to work in the off-season can be a great way to supplement your income.
Improve neighborhoods, one house at a time: Some house flippers set their sights on rehabbing a neighborhood, or at least a block of it, one house at a time. It's a great way to ensure that your investments will be rewarded with a windfall should neighborhood improvement lead to increased demand for rehabbed homes.
Diversification of your investments: Most investments are held in retirement accounts, which lean heavily on investments in liquid markets, like stocks, bonds and funds. Real estate investments give you a hedge against downturns in the stock or bond markets.
Cons
Now for the disadvantages of house flipping.
Markets change: You might buy your property when the market is red hot. But it could turn ice cold overnight. You have to be prepared to continue mortgage payments on the loan longer than you had hoped or even could have reasonably foreseen.
Property won't sell quickly enough: Even without a significant change in the market, houses don't always sell quickly, sometimes for mysterious reasons. Or your repairs might take longer than you think. Again, be prepared to continue making monthly payments.
Running out of money: If you've undertaken even the simplest home improvement projects, you know that they almost always cost more and take longer than you think they will. If you run out of money before the home is livable, you'll be on the hook for the monthly mortgage payments while you scramble to finish the work.
Stress: This list of cons probably goes a long way toward explaining why house flipping can be stressful. If finances are tight and only work if you can repair and sell the home quickly, you might have some sleepless nights until you close on the sale of the home.
Common Mistakes House Flippers Make
House flipping represents a lucrative opportunity. But many house flippers run into the same mistakes.
Going It Alone
The right team can make all of the difference in your house-flipping ventures. If you choose to work with competent professionals, you'll have an edge against the competition.
Finding the right real estate agent who specializes in foreclosures or real-estate-owned (REO) properties can make all the difference. Additionally, working with someone skilled at home renovation might benefit from working with someone with business and project management skills can streamline your success.
Not Budgeting Enough Time
Every house flipper can tell you that things often take more time than you anticipated. As a house flipper, you should expect to encounter delays. Before getting put in a pinch, make a backup plan for an extended timeline.
Not Having Enough Money
Flipping houses is a cash-intensive proposition. If you run out of money during the project, you risk losing the entire investment. If possible, build some wiggle room into your flipping budget. You might need more cash than you originally thought.
Can I Use A Government Loan To Flip A House?
The FHA, VA and USDA home loans are not meant to be used by investors.
If you want to live in the house while flipping it, that's an option with some government loans. But keep in mind that the property must be in livable condition to close on the loan. Government loans allow you to purchase residential properties with one to four units. With that, you have the chance to live in one unit while renovating other units.
Owner-Occupancy Requirements
Government loans require you to meet owner-occupied residency requirements. Typically, you'll need to move into the home within 60 days of closing. Additionally, you may need to live in the house for a set number of months.
Before you buy a house with a government loan, confirm the terms of the loan are compatible with your flipping plans.
FHA Appraisal Standards
If you want to purchase a home with a government loan, it must meet FHA appraisal standards. When compared to a conventional appraisal, these standards have enhanced health and safety standards versus conventional appraisals. The home must be livable and in good enough condition to secure the loan.
If buying from a traditional seller, they might make the necessary repairs before selling the home. But if the property is now owned by a lender, they likely won't make repairs. If the seller cannot make the baseline repairs required, then you likely won't be able to use a government loan to complete the transaction.
FHA 203(k) Loans
If the home isn't in good enough condition to meet FHA appraisal standards, pursuing an FHA 203(k) loan might be the solution. An FHA 203(k) loan is designed to provide the funds to purchase and repair a home. However, the repairs must be performed by a licensed contractor, which eliminates the possibility of DIY repairs. However, you'll need to live in the property for a minimum of 12 months before you can sell it.
Flipping Homes: FAQs
You have questions about flipping homes. We have answers.
What is the average cost of a complete home renovation?
The costs to renovate a home vary widely based on the specifics of the property.
$48,441 is Angi's average estimate for home renovations in 2022. However, the site offers an estimated renovation range of $18,015 to $79,085.
Where are the best cities for house flipping?
Some of the top U.S. cities for house flipping include Charlotte, North Carolina, Atlanta, Georgia, and Phoenix, Arizona.
What if I'd like to invest in real estate but don't have home renovation skills?
It's very possible to invest your money in real estate without being responsible for the repairs yourself. If you don't want to own an individual property, consider crowdfunding sites and real estate investment trusts (REITs) that allow investors to buy an interest in real estate that will be repaired by others. If you want to own individual properties, one option is to partner with someone that has home repair skills.
If you do have home renovation skills, you can build sweat equity by completing high-value repairs. If you have the funds to invest, you can build financial equity by providing the necessary funds.
The Bottom Line: Flipping Houses Can Create Investment Wealth
Flipping houses is a great side hustle that can grow into a lucrative portfolio if you take the time to plan, learn from mistakes made and create opportunities to move into other avenues of real estate investing.
If you are serious about investing in real estate, consider applying for a home loan online now.