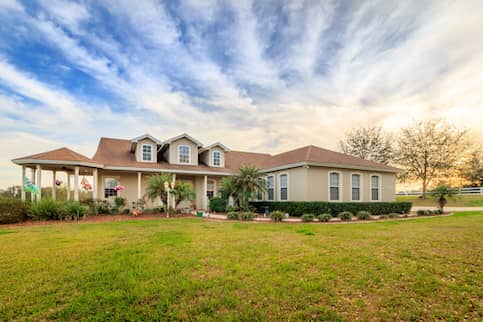 Cost Of Selling A House: A Seller's Guide
Published on September 6, 2022
In most areas of the country, it's still a seller's market. Whether you're upsizing, downsizing or relocating for work, selling your home can be simultaneously exciting, stressful and profitable. Managing a home sale without costs spiraling upward is challenging but necessary to keep your move affordable and potentially lucrative.
How much it costs to sell a house depends on various factors of your specific situation. In almost all circumstances, selling your home isn't cheap – but fortunately, profit from a home sale can offset expenditures such as real estate agent commissions and moving costs. Here are the details of how much selling your home will cost and how you can efficiently navigate the process.
Apply for a mortgage today!
Apply online for expert recommendations with real interest rates and payments.
Start Your Application
Cost Of Selling A House: What To Expect
Selling a house typically costs 10% – 15% of your home's sale price. Of course, costs vary depending on the house and whether the market favors buyers or sellers. Today's hot market favors sellers, so your costs may range on the lower end.
What Are The Costs Of Selling A House?
Although selling your home can be profitable, you'll have to foot several bills to make your home presentable and close a deal. The costs can add up quickly, including:
Repairs
Most home purchases include an inspection contingency, which allows buyers to have a home inspection before they buy the property. As a result, you may need to make repairs based on the inspection findings and what the buyer wants. Otherwise, the buyer can back out of the contract without penalty.
The average cost of sellers' home repairs is $3,500 – $5,000. While this amount can lighten your wallet considerably, the repairs usually pay for themselves by increasing your home's value and drawing in more buyers.
Mortgage Payoff
If you are still paying on your mortgage, you'll have to pay off your mortgage with the profit from the home sale. Ideally, you'll have a low enough balance where you can repay it and have money left over for a down payment on the home you move into.
Whether your home sale helps you address your mortgage or not, paying off your mortgage is necessary for selling your home. Otherwise, you can't complete the transaction because your lender holds a lien against the home that only goes away once you satisfy the mortgage balance.
Lastly, if you're selling your home after just a year or 2 of ownership, some lenders charge extra fees for paying off the loan early. This expense could cost you 2% of your mortgage value. Note: Rocket Mortgage® does not charge early repayment fees.
Taxes
Unfortunately, real estate transactions aren't immune to taxes. For example, you might pay for the following:
Property taxes: You'll typically owe property taxes on your home until closing day, possibly longer if you make a concession in your deal with the buyer. However, in typical circumstances, your municipality will prorate the taxes and split them based on when ownership transfers to the buyer.
Transfer taxes cover government processing of the real estate transaction. The amount of transfer and property taxes depends on your region.
Capital gains taxes rarely come into play when selling your home. However, if you have lived in your home for less than 2 years, are selling a vacation home or investment property, or your home's value has grown by over $250,000 (or $500,000 for joint tax filers), you might owe 15% of the home sale in capital gains taxes.
Real Estate Commissions
The real estate agent helping you sell your home will earn real estate commissions for their effort. Usually, a REALTOR® or agent will receive 5% – 6% of your sale price. That's $12,500 for a home that sells for $250,000, which can seem steep, but the cost is worth it.
While it's possible to sell your home on your own, real estate agents provide significant advantages like:
Streamlining the sale to save you time and money.
Many buyers' agents won't show homes an agent isn't representing.
Your agent can make informed recommendations on how to get your home ready for showing. For example, your agent could steer you away from a pricey renovation or landscaping project that wouldn't boost your home value significantly.
A real estate agent worth their salt is an expert negotiator who can help you get the best deal.
Buyer's Title Insurance
Buyers often purchase title insurance to cover problems with property ownership that could hinder the transaction. For example, a public record might hold a false claim against the property from an old resolved dispute.
Sellers often pay for a buyer's title insurance as a concession to sweeten the deal for the buyer. You can expect to pay $200 – $3,500 for a policy, depending on your area and insurance company.
Closing Costs
Closing costs include taxes, title search, insurance, escrow fees, plus any fees you agreed to provide the buyer. For example, you might pay origination fees, appraisal fees and mortgage points on the buyer's behalf. Closing costs range up to 6% of the sale price.
Optional Costs When Selling A House
While costs for selling your home can accumulate rapidly, the following factors can help you sell your home quickly and for the top price. A wise home seller will evaluate their options and decide which will expedite their transaction.
Pre-Inspection
A pre-inspection is an inspection a seller pays for before listing their home. While most buyers will conduct their own inspection, a pre-inspection helps you ascertain your home's condition and proactively take care of glaring issues. As a result, this option can help speed up negotiations once you get an interested buyer at the table.
A pre-inspection usually costs $300 – $500. Of course, if it reveals any problems, you'll have to pony up for necessary repairs.
Staging And Photography
Staging and photography help present your home in its best light. A beautiful set of furniture and professional-grade pictures of your home can inspire a buyer's imagination and get them to the closing table.
While you can stage your home and take photos yourself, you'll be busy moving out your furniture, managing the sale, and looking for a new home. Therefore, having top-notch photos of a home furnished with your possessions can be impractical. Photography services will cost about $200, and staging can cost $800 – $2,000 per month, depending on whether you need a company to arrange your furniture or provide a rental set.
Seller Concessions
Seller concessions are ways you can help the buyer with closing costs. In a buyer's market, seller concessions are more common. In today's hot market, buyers will likely be on the hook for the following:
Property taxes for the rest of the year.
Title insurance for issues surrounding ownership, liens and incorrect municipal records
Origination fees for the buyer's lender to create the new mortgage
Buyer's home inspection and appraisal fees
Recording fees your city or county charges for recording the property transaction
Mortgage points to lower the buyer's interest rate
Your real estate agent can help you discuss concessions with the buyer. While concessions may seem like an uncontrollable cost, housing regulations cap concessions at the amount of the seller's other closing costs. Therefore, if your closing costs are $7,000, you can provide the buyer a maximum of $7,000 worth of concessions.
Moving Expenses
Selling your home means moving into a new one. As a result, your moving expenses will depend on your needs and preferences.
A moving company costs $800 – $2,200 for a move within 100 miles and up to $5,700 if you're going over 100 miles away.
If you want a company to pack your possessions, you'll pay an additional $500 – $4,000.
A storage container or moving pod will likely cost $500 – $1,500 for a local move and $1,500 – $5,000 for a move over 100 miles away.
If you're taking care of moving yourself and only need a vehicle, a truck will cost approximately $140 – $350 for a move close by and $500 – $1,750 for long-range transportation.
How Are A Seller's Costs Paid?
At this point, you might be wondering how a seller can profit from a sale with all these expenses. Fortunately, your home sale will likely cover these costs and leave you with extra cash for your next purchase. Some expenses, like your real estate agent's payment, come directly from the home sale in all situations. Others, like staging and photography, will come from you initially and ideally be recouped after closing.
However, your home sale may not completely cover your costs. In that case, you'll have to come out of pocket for any outstanding fees.
The Bottom Line
Selling your home might seem daunting, and it's a good idea to create a budget to keep your expenses under control. All expenses considered, you could spend 10% – 15% of your home sale price to sell it.
While this figure means reduced profits from the sale, you can spend wisely to accelerate the process and make the most of the transaction. Additionally, you'll more than make up for the costs of selling through the sale price in many cases. That said, you may need to pay out of pocket for selling if your home's value doesn't cover the difference.
If you're looking for a new home, your search starts here. Use Quicken Loans® to get approved for a mortgage online.
Apply for a mortgage today!
Apply online for expert recommendations with real interest rates and payments.
Start Your Application