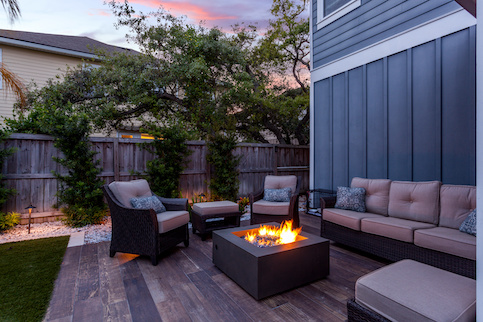 Sweat Equity: What You Need To Know
Published on October 9, 2020
It's easy for first-time home buyers to get discouraged by the up-front investment required to own a property. Although your budget might feel like a constraint, it's possible that you're overlooking the value that your own skill set brings to the table.
Think of it this way: If the down payment on your fixer-upper is the key that unlocks your new home's door, then your skills are what will add color to the walls. If done right, investing sweat equity will increase the value of your home over time.
What Is Sweat Equity?
By definition, sweat equity is the non-monetary investment of your time, labor and expertise that increases the value of your home. In other words, sweat equity is your own "blood, sweat and tears," which translates into tangible profit when you sell your home. Instead of paying contractors to build that elusive dream deck or renovate an outdated kitchen, sweat equity comes from doing it yourself. The time that you're spending, right now, researching and gaining expertise in homeownership is the first step toward building that equity.
Habitat for Humanity is the clearest example of sustainable sweat equity in action. The organization requires future homeowners to invest a certain number of hours into community development, ranging from construction work to homeowner classes, before they can move into their new home.
Apply for a Mortgage with Quicken Loans®
Call our Home Loans Experts at (800) 251-9080 to begin your mortgage application, or apply online to review your loan options.
Start Your Application
Projects Proven to Increase Home Value
Although construction and remodeling experience can be extremely valuable to build equity in a property, it's not the only skill that can increase your home value. It's possible to leverage a wide range of expertise and passions into real estate profit. Here are some examples:
Invest In Landscaping
Have you nurtured a jungle of house plants inside your apartment? Putting down roots, metaphorically and literally, has been found to dramatically increase the market value of your home. One study by the Virginia Cooperative Extension surveyed 13 states and found that a well-designed landscape could increase the perceived value of a home by as much as 12.7 percent. Unlike many other home improvements, an investment in landscaping will appreciate in value over time as your plants grow.
Keep Your Home Tidy
You heard it here first: Binging "Tidying Up With Marie Condo" is an investment in sweat equity. One study published in the Journal of Environmental Psychology suggests that clutter prevents occupants from feeling safe and secure, arguably the key draw in homeownership.
It makes sense, then, why so many real estate agents will emphasize the need for home sellers to declutter their homes before listing. The state of a home's clutter can leave prospective buyers feeling calmer or more stressed, but more than that, you can enjoy the effects of a tidy home long before the time comes to sell. Rent that carpet cleaner. Spring clean. The ROI will be felt both financially and emotionally.
Update Design
You don't have to break your back to increase the value of your home. Here are a few simple weekend projects that will likely pay for itself (and then some) at the time of sale:
Paint:

According to Zillow findings, giving your front door a fresh coat of black paint could add an additional $6,000 to the value of your home.

Energy efficiency:

Home buyers are willing to pay more for an energy-efficient home according to a National Association of Home Builders survey. Replacing all of your light bulbs with LED fixtures may cost more up front, but they can last up to ten years and they're easy to install yourself.

Touchless features:

Design expert Kerrie Kelly predicts that replacing your bathroom and kitchen faucets with a touchless smart feature will attract buyers sensitive to the COVID-19 pandemic.

Outdoor upgrades:

Always wanted to bring home a fire pit? Now is the time! The impact of the pandemic on our social lives has led home buyers to prioritize the value of comfortable outdoor spaces. In fact, Zillow found that listings that mentioned a fire pit sold for 2.8% more than similar homes.
Knowledge is power, so consider looking through YouTube or signing up for webinars to better understand homeownership and sweat equity, which can help you avoid costly first-time ownership mistakes.
The Benefits and Downsides Of Investing Sweat Equity
You may not be paying contractors for their labor, but time is still money. There are pros and cons of going the path of DIY. Below you'll find some of the common benefits and pitfalls homeowners face when deciding which home improvement projects will have the highest ROI.
Benefits Of Investing Sweat Equity
Here are the primary benefits to investing in sweat equity:
You Can Shop Smarter
If you're shopping around for your next home, understanding your strengths and weaknesses can help you decide which fixer-upper is the right profitability match. Consider which renovations may need to be delegated to a professional and which you could handle yourself.
It Requires Less Capital
Purchasing a home that requires a lot of work is going to be significantly more affordable than moving into a home in mint condition. Instead of feeling overwhelmed with the projects at hand, look at them as opportunities to profit in the future.
There's A Financial And Emotional Payoff
It can make more sense to skip paying down principal on your mortgage and invest in materials needed for home improvements instead. This is for two reasons:
Long-term profit

: The capital invested in the home can generate profit if you're planning to sell before the improvements depreciate in value. It's important to strategize your investments based on when you plan to sell. For example, if you plan to sell in ten years, fixing a leaky roof will have longer-term profit than painting your bathroom periwinkle blue today.

Short-term value

: The value of your efforts will be immediately felt in your quality of life. Essentially, you get to have your cake and eat it, too.
Downsides Of Investing Sweat Equity
Just like anything else, there are challenges to relying on sweat equity to increase your home's value. Here are a few:
Life During Renovation
How do you know when your friends and family are having their kitchen or bathroom renovated? They'll tell you. It's a nuisance to live in a home that's under construction. Additionally, if you choose to rent an apartment or are still paying rent while finishing renovations before moving in, the additional cost may not be worth the renovations.
Time
It's a common mistake to underestimate the amount of time a project might take. Calculate how much time it will take to research the project, pull any necessary permits, shop for materials, build and then troubleshoot. Then, consider adding a few more days or weeks to your timeline.
Change In Demand
Just ask the homeowners who wired audio systems into their walls: some innovations can quickly go out of style. Additionally, nobody could have predicted that a pandemic would increase the value of outdoor space. How do you decide what to invest in? Some things to consider:
Are there any structural improvements you can make?

No matter how black your front door is, buyers will have a hard time overlooking a leaky roof or outdated plumbing system. Above all else, homeowners want a house with good bones.

When are you planning to sell?

If you've just moved in and want to start investing for the long-term future, you can't go wrong with landscaping. Planting a few saplings today means eye-catching curbside appeal down the line. If you're planning to sell sooner, it might be safer to lean into trending design choices, like Spanish bathrooms and granny pods.

What is your expertise?

Maybe don't take up a hobby in electrical engineering and lean more into what you already know. It makes more financial sense to hire experts than to make costly mistakes as an amateur plumber.
Apply for a Mortgage with Quicken Loans®
Call our Home Loans Experts at (800) 251-9080 to begin your mortgage application, or apply online to review your loan options.
Start Your Application
Can I Calculate My Sweat Equity?
Sweat capital is the monetary value of the labor you've invested into your property. At the point of sale, you can calculate that profit by subtracting the original value, the cost of materials used to improve the home, and any percentage market value fluctuations from the final selling ask. What's left is the value of your labor.
Let's say you purchased a home for $250,000. Over the years, you purchased $5,000 in paint, kitchen cabinet panels and outdoor gardening materials. At the same time, your neighborhood experiences a 10% boom in market value, so you sell your home for $300,000. So, if you want to put monetary value to your labor, you would subtract the purchase cost and market value increase ($250,000 X 110%) plus the material invested ($5,000) from the sale price ($300,000). The remaining value ($20,000) is the theoretical value of all the blood, sweat and tears you invested in your home over the years.
Get Started: Learn How Much Home You Can Afford
Before sinking money into a brand-new kitchen or installing a steam shower, it's important to remember that, ultimately, the market determines the value of your sweat equity. Although granite countertops might be valuable to you, they won't make up for an unsafe plumbing system. The buyer will always have a different set of values in a home.
Find out the maximum home price you can afford with our Home Affordability Calculator.
Home Affordability Calculator
Calculate the home price you can afford using your income and the amount of debt you have.
Calculate Now