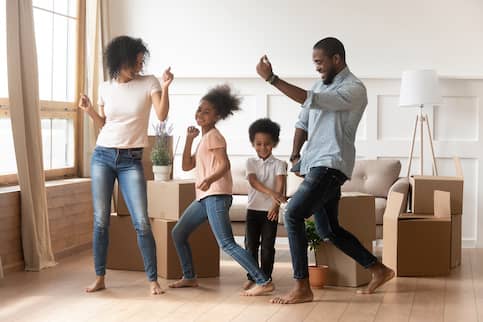 How To Invest In Real Estate: A Beginner's Guide
Published on May 13, 2022
When you're looking into investing in real estate, you may find that there's a dizzying array of possibilities!
From buying a house to purchasing a condominium complex or even a real estate investment trust (REIT), you may wonder how you'll ever choose. The right type of investment will have to fit your needs and budget. How can you use the right strategy to maximize your real estate portfolio potential?
We'll walk through the basics of how to invest in real estate and point out a few ways you can make it happen for you.
Apply for a mortgage today!
Apply online for expert recommendations with real interest rates and payments.
Start Your Application
What Does It Mean To Invest In Real Estate?
Real estate investing is a financial strategy for investors to buy an investment property. The route to investing in real estate can look different for many people. Ultimately, it means real estate investors purchase, manage, rent out and/or sell real estate property to make a profit.
However, investing in real estate doesn't always mean that you buy a house or duplex. You can also adopt a more hands-off strategy, such as investing in real estate mutual funds instead.
Real Estate Investing Strategies: Types Of Investments
So, what are the available real estate investing strategies? Unless you do a bit of research, you may not even be aware of the ways investment properties can have a place in your portfolio. If an investor doesn't have the right resources, time or knowledge, they won't be able to turn real estate investing into a profit.
Homeownership
Rental properties
House flipping
Luckily, there are many ways you can invest in real estate without having to rent to tenants. These include:
Real estate investment trusts (REITS)
Real estate investment groups
Real estate mutual funds
Real estate limited partnerships
Crowdfunding
We'll go over these options in more detail below.
How Can You Make Money In Real Estate Based On The Type Of Investment You Choose?
Different types of real estate investments can help investors make money in two main ways: through appreciated value or rental income.
Appreciated value: Appreciated value means that the value of a property will be higher in the future than it is today. The benefit of appreciated value means that you may be able to sell the property for a profit down the road. For example, if you purchase a home for $250,000 and sell it for $400,000 15 years later, you'd see a profit of $150,000.
Rental income: Most people purchase rental properties because they want to generate monthly cash flow through rental income from tenants. This amount should be higher than your total monthly expenses (mortgage payment, insurance, taxes, maintenance, etc.).
Homeownership
As of April 2022, 65.4% of Americans own their own home. Owning your own home is one of the most common ways to invest in real estate. When you buy a home, you're taking advantage of one of the best ways to invest in real estate because it increases your net worth.
As you pay off your mortgage balance, you eventually own your home outright. It's a great step in achieving financial independence.
There are other perks of owning a home as well. These include like the ability to deduct mortgage interest and property taxes from your income taxes each year.
Rental Properties
Buying rental property is one of the most widely known real estate investing opportunities. The idea is simple. You purchase a property and rent it out to tenants for more than it costs you each month.
Rental income received enables real estate investors to add money to their yearly income, which can result in thousands of extra dollars in your pocket.
Keep in mind that you'll have to look beyond the mortgage payment and must factor in maintenance and monthly management of the property. Will you handle this, or will you hire a management company? (If you're handy, you could save a lot of money.)
All of these will factor into your overall cash flow. You'll have to do some number-crunching to find the perfect rental property. If you make the right decisions, purchasing rental properties can become very profitable. Not only will you benefit from rental income, the property may also appreciate in value.
Flipping Houses
House flipping means finding a distressed property listed below market value, getting funding for the house, renovating it, then reselling it for a profit. Successful flippers purchase a home, do the renovations quickly and get the home back on the market as fast as possible.
It takes time and energy to flip a house, and the longer you take, the more it'll suck away at your profits. That's why it's important to limit your initial investment with a low down payment and keep renovation costs low as well. However, sometimes large problems take extra time and money to fix and surprises can crop up.
Real Estate Investment Trusts (REITs)
Did you know that you can also invest in real estate without owning physical property? Real estate investment trusts (REITs) allow you to invest money in a group of real estate assets by purchasing individual shares of a REIT holding, similar to the way you'd purchase shares of stock.
Here's how it works: Companies sell shares of stocks, issue bonds and then use the revenue to purchase a group of properties. Then they lease the individual units for monthly rent payments. Property types may include real estate like shopping malls, office buildings and/or apartment buildings
As REITs become profitable, the investors reap the benefits. However, it's important to understand that you don't have complete control over the real estate assets in a REIT.
Real Estate Investment Groups (REIGs)
Real estate investment groups (REIGs) buy or build a collection of properties and then sell off property parts to real estate investors. For example, a REIG may buy an apartment building while investors can buy units within it.
REIGs handle locating tenants, maintenance and the other responsibilities of owning a rental property, which means you can take a hands-off approach to investing in real estate. However, since the REIG handles a lot of the day-to-day maintenance and charges for it, you'll lose out on some of the profits.
Real Estate Limited Partnerships (RELPs)
A type of REIG, a real estate limited partnership (RELP) can also help you bring in income through real estate. Put simply, a group of investors pool their money to invest in property by purchasing it directly, developing it or leasing it.
As an investor, you'd chip in a certain amount to have a particular share in the property. You'd receive equity in the properties that the RELP purchases based on the size of your investment. For example, if six investors put in $166,666 to purchase $1 million in real estate, each person would have an equal 20% share of the property.
RELPs are governed by a partnership agreement that names general partners and limited partners. General partners take care of the property management of the investment and limited partners have equity shares but don't participate in day-to-day decisions.
Real Estate Mutual Funds
Real estate mutual funds are managed funds that may invest in several different types of securities. These include REITs, real estate stocks and other real estate-related securities. One of the benefits of investing in a mutual fund is that you automatically invest in a diversified portfolio.
This means that you spread out risk among many different types of investments, rather than sinking all your efforts into one investment, such as flipping a home. You may even be able to earn passive income through dividend investment when you invest in a mutual fund. Dividends are payments that companies pay to investors, usually quarterly.
Crowdfunding
Crowdfunding uses social media to attract investors and uses it to their advantage to pool money to invest in real estate. This way, investing is open to everyone, not just the usual real estate investors.
Participating in crowdfunding may not cost you a lot of money to get started, and you can usually pick the real estate project you want to invest in. Right now, some real estate crowdfunding platforms are restricted to accredited investors (who typically must have a net worth of at least $1 million). Some crowdfunding platforms are open to both accredited and non-accredited investors.
Take the first step toward buying a house.
Get approved to see what you qualify for.
Start My Approval
When Should You Start Investing In Real Estate?
There's no definitive time in which you "should" or "should not" invest in real estate. You may want to consider your own financial health. If you already have a high debt-to-income ratio (DTI) (the amount of debt you have relative to your income), a low credit score or trouble coming up with a down payment, you may not be able to invest in real estate.
However, if you have discretionary income, a great credit score or have money for a down payment, you could consider real estate investing.
If real estate investing makes sense for your needs, consider looking for homes in the winter or late fall, when not a lot of people are buying. You might be able to snag a deal.
The Pros And Cons Of Real Estate Investing
What are the pros and cons of real estate investing? Let's take a quick look.
Pros
Real estate investing can offer a lot of major perks, including:
Opportunities to make money: Real estate can offer a steady cash flow, which can turn into long-term security and a way to build income.
Income diversification: For example, if you already have a Roth IRA, 401(k) and mutual funds, adding a stream of rental income can add more diversification to your portfolio.
Appreciation and tax advantages: Real estate appreciates over time and often offers tax advantages..
Cons
Of course, it's smart to consider the downsides to real estate investing before you dive headlong into it:
Time-consuming and expensive: Investing in physical property is time consuming, especially if you have to reconstruct an entire home before selling or renting. It can also be very expensive, costing thousands of dollars and even hundreds of thousands of dollars to purchase a property.
Liability risks: Every investment carries risk, and real estate investments are no exception. You could lose money, whether you buy a rental home or invest in a REIT. You accept the good and the bad when you invest in real estate.
Not a liquid asset: Some real estate assets (such as mutual funds) are liquid. However, a physical property is not a liquid asset, which means you can't turn it into cash quickly if necessary. Unlike a stock, which you can sell at any time, selling real estate takes time and money.
Why Should You Start Investing In Real Estate?
Investing in real estate can provide a variety of opportunities for investors. It's a potential way to make money and diversify your investments. It also could provide a source of full-time income for the right investor. If you do your research, have the right financial assets and have a plan, real estate investing might fit your needs.
It's not right for everyone, however. If you're unsure if real estate is something you want to invest in, start small. Instead of jumping right into a rental property, invest a small amount in a REIT or a real estate crowdfunding website.
How To Start Investing In Real Estate: Step By Step
Here's how to start the real estate investing process.
1. Assess Your Financial Situation
First, it's important to evaluate your financial situation before investing in real estate. It's a good idea to have little-to-no debt and have liquid savings to use for a down payment. It's important to have a good credit score, which helps you qualify for reasonable loan rates and gives you real estate leverage.
One of the most important things you can do before investing in real estate is to build a financial cushion because unknown expenses can pop up, such as a two-month gap without a tenant or a roof on a rental property that must be rebuilt.
Get a mortgage preapproval as well. It can help you understand how much you'll qualify for in terms of a mortgage for a rental property, for example.
2. Choose A Real Estate Investing Strategy
Once you evaluate your finances and know where you stand, you're ready to choose a real estate investing strategy. Consider starting out with one strategy versus multiple strategies.
Also consider how you'll diversify your investments, particularly if you hold non-physical assets. For example, you can invest a little in real estate, a little in technology, and some more in both banking and retail to create a diversified portfolio. Purchasing rental properties means that you'll have to have more cash upfront in hand, which can limit your ability to diversify, at least at first. As you continue to purchase more properties, you will become more and more diversified. It's also important to understand the risks. If you're not careful, you could end up losing your entire investment.
3. Find Real Estate Professionals
Next, look for the right real estate professionals to help you invest. A real estate agent can help you find properties that meet your goals and even send you off-book opportunities that aren't listed.
You may also need to find an individual or a company to manage the properties, a real estate attorney to handle transactions and an accountant to take care of the financial side of your business.
A real estate agent can help connect you with other professionals, particularly if they have wide experience in your area and have connected with various professionals over the course of their career.
4. Research The Real Estate Market And Its Trends
It's important to research real estate market trends, including your local market. This may involve getting your real estate agent on board to help you outline your wishes, but don't take your own research out of the picture.
You may spy a house that isn't on your real estate agent's radar or decide to look at a home in a neighboring suburb. Know your area's popular neighborhoods, desirable amenities and more.
Look at current market values of properties comparable to a property you are looking to buy and talk to other investors as well. They may have ideas for you.
5. Close The Deal
The final step is closing the deal. Your bank and real estate agent will walk you through all the details of the closing. Make sure you evaluate all associated closing costs.
On average, buyers pay an average of 3% – 6% of the purchase price in closing costs. In other words, if you're applying for a $200,000 mortgage for rental property, you'll pay $6,000 – $12,000 in closing costs. You will need to work that number into your budget before you get to the closing table
The Bottom Line: Research Before Choosing an Investment Strategy
Learning how to start investing in real estate doesn't have to be complicated. However, it's important to take a look at two main things before you invest:
Check your finances: Look at your financial situation to ensure that you have little debt. Debt will hamper your ability to get the best interest rates and may put you in a financial bind if, for example, you don't have a renter for your property for a few months in a row.
Research, research, research: Do your research before closing on deal. You want to make the right decisions for the right reasons, financially.
Ready to pursue investing in real estate? Get a mortgage preapproval to begin your real estate investing journey.
Apply Online with Rocket Mortgage
Get approved with Rocket Mortgage® – and do it all online. You can get a real, customizable mortgage solution based on your unique financial situation.
Apply Online