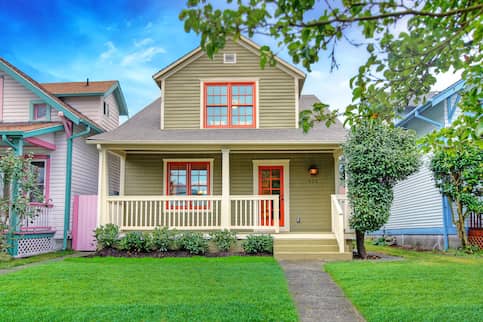 A Guide To Real Estate Owned (REO) Properties
Published on October 12, 2021
The process of buying a home is exciting, but it can be very expensive. Thankfully, there are plenty of nontraditional listing options home buyers can look into that won't break the bank. One such option for interested buyers to consider is a real estate owned (REO) property.
Let's take a closer look at what an REO property is and how to go about buying one.
What Are REO Properties?
Real estate owned (REO) properties are homes that have fallen under the ownership of a mortgage lender or investor, typically because the property failed to sell at auction. There are multiple reasons why homes become REO properties, the biggest one being that the home went into foreclosure.
The foreclosure process is very costly and can involve attorney fees as well as the cost of seizing and securing the property.
If the lender that took possession of the home can't sell the property at an auction, then the lender takes over ownership of the home. The lender then tries to sell the real estate owned property as quickly as possible.
At that point, it becomes an REO property that often stays on the lender's books for a while.
See What You Qualify For
Congratulations! Based on the information you have provided, you are eligible to continue your home loan process online with Rocket Mortgage.
If a sign-in page does not automatically pop up in a new tab, click here
Do All REO Properties Result From Foreclosure?
Although REO properties arise out of the foreclosure process – when a homeowner is unable to make their mortgage payments or pay property taxes – the terms "REO" and "foreclosure" aren't synonymous.
Beyond foreclosures, REO status might also be the result of a home being given back to the lender after the previous owner moved out or passed away at the end of a reverse mortgage. If the heirs are unwilling to pay off the mortgage balance, refinance the home or sell it themselves, they have the option of giving the property back to the lender or investor.
Pros And Cons Of REO Properties
There are benefits and drawbacks to buying an REO property that ought to be considered.
On the upside, buying an REO home can be a good idea because they're usually priced low. The lender wants a quick and hassle-free process, and typically prices REO homes to sell as fast as possible.
On the other hand, although the low price point of an REO property can be appealing for home buyers, these types of homes usually need repairs. They're often sold as-is, cobwebs and all.
How To Buy An REO Property
If you're looking to buy an REO home, it's important to understand the process from start to finish. Take the following steps to make sure you know how to find an REO property, how much you can afford and everything else that goes into buying one.
1. Get A Real Estate Agent With REO Experience
When you're looking at foreclosures and other investor-owned properties, it's helpful to work with someone who's familiar with the REO market because these properties have their own peculiarities. Here's what you can expect from an experienced REO listing agent:
They'll know how to structure an offer that looks most pleasing to a lender or investor.

They'll know what they expect to see in the offer and, just as importantly, what they don't.

They'll probably have some experience in telling home buyers what needs to be done to make the house livable.
Our friends over at Rocket HomesSM can help match you with a real estate agent who understands your goals as well as your budget.
2. Find REO Property Listings
A good place to start when looking for an REO property is to search publicly available listings from the Department of Housing and Urban Development (HUD) and other federal agencies, including the Department of Veterans Affairs, the Department of Agriculture and the IRS. In addition to the listings of the federal government itself, you can also search listings from Fannie Mae and Freddie Mac.
Some large banks may prefer to make a loan and hold onto it for 15 or 30 years rather than selling it to mortgage investors and including it in a mortgage-backed security (MBS). In these cases, the banks may have their own online listings where you can search for REO properties they've repossessed.
3. Understand General Vs. Special Warranty Deeds
In most home sales, there's typically a general warranty deed. A general warranty deed tells you a couple of things:
The seller has the right to sell you the property as they currently own it.

There are no other legal issues or claims to the property by anyone other than the seller.
If you get a general warranty deed, no one can claim issues with your title from before you owned the property. The general warranty deed also lets you know that there are no liens and that the property is owned free and clear by the seller.
However, with an REO sale, you may not be able to get a general warranty deed. In this situation, it's common to instead receive a special warranty deed. In this instance, "special" doesn't always mean "better."
With a special warranty deed, the mortgage investor is likely to only guarantee that there are no additional title issues that have been created since they took over ownership. Although they have the right to sell the property, they can't promise against other pre-existing title issues or liens.
For this reason, it's important to take precautions when purchasing an REO property.
4. Consider An Owner's Title Policy
One precautionary measure you might consider with an REO property is buying an owner's title policy. You're required to get a lender's title policy, which protects the lender's investment should there be another ownership claim against a borrower's home. But taking the extra step to get an owner's title policy protects your investment against any pre-existing claims on the property.
The owner's title policy could be helpful when buying an REO property, as many of the available properties have foreclosed. This means previous owners probably had financial trouble and you may have to worry about tax liens or judgments on the property. That's why it's important to have a title search done by a title company to prevent any surprises before buying an REO property.
5. Make A Strong Offer
Since they want to get the listing off their books as soon as possible, the lender or investor selling the REO property will want to be confident the deal is going to go through right away.
To make your offer stand out, we recommend coupling it with a strong mortgage approval. With a Rocket Mortgage® Verified ApprovalSM¹, we'll pull your credit and determine what loan options you may qualify for.
6. Get A Home Inspection
A home inspection is key when it comes to buying an REO property. Although the lender or investor is unlikely to fix any problems that come out of the inspection, it's still important to get one done.
With a home inspection, you'll find out anything that's wrong with the house before you move into it, and you'll have a better sense of what questions to ask the seller before completing the transaction.
If there are any absolute deal breakers regarding repairs, you'll be able to back out of the deal before purchasing and only lose your deposit. If you and your real estate agent can get the investor to agree to an inspection contingency, you might not even lose that.
The Bottom Line
REO properties can be a great option for home buyers with a lower budget and a willingness to make a few repairs. It's important for any interested buyer to do their research about bank-owned properties and consult with experts before purchasing one. You need to ensure that you're making the best decision for your needs.
Are you looking to buy an REO home? Consider getting a mortgage approval online.
¹ Participation in the Verified Approval program is based on an underwriter's comprehensive analysis of your credit, income, employment status, debt, property, insurance, appraisal and a satisfactory title report/search. If new information materially changes the underwriting decision resulting in a denial of your credit request, if the loan fails to close for a reason outside of Rocket Mortgage's control, or if you no longer want to proceed with the loan, your participation in the program will be discontinued. If your eligibility in the program does not change and your mortgage loan does not close, you will receive $1,000. This offer does not apply to new purchase loans submitted to Rocket Mortgage through a mortgage broker. Additional conditions or exclusions may apply. Verified Approval within 24 hours of receipt of all requested documentation.
Take the first step toward buying a house.
Get approved to see what you qualify for.
Start My Approval