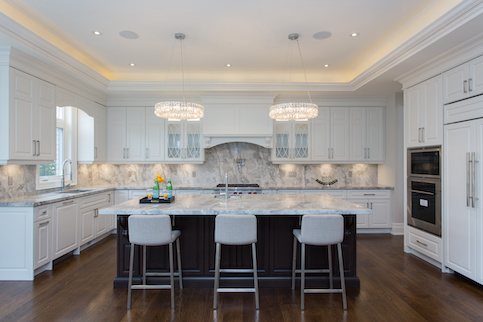 Home Staging: How To Stage A House For A Quick Sale
Published on September 29, 2022
Staging is nothing new. From department store window dressings to airbrushed food ads, it's clear that what we see matters. That's why staging your home can play a crucial role in the home selling process. In fact, the National Association of REALTORs® (NAR) found that 82% of home buyers find it easier to visualize a property as a future home when it's staged. In the same study, 47% of buyers' agents cited that home staging affected buyers' view of a home.
Not only can home staging affect your home's time on the market, but it may even be able to boost your sales price. In fact, 23% of buyers' agents said that home staging increased the dollar value offered between 1% – 5%, when compared with similar un-staged homes. If you're currently selling your home, or if you plan to down the line, consider staging your home to make a lasting impression.
Need extra cash for home improvement?
Use your home equity for cash-out refinance.
Start My Approval
What Is Home Staging?
Home staging is exactly what it sounds like: preparing, or "staging," your home for potential buyers. This can include small things like rearranging furniture or decluttering. Home staging can also encompass larger projects like adding a fresh coat of paint or installing new flooring.
We know the process of selling a house can be overwhelming, but home staging doesn't have to be. We're here to help you decide what changes to make, how to make them and how much it could cost you – in some cases, far less than you might think.
Home Staging Options
Just like any other home project, you have options when it comes to staging your home. Whether you work with the pros, your real estate agent or decide to go at it yourself, each approach brings something to the table. Let's go over your home staging options.
DIY
For sellers on a tight budget, DIY home staging could be the way to go. Given that you don't have any complex repairs to tackle, taking on home staging responsibilities can save you some serious cash.
But DIY staging still takes time, effort and sometimes, a little money. Here are some questions you can ask yourself to see if DIY staging works for you:
Are you still living in your home during the selling process? Vacant houses are easier for home stagers to work with.
Do you have friends or family who can help? When it comes to moving heavy furniture or tackling larger projects, you'll want all the help you can get.
What kind of condition is your home in? If you're experiencing issues with electrical, plumbing or other home systems you should enlist expert help to ensure your safety and a job well done.
Professional Home Stager
Professional home staging firms can help you prepare your home for sale, at a price. We'll explore the costs of hiring a professional stager later in the article. For now, here are some key tips to remember when hiring home staging help:
Be mindful of credentials. While many real estate agents or REALTORs® have strict standards and licenses, there's no formal accreditation body for home stagers. Be sure to take accreditations cited by prospective home stagers with a grain of salt and do your research to avoid false claims.
Get references and examples of their work. Another way to safeguard yourself from fishy home stagers is by asking for references and a portfolio. References or previous clients can give you an idea of what it'd be like to work with a particular stager and the quality of their work. Home staging pros should also have examples of their work on-hand and no issue providing it. Plus, you'll also get a sense of their unique vision and aesthetic.
Make sure your stager has a clear vision. Home stagers are artists. That can mean some wildly creative ideas. Be sure that your stager knows the exact look and feel you're going for. Be upfront and clear about your wants for any given space and don't shy away from providing honest, regular and running feedback. Pairing yourself with a stager who shares your vision and is open to collaboration is vital. So too is hiring a stager who knows which features of a home to highlight and which flaws to downplay.
Know your numbers. Home staging prices vary based on location and home size. That's why it's important to research your local market and get a sense of an appropriate price range. Comparison shop different home staging providers and research each one's testimonials, social media pages and online forums for further guidance.
Real Estate Agent
Knowledgeable real estate agents have a wealth of valuable information when it comes to making a home look its best. Speak with your agent or REALTOR® for help deciding where to concentrate your home staging efforts.
Real estate professionals can help you pinpoint which features or rooms to highlight and what attributes home buyers will like most. Some real estate agents and REALTORs® may even offer to help you with staging themselves.
How Much Does Home Staging Cost?
The average cost for home staging is $1,728 with things like your home's size, location and your occupation status all playing a role in the final price tag. Save some money by figuring out what you can DIY or by focusing efforts on a few key rooms. Primary bedrooms, kitchens and your home's entryway are usually most important in making a good impression.
You could also pick and choose what aspects of a home stager's services you need the most help with, saving money where you can. For example, decluttering and cleaning yourself but using a stager to help with furniture rental and placement.
Here's an estimation of these home staging costs:
2-hour consultation: $150 – $600
Rearranging and decluttering: $800
Furniture rental: $500 – $600 per room per month
Staging fees: $400 – $700 per room
Service fees: $800 – $1,000 per project
Benefits Of Home Staging
Even in a seller's market, staging your home plays an important role in the home selling process. Creating a comfortable, welcoming space not only helps prospective buyers feel good, but you may even be able to fetch a higher asking price.
Home staging can also distract from any blemishes or aging, while also highlighting the features or nice-to-haves your home offers. For vacant homes, staging helps buyers imagine living there more easily, which can make them feel more inclined to make an offer.
Staging your home will also make your property more photogenic, which is of the utmost importance for online listings and drumming up interest. In fact, according to the NAR, nearly 99% of millennial home buyers start their home search online.
Is Home Staging Worth It?
Still on the fence about whether home staging is worth it? Consider the following factors for a better idea of which home staging approach will work best for you.
The total costs of home staging. Home staging can cost as little as $150 and as much as $5,000. Look over your budget, speak with your real estate agent and comparison shop home staging firms for the best understanding as to how much it will cost.
Your timeline for selling the property. The amount of time you have to sell a house can affect your home staging process. For sellers with shorter timelines, you'll likely have to forgo bigger improvements, like new flooring or top-to-bottom paint jobs.
The potential value staging could add to your home. The improvements you make when staging, like new floors, doors or window treatments, may be able to add value to your home. Taking home value into consideration may be able to help you decide what kind of improvements you want to make.
Current real estate market trends. Current real estate market trends can play a role in how much energy you want to put into home staging. While staging is generally a good idea, splurging on fancy rentals or projects may not need to be as much of a priority in an already thriving seller's market.
Need extra cash for home improvement?
Use your home equity for cash-out refinance.
Start My Approval
The Bottom Line
Home staging, or getting your house ready for prospective home buyers, is a great way to make a lasting impression. Whether your home staging plan consists of larger improvement projects or is as simple as a thorough cleaning, creating an inviting and open space is key to selling fast and at a higher price.
Home staging can be done DIY, as a collaboration with your real estate agent or by a professional home staging firm. Whichever avenue you choose, research should come first to ensure a job well done.
Ready to list? .Consider some other ways to get your house ready to sell.