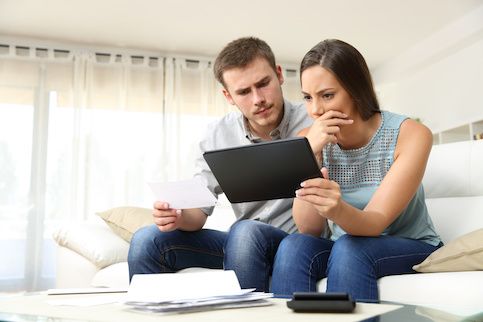 Preforeclosure: What It Is & How To Buy A Preforeclosure Home
Published on October 12, 2020
If you haven't been making your mortgage payments, you might have gotten a letter from your lender to let you know that your property is in preforeclosure. If you don't take action, you may be in jeopardy of losing your home for good. This is an emotionally and financially devastating predicament.
While preforeclosure is a foreboding term and a serious situation, luckily there are ways to recover your house from this state. Understanding what foreclosure is and what options you have while in preforeclosure can help you avoid losing your home.
What Is Preforeclosure?
Preforeclosure is the first step in the foreclosure process. It's designed to give homeowners options to stay in their homes before a foreclosure. Preforeclosure occurs when a homeowner fails to make mortgage payments, prompting the lender to issue a notice of default. This is a legal notice and means that the lender has begun the legal process of foreclosure.
How Does The Preforeclosure Process Work?
The preforeclosure process is generally comprised of a few steps, the first of which begins when you miss your monthly payments. When you purchase a home and take out a mortgage, you agree to make monthly payments toward the loan balance. If you miss payments for any reason, you're violating your agreement with your lender.
Default
If you miss 3 months of payments, you'll go into default. But the foreclosure process is very expensive for lenders, so they'll try to avoid it if possible. In many cases, lenders will work with homeowners to lower payments, delay payments or restructure the loan. There are a few options homeowners may have if they need additional help with their mortgage payments, like foreclosure mediation.
Notice Of Default
After 3 – 6 months of missed payments and no sign of redemption, you'll receive a notice of default, which is a written notification to the homeowner that the lender will pursue legal action if the debt is not paid. The lender will also give public notice to the County Recorder's office or file a lawsuit with the court. This officially begins the preforeclosure process, which can last 3 – 10 months.
Auction
The bank's goal is to get the money they are owed on the property. If you continue to not make payments and don't take action to resolve the issue, an auction or trustee sale will take place. Usually, auctions begin with a minimum bid of the amount owed on the loan. Then, the foreclosed home is sold to the highest bidder. If your home is sold during the auction, you'll be required to move out, allowing the new owner to do with the home as they please.
What To Do If Your Home Goes Into Preforeclosure
But, not to worry. If your home goes into preforeclosure, you have a few available options.
Catch Up On Missed Payments
The first is to get out of preforeclosure by catching up on all your missed payments. If you can do this, and pay any late fees or other penalties, and continue to make regular payments throughout the life of the loan, most lenders will stop the preforeclosure process.
Consider Loan Modification
Another option is to do a loan modification. This can be a refinance of your property, but ultimately means that you go to your lender and have them rewrite your loan. This option will likely extend the life of your loan, but by spreading out the payments over more years, it will also give you more affordable payments.
Try A Short Sale
You also have the option to sell your home during preforeclosure. Most lenders will accept a short sale if you're in preforeclosure. A short sale is when you can't sell your home for more than what is left on your loan. Banks agree to this because it saves them the time and expenses it takes to foreclose on a property, and it allows you to take control of the preforeclosure process. The disadvantage to you is that you'll be required to move out of your home and make other arrangements in the future.
Get A Deed In Lieu Of Foreclosure
Another way to avoid these proceedings is to get a deed in lieu of foreclosure. In this situation, you would surrender your home to your lender in exchange for being relieved of any of your home's debt. This is typically a last-ditch effort to avoid foreclosure and the consequences that come along with it and requires that you move out of your home. This option can be attractive to people who want to avoid a drawn-out foreclosure process and a big hit to their credit score.
How To Buy A Preforeclosure Home
If you're buying a home that's in preforeclosure, it will be listed as a short sale or a preforeclosure on the listing. The purchase process is a bit different from a traditional home buying process because instead of buying the home for its current value, you'll simply purchase the mortgage balance from the current homeowner. You'll then be responsible for that balance, any liens on the property, and the homeowner's insurance.
Buying preforeclosure properties can be a good option for real estate investors because they can get a steep discount on a property. This is helpful when reselling a home because it offers greater profit margins.
First-time home buyers might want to avoid preforeclosed properties because they are often in need of repair. These repairs often must be made before the sale can go through, and first-time home buyers do not typically have the additional cash to make the necessary improvements to the property.
The Bottom Line On Preforeclosures
The good news is that preforeclosure properties can be cured. Homeowners have several options to get out of home debt, and often without a huge hit to their credit score. If you're a homeowner in pre-foreclosure or considering the purchase of a preforeclosure property, you should speak with a mortgage expert today. They'll be able to walk you through the intricacies of your situation and help to connect you with professionals who are best suited to helping you through the process.
Apply for a Mortgage with Quicken Loans®
Call our Home Loans Experts at (800) 251-9080 to begin your mortgage application, or apply online to review your loan options.
Start Your Application