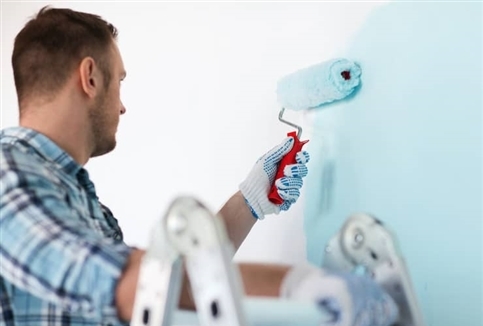 Using A Cash-Out Refinance For Home Improvement
Published on February 3, 2023
Home renovations and maintenance can get expensive. A cash-out refinance offers an option to pay for a home improvement project that doesn't involve getting a second mortgage loan or the typically higher interest rates of a home equity loan, home equity line of credit (HELOC), or personal loan.
While you're considering the best type of loan to pay for your home renovations, it can be helpful to look at what refinancing is and which type of mortgage refinance is best for you. A cash-out refinance is the type of mortgage refinance that may be able to help pay for your home improvements. Let's take a look at how you could use it for your home project.
How Does Refinancing A Home Loan Work?
To understand how you can use refinancing for a home improvement project, it's important to understand what refinancing is. Refinancing allows homeowners to take on a new loan with different terms by replacing your current mortgage loan.
Homeowners refinance for a number of different reasons, including changing their mortgage interest rate, changing their loan terms, or using a cash-out refinance to fund renovation projects or cover other large expenses.
See What You Qualify For
Congratulations! Based on the information you have provided, you are eligible to continue your home loan process online with Rocket Mortgage.
If a sign-in page does not automatically pop up in a new tab, click here
How Can You Fund Home Improvements With A Cash-Out Refinance?
A cash-out refi is a type of mortgage refinance that allows you to utilize the equity you have in your home to get a new mortgage, that converts some of your equity into cash.
Essentially, you're borrowing more than you currently owe on your loan and pocketing the difference. To do this, you need to have enough equity in your home to borrow.
Cash-out refinances are different from second mortgages. When you get a cash-out refi, the new mortgage becomes your primary mortgage.
For example, if you bought your home for $200,000 and have paid off $75,000 of the loan, you still owe $125,000 on your original mortgage. Let's say the value of your home has increased by $100,000 to $300,000. When you subtract the amount you owe from the value of your home ($300,000 - $125,000), you get your home equity. In this case, that would be $175,000.
Keep in mind that when you're deciding how much money to borrow on a cash-out refinance, lenders usually put a cap on the amount of equity you can withdraw. Generally, lenders cap the amount you can borrow at around 80% of your home's value. For this example, your lender would allow you to cash out up to $240,000.
Cash-Out Refinance Requirements
When considering your eligibility for a cash-out refinance, lenders will consider a few factors. Let's take a look at some of the requirements you need to meet to qualify.
View Your Refinancing Options
See expert-recommended refinance options and customize them to fit your budget.
Start Your Refinance Online
Can You Use A Cash-Out Refinance For Any Home Improvement?
Yes, unlike most home improvement loans, a cash-out refinance allows you to use the money for any home improvement or even for other expenses. Keep in mind that the money you are borrowing in a cash-out refinance reflects years of monthly payments on your home, so use it wisely. Consider looking at what types of home improvements and what renovations increase your home's value.
If your home needs major repairs or updates to electrical, heating or other major systems, consider taking care of those first. Also consider doing major repairs first before deciding to put the money towards a kitchen remodel. If you end up selling your home down the road, upgrades to its major components can be highly attractive to potential buyers. Not only that, but certain improvements – such as replacing the roof or HVAC systems – may get you discounts on your homeowners insurance premium.
Should You Use A Refinance As A Home Improvement Loan? The Pros And Cons
If you have a large expense you can't cover using your savings, a cash-out refinance allows you to access your most valuable asset – your home. Since home improvement projects can often be quite costly, a cash-out refi can make them affordable for you.
But should you do it? Let's take a look at the pros and cons.
Pros Of Refinancing For A Home Improvement
Lower interest rates: Because a cash-out refi is your primary loan, you'll generally be able to get a better rate than you would with a home equity loan or HELOC, which are usually second mortgages you take out on top of your main mortgage. Other loan types, like personal loans, may also carry higher interest rates.
Higher loan value:

You may also be able to get more cash with a cash-out refi than a traditional personal loan, depending on your home's value and how much equity you hold.

Lower monthly payments: A cash-out refinance can allow you to pocket more money from your home's equity and get a lower monthly mortgage payment at the same time.

However, this depends on whether current mortgage rates are lower than when you purchased your If they are lower, you may be able to snag a lower rate and lower your payments.
Rebuild equity: Another advantage of refinancing for home improvement is that you may be able to build back equity relatively quickly if the renovation you're doing increases your home's value.
Tax benefits: Depending

on what type of improvement project you do and how much your house sells for, you may be able to deduct the cost of the improvement from your taxes in the year you sell.
Cons Of Funding A Home Improvement With A Refinance
As we all know, there's no such thing as free money, and cash-out refinances – like every other type of loan – come with downsides for borrowers. Whether it's worth it to get one is going to depend on your individual situation.
Closing costs: You should also know that with a cash-out refinance, you'll have to pay closing costs. You'll either need to have the money upfront to pay the closing costs or roll them into your new mortgage.
Higher interest rates: Interest rates for mortgages are all about timing. If you got your initial mortgage when interest rates were low, it's possible that refinancing could increase your interest rate.
Higher monthly payments: Similar to your new interest rate, your monthly payments may change. Depending on the loan term, interest rates and the amount of money you borrow, it's possible to end up with a higher monthly payment.
Estimate Your Costs And Mortgage Refinance Payments
Before you decide whether to take out any kind of loan, calculate the cost of the project you want to complete. You'll want to call contractors and get estimates on the work that will need to be done. That way you'll know exactly how much it's going to cost and where the money will go, so you know exactly how much you need to borrow.
Once you know the amount you'll need for your home improvement, you can use that to figure out how much changing your mortgage would affect your finances. If your monthly payment goes up, will you be able to afford that? If your interest rate increases, are you willing to pay more interest over the life of the loan? Use our refinance calculator below to see what a refinance might cost you over the life of your mortgage.
The Bottom Line
Before you refinance to remodel, the best thing to do is weigh all your options. Cash-out refinance comes with risks, but if you have the equity in your home to pay for a remodel or home improvements, it can come with great rewards.
If you're ready to begin the process, apply for a mortgage online today.