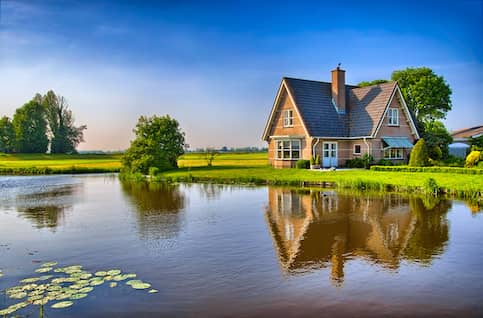 How Much Will It Cost To Refinance Your Mortgage?
Published on September 13, 2021
In the right situation, refinancing can be a good way to save money and also take advantage of the existing equity in your home. However, it doesn't come free. In this article, we'll discuss what you need to consider when determining the cost to refinance a mortgage loan.
What Factors Affect The Cost To Refinance A Mortgage?
The average cost to refinance a mortgage may be anywhere between 3% and 6% of the loan amount, and there's wide variability based on the type of home loan you're getting. This percentage is dependent on several factors, which may include:
Credit score
Location
Loan amount
Loan type
Loan term
Whether you're taking cash out
If you're looking for a better idea of what you personally can expect to pay based on some basic data points, check out our cost of refinance calculator. You'll be able to see some refinance choices, each with estimated closing costs, to give you an idea of what you should expect when you are ready to refinance.
Typical Mortgage Refinance Fees
When you refinance, you're getting a new mortgage, so many of the closing costs are going to be familiar from when you bought your home. It's important to note that not everything will carry over from the first time around. Here's a table of some of the common costs that may be associated with refinancing. The costs are ranges or averages.
| | |
| --- | --- |
| Refinancing Fee | Cost |
| Loan Application Fee | Up to $500 |
| Loan Origination Fee | Typically 0.5 – 1% of the loan amount |
| Mortgage Points | Depends on number and loan amount |
| Credit Report Fee | Up to $50 |
| Home Appraisal Fee | $200 – $600* |
| Title Search/Abstract Fee | $75 – $300 |
| Title Insurance | $1,000 – $3,000 |
| Recording Fee | Up to $250 |
| Reconveyance Fee | Up to $65 |
| Flood Certification Fee | Up to $25 |
| Tax Service | $60 |
| Escrow Setup | Varies |
*Appraisals can cost more up to $2,000 or more if you live in a high-cost area, have a large home, features that are difficult to compare to other homes, etc.
Let's give a little bit more of a breakdown of these refinance fees:
Loan application fee: Some lenders charge a loan application fee for taking your application and processing the documents you provide. Others consider this a deposit, and it's used toward other closing costs.
Loan origination fee: This is the fee charged by the lender for the cost of setting up your loan. Sometimes it's split into processing and underwriting fees. In any case, these are typically 0.5 – 1% of the loan amount.
Mortgage discount points: You have the option of prepaying interest to lower your interest rate. One point is equal to 1% of the loan amount. On the other hand, taking a slightly higher interest rate can lower your closing costs. Either way, the mortgage rates you see advertised come with a certain number of points. To figure out the cost of getting a certain rate, multiply your loan amount by the number of points paid. A positive point value indicates you're paying for that number of points, while a negative value means you're getting that amount off closing costs.
Credit report fee: A credit report is periodically pulled throughout the loan process to ensure that nothing has changed about your financial situation and you can still qualify.
Appraisal: Because your home is used as collateral, lenders won't loan you more than your home is worth. Your home has to be given a new valuation for the refinance. The most common way to do this is through an appraisal. Sometimes lenders can get a valuation another way, so you may or may not be able to avoid this expense on a refinance.
Title search: You own the home already, so you might be asking yourself why a new title search is needed. In this case, the title company is looking for any new liens since your last transaction that could muck up a future sale.
Title insurance: Because it's a new loan, you'll be required to take out a new lender's title policy to protect a lender's interests. You'll also have the option to purchase an owner's title policy at this time. The good news is that if you got one when you bought your house, the owner's policy remains in effect for as long as you own your home.
Recording fee: Because liens show up on your title or deed, you will have to pay to have that paperwork refiled with the county again.
Reconveyance fee: This is associated with the paperwork required to remove the title's lien from the previous mortgage and apply your new one for the refinance.
Flood certification: The lender has to ensure that flood zones are properly marked periodically and that you have the right insurance coverage to protect your
Tax service: This is set up so the lender is notified if you should ever miss a tax payment. Again, this is about protecting their investment.
Escrow setup: Most people choose to have an escrow account to spread the expense of property taxes and homeowners insurance out over the year rather than one big payment. However, you'll be required to fund the account to a certain level at closing to get it started. The good news is you'll eventually get a check back for whatever was left in the escrow account from your previous loan. The exception to this would be if you're doing a new loan with the same lender. In that case, they might be able to roll your escrow account into the new loan.
There are a couple of other fees that may come into play depending on the loan type you have. If you're refinancing into an FHA loan, there's an upfront mortgage insurance premium of 1.75% of your mortgage balance that can either be paid at closing or rolled into the loan. If you're doing an FHA Streamline, the upfront funding fee is 0.01% of the loan amount.
Instead of mortgage insurance, VA loans have a funding fee of between 1.25% and 3.3%, which applies to most clients. The fee amount depends on whether it's your first time using a VA loan and the amount of your down payment, among other factors. If it's a VA Streamline refinance (also referred to as an Interest Rate Reduction Refinance Loan or IRRRL), the funding fee is 0.5% of the loan amount.
Why You Should Refinance Your Mortgage
There are several advantages to refinancing a mortgage, but one of the primary reasons people choose to do so is to help them save money. Here are some reasons why you might consider refinancing:
Lower your interest rate and monthly payment. Refinancing your loan can lower interest rates, which will also reduce your monthly mortgage payments and other loan costs, helping you have more financial leeway. Locking in a lower rate, like when you switch from a 30-year mortgage to a 15-year mortgage, will limit your interest costs. The lowering of interest costs can in turn help you to allocate more funds into your savings.
Changing your loan type provides stability. For example, converting from an adjustable-rate mortgage to a fixed-rate mortgage can offer you financial stability in the form of steady payments.
You can use your home's equity for other financial purposes. By using a cash-out refinance, you can access your home equity and use it for other financial needs that you couldn't otherwise afford, such as home improvement projects.
It removes private mortgage insurance costs. You can avoid paying for private mortgage insurance with at least 20% equity in your home when you refinance the mortgage to a conventional loan.
How Can I Lower My Cost To Refinance?
If you're looking to save some money on closing costs, there are several factors to consider:
Improve your credit score: Paying your bills on time and reducing your debt means a higher credit score, which in turn shows lenders that you can manage your credit. While requirements vary by loan program, generally you'll need a minimum credit score of 620 to qualify for a refi. A higher score can give you more negotiating power over closing costs.
Shop around for title insurance: There are many factors you can't actively choose during the lending process, but one of them is the title insurance You have the option of going with the one that's most affordable in your area.
Skip the home inspection: If you're refinancing, you likely know about the major problems that exist within your home. You don't need a home inspection. The only exception is that you might have to get one if the appraiser brings up an issue.
Negotiate costs: If you speak with a lender, they may be willing to give you a better deal by lowering or waiving some of your refinancing costs (e.g., your application or origination fees) – but it's important to note that not all costs are negotiable.
Consider a no-closing-cost refinance: A no-closing-cost refinance involves taking a higher interest rate in exchange for lender credits to cover your closing costs. Earlier in this article, we talked about negative point values associated with higher mortgage rates so that the money you get back can go toward costs. These are lender credits. One thing to be aware of is that you're trading lower closing costs for a higher monthly payment and interest rate over the life of the loan.
You've Decided To Refinance – Now What?
If you've decided to refinance, then it's time to prepare for the paperwork necessary. Most of the documents that you needed for your first mortgage will once again be required for a refinance, including tax returns, W-2s and pay stubs. If you're self-employed or receiving alimony or child support, you may have to provide additional documentation.
If you're working with a specific lender, your loan officer will help you understand which documents you need and communicate a timeline. You'll be working with this person for several weeks, so be sure to choose a mortgage lender that you both trust and enjoy working with.
The Bottom Line: The Short-Term Cost Of Refinancing Can Lead To Long-Term Savings
A refinance might not be for everyone. However, the upfront expenses to refinance your mortgage can pay for themselves relatively quickly if you're able to save with a lower interest rate, a more favorable loan type or with a shorter loan term.
If you're ready to get started, you can apply online or give us a call at (888) 452-0335.

View Your Refinancing Options
See expert-recommended refinance options and customize them to fit your budget.
Start Your Refinance Online