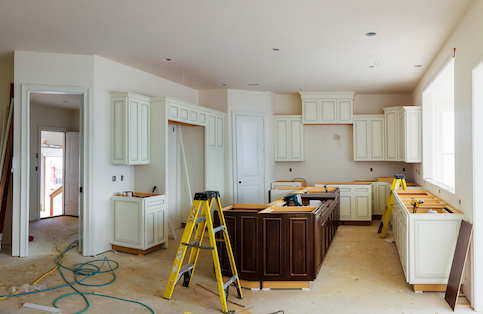 How Much Does A Kitchen Remodel Cost?
Published on April 30, 2023
Tired of that avocado-green countertop? Annoyed by a dishwasher that constantly leaves traces of last night's spaghetti dinner on your plates and cups? Or maybe you're tired of kitchen cabinets that you need to step on a stool to open.
It might be time for a kitchen remodel.
The kitchen is one of the most important rooms in your home. It's where you prepare meals, and where the family often gathers to chat about their days. And when you're selling your home? A renovated, modern kitchen will attract the attention, and dollars, of buyers.
But how much does a kitchen remodel cost? That depends on how major of a remodel you're tackling. Replacing the fronts of your kitchen cabinets and buying new appliances will cost less than ripping out old cabinetry, reworking an entire layout and replacing the floor.
The truth, though, is that kitchen remodeling is rarely an inexpensive task. But if you do your remodeling properly? It will pay off both in the enjoyment your new kitchen provides and the resale value it will generate when you're ready to sell your home.
What Is The Average Cost To Remodel A Kitchen?
The costs of a kitchen remodel can vary depending on where you live, what materials you use and how extensive your remodeling plans are.
Home renovation site Angi says that the average U.S. homeowner as of 2023 spends $26,172 when remodeling a kitchen. But these averages can range from $13,510 to $38,846 depending on the scope of the project.
You might spend more, too, depending on a range of factors including the size of your remodel, cost of your labor and quality of your appliances and materials. Angi says that a large-scale kitchen remodel that includes moving plumbing, electrical wires and gas lines; upgrading to high-end flooring tiles; adding custom-made cabinetry; and investing in high-end countertop materials such as marble or granite could cost up to $130,000.
Here is what Angi estimates it will cost for an average kitchen remodel in different parts of the country.
| | |
| --- | --- |
| U.S. Region | Average Kitchen Remodel Cost |
| Mideast | $13,600 to $37,650 |
| Midwest | $10,500 to $34,300 |
| Mountain Prairie | $6,000 to $37,400 |
| Northeast | $15,600 to $40,300 |
| Northwest | $25,600 to $61,100 |
| Rocky Mountains | $12,700 to $39,600 |
| Southeast | $12,000 to $32,200 |
| Southwest | $12,350 to $33,950 |
Kitchen Renovation Costs Vs. Kitchen Remodeling Costs
You might think that there's no difference between a kitchen renovation and remodel. But contractors don't use the terms interchangeably. And when it comes to cost, there's a significant difference between a renovation and remodel.
A kitchen renovation keeps the kitchen's basic layout and function the same. Instead, homeowners do smaller tasks, like replacing countertops with granite or repainting your kitchen cabinets.
A kitchen remodel, though, changes the structure of your space and the entire layout or flow of the kitchen. This might mean moving appliances, adding a kitchen island and building new cabinetry. This often helps the homeowner make their kitchen more functional to their needs and lifestyle. For example, they may make the kitchen more open if they like to entertain in the space.
This means that a kitchen remodel typically costs more than a renovation. It costs more to move plumbing fixtures, appliances, gas lines and add cabinets, islands and pantry space than it does to replace existing cabinet fronts and countertops.
Factors That Affect A Kitchen Remodel Cost
There are several factors that will help determine the final cost of your kitchen remodel. You can boost or lower the cost of your project depending on the materials you use, the contractors you hire and the quality of appliances you choose.
Materials
The materials you use for your kitchen remodel will play a major role in the cost of your project. The higher quality of materials you choose, the more you'll pay.
Consider countertop material. According to Angi, you'll pay an average cost of $15 to $140 a square foot for granite or up to $190 a square foot for marble. But if you instead choose soapstone, you'll pay $20 to $70 a square foot. You'll pay $10 to $40 a square foot for laminate.
You'll pay an average of $4 to $7 a square foot for linoleum floor tiles but up to $40 a square foot for ceramic tile.
If you're on a tighter budget, then, you can save money on your kitchen remodel by choosing less expensive materials.
Labor
You might be debating whether you should tackle your kitchen remodel yourself. This makes sense: Labor is a large cost of any remodel. If you do at least some of the work yourself, you could shave thousands of dollars off the cost of your project.
Be careful, though: A kitchen remodel is a big job, one that often involves moving pipes and gas lines and adding new wiring. It's easy to make a mistake if you don't have much DIY experience. Hiring professional contractors will add to the costs of a remodel but reduces the chance that you'll make an expensive mistake. You should consider safety issues, too: You could hurt yourself remodeling a kitchen on your own.
If you do decide to hire professionals for your kitchen remodel, how much will you spend? That depends on the scope of your project -- labor will cost less for minor remodels than it will for major jobs -- and the state in which you live.
Block Renovation, a website that connects homeowners to contractors, says you can expect close to a 50/50 split in cost between labor and materials. If you're spending $20,000 on materials, then, you can expect to spend about $20,000 on labor.
According to Block, contractors usually charge from $25,000 to $60,000 for completely remodeling an average-sized kitchen.
Appliances
The appliances you choose can also leave you with a more or less expensive kitchen remodel. If you choose higher-end appliances, you'll spend more on your remodel. You can cut costs by going with a less expensive dishwasher, stove or refrigerator.
You'll have to determine how important a top-of-the-line refrigerator or costly convection oven is to your kitchen. If you want an efficient kitchen with all appliances in the right place, you might consider spending a little less by buying quality but not top-of-the-line appliances.
If you instead want a chef-level kitchen and cooking is a passion of yours, spending more on higher-quality appliances might be the better choice.
If you want to save money in the long term, consider investing in energy-efficient appliances. Dishwashers, ovens and refrigerators that consume less energy each year will reduce your annual energy bills, savings that can add up over time.
You'll find plenty of price choices when looking for new appliances. Consumer Reports says that a solid, basic range costs from $1,500 to $2,000, but higher-end models will run $5,000 or more. Retailer Wayfair says that new refrigerators can cost as little as $500 for budget models, $1,000 for mid-range options and up to $10,000 for high-end versions.
You can tweak the cost of your kitchen remodel, then, by choosing lower-cost appliances.
Design And Customization
Another key factor in determining the cost of your kitchen remodel? Whether you're willing to install off-the-shelf items in your kitchen or you prefer custom cabinets, countertops or islands.
The more customization you prefer, the higher your remodeling costs will be. You can reduce these costs by purchasing premade cabinets, countertops, sinks and other materials from big-box stores.
You'll also pay more if you work with an architect or interior designer to design your kitchen remodel. Sweeten, a website that connects homeowners with contractors, says that you can expect to pay 10% to 20% of your construction budget on an architect or interior designer. If your kitchen remodel costs $50,000, you can expect to pay an architect or designer from $5,000 to $10,000.
It's important to consider resale value when planning your kitchen remodel. Certain features bring a better return on your investment than do others. Certain features, like new cabinets and flooring could earn a good return on your investment.
Size Of The Kitchen
The size of your kitchen remodel will also impact its cost. In general, the larger your kitchen remodel, the more you will pay. Angi says that the cost per square foot of a kitchen remodel ranges from $75 to $250.
Angi estimates that it will cost homeowners an average of $5,625 to $17,500 to remodel a kitchen of 75 square feet, but $15,000 to $50,000 for a kitchen of 200 square feet.
Again, these costs will rise if you spend more on higher-end appliances and materials and work with a designer or architect.
What Is A Good Budget For A Kitchen Remodel?
How much you spend on your remodel depends on the scope and size of your project and the cost of the materials and labor. In general, though, homeowners should budget about 5% to 15% of their home's value for a kitchen remodel.
If your home is valued at $350,000, you should budget from $17,500 to $52,500 for your kitchen remodel. Be sure to add some cushion in your budget for unexpected costs. It's rare that a large-scale project such as a kitchen remodel doesn't come with some costly surprises.
Get a Home Equity Loan online.
Let's match you up with lenders who can help with your unique financial situation.
Get Started
What Is The Most Expensive Part Of A Kitchen Remodel?
Cabinets and countertops are usually the most expensive part of a kitchen remodel.
Blame this partly on labor. Cabinets, even more basic models, typically require hands-on work from carpenters. That helps drive up the cost. Then there's volume: You'll buy a lot of cabinets for your remodeled kitchen. That also boosts the amount you'll spend on them.
Countertops come with high prices thanks largely to the cost of the materials used to make them. You do have some control over this: You can reduce the cost of your kitchen countertops by choosing less expensive materials. But if you go with higher-end materials such as granite and marble, you'll have to make room in your budget for their higher price tag.
Another major cost of a kitchen remodel? Labor. Contractors are expensive. Depending on the scope of your project, expect to spend tens of thousands of dollars on labor when remodeling a kitchen.
6 Tips For Reducing Your Kitchen Remodeling Costs
Though remodeling a kitchen can be expensive, there are strategies you can take to reduce the overall cost of your project.
Reface rather than replace your kitchen cabinets: Because new cabinets are so expensive, you can save a significant amount of money by replacing your cabinet doors instead of replacing the entire cabinet. You might even repaint your existing cabinet doors as an inexpensive way to refresh these storage units.
Turn to less expensive countertop materials: Countertops are another big expense in a kitchen remodel. You can reduce their cost, though, by passing on costly materials such as granite and marble. Instead, choose less expensive, but still quality, materials such as laminate, butcher block, tile or solid surface.
Do at least some of the work on your own: You might not be able to rewire your kitchen or move its plumbing. But you might be able to dismantle those old cabinets. The more work you can do on your own, the more you'll be able to cut your project's labor budget.
Leave the layout alone: Your remodeling project will cost less if you don't move gas lines or plumbing. Leaving your kitchen's current layout intact will reduce the amount you'll pay in labor.
Don't buy the most expensive appliances: You don't need a top-of-the-line refrigerator, dishwasher or oven. There are plenty of high-quality, lower-cost options. Choosing them can reduce the overall cost of your kitchen remodel.
Avoid unnecessary luxuries: If you're on a budget, resist the temptation to spend your limited dollars on luxuries such as a convection oven, warming drawers and built-in coffee makers.
The Bottom Line
Remodeling can bring much-needed functionality and beauty to your home's outmoded kitchen. But these perks don't come cheap, with even a lower-end kitchen remodel costing $10,000 or more. To help cover these costs, you might use a home equity loan – a loan in which you borrow against the equity you've built in your home – to finance your kitchen remodel. Contact us today to start the process of applying for one of these loans.
Get a Home Equity Loan online.
Let's match you up with lenders who can help with your unique financial situation.
Get Started