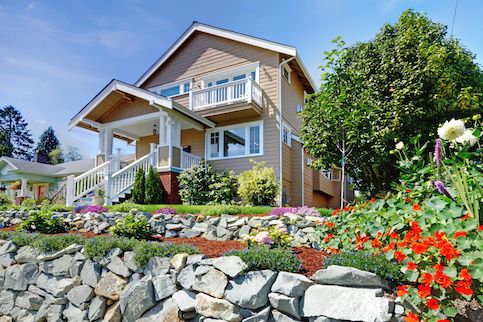 What To Know About The FHA Streamline Refinance Program For 2022
Published on February 3, 2022
A lower mortgage payment could give you the breathing room your budget needs. Although refinancing isn't always a walk in the park, those with an FHA mortgage could take advantage of the FHA Streamline Refinance to accelerate the sometimes-cumbersome process.
Essentially, an FHA Streamline Refinance gives you the opportunity to lower your monthly mortgage payments with limited documentation requirements. Let's explore exactly what an FHA Streamline Refinance is and the benefits you can enjoy.
View Your Refinancing Options
See expert-recommended refinance options and customize them to fit your budget.
Start Your Refinance Online
What Is An FHA Streamline Refinance?
The FHA Streamline Refinance program allows borrowers with current FHA mortgage loans to refinance at a lower interest rate faster and with reduced requirements using the borrowers' original mortgage application and paperwork.
This type of refinancing provides an opportunity to speed through the process to enjoy a lower monthly mortgage payment with minimal hassle.
Why FHA Borrowers Might Pursue A Streamline Refinance
If you have a current FHA mortgage, a streamline refinance could be the right move for your finances. Here are a few reasons why FHA borrowers choose to pursue a streamline refinance.
Lower interest rates: A lower interest rate could help you save thousands over the course of your loan. Check out FHA Streamline Refinance rates to see if you could lower your rate.
Lower monthly payments: A lower monthly payment might be possible with lower interest rates or a longer loan term. Imagine how a lower mortgage payment would positively impact your budget.
Loan term that meets your financial goals: You can refinance your loan to a longer term. Although you cannot add more than 12 years to your loan term, that could help to lower your payments. You could also shorten your term to pay off your loan quicker.
Whatever your reasons, the streamline refinance option provides a smooth experience to choose the mortgage that best fits your needs. As an FHA borrower, consider whether a refinance could help you achieve your financial goals.
What Borrowers Need To Know About The FHA Streamline Refinance Program
An FHA Streamline Refinance is not your average mortgage refinance. The government-backed program has some unique positives. But there are also some drawbacks to keep in mind.
You'll have to decide if this unique option is the right fit for your finances. Consider the factors below before jumping into this opportunity.
There's Less Paperwork
Although it depends on your personal situation, there's typically some level of reduced documentation involved in getting an FHA Streamline. This includes limited verification of employment and income, among other things.
After all, you've already submitted this information once when you applied for your original FHA loan. With that, current FHA borrowers have already gone through the process of providing extensive documentation once. The streamline refinance option means you might not have to rustle up all that paperwork again.
The reasoning behind this is that the FHA already knows quite a bit about you based on your payment history. If you've been able to make on-time payments in the past on your FHA mortgage, there may not be as much paperwork involved. This helps speed up the process, which in turn saves you money faster.
Your Appraisal May Be Optional
Of course, the situation can vary. But in many cases, an appraisal isn't required. This is because the FHA will let you use this program if you qualify, regardless of the amount of equity you have. Instead, the loan is based on what you owe on your current FHA loan.
Ultimately, skipping an appraisal leads to a faster process.
You Can Refinance Even If Your Home Value Is Low
With many traditional mortgage refinances, the lender relies on the value of the home to determine the appropriate lending amount. However, this is not the case with an FHA Streamline Refinance.
Instead, you can obtain an FHA Streamline even if you owe more on your home than it's worth. For example, you can still refinance through this option if the value of their home has gone down. But that's not an option for all refinance opportunities.
Why does the FHA give you this opportunity? The FHA knows it will be easier for you to make your payments if you have access to lower mortgage insurance payments, lower interest rates or a new loan term. And lenders want to give borrowers the best chance of keeping up with their payments so that the lender can receive its funds on time each month.
FHA Streamline Refinances Won't Give You Cash
Unlike other refinancing options, you cannot cash out with an FHA Streamline through Rocket Mortgage®, meaning that you cannot tap into any equity you've built in the home.
If you are looking to pull cash out of your home, then you'll need to pursue an FHA cash-out refinance loan or a conventional cash-out refinance loan.
You'll Still Pay Closing Costs
Although the process may be streamlined, you'll still have to pay closing costs. Unfortunately, those closing costs cannot be wrapped into the new loan. With that, you'll need to make sure you have the cash available to cover the expense.
You're Required To Pay The Mortgage Insurance Premium
As an FHA borrower, you likely already know about the mortgage insurance premiums (MIP) attached to your loan payments. That expense won't go away through an FHA Streamline refinance. You'll still be required to pay a mortgage insurance premium with your new FHA loan. This holds true even if you pursue an FHA cash-out refinance.
MIP is an expense that financially protects the lender in case you default on the loan. Although you may be refunded a portion of the remaining MIP from your original FHA loan when you refinance, the amount will vary based on the length of time you've held your original loan.
Unfortunately, MIP is unavoidable as an FHA borrower. The only way to eliminate this expense once and for all is to refinance your FHA loan into a conventional mortgage. But you'll need to have 20% equity in your home to consider this option for eliminating this cost.
See What You Qualify For
Congratulations! Based on the information you have provided, you are eligible to continue your home loan process online with Rocket Mortgage.
If a sign-in page does not automatically pop up in a new tab, click here
FHA Streamline Refinance Guidelines For 2022
If you're applying for an FHA Streamline with Rocket Mortgage®, here are some requirements to be aware of:
You must have an existing FHA loan.
You can't take any cash out with an FHA Streamline.
The new loan amount can't exceed the existing principal balance plus any upfront MIP that might be built into the loan along with a limited amount of MIP that may be due for your existing loan on pay off.
The new loan must provide a net tangible benefit. Essentially, that means the new loan must provide a lower interest rate, lower mortgage payment, or new loan term.
If Rocket Mortgage currently services your loan, the minimum median FICO® Score to qualify is 580 or higher. If it's a new loan to us, the minimum score is 620.
Your debt-to-income ratio may vary depending on your qualifications as well as local regulations where you live, so speak with a Home Loan Expert about your options.
You must be current on your loan.
The FHA requires that you've made at least 6 months' worth of payments on your previous loan before applying for an FHA Streamline. At least 210 days must have elapsed between the due date of the first payment on your existing loan and the first payment on your new loan.
You must have no payments that were more than 30 days late in the last 6 months. Additionally, you can have no more than one payment that was more than 30 days late in the last 12 months.
You must have enough funds on hand to pay closing costs on the refinance
If you meet all the criteria, you can confidently move forward with an FHA Streamline Refinance.
Apply for a mortgage today!
Apply online for expert recommendations with real interest rates and payments.
Start Your Application
How FHA Streamline Refinance Rates Are Determined
When pursuing an FHA Streamline Refinance, your interest rate is one critical piece of the puzzle. Luckily, FHA Streamline Refinance borrowers will receive relatively similar rates as new FHA loan borrowers.
The exact rate you receive will vary based on several factors, including:
The borrowers' credit scores: Higher credit scores typically lead to lower interest rates.
Debt-to-income ratios: A higher debt-to-income ratio often leads to a higher interest rate.
Current market conditions: Factors in the market will have a significant impact on your interest rate.
Each of these factors can impact the interest rate you receive.
What Borrowers Can Do To Improve Their Refinancing Rates
Although you cannot control the market conditions, you can work on your own financial details to unlock a lower interest rate.
Here are some actions you can take to improve your chances of receiving a lower interest rate:
Pay down existing debt. A lower debt-to-income ratio can increase your credit score and improve your financial picture.
Avoid opening new credit cards or taking out personal loans. New credit inquires can cause your credit score to dip. Try to avoid any new lines for credit before you apply for an FHA Streamline Refinance.
Stay current on payments with their mortgage lender. A history of on-time payments will improve your application in the eyes of a lender.
Consider a shorter loan term. Shorter loan terms are often associated with lower interest rates. Plus, you'll clear this debt from your books sooner rather than later. However, be prepared for a higher monthly payment.
Taking action to improve your credit score or pay off debt could lead to a lower interest rate when applying for a loan through the FHA Streamline Refinance program.
How To Decide If A Refinance Is Right For You
Before jumping into a refinance of any kind, you'll need to decide if this move makes sense for your finances. Here's how to decide.
Start by looking at market interest rates. Take some time to compare the market rates with the rates attached to your current mortgage loan. If rates are lower, then refinancing will likely save you money each month and over the life of the loan.
However, you should take a minute to consider the impact of closing costs before jumping in. Typically, closing costs will run between 2% to 5% of the mortgage amount. For example, if you are taking out a new mortgage for $100,000, your closing costs will likely be $2,000 – $5,000.
Weigh your projected closing costs against the amount you'll save each month. To find out how long it will take to recoup your closing costs, you can divide the amount you expect to pay in closing costs by the amount you plan to save each month.
For example, let's say that you plan to pay $3,000 in closing costs to save $100 per month. It would take 30 months to recoup the closing costs. If you plan to stay in the home for much longer than 30 months, the savings can add up quickly. But if you plan to move before the 30 months elapses, then it might not make sense to pursue a refinance.
Weigh out the costs for your unique situation to ensure the numbers work out for your plans before diving into a refinance.
The Bottom Line: The FHA Streamline Refinance Program May Save You Money
The FHA Streamline Refinance program is designed to make refinancing a home easy and faster than other refinancing options. If you are a current FHA mortgage holder in good standing, this unique refinancing option may be worth pursuing.
Have you decided that an FHA Streamline Refinance is a good fit for your finances? Reach out to a Home Loan Expert at Rocket Mortgage to find out more about your options.
View Your Refinancing Options
See expert-recommended refinance options and customize them to fit your budget.
Start Your Refinance Online