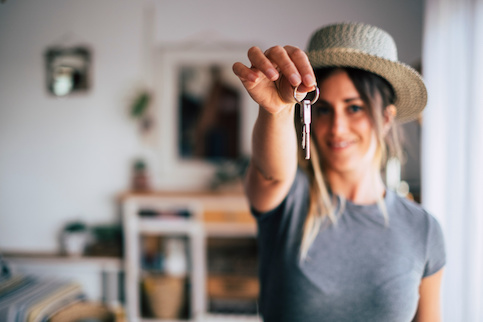 What Is An FHA Loan And Is It Right For You?
Published on February 11, 2023
If you're at the beginning of your home buying journey and just learning what a mortgage is, you may also wonder how you'll find the right financing. If you have a little bit of debt in your financial history or a lower credit score, that shouldn't stop you from purchasing a home.
An FHA loan might offer a great solution. You might even want to consider an FHA loan if you're a seasoned home buyer (as in, you've purchased a home before).
But what is an FHA loan, and how can it help you? Read on to learn more about FHA loan requirements and whether you should choose an FHA loan to finance your future home.
What Is An FHA Loan?
An FHA loan is a home loan regulated and insured by the Federal Housing Administration (FHA), which is part of the U.S. Department of Housing and Urban Development (HUD). The loan doesn't come directly from the FHA but from a private, FHA-approved lender. The Federal Housing Administration's home loan program helps lower- and moderate-wage earners to achieve homeownership. FHA loans have lower credit requirements and income limits compared to conventional loans.
The Federal Housing Administration provides insurance that allows private lenders to provide more loans with favorable terms to American homebuyers.
What Kind Of Loan Is An FHA Mortgage?
There are many different types of home loans. An FHA home loan is a type of nonconforming loan. What is the difference between a conforming and a nonconforming loan? Let's take a peek:
Nonconforming loans don't follow Fannie Mae's and Freddie Mac's guidelines. Fannie Mae and Freddie Mac are government-sponsored enterprises that resell bundles of mortgages on the secondary market. Nonconforming mortgages may different credit requirements, down payment requirements, debt-to-income (DTI) ratios or high loan limits than conforming loans:
Credit: What do "credit requirements" mean? It refers to your credit score, a three-digit number that shows how well you've managed debt in the past. You can qualify for an FHA loan with a credit score of 580.
Down payment: A down payment is an amount you put down upfront before purchasing a home. The FHA loan's minimum down payment is 3.5%.
Debt-to-income (DTI) ratio: The debt-to-income ratio refers to the percentage of your gross monthly income that you put toward monthly debt. Your DTI helps your lender determine your borrowing risk.
High loan limits: The baseline conforming loan limit for 2023 is $726,200. The limit in Alaska and Hawaii is $1,089,300 for a one-unit property.
Conforming loans, on the other hand, are loans that do conform to Fannie Mae or Freddie Mac guidelines. Conforming lenders underwrite and fund the loans and sell them to Fannie Mae and Freddie Mac. Conforming loans typically have lower costs and fees than nonconforming loans.
How Do FHA Loans Work?
As mentioned earlier, private lenders offer FHA loans. Government insurance incentivizes private lenders to make FHA loans in cases where they would be unable to offer a conventional loan.
You can get an FHA loan with a 15-year and a 30-year term with a fixed interest rate. The term is the amount of time it takes to pay off your loan, while the interest rate is the charge for borrowing money, which you pay throughout the loan term.
You get a mortgage preapproval, which means you submit information about your finances and undergo a credit check to see how much house you can afford. Then, you'll prepare your documents to prove you have a steady employment history, show pay stubs, W-2s, federal tax returns and bank statements.
The conventional mortgage application process is similar to the FHA loan process. However, a few other parts of the process with an FHA loan differ from a conventional loan.
For example, you must pay FHA mortgage insurance, which helps fund the VA loan program. Private mortgage insurance is required on conventional loans if you put down less than 20% for the mortgage. However, FHA mortgage insurance requires you to pay two mortgage insurance premiums:
Upfront mortgage insurance premium (UFMIP): You'll pay an upfront mortgage insurance payment of 1.75% of the loan amount. You pay this when you get the loan, but you can also roll it into the financed loan amount.
Annual mortgage insurance payments (MIP): You'll pay annual mortgage insurance premiums regularly after this, which are between

0.15% – .075%

, but that depends on the loan term, the loan amount and the loan-to-value ratio (LTV). The LTV measures the appraised value of a home versus the loan amount you seek to borrow. This premium amount is divided by 12, and you pay it monthly.
What Are The FHA's Loan Requirements?
You must meet a few specific requirements to qualify, including credit score, debt-to-income ratio (DTI) and down payment requirements. However, FHA compensating factors may help balance out your application. Some aspects of your financial profile might not be stellar, but based on FHA compensating factors, other parts of your profile may make up for that.
FHA Vs. Conventional Loan: What's The Difference?
Conventional loans and FHA loans differ in one significant way – the government doesn't back conventional loans. Instead, private lenders fund them, meaning that they have stricter eligibility requirements, from more stringent credit scores to "tougher" DTI requirements.
For example, you may qualify for an FHA loan with a score as low as 580, while you may need a 620 credit score for a conventional loan.
To qualify for an FHA loan, the home must also be a primary residence, you must be in the property within 60 days of closing. The home will also have to undergo an FHA inspection and confirm it meets minimum property standards.
As mentioned above, you may have to pay private mortgage insurance (PMI) for a conventional loan, but PMI can be removed when you reach 20% equity. In contrast, you pay FHA MIP for the life of your loan.
If you have lower credit scores, fewer opportunities to put down a large down payment, plus debt, you may prefer an FHA loan due to competitive interest rates and loan limits.
Type of Home Loan

Credit Score

Required

Maximum DTI

Down Payment

Required

Enhanced Appraisal Standards

Conventional Conforming Loan

620

43%

3%

N/A

FHA loan

580

57%

3.5%

✓

500

10%
Credit Requirements
You can qualify for an FHA loan with a credit score as low as 500, but you must put down a minimum down payment of 10%. If you have a 580 credit score, you can put down a down payment of 3.5%. Lenders may require a specific credit score. For example, Rocket Mortgage® requires a minimum 580 credit score.
FHA mortgage loan credit score requirements are more lenient than conforming loan credit requirements. For example, in most cases, you must have a 620 credit score to qualify for a conventional loan.
Down Payment Required
FHA loans require a down payment of 3.5%, while some conventional loans allow you to put down as little as 3% of the loan amount for a down payment.
One of the biggest misconceptions is that home buyers must put down 20% to buy a home, but that isn't true. However, in highly competitive markets, a seller may be presented with multiple all-cash offers, and this can sometimes be confused with having to pay a larger down payment. The down payment is a requirement of the loan, not market conditions. So you'll never have to put down more than a specific loan's minimum requirement.
Loan Limits
You'll face FHA loan limits just like you will with conforming loan limits, which means you can only borrow up to a certain amount for your FHA loan. FHA loan limits depend on your location and property type because they consider your county property values.
The maximum FHA lending amount for one-unit properties in high-cost areas is up to $1,089,300, but in low-cost areas, it's $472,030. If you have multiple units, limits may be higher. You can research specific FHA mortgage limits in your area.
Appraisal Standards
An FHA-approved appraiser must appraise your home after you start house hunting and make an offer.
An appraisal occurs when a licensed appraiser determines the fair market value of a home. A home appraisal helps you and your lender determine the home you want to buy is worth the amount of money you offered.
In a seller's market, sellers may reject all government-backed loan offers, including those offered through the VA and USDA rural home loan programs. Sellers may prefer those in favor of conventional loans because all government-backed mortgages require homes to meet FHA minimum property standards, including its health and safety standards.
Types Of FHA Home Loans
You can choose from a few different FHA loans, depending on the home you buy and how you plan to use the financing.
Fixed-Rate Mortgage
A fixed-rate mortgage, the most common mortgage type among home borrowers, keeps the same interest rate throughout the life of the loan. You'll also keep the same payment for every month of your loan term.
Adjustable-Rate Mortgage
An adjustable-rate mortgage (ARM) is a loan that has a fixed rate during the first few years of the loan term – typically 5, 7 or 10 years. After the fixed period ends, you'll get a new interest rate depending on a few other ARM components – index, margin and interest rate cap structure.
The index reflects a benchmark interest rate that changes based on general market conditions and fluctuates based on the Constant Maturity Treasury (CMT) index. The margin incorporates the percentage points added to the index to set your interest rate. Your index and margin add together once your initial rate ends.
The rate can only change up to a point – caps and floors limit how much the rate changes.
Cash-Out Refinance
Cash-out refinances aren't for first-time home buyers. Existing homeowners may want to consider a cash-out refinance if they already have equity built up in their homes. Equity refers to the amount of home that you own – it's the difference between your mortgage and the amount you owe on your home.
A cash-out refinance lets you take advantage of that built-up equity by replacing your current loan with a larger mortgage and pocketing this difference as a lump sum. You can use the extra money for anything you want.
Your current mortgage doesn't have to be an FHA loan to qualify for an FHA cash-out refinance, but you will need at least 20% equity in your home before you apply.
Streamline Refinance
Existing homeowners may want to pursue a streamline refinance. A streamline refinance lets those who have FHA loans refinance faster and with reduced requirements using their original mortgage application and paperwork. You may even skip the appraisal during the closing process.
You can lower your monthly mortgage payment or change your terms, regardless of the current amount of equity in your home. You do need to remain current on your loan.
FHA 203(k) Loan
Have you ever wanted to purchase a fixer-upper? You may want to apply for an FHA 203(k) loan, sometimes called a mortgage rehabilitation loan or FHA construction loan. You can obtain financing or upgrades by rolling the cost of renovations or upgrades into the overall price. You can pay them down as you make payments on the mortgage.
Pros And Cons Of FHA Mortgages
What are the pros and cons of FHA mortgages? Consider these advantages and disadvantages before you pursue an FHA loan.
Pros
Makes homeownership possible: FHA loans make homeownership possible for those who may not have access to the money needed to buy a home, credit requirements or the right DTI to get a conventional loan.
Low down payment: Instead of stressing about coming up with a large down payment, an FHA loan allows you to put down a low down payment.
Can build equity sooner: Due to the low down payment, low credit score and other factors, getting a mortgage can help you build equity sooner, rather than taking time to meet the requirements for a conventional loan.
Cons
Must pay MIP: One of the biggest downsides to an FHA home loan is that you must continue to make MIP payments throughout the life of the loan. Unlike with a conventional loan, you can't avoid MIP payments, even when you reach 20% home equity.
Tougher appraisal standards: FHA loans are known to have stricter appraisal standards than conventional loans. FHA loans must meet minimum property standards. FHA appraisers will check for hazards like exposed studs or floorboards, wiring or electrical problems, insufficient heating, poor foundation, water damage, holes in the roof, termite damage, chipped or peeling paint and more.
Interest rates might not be lower: FHA loans aren't always cheaper compared to conventional loans. However, FHA loans typically have lower interest rates than conventional loans due to their federal backing. Check the annual percentage rate (APR) to compare loan offers.
FHA Loan FAQs
Still have questions about FHA loans? Let's take a closer look at some frequently asked questions about these mortgages.
How long does it take for an FHA loan to close?
The FHA underwriting process typically takes an average of 55 days to close. On average, it takes 54 days to close on home purchases, and 59 days to close on a refinance.
Are there minimum and maximum income levels for FHA loans?
There is no minimum or maximum income required for an FHA loan. However, you must prove to your lender that you have steady income coming into your bank account. You'll also have to prove that you have an adequate credit score and DTI that aligns with your lender's requirements.
Are FHA loan interest rates lower than conventional mortgage rates?
FHA loans usually have lower interest rates than conventional loans due to their FHA backing. It makes lending less risky for a lender, but many factors can impact your mortgage rate, including your credit score, home location, loan amount and the size of your down payment.
What types of properties qualify for an FHA loan?
Borrowers can use an FHA loan to buy any single-family home, which is a home that has between one and four units. You can buy a mixed-use property with an FHA loan as long as the residential portion of the property is 51% of the property.
FHA loans only apply to primary residences – you're limited by the number of FHA loans you can have at any given time. When purchasing a second home or investment property, you cannot qualify for an FHA loan.
Do you have to be a US citizen to qualify for an FHA loan?
Borrowers do not need U.S. citizenship. Those with lawful permanent resident alien status and nonpermanent resident aliens can also qualify by meeting FHA requirements.
The Bottom Line: FHA Home Loans Open Homeownership Opportunities To Low Income Wage Earners
An FHA loan is a home loan regulated and insured by the Federal Housing Administration (FHA). FHA loans make homeownership possible for low-wage earners who might otherwise get shut out of the housing market.
FHA loans have lower credit requirements and income limits than conventional loans, but you still need to meet specific credit requirements, down payment requirements and debt-to-income (DTI) ratios. Remember that you'll also need to pay for closing costs at the closing table.
Ready to get started? Apply online for an FHA or conventional home loan today.