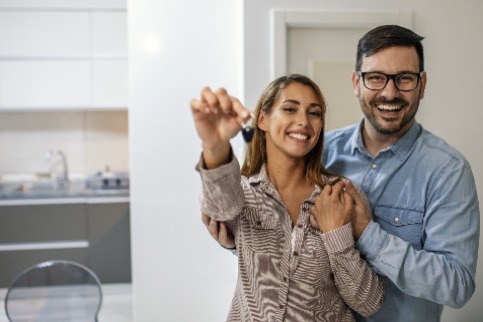 FHA Loan Limits: Everything You Need To Know For 2023
Published on September 11, 2023
FHA loans are a popular option with many home buyers because of credit standards that are more lenient. However, it's important to be aware that FHA loan limits are different from those set for conventional loans.
FHA Loan Overview
FHA loans are a type of home loan backed by the Federal Housing Administration (FHA). They tend to be utilized by people who are first-time home buyers or have less-than-perfect credit because the standards are less stringent than conventional loans based on a guarantee from the federal government.
Because of this, it tends to be a good mortgage option if you have a lower FICO® Score or you need to qualify with a slightly higher debt-to-income ratio (DTI) in order to afford a house that will work for you and your family.
See What You Qualify For
Congratulations! Based on the information you have provided, you are eligible to continue your home loan process online with Rocket Mortgage.
If a sign-in page does not automatically pop up in a new tab, click here
What Are The FHA Loan Limits?
FHA loan limits put a cap on how much you can borrow based on your location. For 2023, the FHA loan limits range from $472,030 – $1,089,300 for a 1-unit residence, depending on where you live. Loan limits are set on a county-by-county basis. These limits are also higher based on the number of units being purchased. Rocket Mortgage® lends on up to 4-unit properties.
If you want to buy or refinance a home with a mortgage higher than the local FHA loan limit, you may need to use a conventional, VA or jumbo loan. Conventional loans have nationwide limits of $726,200. The VA doesn't set a loan limit, but lenders can set their own standards. VA loans higher than conforming conventional limits are VA jumbo loans at Rocket Mortgage.
How FHA Loan Limits Work
For conventional loans under the regulation of the Federal Housing Finance Agency (FHFA), there's a standard loan limit. Department of Veterans Affairs (VA) loans typically don't have a limit, but when they do, conventional loan limits play a role. FHA loan limits are a bit more complex.
The FHA uses two main factors to determine lending limits: the area you live in and the number of units you're purchasing. If you live in a low-cost area, the "floor" is going to be lower, whereas high-cost areas have a higher "ceiling," which matches the local loan limits for mortgages backed by Fannie Mae and Freddie Mac.
Fannie Mae and Freddie Mac back conforming loans and the minimum loan amount anyone can get through the FHA in the lowest cost areas is 65% of the national conforming limit. Of course, there are some areas with much higher limits based upon local home prices. The top national loan limit for both conforming and FHA loans is 150% of the regular conforming limit.
The FHA determines high-cost areas by the area sale prices. Because housing supply can be hard to come by in heavily populated cities, metros like Los Angeles will come with a higher ceiling than rural or suburban areas.
The lending limits can also vary depending on the number of units you're buying. For instance, a 2-unit, 3-unit or 4-unit property will come with a higher lending limit than a 1-unit home.
| | | | |
| --- | --- | --- | --- |
| 1-Unit Home | 2-Unit Home | 3-Unit Home | 4-Unit Home |
| Low-Cost County: | Low-Cost County: | Low-Cost County: | Low-Cost County: |
| $472,030 | $604,400 | $730,525 | $907,900 |
| High-Cost County: | High-Cost County: | High-Cost County: | High-Cost County: |
| $1,089,300 | $1,394,775 | $1,685,850 | $2,095,200 |
How To Find Your County's FHA Max Loan Amount
To determine the FHA loan limit in your area, you'll want to check out the HUD mortgage limits search engine. You can search the limits based on your county or metropolitan statistical area. This is often defined by the nearest urban area, like Detroit or Chicago.
In addition to finding the FHA limit, the search engine has a couple of other neat features for home buyers. The table that comes up in the search results will show you the median sale price for the area you searched, which can help you compare the affordability of the different regions at a glance.
Of course, this is only a very broad first look. There are typically many counties around a big city with different areas that have varying price ranges for homes.
In addition to finding the limits on FHA loans, you can use the search engine to find the local limits on Fannie Mae and Freddie Mac loans. These limits sometimes apply to VA loans as well.
Other FHA Loan Requirements
While you do have to stay under the local loan limit, you also need to make sure you meet the other requirements to get an FHA loan:
Credit score:

The minimum FICO® Score required to get an FHA loan is 500, but you will need a higher down payment. Many lenders, including Rocket Mortgage®, require a credit score of 580 or higher.

Debt-to-income ratio (DTI):

Your DTI is the percentage of your pretax income that goes toward minimum debt payments every month. If your qualifying credit score is less than 620, your house payment can't exceed 38% of your monthly income to qualify and your total DTI can be no higher than 45%. If your credit score is above 620, qualifying DTI will be based on your situation, but can be no higher than 57%.

Down payment:

The minimum down payment for an FHA loan is based upon your credit score. If your score is between 500 – 579, the minimum down payment is 10%. If your score is 580 or higher, the minimum down payment is 3.5%. Higher down payments can bring advantages when it comes to interest rates and mortgage insurance.

Mortgage insurance:

All FHA loans come with mandatory mortgage insurance premiums (MIPs). There's an upfront premium of 1.75% of your loan amount that can either be built into your loan or paid at closing. There are also monthly premiums that vary based on the size of your down payment, the length of your term and your loan amount. If you make a down payment of less than 10%, mortgage insurance lasts for the life of the loan. If you put down 10% or more, it comes off after 11 years.

Occupancy requirements:

FHA loans are intended to be used for the purchase of primary residences. This means you have to live in your home for the majority of the year.
The Bottom Line
FHA loan limits represent the maximum amount you can borrow to purchase or refinance a home and still get an FHA loan. These are set at the county level. In 2023, the lowest possible limit is $472,030, with the limit being $1,089,300 at the high end for a 1-unit home.
Because of their more flexible credit score and low down payment requirements, FHA loans are considered to be a great option for first-time home buyers and those who might be working on their credit. If you're interested in an FHA loan, you can start the application process online.
Apply for a mortgage today!
Apply online for expert recommendations with real interest rates and payments.
Start Your Application