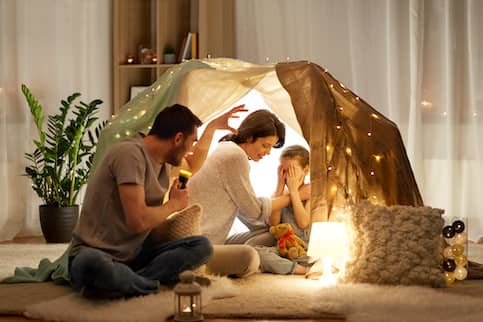 FHA Loan Down Payment Requirements: Everything You Need To Know
Published on August 15, 2022
Saving up for a down payment is a common challenge to homeownership. One of the reasons the Federal Housing Administration (FHA) created its mortgage program was to help buyers with smaller down payments afford a home.
Let's take a look at the down payment requirements for an FHA loan and what you should keep in mind when using this type of mortgage for your home purchase.
What Are The FHA Loan Down Payment Requirements?
FHA loan down payment requirements fluctuate with your credit score. If your credit score is 580 or higher, the lowest down payment you can make is 3.5%. You'll put 10% down if your credit score is below 580. (500 is the minimum credit score to qualify for an FHA loan.)
Lenders may require borrowers with lower credit scores to make a larger down payment to offset the potential risk of default. While FHA home loans are generally easier to qualify for because of their lower down payment and credit score requirements, it can be difficult for some buyers to pay 10% upfront, even though it's much lower than the traditional 20%.
Let's say you want to take out a mortgage for $325,000. If you qualify for a 3.5% down payment, you'll pay $11,375. A 10% down payment would come to $32,500. That's a significant difference of $21,125, to be exact.
The example above illustrates why, depending on your circumstances, it may be faster to focus on building your credit score versus saving up cash to hit the 10% threshold.
FHA Loan Down Payment Assistance
If you know you qualify for an FHA home loan but don't have the means to make a large enough down payment, you still have options. Consider a down payment assistance (DPA) program or financial gifts from family members or friends.
DPA Programs
DPA is any program or funding option that helps home buyers make a down payment for their purchase. Many local, state and even federal agencies offer down payment assistance as a grant, so you won't need to pay back the money you use. Other organizations may provide loans. You'll need to repay them, but they typically are 0% interest or forgiven after a certain period of time.
Even though some DPA programs have strict requirements for who's eligible, it's worth the effort to see which organizations or local government agencies offer them in your area. For instance, the Department of Housing and Urban Development (HUD) has a nationwide list of available home buyer assistance programs. You can use their database to discover what DPA programs your state offers.
Down Payment Gifts
Buyers can also use gifted money toward their down payment when using an FHA loan, but there are some rules to keep in mind.
Funds from family members, friends, employers, nonprofit organizations and labor unions are allowed. But you can't use contributions from a seller, real estate agent, REALTOR®, home builder or any business or professional with a vested interest in the purchase of the home.
Additional FHA Loan Costs
Keep in mind that, in addition to the down payment, there are other upfront expenses you'll need to pay to secure the mortgage.
Closing Costs
Closing costs cover a lot of necessary steps that are part of the home purchasing process. Here are some common ones:
The exact costs will fluctuate depending on your mortgage lender and the property you're purchasing. But you should expect to pay between 3% – 6% of the purchase price of the home in closing costs.
Mortgage Insurance Premiums
FHA loans require a mortgage insurance premium (MIP). There are two parts to this: an upfront mortgage insurance premium (UFMIP) and an annual premium.
As the name suggests, the UFMIP is due upfront. You'll need to pay it to successfully close on the home. This payment usually amounts to 1.75% of the total loan amount.
If you took out a loan for $325,000, you'd owe a UFMIP of $5,687.50. Some lenders will give you the option to roll this payment into the loan amount, adding it to the loan balance.
The annual premium gets divided into a monthly total, and then it's added to the amount you owe on your monthly mortgage payment.
FHA Loan Down Payment FAQs
We've put together some frequently asked questions to help you understand FHA down payment requirements and your different options for meeting them.
How long does it take to improve your credit score?
That depends on the factors impacting your credit score. However, it's possible to start seeing improvements as soon as 3 months after you make positive changes.
What is the minimum down payment required for an FHA loan?
The lowest down payment you can make is 3.5%. But you need a credit score of 580 or higher. Otherwise, you'll need to put 10% down. You won't qualify for an FHA loan if your credit score is under 500.
How much does it cost to buy a house with an FHA loan?
You'll need to save up for the down payment, closing costs, mortgage insurance premiums and other costs. The exact amount will depend on how big your loan is. Your mortgage lender should be able to provide estimates.
Can you finance FHA loan closing costs?
Yes, it is possible to roll your closing costs into your loan to reduce the cash you pay upfront. However, this will increase the size of the loan, and you'll end up paying interest on a larger loan amount.
The Bottom Line
For some potential home buyers, funding a down payment can be a stumbling block to homeownership. Thankfully, less restrictive options, like FHA loans and down payment assistance programs, can help clear that hurdle. By researching FHA loan requirements and DPA programs, you can find the best option that works for your situation.
If you're ready to continue your homeownership journey and start the next phase of your purchase, you can fill out an online application to find out what programs you're eligible for.