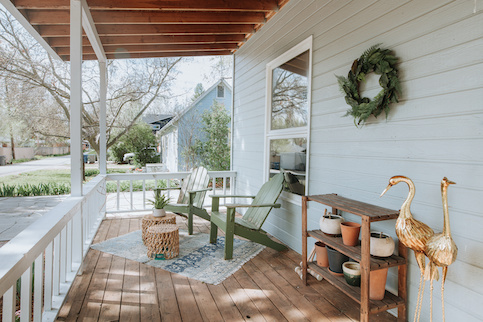 Can You Refinance An FHA Loan And When Should You Consider It?
Published on November 15, 2021
It's often said – and it's usually true – that the purchase of a home is the single biggest financial transaction you'll make in your lifetime. With this in mind, just know that your home is a huge piece of your financial portfolio. And if you're looking to access the money tied up in your house, you might consider refinancing.
Let's walk through the ways you can refinance a Federal Housing Administration, or FHA, loan, the documents required to refinance and how to evaluate whether now is the right time for you to pursue this option.
Get approved to refinance.
See expert-recommended refinance options to customize them to fit your budget.
Start My Application
Can You Refinance An FHA Loan?
Yes, you can. To refinance an FHA loan, you must qualify for a new FHA loan or another loan type. We'll go over some of what's necessary to qualify for certain types of home loans a bit later, but for now, let's keep it simple.
Your credit score and history affect whether you can qualify. In addition to the score itself, payment history and any previous negative marks affect who can qualify and when. Issues like bankruptcy and forbearance are a little more complicated, though, so we recommend speaking with a Home Loan Expert who can help you navigate through the process.
If you're looking to do an FHA Streamline Refinance – going from one FHA loan to another for the purpose of changing your term, lowering your rate or both – you may face a waiting period.
It's also worth noting that a minimum equity amount is required to refinance, in many cases, and the amount typically depends on the type and purpose of the loan.
Refinance
FHA Loan To Conventional Loan
This is one of the most common refinance options for homeowners who have an FHA loan and want to get rid of mortgage insurance. There's no private mortgage insurance (PMI) once you reach 20% home equity on a conventional loan, so this can be a big incentive to refinance from an FHA loan to a conventional mortgage.
To refinance from an FHA loan to a conventional loan, you'll likely need a debt-to-income ratio (DTI) of 43% or lower to be approved. Also, you'll likely need a median 620 credit score or better. The credit requirements could be a downside for some borrowers because the FHA is a bit more lenient.
FHA Cash-Out Refinance
You can do a cash-out refinance through the FHA, although it might not be your best option from a financial perspective. That's because you need at least 20% home equity left over once you take cash out of your home.
Doing a cash-out refinance with a conventional loan is generally the better option because you can avoid mortgage insurance premium (MIP) payments now and in the future, although you may have to pay PMI.
However, if you've encountered a large unexpected expense and you're still working on improving your credit score, a new FHA loan may be your best choice.
To qualify for an FHA Cash-Out Refinance with Rocket Mortgage®, you generally need at least a median 620 credit score. The exception is if you're a current Rocket Mortgage client who is looking to pay off debt at closing. In that case, the qualifying credit score is 580. Additionally, you must leave at least 20% equity in the home after you take cash out.
The primary advantage here is that you may be able to qualify for an FHA loan with a higher DTI – in some cases as high as 67% – than you could with a conventional mortgage, depending on various factors.
FHA Streamline Refinance
An FHA Streamline Refinance is used when going from one FHA loan to another. This is only for rate/term refinances, meaning you can lower your rate or change your term, but you can't take cash out. However, those who qualify can take advantage of a couple of huge benefits:
Less documentation:

In some cases, not as much documentation is involved because you've been paying on your loan already. Verifying your income and assets may be easier.

Appraisal Often Not Necessary:

You might not need an appraisal with an FHA Streamline, meaning you might reach the closing table faster.
There's no minimum equity amount required with an FHA Streamline. To qualify, Rocket Mortgage-serviced clients need a minimum FICO® Score of 580. For clients not currently with Rocket Mortgage, the requirement is a 620 median credit score.
FHA ARM To FHA Fixed-Rate Mortgage
The FHA also offers adjustable-rate mortgages (ARMs). If you took out an FHA ARM and your introductory period has expired or is about to expire, you might want to switch to a fixed-rate mortgage. You'll enjoy the peace of mind that comes with not having to worry about your monthly mortgage payment rising in the future.
See What You Qualify For
Congratulations! Based on the information you have provided, you are eligible to continue your home loan process online with Rocket Mortgage.
If a sign-in page does not automatically pop up in a new tab, click here
Reasons To Refinance An FHA Mortgage
There are different reasons a borrower may want to refinance an FHA mortgage, but it essentially comes down to three main motivators, which we'll look at next.
Lower Or Increase Monthly Payment
If you're feeling financial stress and finding it hard to make your monthly mortgage payment, extending your mortgage term can help with that. Or maybe you can afford to pay off your mortgage in 15 years instead of the remaining time left on your current mortgage.
If paying less (or more) each month sounds good, you're a great candidate for a rate and term refinance.
Stop Paying MIP
With an FHA loan, you'll in most cases pay an upfront mortgage insurance premium and then continue to make monthly payments for at least the first 11 years of the mortgage, regardless of how much home equity you build. Conventional mortgages stop charging home buyers for PMI – the private sector equivalent of MIP – when homeowners reach a home equity level of 20%, or 80% loan-to-value ratio (LTV).
If removing MIP from your monthly mortgage payment sounds like a plan, you might be interested in trading in your FHA mortgage for a conventional mortgage. We'll discuss that option more below.
Lock In Low Interest Rates
If you originally selected an FHA adjustable-rate mortgage and your introductory period is coming to an end, you might want to consider applying for a fixed-rate mortgage to lock in your mortgage rate if rates are trending downward.
Refinance FHA Loan
FAQs
You have questions, we have answers – to often-asked queries concerning the refinance of an FHA loan, that is.
How soon can I refinance an FHA loan?
You must meet these three "seasoning requirements" before you can refinance your loan:
Six payments on the FHA-insured mortgage being refinanced must have been made.

Six months must have passed since the first payment due date of the FHA-insured mortgage being refinanced.

The FHA-insured mortgage being refinanced must be 210 days past the closing date.
The term "seasoning" refers to how long you need to hold on to something – in this case, a mortgage. It's a method to determine how soon you can refinance an FHA Loan.
Do I have to pay MIP again if I do an FHA Streamline?
When you refinance with an FHA Streamline, you'll receive a refinance credit for your previous MIP payment toward your new upfront MIP payment. But, yes – you will have to pay MIP as long as you keep the mortgage. You can escape paying mortgage insurance by later refinancing to a conventional mortgage, as long as you have at least 20% home equity.
Do FHA loans have prepayment penalties?
No. The rules passed in the wake of the 2008 recession prohibit prepayment penalties on FHA loans.
The Bottom Line: You Have Several Options For Refinancing Your FHA Loan
FHA loans have many benefits, including a low down payment and more flexible credit requirements. Still, there may come a time when it makes sense to refinance your mortgage to remove MIP, lower your rate, change your term or take cash out.
If you're thinking of refinancing your FHA loan, start the approval process and explore your options today.
Apply for a mortgage today!
Apply online for expert recommendations with real interest rates and payments.
Start Your Application