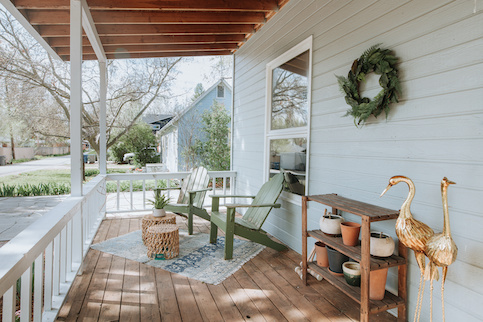 Guide To Refinancing Your FHA Loan: Should You Do It?
Published on November 10, 2020
We often talk about the purchase of a home being the single biggest financial transaction most people make throughout the course of their lives. Given that, your home is a correspondingly large piece of your financial portfolio. The main way you access the money tied up in your house is by refinancing.
This article will go over the options you have to refinance an FHA loan and how to evaluate whether the time is right for you.
What Are FHA Loans?
If you have an FHA loan now, odds are you got it for one of several benefits. Getting another FHA loan is certainly one of the refinancing options, so let's go over the benefits.
FHA loans only require a minimum down payment of 3.5%. The entire down payment can also come from gift funds as well.
FHA loans through Rocket Mortgage® are allowed on primary residence single-family homes or duplexes.
There's flexibility in the credit score you need in order to qualify. At Rocket Mortgage®, a client with no FICO® Score may qualify with a co-signer who has a median credit score of 640 as long as the client also has at least three nontraditional credit references. In order to qualify without a co-signer, you'll need a 580 median credit score minimum; however, you'll have more options with a median FICO® Score of at least 620. Although Rocket Mortgage® doesn't do these loans, you can get an FHA loan with a credit score as low as 500 with a down payment of 10% or more. Be aware that lenders who give these loans will charge a higher rate for the increased risk.
There's also flexibility around qualifying debt-to-income ratios (DTI). If you have a FICO® Score that's 580 or better, you'll need a housing expense ratio of no higher than 38%, meaning that no more than 38% of your income goes to your mortgage payment. After installment and revolving debts are added in, total DTI can't be more than 45%. If you have a median credit score that's 620 or better, one of the advantages of an FHA loan is that a variety of factors are taken into account and you can often be approved with a slightly higher DTI than you could on many other loans.
The principle downside of FHA loans, and the reason you might be looking to refinance is the mortgage insurance premium (MIP). In addition to an upfront premium of 1.75% of the loan amount paid at closing or built into the loan balance, there are annual premiums of between 0.45% – 1.05% of the loan amount.
The amount of the annual premiums depends on the term of your mortgage and the size of your down payment (or existing equity amount going into a full FHA refinance). If you make a down payment of 10% or more, MIP comes off after 11 years. Otherwise, it's paid for the life of the loan. By refinancing, you may be able to lower your mortgage insurance rate or avoid mortgage insurance completely.
Can You Refinance An FHA Loan?
In order to refinance an FHA loan, you have to qualify for either the FHA loan or another loan type. We'll go over some of what's necessary to qualify for individual loan types a bit later on, but for now, we can speak in general terms.
Your credit score and history affect whether you can qualify. In addition to the score itself, your payment history and previous negative marks like bankruptcy or a forbearance affect who can qualify and when. These latter items are a little more complicated and we would recommend speaking with a Home Loan Expert.
In addition, if you're looking to do an FHA Streamline, going from one FHA loan to another for the purpose of changing your term, lowering your rate or both, there's often a waiting period.
Finally, there's a minimum equity amount that's required in order to refinance in many cases. Whether this is the case (and the amount required) depends on the type and purpose of the loan.
FHA Loan To Conventional Loan
This is one of the more common refinance options when it comes to FHA loans for those trying to avoid mortgage insurance altogether. Once you reach 20% equity in your home, there is no private mortgage insurance (PMI), which can serve as a big incentive on its own to refinance.
Additionally, conventional mortgages may often come with better rates, depending on your credit score and the amount of equity you have, among other things.
In order to qualify to go from an FHA loan to a conventional loan, your DTI should be around 43% or lower to give yourself the best chance of approval. Also, you need a median 620 credit score or better. The credit requirements could be a downside for some because the FHA is a bit more lenient.
FHA Cash-Out Refinance
You can also do a cash-out refinance through the FHA. To do so with Rocket Mortgage®, you need at least a median 620 credit score. Additionally, you have to leave at least 20% equity in the home after you take cash out. The primary advantage here is that you can still qualify with a slightly higher DTI than you could on many other loans.
If you don't need to qualify for a higher mortgage payment based on the amount of cash you want to take out, doing cash-out with a conventional loan may be better because you can avoid MIP. Additionally, another option to take a look at in this area is a VA loan. We'll get into why below.
FHA Streamline Refinance
An FHA Streamline is used when going from one FHA loan to another. This is only used for rate/term refinances, meaning you can lower your rate or change your term, but you can't take cash out. However, for those who qualify, there are a couple of huge benefits:
Lower MIP: When you do an FHA Streamline, upfront MIP is only 0.01% of the loan amount and in MIP decreases to 0.55% regardless of loan amount or existing equity. This could represent a major savings on a monthly basis.
Less documentation: In some cases, less documentation is involved because you've been paying on your loan already. Verifying income and assets may be easier.
You may not need an appraisal: You might not need an appraisal with an FHA Streamline; this could mean helping you get to the closing table faster.
There's no required minimum equity amount with an FHA Streamline. In order to qualify, Rocket Mortgage®-serviced clients need a minimum FICO® Score of 580. For clients not currently with Rocket Mortgage®, the requirement is a 640 median credit score. You also can't have a DTI higher than 50%. This requirement may be lower depending on your other qualifications.
VA Refinance
If you're a qualifying active-duty servicemember, serving in the National Guard or reserves, a veteran or a surviving spouse receiving dependent and indemnity compensation, a VA loan offers you some of the best rates.
In addition, instead of mortgage insurance, there's a funding fee either paid at closing or built into the loan. The amount of the fee depends on your service status, the type of loan and the size of your down payment, if any. You're also exempted from that if you receive VA disability, are a surviving spouse or returned to active duty after receiving a Purple Heart.
One of the really cool things about a VA loan is that it's the only loan that allows you to take out up to the full amount of existing equity if you have a credit score of 580 or higher at Rocket Mortgage®.
On a purchase or rate/term refinance, the minimum credit score is 580 at Rocket Mortgage®. While the VA doesn't set a specific credit score requirement, be aware that lenders can set their own. These requirements are also a little different if you have a VA jumbo loan.
How Soon Can I Refinance An FHA Loan?
Certain loans have waiting periods before you can refinance. For example, if you're looking to do an FHA Streamline, 6 months must have passed since the due date of the first payment in order to close on the mortgage. You also have to have made six payments on the existing loan.
To refinance into a VA loan, 6 months have to pass before you can apply for a new loan and 212 days have to pass before closing.
With refinancing into a conventional loan, for a rate-term refinance, you just have to be on the title when you apply. For a cash-out refinance, you have to be on the title for 6 months for a conventional or VA loan and on the title and occupying the property for a year on an FHA loan.
The Bottom Line
FHA loans have many benefits, including a low down payment and more flexible credit requirements. Still, as your financial situation improves, you may choose to refinance the mortgage to reduce or remove MIP, lower your rate, change your term or take cash out. FHA streamlines and cash-out refis are ways to do that, along with conventional and VA options.
If you're ready to get started, feel free to speak with one of our Home Loan Experts or check out our refinance guide for more information.
Apply for a Mortgage with Quicken Loans®
Call our Home Loans Experts at (800) 251-9080 to begin your mortgage application, or apply online to review your loan options.
Start Your Application