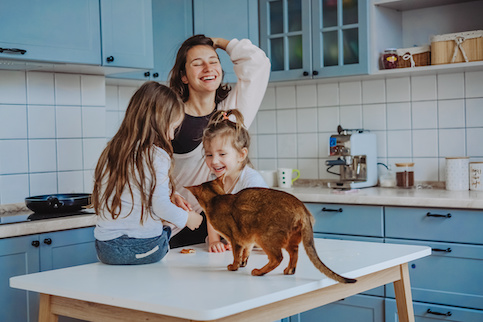 FHA Cash-Out Refinance: What You Should Know
Published on October 6, 2022
If you're in the process of mapping out a home remodel, looking for ways to consolidate debt or beginning to save to send a child to college, you might be feeling a bit pressed for cash.
But never fear! The FHA cash-out refinance is here, and we have all the details you need to determine if this loan option is right for you.
What Is An FHA Cash-Out Refinance?
An FHA cash-out refinance is an opportunity for home buyers to refinance their mortgage into a new FHA loan with a larger loan amount, allowing them to receive the difference in a lump sum of cash.
For example, let's say you originally borrowed $250,000 to buy a house. In your monthly mortgage payments so far, you've paid off $70,000, bringing the current loan balance down to $180,000. If you were to refinance to bring your home loan amount back up to $250,000, that would lead to an excess of $70,000 – though this doesn't represent the actual cash you'd receive, as loan-to-value requirements and closing costs would also apply. We'll get into these calculations in more detail later.
But you don't have to start with an FHA loan to get an FHA refinance. Even if you originally purchased your home with a conventional loan, you can still choose to refinance with an FHA loan if preferred. FHA loans are backed by the Federal Housing Administration, minimizing risk for lenders and allowing them to offer less stringent loan qualification parameters, such as lower credit score requirements.
See What You Qualify For
Congratulations! Based on the information you have provided, you are eligible to continue your home loan process online with Rocket Mortgage.
If a sign-in page does not automatically pop up in a new tab, click here
Ways To Use An FHA Cash-Out Refinance
With a good chunk of change in your pocket from a cash-out refinance, you can get started on any number of projects. Some of the most common motivators for cash-out refinances include:
Home improvements and remodels

Consolidating a first and second mortgage

Student loan refinancing
FHA Cash-Out Refinance Requirements
If you're intrigued by the potential benefits of an FHA cash-out refi, you might be wondering how to qualify. Much like your first mortgage, qualifying for a refinance will mean meeting various lender requirements, including:
Credit score requirements: Most private lenders have their own minimum requirements, but the FHA requires a credit score of 580 or higher to qualify for a cash-out refi.
Debt-to-income ratio: Specific debt-to-income (DTI) requirements depend on your credit score, but in general, you'll need a DTI at or below 43% to qualify.

Loan-to-value: The loan-to-value (LTV) ratio represents the amount of equity you have in your home compared to its current value. To qualify for an FHA cash-out refinance, your LTV cannot exceed 80% of your home's value.

Payment history:

To be approved for an FHA refinance, you cannot have had any late mortgage payments over the previous 12 months.

Length of residence:

You also need to have lived in your residence for a minimum of 12 months to qualify.
FHA Cash-Out Refinance Loan Limits
The FHA uses the area you live in and the number of units you're purchasing to determine FHA loan limits, which often change annually. In 2022, loan limits across the country increased due to home prices on the rise. For a cash-out refinance, you'll need to meet local FHA loan limits and loan-to-value minimums to qualify.
To find the specific loan limit in your area, we recommend this tool provided by the U.S. Department of Housing and Urban Development (HUD).
How Much Can You Get From An FHA Cash-Out Refinance?
Now that you understand how to qualify for an FHA cash-out refinance, let's circle back to our example from earlier. By refinancing and bringing the loan amount up from $180,000 to $250,000, you have created an excess of $70,000 to tap into.
However, loan-to-value limits state that the cash-out amount cannot exceed 80% of the home's appraised value. So, assuming your home's value is sitting around $250,000, you'll be required to leave at least $50,000 (20% of the home's value) untouched. That leaves you with around $20,000 to cash out, though you'll still need to pay closing costs, which typically cost between 2% – 6% of the total loan amount.
Advantages Of Cash-Out Refinances For FHA Loans
As we've discussed, FHA cash-out refinances can have several distinct advantages, including lower interest rates and the opportunity to tap into cash that can be used to fulfill any of your heart's desires. And the lower credit score requirements that make it easier to qualify certainly don't hurt either.
Disadvantages Of Cash-Out Refinances For FHA Loans
But for all their advantages, there are a few disadvantages associated with FHA cash-out refinances as well. This is primarily due to the fact that refinancing means taking on additional debt and reducing your available home equity.
But another downside is having to pay for mortgage insurance, which is required on all FHA loans. Mortgage insurance can be paid upfront as a larger sum or split across your monthly mortgage payments.
How To Apply For An FHA Cash-Out Refinance
The process of applying for an FHA-cash out refinance is much like applying for any other loan. Before applying, we recommend reviewing all the potential pros and cons listed above to determine if this loan option is right for you.
When you're ready to refinance, you'll need to fill out and submit at Uniform Residential Loan Application to the lender of your choice. Most lenders offer FHA loans, so do your research into lender terms and reputations before you apply. Once your application has been submitted, your lender will review your financial information to see if you meet credit score, debt-to-income, loan-to-value and other requirements for loan approval.
The Bottom Line
Cash-out refinances present a unique opportunity for homeowners to leverage the equity in their homes, allowing them to utilize that money for any number of things. And with an FHA cash-out refinance, this process may be made even easier due to lower loan qualification requirements.
So, if you're in need of extra cash for home repairs, debt consolidation and other pressing projects, apply for a refinance today to tap into your home equity!
View Your Refinancing Options
See expert-recommended refinance options and customize them to fit your budget.
Start Your Refinance Online