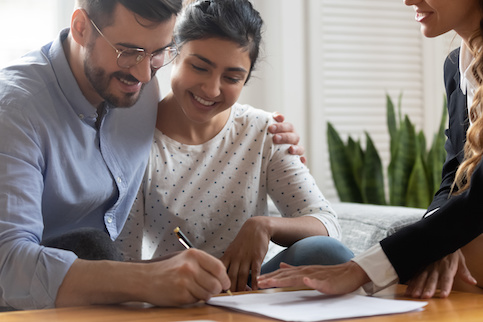 How To Buy And Sell A Home At The Same Time
Published on July 1, 2020
If you're moving, you might be trying to sell your current home and buy a new one at the same time. Balancing the two tasks can seem difficult, especially to someone who hasn't done it before. The good news is that these simultaneous transactions happen all the time and there are ways to navigate this process.
Many people can't easily afford two mortgages at the same time, so they're stuck waiting to buy a new home while trying to sell the one they want to move out of. While this would be the most convenient option, for most people, it is off the table. Even those who can afford two mortgages might find it difficult to qualify for a new mortgage while still owning their current home.
When going through a simultaneous sales and purchase process, it's important to think of changing homes as more of a marathon than a sprint. The key to success is careful planning. If you want to minimize your risk and expenses as much as possible during your move, read on to explore our best recommendations.
Preparing To Buy And Sell
The first step in the process of buying and selling houses is to create an action plan. While things don't always go according to plan, it's important to do plenty of research so that you know what to expect. When you understand what the ideal situation is as well as what can go wrong, you can prepare yourself and your family for all obstacles.
The first step to preparing is to research the market in which you are selling your home so that you can know how much your home might sell for, how long it will take to sell, and more. An experienced and reputable real estate agent will be able to advise you on the market as well as give suggestions for improvements you can make to your current home so that it's more marketable.
Then, you should do similar research on your next home. Be sure to explore neighborhoods, school districts, taxes and more. You should also see what homes are available and how they compare to your budget. It's also wise to see how long most homes in your prospective neighborhood are on the market. This will help you understand if you need to act quickly or if you can make the purchase process at your own pace.
Finally, take a good look at your finances. You should be able to decide how much cash you have available to make your down payment, how much house you can afford, and if you'll be able to cover closing costs. A financial advisor can help you with this, as can a mortgage lender. You may want to take this time to get preapproved for a mortgage and start saving money for a down payment.
Listing Your Current Home
Once you're prepared to sell your home, you'll need to list it. Deciding to list your home before purchasing a new one is probably the least stressful option because you will increase your chances of selling your home before finding a new one, therefore eliminating the risk of taking on two mortgages at a time. However, there are a few risks as well.
You should also evaluate the pros and cons of listing your current home before putting an offer in on a new home.
Some pros of selling your current home before putting in an offer might be:
Having a budget: If you sell your home first, you will know exactly how much you can spend on a new home. You will be able to use the equity in the home you sell to put a larger down payment on your new home. You will also have a good idea of how much you can spend on your mortgage each month because you will only have one mortgage payment.
Easy financing: Using the cash from your sale to put some money down on your home will help you to qualify for better mortgage rates and lower payments. It can be difficult to get a second mortgage, so selling your home before purchasing a new one streamlines the purchasing process.
Less pressure: You won't have to worry about managing two mortgages while you sell your current home. This can be a huge bonus if you get stressed out about money, or if your finances are already tight.
Some drawbacks of selling your home first might be:
Temporary housing: If you sell your home without a new place purchased, you might have to stay in a short-term lease while you house hunt. Fortunately, temporary housing doesn't usually cost much more than your monthly mortgage payments, but it can be annoying to have to find a temporary home only to move again shortly after.
Moving twice: If you must move out of your previous home, live somewhere temporarily, then move into a new home, you'll be uprooted for a long time. You also might not be able to spend the interim in your current neighborhood or school system. This is a big drawback if you have a family or if it drastically changes your commute.
Missed opportunities: If you find a home that you love but want to wait to purchase it, you might miss out on your dream home while selling your current home.
Buying Your New Home
If you can afford to buy your new home while still in your original home, then you might find that this is the best option for you. To buy a home while still owning a home, you will have to prove that you can afford both mortgage payments. This might mean showing that you have six months of payments in the bank, a substantial down payment, or other documentation.
If you're financially set to purchase a second home, there are still a few things you should consider when determining when to put an offer in on a new home, especially when considering that you'll have an existing home to live in.
Some pros of buying your new home before selling your current one might be:
Finding your dream home: If you find your dream home while your current home is still on the market, you can purchase it when you're ready rather than having to wait for your previous house to sell.
Only moving once: Nobody loves moving. Having a home to move in to before selling your current place helps to avoid having to move multiple times or living in temporary housing. This is a huge perk if you have a family or a deadline to meet. You can move your family directly into their new schools or start getting used to your new neighborhood without an interim period.
Benefit from the market shift. The housing market can shift often. If you give yourself the freedom to purchase a home as soon as you find the right one for you, then you can benefit from any shifts that might happen during your buying and selling process.
Some drawbacks of purchasing a new home before selling your current one might be:
Risk and pressure: If you buy a new home and need to sell your current one, you might feel the pressure of potentially paying two mortgages for a while. It will give you a sense of urgency which might mean that you take a lower offer on your home than what you originally intended.
Balancing two mortgages: A mortgage is commonly the largest line item in a family's budget. If you have two mortgages, it can be financially destabilizing or debilitating for a while.
High-interest loans: If you take on a mortgage before paying off your previous one, it can mean that your new mortgage will have higher interest rates. Typically, your mortgage approval is partially based on your debt-to-income ratio. If you have the outstanding debt of your current home, you will not qualify for a favorable rate.
What If My New Home Purchase Falls Through?
Even if you do your best to time your buying and selling process perfectly, there's a chance that the purchase of your new home will fall through or be postponed. If this happens, you might be left without a place to stay for a few weeks or months. While this is annoying, a purchase falling through should be an inconvenience rather than a crisis.
With proper planning, you might already have created a contingency plan for your transition. If not, you should know that you have several options, including:
Short-term lodging and storage: The emergence of short-term rental sites such as Airbnb has made the home transition process increasingly easy. If your purchase falls through, see if there is an Airbnb or VRBO in the area that fits your budget. They typically give discounts for stays over 30 days and can help you move into your new neighborhood, even if you can't move into your home. There are also typically short-term storage options with major national storage chains, so if your things are already boxed up and move-in ready, just put them in storage for a few weeks while you work out your housing situation.
Purchase a different home: If the purchase fell through completely rather than being postponed, then it might be time to restart your purchase process. Your REALTOR® will be up to date on your sales process and will likely be able to step in and help you expedite your next purchase. They will already know what you are looking for, your budget, and more. They will also have a pulse on similar homes in the market and be able to set you up with showings ASAP.
Stay with friends and family: If you are staying local or moving to an area where you know people, you might be able to stay with friends or family for a while until you purchase a new home. While it can be difficult to share space with other people, it might be the most natural transition to a new neighborhood. This is easier for single people or couples rather than families but is an economical option to help you get settled while relocating.
It's important to remember that although losing your dream home or postponing a move-in is stressful, you are fortunate. If you still had your previous home, you might be struggling to sell it or planning to move out of it without a plan. Instead, you can create a plan for how to move forward until you find a home that suits your needs.
Additionally, this might be the most financially advantageous situation as well. Instead of being responsible for two mortgages, you might find yourself without one. This will help you afford your temporary lodging and save a bit more for your down payment. This is a privilege you wouldn't have had if you had not yet sold your previous home.
Summary: Develop A Game Plan And Gather Your Team
Buying and selling a home can be stressful. It takes a lot of work to plan the process, and no amount of planning can guarantee that it will go smoothly. However, by surrounding yourself with a team of reputable professionals, you can simplify the home buying and selling process. You should have a buyer's and seller's agent for your existing and future home, a financial advisor to help you navigate the transition, and a mortgage lender to help you get approved for your new home.
If you have further questions regarding the home buying or selling process, be sure to check out the Learning Center. There, you'll find calculators to help you plan your financial journey, articles explaining the intricacies of buying and selling a home, and more.
Apply for a Mortgage with Quicken Loans®
Call our Home Loans Experts at (800) 251-9080 to begin your mortgage application, or apply online to review your loan options.
Start Your Application