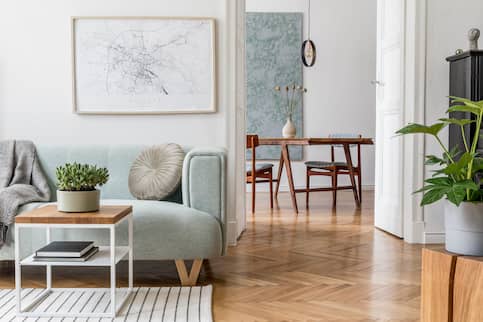 What Is An Open House And Can It Really Help Sell A Home?
Published on August 13, 2023
An open house is a period of time when you show a property to potential buyers. During this prescheduled period, listing agents invite the general public to swing by for a viewing.
An open house is one of the most effective tools when selling your home. Holding one can be a powerful way to help create demand for and interest in a given property.
Let's take a closer look at how open houses work and how to make yours a success.
What Does 'Open House' Mean In Real Estate?
An open house is when a homeowner and their real estate agent invite the public to view a home. Open houses usually last for a set period of time, generally 1 – 3 hours. They are an effective tool for attracting buyers who may make an offer on the home.
An open house is a chance for home buyers to walk through the property with or without their real estate agent. These tours provide prospective buyers with more time to view the home than a one-on-one showing. They can also feel less formal and provide an opportunity to casually explore the neighborhood.
How Do Open Houses Work?
Listing agents or sellers host open houses to drum up interest and business. Visitors can walk through the property by themselves or accompanied by a REALTOR® or real estate agent.
An open house allows the public a chance to stop in and look through a home that's for sale. Anyone can attend without an appointment, but the listing agent will ask you to sign the guest book and leave your contact information. If you're with an agent, they'll leave a card for follow-up communication about the property. Your other option to view a home is to schedule a private showing directly with the seller's real estate agent.
Do Open Houses Sell Homes?
In most cases, an open house won't sell a home by itself. However, getting people in the door is a major benefit that can help pique buyers' interest. It can put properties on a buyer's radar or help solidify a decision to make an offer.
An open house is a buyer's first look at their potential home. Buying a home is a big decision and a large investment. Most buyers will want to view the property to get a feel for it in person before they make a decision that will have a lasting impact on their lives. An open house is a low-pressure opportunity for potential buyers to evaluate homes for sale and find their dream house.
Ultimately, with more potential buyers walking through your home, the more likely you are to get one or more offers.
Benefits Of An Open House
There are many ways in which an open house event can benefit you in selling your home. Let's take a closer look at some of the advantages:
Public Awareness
Open houses are often advertised in advance – both online and off – and help drive awareness to your home. There are many different avenues that listing agents use to promote open houses including multiple listing services (MLS), online ads, apps and even signs in front of your home. As awareness of your listing grows, your listing agent will be able to promote your home to other real estate agents with prospective buyers.
Foot Traffic
An open house can also help bring in more people. The heavier the foot traffic, the greater your chances are of finding a buyer – or at least scheduling a follow-up showing with more potential serious buyers down the road.
Firsthand Impressions
Home buyers often wish to visit properties and see what living in various homes might be like. Actually being in the space can help give people a sense of what the home is like versus relying on pictures or video.
More Relaxing For Potential Buyers
If you're a buyer looking at potential homes, you can swing by multiple open houses – without an appointment – in a single day. With a formal showing, you have to set up a time with your agent when the house is available. The process can be time-consuming and means juggling logistics.
Home buyers on the fence about making an offer on a particular home might be more willing to go to an open house. It gives them a chance to get to see the property without having to set up an appointment. Thus, they can gauge interest before moving forward.
Prospecting For Clients
Open houses likewise serve as informal meet and greets. They offer chances for real estate agents to mix and mingle with the general public and other real estate professionals. An open house is designed to help facilitate networking. They can help buyer's agents find clients and swap contact information with home buyers.
Since it's common for home buyers to drive by a sign for an open house and stop in, these buyers may not have a real estate agent yet.
Take the first step toward buying a house.
Get approved to see what you qualify for.
Start My Approval
Drawbacks Of An Open House
On the flip side, there are also a few disadvantages to hosting an open house. Let's take a look at a few of the drawbacks:
They Can Be Hectic For Buyers
When multiple individuals are viewing the house at the same time, it can be hectic and distracting for buyers. For many, it's hard to make a decision without doing a full walk-through where you can ask questions.
Home buyers viewing multiple properties in one day can end up exhausted and unlikely to commit to a proper viewing. Multiple viewings in one day can also produce time constraints where buyers are bouncing from one open house to the next.
Viewers May Not Be Qualified Buyers
Because anyone can attend an open house, it's likely that there will be attendees who aren't serious about buying. Whether it's your nosy neighbors, casual viewers or homeowners looking for inspiration – not everyone visiting an open house will be looking to make an offer. Either way, it's hard to determine if your attendees are prequalified or preapproved for a mortgage.
They Are Hard Work
It's worth considering if the effort of an open house is truly worth it. Open houses are a lot of work. You'll need to declutter, clean and stage your home. You'll also need to leave your home during the viewing and arrange care for your pets during the event.
Safety Concerns
With strangers on your property, there are some safety concerns. A thief could walk off with small items or use the open house as an opportunity to case your home and return later. Though it's unlikely to lead to a home break-in, it is something to consider. You can also protect yourself from theft by removing any valuables beforehand.
How To Promote An Open House: 3 Tips For Success
Open houses have advantages and disadvantages when it comes to promotion. Email promotion is less effective than it used to be and can easily get lost in your inbox.
Luckily, prospective home buyers browse home listings online all the time. You won't need to rely on an agent's network to make your listing available to a wide audience. We'll take a look at alternative marketing methods to get people talking about your property.
1. Update Your Listing
It's important to update your listing with the latest information. This keeps buyers informed and keeps the listing in line with the local real estate market. It also keeps your home near the top of the list on local listing services.
Work with a listing agent to decide the best way to position your home competitively. Your agent will help you get your house ready to sell and make sure it's priced correctly for your market. Once you've signed a listing agreement, your agent will also help you keep an eye on the market to let you know if you need to make changes like adjusting your asking price.
2. Use Social Media
Social media is a great way to raise awareness when you're selling a home. You never know if someone in your extended network might be looking for a home or know someone who is. Listings with pictures and videos of the property can help attract attention and create buzz.
Some social media platforms, like Facebook Marketplace, make it possible to sell your home directly. Be sure to do your research before posting promotions and consider how to engage audiences on various social networks (Instagram, Snapchat, X (formerly Twitter), etc.). Promoting on social media can be a great way to sell homes to Gen Z and other tech-savvy demographics.
3. Make Your Home Stand Out
Making a good first impression can be crucial at an open house so you should make sure your home stands out from the rest. It may be a good idea to stage your house to get the best offer. Whether you stage your house or not, a clean uncluttered home helps buyers focus on the home itself. Ask your real estate agent if they have specific suggestions for your space.
You'll also want to make sure your house has a pleasant neutral smell. Steer away from strong perfumes and instead use fragrance-free cleaners. Having light fragrant snacks like coffee or fresh-baked cookies can help create an inviting feel.
Open House FAQs
Open houses have a lot of moving parts. Let's take a look at some common questions and answers:
What is a good turnout for an open house?
There is no standard number of attendees for a successful open house. If you're hoping to generate an offer, 10 – 20 people is a good start. Attendance will depend on the individual property, its asking price, your promotion efforts, the location and the neighborhood.
If your open house doesn't lead to a strong showing right out of the gate, don't get disheartened. Sometimes, it's a matter of timing or positioning.
What is a virtual open house?
A virtual open house is a tour given over video conferencing by a real estate agent. It can either be a live or a prerecorded virtual tour. Virtual open houses have increased in popularity. They give access to a wider audience of buyers, such as out-of-state buyers, and decrease foot traffic and inconvenience for sellers.
Can you go to an open house without a REALTOR
Ⓡ
?
Yes, anyone can attend an open house with or without a real estate agent or REALTORⓇ. If a buyer's agent brings you to an open house, it can be a great way to get a professional perspective on the home. If you have an agent and they can't attend an open house with you, make sure to leave their card with the listing agent for follow-up and to avoid conflicts of interest down the line.
The Bottom Line: Open Houses Can Help A Home Sell
An open house can help you introduce your property to more buyers – and give your house a chance to shine.
Getting ready to sell your home? Find a real estate professional to help your home stand out with Rocket HomesSM.
Apply for a mortgage today!
Apply online for expert recommendations with real interest rates and payments.
Start Your Application