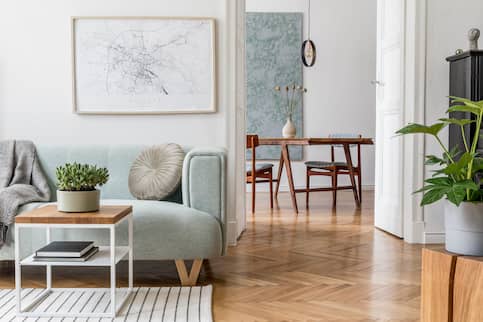 What Is An Open House And Can It Really Help Sell A Home?
Published on October 4, 2021
What's the meaning of an open house in real estate parlance? We're glad you asked: It's one of the most effective tools that you can use if you're looking to sell a home. Put simply, an open house is a period of time in which a property may be shown to potential buyers – in effect, a prescheduled period when listing agents invite the general public to swing by for a viewing.
Of course, at the same time, the concept of how an open house operates has also recently undergone myriad changes because of how COVID-19 has affected the housing market. But holding one can still be a powerful way to help create demand for and interest in any given property. Here, we'll take a closer look at how open houses work (both in-person and virtually) and just how successful they can be.
What Does Open House Mean In Real Estate Terms?
Within the world of real estate, an open house refers to a scheduled window of time in which a home that's up for sale can be viewed publicly to potential buyers. Open houses are beneficial in attracting buyers that will put an offer in on the home and for alerting agents to any issues with the place.
An open house provides a chance for aspiring homeowners to walk through the property on their own or guided by an agent to see if it's a property that they want to make an offer on. These tours provide prospective buyers with more time to leisurely view the home and its surroundings than one-on-one showings do.
How Do Open Houses Work?
These viewing opportunities are generally hosted and advertised by a listing real estate agent or seller as a way to drum up interest and business – people can essentially walk through the property freely or be guided on a tour by a REALTOR®.
As opposed to a private showing, which agents preschedule with interested parties, an open house effectively offers the general public a chance to stop in and have a look through a home that's up for sale. In most cases, anyone can breeze by without an appointment, though they'll often be asked to sign a guest book, provide contact information, leave a card (if they're with an agent) or otherwise provide a means of potential follow-up communication.
Apply for a mortgage today!
Apply online for expert recommendations with real interest rates and payments.
Start Your Application
Do Open Houses Sell Homes?
Yes and no: In most cases, an open house alone isn't going to sell a home by itself. However, getting people in to view the home is a major benefit that can help pique potential buyers' interest, put properties on their radar or cement their final decision to make an offer. After all, a home is one of the largest and most important purchases that many of us will ever make. It's not uncommon for a home buyer to want to get a firsthand look in advance at the property that they're considering living in for years to come.
On the one hand, it bears noting: The best way to really evaluate the condition and quality of a home is not necessarily to be walking through it at the same time as a group of total strangers. On the other, an open house can often offer a potential buyer their first chance to get a good look at a home – and make a first impression. Noting this, although open houses typically don't sell homes on their own, they serve a very important purpose in that they help put more eyeballs on a piece of property. Likewise, open houses can also help visitors to get a good feel for a home. Buyers who might be looking at and comparing multiple houses, or who wish to see more of any given property, can always figure out whether they want to schedule a private follow-up showing through their real estate agent.
In effect, the more potential buyers that you can get to walk through your home – a task that holding an open house can help with – the bigger the pool of people who might make an offer, and the better the chances are that an offer may be forthcoming.
Benefits Of An Open House
There are many ways in which an open house event can benefit you in selling your home. Let's take a closer look.
Public Awareness
Open houses, which are often advertised in advance both online and off (for example, via internet ads or using roadside signs and posted fliers) help drive awareness that your home is up for sale. They also offer an excuse for your listing agent to be in other real estate agents' inboxes, or to give them a call, in search of prospective buyers.
Foot Traffic
An open house can also help bring you more people. The heavier the foot traffic through your property, the greater your chances are of finding a buyer – or at least scheduling a follow-up showing with more potential serious buyers – down the road.
Firsthand Impressions
Home buyers often wish to visit properties and see for themselves what living in these homes might be like. Actually, being in the space itself can help give people a sense for what the home is really like rather than relying solely on pictures.
More Relaxing For Potential Buyers
If you're a buyer looking at potential homes to acquire, you can swing by an open house without an advance appointment, and potentially even stop by several open houses in a single day. With a formal showing, you have to set up a time to view a property with your agent and the house has to be available whenever you're planning to look at it – a process which can involve juggling many logistics. Likewise, with an open house, buyers might be more willing to go look at a house they were on the fence about whether to make an offer on. It gives them a chance to get their foot in the door without having to set up an appointment. They can gauge interest before moving forward.
Prospecting For Clients
Open houses likewise serve as informal meet and greets, and offer chances for real estate agents to mix and mingle with the general public and other real estate professionals (who often accompany clients to these showings). These open houses – which are also specifically designed to help facilitate networking and connections as part of public viewings – not only often lead to sales opportunities. They also often lead to buyer's agents finding clients and swapping contact information. In fact, because you can literally randomly drive by a sign for an open house and stop by seconds later, some potential buyers may not even have a real estate agent yet at the time of the event.
Drawbacks Of An Open House
On the flip side, there are also a few disadvantages to hosting an open house.
They Can Be Hectic For Buyers
When multiple individuals are viewing the house at the same time, it can be hectic and distracting for buyers. With multiple people viewing the space, it's hard to fully envision what life could be like in the home. For many, it's hard to make a decision without having the time to fully walk through, ask questions and view a property the way they'd like to. Additionally, if a buyer is viewing your property after having already attended several other open houses that day, they could be exhausted and mentally withdrawn from committing themselves to a proper viewing. They could also be putting themselves on a time constraint by bouncing from one open house to the next.
Viewers May Not Be Qualified Buyers
Because anyone can attend an open house, it's likely that there will be attendees who are not serious about buying. These individuals could be your nosy neighbors, someone wanting to casually view the property without the pressure of making an offer or they could be looking for inspiration for projects within their own homes. Either way, it's hard to determine if your attendees are prequalified or preapproved for a mortgage when there is no registration required.
They Are Hard Work
It's worth asking yourself if the effort of an open house is truly worth it before proceeding with hosting one. Not only do you need to have your home prepped, free of personal belongings and staged, but you will also need to make plans for your family and any pets to vacate the premises during the hours of the event.
Safety Concerns
Because anyone can attend an open house, there is the potential for theft and safety concerns with strangers entering your property. An open house would give a disguised thief enough time to map out a break-in at your home or an opportunity to steal unattended items in the home. With this in mind, it's important to remove any valuables beforehand.
How To Promote An Open House: 3 Tips For Success
Part of the reason that there may be a general perception that open houses aren't as effective at selling homes as of late may have something to do with how they're marketed in the modern era. After all, a traditional method of marketing an open house is often to send an email blast to all other real estate agents in the area. This can be somewhat helpful because if they see your email and have particular clients whom they think might be interested in your house, you might get a showing out of it. The problem is that all of our inboxes are under siege by mass amounts of spam, we all get a lot of personal and work-related emails, and there's no guarantee that your promotion will ever get seen.
The good news is that with so many folks hanging around the house and on the Internet these days, buyers are online looking at homes all the time now, so you no longer have to rely on an agent network or word of mouth to get your listings out there. Read on to find a number of alternative marketing methods that can also help you pique prospective home buyers' interest – and get people talking about your property.
1.
Update Your Listing
It's important to update your listing with the latest information not only to inform buyers and stay current with the real estate market in your area, but also to stay near the top of the pile of latest updates that appear on listing services. Likewise, you'll also want to work with a listing agent where possible to decide how to best position your home to be competitive in the marketplace, and determine what needs to be done to get your house ready to sell. This may involve conducting repairs, staging your home or even finding ways to begin marketing the property the moment a listing agreement is signed.
2.
Get Social
Numerous social networks connect millions of people every day, and make it easy to communicate with others, making them an ideal place to promote your property for sharing. If you want to drive word of mouth uptake, you'll want to make a point to use an eye-catching mix of photos, videos and animations coupled with aspirational copy to help drive ongoing interest and awareness. Some services such as Facebook Marketplace even make it possible to sell your home directly. Be sure to do your research upfront before posting promotions and consider ways to present and engage audiences on the various social networks (Instagram, Snapchat, Twitter, etc.) that make the most sense for your property listing. Note that social media and online promotions are only becoming more important with regard to selling homes to Gen Z and younger generations.
3.
Make It An Experience
People are going to be attending a lot of open houses on any given Saturday, so you're going to want to make your house stand out. By doing a little bit of staging and event marketing (say, promoting around a specific theme or holiday), you can create a memorable experience and show off ways to use the space at the same time.
For example, if the space has a kitchen with an island and looks really nice, perhaps you might run a cookie decorating activity there. If there's a great backyard on-site that you can make look like a peaceful oasis, maybe you could set up a yoga or meditation course.
Anything that you can do to get people in the door and have them remember your house above others will help. From a seller's perspective, it definitely helps to show off clever ideas that help paint a picture of the many ways that any given space could be used.
What Is A Good Turnout For An Open House?
The short answer is that there is no standard number – it all depends on the individual property, its asking price, the amount of promotional activity you've put in, the location and neighborhood and other outside factors. However, if you were to generate, say, 10 – 20 leads for a showing that occurred within a short period of time (say 2:00 – 4:00 p.m. on any given Saturday), in many cases, it might be considered a strong turnout. Again, efficacy will vary by the individual real estate market and even variables such as the daily weather or time of year. If your open house doesn't lead to a strong showing right out of the gate, don't get disheartened. Sometimes, it's all a matter of timing and/or positioning.
Apply for a mortgage today!
Apply online for expert recommendations with real interest rates and payments.
Start Your Application
Open Houses During COVID-19
Open houses can still function in the age of COVID-19 with a little bit of resourcefulness and ingenuity, and adherence to government and industry-mandated safety measures and guidelines. These requirements may necessitate the use of masks, social distancing, private showings, tours of different areas of the property by different groups at different times or even virtual open houses and tours conducted via videoconferencing. Despite operating under challenging conditions, countless home sellers have found ways to make these viewings work.
The Bottom Line: Open Houses Can Help A Home Sell
An open house can help you introduce your property to more buyers – and help your home put its best foot forward. Moreover, if you're concerned about others coming through your property, you can even opt to conduct one virtually now. In all circumstances, an open house serves an important role in real estate: to help bring more potential buyers through your door. Looking to find out more about what it takes to get started in the home buying process? Don't hesitate to reach out and get approved with Rocket Mortgage® today.