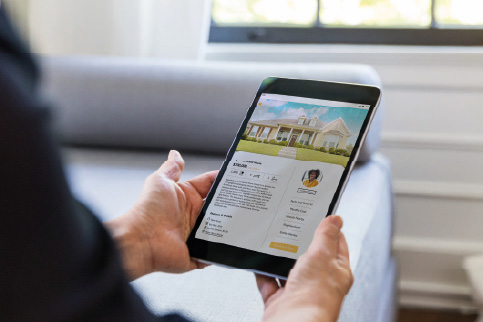 What Is Multiple Listing Service (MLS) In Real Estate?
Published on July 10, 2023
When buying a home, the Multiple Listing Service (MLS) can serve as a valuable tool. It's so widely used that based on a recent National Association of REALTORS® (NAR) report, 86% of sellers list their homes on the Multiple Listing Service (MLS). Let's explore how you can harness this popular tool for your own home search.
What Is A Multiple Listing Service (MLS)?
An MLS is an online database that lists homes for sale in a specific area. However, the listings aren't available to the general public – only real estate professionals have access to this information.
Importantly, an MLS is targeted to a specific location. Based on a recent Real Estate Standards Organization report, approximately 560 different MLS systems exist within the U.S.
How Does A Multiple Listing Service Work?
As we mentioned, only licensed real estate agents and REALTORS® can access an MLS.
The collection of properties on the local MLS is built by real estate agents who have access to the service. When a real estate agent starts working with a home seller, one of their first steps is often to create a listing on the MLS.
From the buyer's side, your real estate agent can track down homes available to buy in your target area. Plus, they can even filter the search only to show you homes that might fit your needs.
When the real estate agent spots a home that suits your interest, they will pass the pertinent information along to you. Importantly, listings on the MLS tend to have an extensive amount of information about the given property. With access to so much information, buyers have a chance to rule out properties based on their preferences before making time to tour the property in person.
Homebuyers and sellers can't view the properties listed on their local MLS. Instead, buyers and sellers must find online home listings through public portals, such as Rocket HomesSM, that pull information from multiple listing services across the country.
See What You Qualify For
Congratulations! Based on the information you have provided, you are eligible to continue your home loan process online with Rocket Mortgage.
If a sign-in page does not automatically pop up in a new tab, click here
What Kind Of Information Can You Find On An MLS Listing?
The information included in an MLS listing may vary slightly from listing to listing. But, in general, you will see some of the following information in a real estate listing:
Total square footage of a home
Note of any recent renovations
The age of standard home appliances, like the hot water heater
A description of any special features
The number of bedrooms and bathrooms
Photos of the home
The number of days the home has been listed
The HOA fee, if applicable
As a home buyer, all of this information can help you narrow your search. For example, just determining how many bedrooms you want to have in a home can help you rule out any houses that seem too large or too small. Additionally, the photos provided will help you decide whether or not it's worth taking a look in person.
What Are The Pros And Cons Of A Multiple Listing Service For Home Buyers?
Every tool has advantages and disadvantages to consider. Here are some things to consider about using the Multiple Listing Service as a home buyer.
Pros Of Using The MLS
Comprehensive listings: The listings found within the MLS usually have a large amount of information. You and your real estate agent can work with this information to determine whether you want to pursue buying the property.
Timely information: Real estate agents tasked with selling a home typically list it on the MLS first. In a hot market, access to this information immediately can help you close on a home.
Includes multiple types of listings: You can scope out listings from a wide range of real estate professionals in your local area.
Move forward quickly: Homes listed on the MLS tend to sell faster. As the buyer, acting quickly can help you finalize your home buying journey faster.
Cons Of Using The MLS
Limited access: The MLS isn't publicly available, which means you'll need to work with a real estate agent to see any listings.
May not include all local listings: Some listings won't make it onto the MLS. A few types of listings that aren't included on the MLS include pocket listings and listings that are for sale by owner (FSBO).
Mistakes can happen: The listing agent might make a mistake on the original listing. For example, listing 2 bedrooms instead of 3. While a major mistake like this doesn't happen often, other mistaken information might cause you to skip on looking at your would-be dream home.
Competition: When a home hits the MLS, it can start a frenzy of activity. If you are trying to buy in a hot market, this means you could face some steep competition.
Multiple Listing Service FAQs
You have questions about the Multiple Listing Service. We have answers.
Can you access an MLS without a real estate agent?
MLS sites aren't open to the general public. Instead, only real estate agents access the MLS. However, many real estate websites, including RocketHomes.com, pull information from the MLS and other sources to publish listings.
As a home buyer, taking advantage of these free real estate websites can be useful during your home search.
Are real estate websites the same as multiple listing services?
A key difference between real estate websites is who can access the information. On the Multiple Listing Service, only real estate agents can see the listing. But on real estate websites, like Rocket Homes Listings page, anyone can access the information.
How can I get access to the MLS?
If you want to access the MLS, you'll need to work with a real estate agent. Only real estate agents have the appropriate credentials to access the MLS.
But you can scope out property listings through real estate websites, like the Rocket Homes Listings page.
The Bottom Line: Let The MLS Find Your New Home
The MLS is an undeniably useful tool for home buyers. The catch is that you must work with a real estate agent to access this treasure trove of listings. If you want to tap into this resource, consider working with a real estate agent who has access to the local MLS.
When you find a house that you want to turn into a home, start a mortgage application to finalize the process.
Apply for a mortgage today!
Apply online for expert recommendations with real interest rates and payments.
Start Your Application