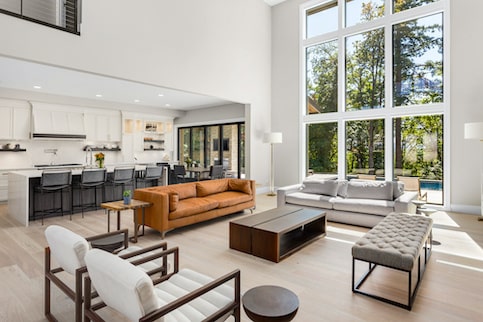 Selling A House: Trusted Tips & Things To Keep In Mind
Published on March 11, 2021
Selling a home is a big step for anyone. Chances are your home has memories and sentimental value. Where buying a house can be an emotional experience about turning it into a home, selling a house is often the opposite. You must separate your emotions from the place and look at it objectively.
Here we'll walk through the steps of selling your house. We'll start with the basics, then going more in-depth on how to sell your home quickly and get the right offer for you.
How To Sell Your House: The Basics
There are some basic steps you must take when selling your home. While these may be simple, it doesn't mean they're easy. In some markets, you may need to put more work in to get a good offer. In others, the work may be determining what the best offer is.
Find an agent – The right agent will know your home's value, how to market it and get you the right price. An agent will be able to answer all of your questions, negotiate with the seller and make the transition to close as smooth as possible. Do your research on how to find a real estate agent.
List your home – When you've made all your renovations, given the place a deep clean and are ready to put it on the market, work with your agent to list your home.
Stage your home – If you've got showings or an open house, prep your home for people to come see it. This means decluttering and sprucing up the home to help people visualize making it theirs.
Accept an offer – Maybe you have an offer or several offers. Work with your agent to define contingencies and decide whether you want to counteroffer. Once you have an offer you like, accept it.
Close on your home sale – After you've accepted an offer, a lot of moving parts come into play. A buyer may have to work on financing the purchase. Your home will be appraised and inspected. Work with your agent to make sure everything goes to plan.
Great news! Rates are still low to start 2021.
Missed your chance for historically low mortgage rates in 2020? Act now!
Start My Application
9 Tips For Selling Your Home Faster
Avoid The Finicky Buyer
Personal finance and household blogger Jeff Campbell has bought and sold several homes. When it comes to selling your home, Campbell suggests to beware the nit-picky buyer. "If someone is asking for a lot of nit-picky things in their initial offer, it could indicate a potentially high-maintenance buyer, which in a seller's market could be more trouble than it's worth," says Campbell.
Laurie M. sold her house in Michigan a few years ago. She says she is all too familiar with the finicky buyer. "One woman who came through wrote in her offer that she would like to keep our TV stand, rack and speakers," she says. "She wasn't too happy when we told her that we weren't going to part with them."
Don't Focus On The Highest Bidder
"When offers start coming in, don't focus on the highest bidder," says Pennsylvania REALTOR® and real estate investment educator Denise Supplee.
She suggests looking at all of the information, including:
When is the settlement date?
How many inspections are they looking to have?
Is there a seller concession?
What other inclusions are being asked for?
What type of financing do they have?
"Once you do this and compare all of these nuances, then you would decide to pick the one that is best," says Supplee. "You can either choose to let them all know there are other bidders, and for them all to come in with their best and highest, or go to the deal that seems most fitting and counter at a higher price."
If you're in a competitive market, a bidding war may occur. A bidding war is when multiple buyers start competing with each other to pay more for your home. This can be good for you, but it could also complicate things.
For instance, if you accept the highest offer, and the appraisal comes back low, the sale may fall through if the buyer's mortgage company won't finance them for more than what the house appraised at.
Check Out The Homes In Your Area
When evaluating potential offers, you're going to want to check out what homes are selling for in your area.
"Comparable homes should be similar in size, layout, features, age and any other factors that buyers care about," says John Liston, manager of the online home service site All Set. "Find as many as you can that have sold in the last 3 – 9 months, using a site like Zillow, and compare the average sale price (median if there are large outliers) to the offer you receive."
Liston also suggests comparing the average price increase of homes sold in the area. "By comparing the increase in your home's price to the increase in similar houses over similar time periods, you gain an extra layer of comfort that your house increased in value in line with the rest of your neighborhood," he says.
Consider Listing On A Thursday Or Friday
"The best position for a seller to be in is a multiple bid situation," says Doug Gartley, a broker at Rocket Homes®. "Be strategic when you're selling your home," he says. "Homes that are listed on a Thursday evening or Friday tend to get more offers than homes listed earlier in the week like Monday or Tuesday."
Be Careful When Bartering
There's always a chance that a good buyer with a good offer will walk away from the deal. "Never barter over a few thousand dollars," says Supplee. "I have seen good deals fall through because of an 'I want to win' syndrome."
You need to strike a balance between negotiating for your own benefit and knowing when to compromise. Squabbling over small amounts of money could sour the deal. Remember, the offer is the first part of the sale where you'll be negotiating with a buyer. Being more accommodating may work in your favor if you have to negotiate about repairs or other changes.
Practice Clear Communication With Your Agent
"If your agent is a poor communicator with you, they'll be worse with potential buyers," says Campbell. "Have a good, clear line of communication with your real estate agent and make sure they're responding and following up quickly, so good offers aren't slipping through your fingers."
Don't Make Decisions Based On Emotion
"One of the hardest things for sellers to do is to take the emotion out of the negotiating process," says Chief Development Officer of Help-U-Sell, John Powell. "To the seller, the house is an extension of them, and sometimes ego gets in the way of logic," he says. "This is where a good agent provides counsel on what constitutes a good offer and what is negotiable."
Avoid "Love Letters"
While a letter from a potential buyer may seem heartfelt and thoughtful, it can be wise to avoid them altogether according to Emile L'Eplattenier, real estate marketing and sales analyst at Fit Small Business.
"In bidding wars, some buyers' agents may try to send love letters, quick biographical letters with personal information about their clients, in an attempt to sway your decision," says L'Eplattenier. "You need to instruct your agent to ignore these letters entirely. Not only will they potentially cloud your judgement, but they might put you in danger of violating fair housing laws as well."
He adds that "letters that reveal information about race, religion or other protected classes may lead to bias complaints depending on which offer you choose."
Don't Rush Things
While it may seem like it's in your best interest to sell your home as fast as possible, "don't rush the process," says Gartley. "Many people will try and sell their home within a 24-hour period." He suggests you leave your home on the market for a couple days to allow for full market exposure before accepting an offer.
Listing your home on a multiple listing service (MLS) can give your home extra exposure to the market. Don't feel pressure to accept the first offer, especially if your home has only been on the market for a short time.
Other Home Selling Tips For Maximum Market Success
To maximize your selling potential, there are a few extra things you should do. These could potentially get you more money for your property and save you other headaches down the road.
Be Upfront About Property Issues
Being transparent with prospective buyers about issues with the property is essential. Work with your agent to properly disclose property issues so they don't come as a surprise on a home inspection. If you don't disclose a property defect, it could lead to the sale falling through, or worse, you could end up in court.
Take High-Quality Photos For Your Listing
This should be a no-brainer, but you would be surprised at the number of listings with dark, shadowy and blurry photos. Take well-lit pictures of your home that showcase it in the best way. Include as much natural light as possible.
These pictures are someone's introduction to your house. Bad pictures may mean they won't even bother viewing your home in person. If you don't have a good camera or the skills, speak with your agent. Chances are they've taken photos of several properties and know what works.
Work On Proper Staging And Curb Appeal
Staging your home for sale is incredibly important. You want to clean and declutter the home to make it presentable. Think about what you would do if you had prestigious visitors coming and wanted to impress them. Then think about what you would do if you wanted them to see themselves living in your home. This means packing keepsakes, artwork and collectibles that show your personality to make room for them to project theirs.
What's the first thing a potential buyer will see when they pull up? It's your curb appeal. Impressing them with well-maintained landscaping and fresh flowers is the first step to selling them on your home. Things as simple as a new layer of mulch and a handful of pretty plants can go a long way.
Clear Out Your Extra Stuff
If your home is busting at the seams and you're in need of more space, you may want to cut down on your stuff. This can mean recycling, donating or selling unwanted items. If you'll be moving somewhere larger soon, it could mean renting storage to stow away furniture and other large items.
Remember that the more space you make in your home before showing, the larger it will seem to the buyer. If you have every corner filled and are out of storage space, consider options to free up space in your home.
House Selling FAQs
Here are some of the most frequently asked questions around selling a home. Remember, most of these are general answers to general questions. Specifics can change depending on factors like the housing market you're in.
How Long Does It Take To Sell A Home, On Average?
According to the National Association of REALTORS® (NAR), homes spent an average of 24 days on the market in June 2020. In August of 2019, homes spent an average of 31 days on the market.
From offer to close, it can average 40 – 60 days, depending on a variety of factors. For the whole process, expect it to take 2 – 4 months to go from listing to signing closing paperwork. Certain circumstances can make the process shorter, such as receiving a cash offer, or longer, like having a sale fall through due to a contingency.
How Much Does It Typically Cost To Sell A Home?
On average, home sellers pay their listing agent a commission of 6%. This commission gets split between the listing agent and the buyer's agent. That means if you sell your house for $200,000, $12,000 of that sale is going toward commission.
This may seem like a lot, but the guidance and experience your agent gives is well worth it. Their work can mean you netting top dollar for your home, as well as keeping the sale on track.
Along with the agent's commission, expect to pay another 2% in closing costs. These include costs like notary fees, escrow expenses and transfer taxes.
How Much Work Do I Need To Do On My Home Before Listing?
The answer to this is entirely subjective, but there is a lot of pressure on home sellers to sink time and money into their home to make it perfect. The best answer to this question is going to come from an experienced real estate agent. They'll be able to look at your home and tell you what needs to be worked on.
Chances are, if you've maintained your home and taken pride in it while you've lived there, it may be less work than you think. A few touchups, a little organizing and cleaning up may be all you need. If you're in a buyer's market, putting in a little effort to stage your home may help it stand out and sell quicker.
The Bottom Line
When you decide to sell your house, you're starting a process that can take months to complete. You and your listing agent will put a lot of work into getting the house ready to list. After you've fielded offers and accepted one, you start the work of moving to close on the sale.
Just remember to breathe, think of the memories you have in the home and what memories the new owners may make there. Take things one step at a time and communicate closely with your agent.
Read our article on getting your house ready to sell to get started on your home selling journey.
Apply for a Mortgage with Quicken Loans®
Call our Home Loans Experts at (800) 251-9080 to begin your mortgage application, or apply online to review your loan options.
Start Your Application