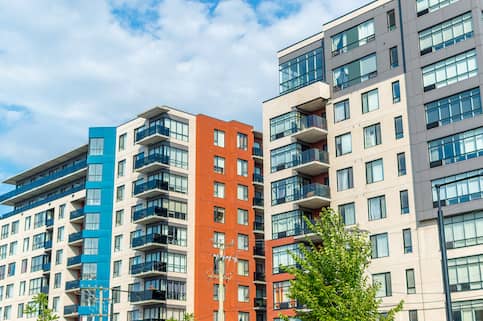 A Complete Guide To Condo Loans
Published on September 27, 2022
If you're in the market to buy a house, you might be considering a condo. Condos, or condominiums, are popular alternatives to single-family properties and they typically come with a range of amenities, like a communal gym and private parking.
Financing a condo, though, can involve a different process than other home purchases. A condo mortgage may come with higher interest rates and require additional mortgage qualifications.
Let's explore more about what condos and condo loans are, how they work and how to qualify for a condo mortgage. That way, if you're interested in purchasing a condo, you'll feel more prepared to take on the process.
What Is A Condo?
Condos are individual units in a residential building that share walls as well as amenities like outdoor space, pools, gyms and more. Condos are often more affordable and require less maintenance than traditional single-family homes, which makes condos a popular option among buyers. Condo residents also own their individual units instead of renting out an apartment, which is a plus if you're looking to buy instead of rent.
One key element that distinguishes buying a condo from some home purchases is you pay fees to a condo or homeowners association (HOA). These dues cover the costs of maintaining the outdoor spaces and common areas within the condo complex.
HOAs may also charge for special assessments in certain emergency situations. Special assessments are HOA fees that cover unexpected, large-scale damages that the condo's insurance or reserves may not cover.
Condo owners are still responsible, though, for the maintenance and repairs that are necessary for their individual units and not covered by a condo association or HOA. Residents are also expected to follow the HOA's rules for condo living, like abiding by noise level restrictions and adhering to pet regulations.
What Is A Condo Mortgage?
Just like with any home purchase, you have to decide how to finance the purchase of a condo. Condo loans are mortgages that help buyers purchase a condominium, whether it'll be used as a primary residence, vacation home or investment property.
While the mortgage process for a condo is similar to taking out a traditional mortgage, condo loans may have different or additional regulations established by the mortgage lender. Condo loans may also come with slightly higher interest rates. They can be riskier for mortgage lenders because of external factors like HOA rules and restrictions that are outside of the borrower's control.
How Does Condo Financing Work?
Because condos are individually owned units in a wider community building, lenders look at them a little differently than single-family homes. More occupants in a condominium complex mean more people are at risk of default. Plus, situations outside of the borrower's control – like a broken elevator or leaky roof – could require special assessments and cost the borrower more money as a result.
Therefore, one factor lenders consider when evaluating applicants for a condo loan is the condominium property itself, which can include the building's occupancy, structural integrity, amenities and financial health. Lenders may also want to see the condo's proof of insurance, HOA budgets and reserves, and other information that meets lender standards.
Do Condos Require Special Loan Programs?
Borrowers can apply for condo financing through the same loan programs as any other type of property. However, some distinctions are worth keeping in mind. Depending on the type of loan you're interested in, a lender may have specific borrower and condominium requirements that must be met for them to extend a mortgage loan.
For example, the Federal Housing Administration (FHA) and the U.S. Department of Housing and Urban Development (HUD) have a condo-approved list for FHA loans. If a condo doesn't appear on the list, the borrower will need to seek a different loan type, like a conventional mortgage.
Conventional loans come with their own set of rules and regulations. If you're taking out a conventional mortgage to finance a condo, you'll have to find out whether the condo is warrantable or non-warrantable. This classification is a determining factor in whether you can buy a condo with a conventional loan.
Warrantable Vs. Non-Warrantable Condos
A warrantable condo is a condo that a home buyer can finance using a conventional loan. To qualify as a warrantable condo, the condominium must meet the requirements established by Fannie Mae and Freddie Mac. These guidelines include, but aren't limited to, the following:
No single entity can own more than two units in a condo building (or project) with 5 – 20 units, or more than 20% of units in a building with 21 or more units.
For investment properties, at least 50% of the total units are owner-occupied (or are primary residences or second homes).
At least 10% of the budget provides funding for reserves, which can be used for building maintenance, repairs, etc.
Commercial spaces may not exceed 35% of the condo building's square footage.
Non-warrantable condos, on the other hand, are condos that don't meet the lending guidelines of Fannie and Freddie. This can make financing a non-warrantable condo a bit more difficult, and you may have to seek assistance outside of traditional lending options like conventional mortgages.
A condo is considered non-warrantable if it includes any of the following restrictions:
The HOA or condo association is named in a lawsuit.
The condo building includes manufactured homes.
The building operates as a hotel, motel or timeshare.
More than 15% of the total condo units are 60 days or more delinquent, or behind, on their HOA dues.
Types Of Condo Loans And Requirements
The type of mortgage you choose to finance a condo depends largely on how you wish to use the property (like as a primary residence or investment property), your financial situation and whether the condo meets specific lender requirements. Let's take a look at some of the most common types of loans used to finance condo purchases.
How Are Condo Loans Different From Other Mortgages?
The process of taking out a condo loan isn't so different from financing other home types. You can apply for conventional, FHA and other mortgage options just as you would apply for a traditional single- or multi-family home. However, a few key differences are worth keeping in mind before you apply to purchase a condominium.
First, mortgages for condos may come with higher interest rates because they're viewed as higher risk for lenders. The condo loan underwriting and approval process may also take more time because more documentation is necessary to verify condo project and HOA requirements, on top of the paperwork needed to validate your personal finances.
Tips For Buying A Condominium
Now that you have an idea of what to expect when taking out a condo loan, keep these other considerations in mind when moving forward in the condo-buying process.
Hire a real estate professional. It might be helpful to hire a real estate agent who specializes in condo purchases. They can help guide you through HOA regulations and any documentation specific to living in a particular condo building.
Research condo properties. Even with help from a real estate professional, it can be beneficial for you to personally investigate condos and management companies. Consider meeting with members of the condo association or current residents to gain more insights on living in the complex.
Assess the amenities. Condo amenities are nice, but they can make living in a specific complex more expensive. Evaluate whether certain features like a pool, gym or clubhouse are worth it to you.
Prepare for closing costs. It's always a good idea to financially prepare to close on a house, but it's important to be aware of other costs that come with buying a condo. You might have to pay more for mortgage insurance and a home appraisal than you would with a more traditional home purchase. You might also have to cover the costs of certain documentation, like a condo questionnaire and other financial statements, required by the condo's managing agent.
The Bottom Line
A condominium can be worth it for the right home buyer, especially if they're looking for a low-maintenance property with convenient amenities. Taking out a condo loan, however, can be a more tedious process than financing a property like a single-family home, so prospective buyers should be prepared for the process.
Are you interested in buying a condo? Why not start your home loan process today?
Find A Mortgage Today and Lock In Your Rate!
Get matched with a lender that will work for your financial situation.
Get Started