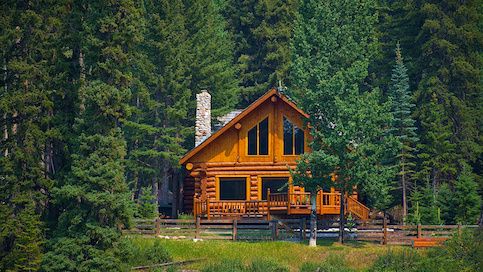 Seller's Market: What It Is And How It Affects The Housing Market
Published on April 14, 2021
Market dynamics don't always stay the same. From year to year, the housing market changes – sometimes dramatically. During that process, conditions can shift in favor between the seller and the buyer.
For anyone currently interested in the real estate market, you may have heard the term "seller's market." That means the scales tip in favor of sellers due to low supply and high buyer demand. While that makes the market harder to navigate for buyers, it's not impossible. It just takes a bit more research and strategy.
Here's what you should know about a seller's market and how it can impact you.
Apply for a mortgage today!
Apply online for expert recommendations with real interest rates and payments.
Start Your Application
What Is A Seller's Market?
A seller's market takes place when there's a shortage of properties for buyers, and sellers have more control. As a result of the intense competition between buyers, it's common for bidding wars to start up. This, in turn, drives up sale price, which usually ensures that the seller gains more negotiating power.
Buyer's Market Vs. Seller's Market
Like how the seller's market puts sellers at an advantage, the buyer's market helps the buyer. That's because this market features more supply than demand. As a result, buyers have their pick of choices while sellers compete with each other. One of the major perks of this climate for buyers is the potential increase in negotiating power. With this, they may be able to purchase a home for much less than a seller's market would demand.
See What You Qualify For
Congratulations! Based on the information you have provided, you are eligible to continue your home loan process online with Rocket Mortgage.
If a sign-in page does not automatically pop up in a new tab, click here
Is It A Buyer's Or A Seller's Market Right Now?
The state of housing markets usually depends on their location. That's because there are multiple factors that impact the supply and demand in a specific area. However, for the most part, the U.S. housing market has been a seller's market since the start of the COVID-19 pandemic.
The U.S. still faces low housing supply and high buyer demand, leading to high selling prices and stiff competition. The good news for buyers is that some evidence suggests the market will slowly cool down. However, you shouldn't hold out hope for a dynamic switch into a buyer's market anytime soon.
You can usually tell if you're in a seller's market based on certain signs. If you find that options are slim and homes on the market usually sell quickly and at a high price, it's typically a seller's market. Bidding wars may also be a frequent complication in this climate.
Selling In A Seller's Market
A seller's market is the best climate for someone selling a house. But that doesn't mean selling a house will magically become easy. You still need to strategize if you want the best buyer offers.
One of the first things you should consider is your home's curb appeal. If the property looks like it's in poor condition or lacks visual care, you'll lose buyer interest. So, it's important to spruce up the home (both interior and exterior) before you take listing photos. You especially want to highlight the home's best features and do some landscaping before open houses begin.
Even if you have great photos, some listings are more likely to gain traction than others. Sometimes, you can influence this by waiting for the right time to list. Generally, Thursday or Friday works best. This helps ensure the property is at the top of their list for any weekend walkthroughs.
Weigh your options carefully once offers start rolling in, too. It might be tempting to go with the first highest bid. But you need to consider each offer for any potential challenges, like seller concessions or how the purchase is funded.
Buying In A Seller's Market
Buyers definitely have greater challenges in a seller's market. You'll likely face heavy competition, and your first bid may not be your last. Because of this, it's wise to keep your feelings in check. Don't let yourself get too attached to a property.
When buying a house in a seller's market, make sure you stick within your budget. Don't offer any terms or conditions that could hurt you financially or make you uncomfortable. A good real estate agent will help ensure you set yourself up for success in this regard. They should also offer additional buying guidance, help with negotiations, and assist in the transaction.
You and your agent may need to widen your search before you find the right home. Remember: the market is always changing. So, staying vigilant may pay off quicker than you expect.
Also, keep your eye out. Even in a seller's market, it's possible to find houses that have been on the market too long. Sometimes it's because the asking price is too high or the property may need significant upgrades. In that case, you may be able to swing in and negotiate a more affordable asking price without heavy competition.
Tips For Buyers In A Seller's Market
Seller's markets can be vicious for buyers. And multiple offers on a home can lead to an all-out bidding war. But there is a line between a competitive offer and a financial mistake. So, it's vital that you carefully consider your offer before making it.
Here are a few tips on how to win in a seller's market:
Work with a real estate agent
Offer above the asking price
Make your strongest offer first
Look for under-budget homes and bid up
Add an escalation clause
Get a mortgage preapproval
Put down a strong earnest money deposit
Offer non-price contingencies
Expand your search
Save money to cover the appraisal and sale price difference
The Bottom Line
Whether you're buying or selling a home, a seller's market will impact how you navigate the real estate market. For buyers, it may mean greater competition, higher selling prices and fewer options. Meanwhile, sellers should be aware of how their home compares to the fair market value and weigh their offers carefully. Again, the best offer may not necessarily be the highest bid.
The seller's market is likely here to stay for the remainder of 2022. So, it's possible that stiff competition for buyers may continue well into the next year. However, it's important to remember that the current real estate market didn't happen on its own. It was largely influenced by the COVID-19 pandemic and quarantine restrictions.
Likewise, the market can suddenly shift again if new factors are introduced, such as another global event. As a result, you should keep your eyes peeled for any potential changes in the market during your buying or selling process.
You may have already done your research, though, and are ready to get the ball rolling. If you're interested in buying a home in this seller's market, consider starting the preapproval process with Rocket Mortgage®.
Apply for a mortgage today!
Apply online for expert recommendations with real interest rates and payments.
Start Your Application