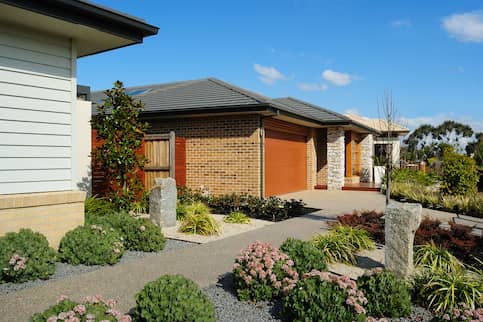 Timeline For Selling A House: What To Expect During The Process
Published on August 22, 2022
For the past 2 plus years, the housing market has been moving at breakneck speed. The pace and price of real estate are a boon to sellers, whose homes occasionally inspire bidding wars or appraisal guarantees that put extra cash in their pockets.
In other words, it's a seller's market. If you want to maximize your profit and get into a new home quickly, having a game plan can help you navigate the process efficiently. The following guide is a timeline for selling a house and can help you streamline your home sale and receive top dollar for your property.
Apply for a mortgage today!
Apply online for expert recommendations with real interest rates and payments.
Start Your Application
What Is The Typical Timeline For Selling A House?
According to an October 2021 report from the National Association of REALTORS®, the timeline for selling a house is 18 days on average. That said, your specific location and property type can impact this timeframe.
For example, in the fastest-selling ZIP codes in America in 2021, houses often sold in less than a week. The following were the top 10 cities for selling homes as quickly as possible in 2021, measured in median days:
Peabody, Massachusetts: 3 days
Colorado Springs, Colorado: 4 days
Manchester, New Hampshire: 5 days
Brentwood, North Carolina: 5 days
Lincoln Village, Ohio: 5 days
Franklin, Tennessee: 5 days
Milford, Massachusetts: 6 days
West Irondequoit, New York: 6 days
Farmington, Michigan: 8 days
Concord, New Hampshire: 9 days
Although it only takes an average of 18 days to find a buyer, closing takes additional time afterward. Closing will likely take about 30 – 45 from when you accept an offer, bringing the total to about 2 months from listing to closing day.
Timeline Of Selling A House: 3 Months Before Listing
Each stage in the home sale timeline looks different. Selling your home doesn't happen overnight, and homeowners 3 months out from putting their house on the market can do the following.
Decide If It's The Right Time To Sell
It's recommended that homeowners be sure they want to sell and feel confident in their decision. Overall, America is still experiencing a seller's market for real estate. As a result, prices and demand are high, meaning rapid movement and favorable profits for homeowners.
However, it's a good idea for homeowners to understand their local market. As in the list above, your region might be even more competitive than the general market. Conversely, there may be tons of homes for sale in your town, curbing the otherwise high demand that has characterized the market for the past 2 years.
Reach Out To Your Real Estate Agent
Once you determine it's a good time to sell, keep the ball rolling by contacting a real estate agent. Although a real estate agent will receive a commission from the home sale, reducing your profit, it's usually well worth the cost. Working with an experienced agent familiar with your area is crucial to selling your home as quickly as possible.
Your agent will put your home on the Multiple Listing Service (MLS), allowing buyers to view your home online. The MLS will get your house in front of as many eyes as possible. Additionally, your agent can potentially represent you for selling your current home and buying another one. Working with one professional in for both selling and buying can help streamline the process.
Because the real estate agent is a vital piece of the puzzle, be thorough when deciding who to work with. Recommendations from family or friends, real estate agents selling other homes in your neighborhood or agents you've worked with in the past are all excellent places to start. When interviewing a potential agent, you should get the sense that the agent is communicative, skilled and confident about selling your home.
Determine Where Your Next Home Will Be
Having your next home lined up is critical to being able to sell your home. So, if you want to sell your house, you'll want to start searching for a new one without delay. It's a good idea to look at various neighborhoods where you may want to live and consider whether relocating to a different state might be an option.
Apply for a mortgage today!
Apply online for expert recommendations with real interest rates and payments.
Start Your Application
Timeline Of Selling A House: 2 Months Before Selling
With the first three steps complete, you move into the next phase in the timeline. When you're 2 months away from selling your home, consider these actions to keep the process smooth:
Hire A Home Inspector
You may think of a home inspection as the buyer's responsibility, not the seller's. However, your home's condition is central to selling quickly. Unless you're in a red-hot market where buyers are waiving inspections, hiring a home inspector prior to sale can be a good idea, especially if you have an older home or suspect some issue.
It's likely the buyer will hire an inspector no matter what. Therefore, you can get ahead of the game by hiring one yourself and taking care of any issues or repairs that emerge from the inspection. That way, later on, a buyer's inspector will find your home in good condition, with no problems holding up the sale.
Make Any Repairs
If the home inspection comes back with some issues, correct those issues before putting the house up for sale. Making repairs and improvements will maximize your home value, draw as many interested buyers as possible and keep the process speedy. For example, repainting a room or fixing an old kitchen appliance can go a long way in appealing to buyers and expediting the home sale.
Pick When To List House
From start to finish, it's helpful for a homeowner to communicate with their agent frequently. When you're getting ready to list your home, let your real estate agent know about your timeline so you can put the home on the MLS as soon as it's ready.
Timeline Of Selling A House: 1 Month Before Selling
When you're 1 month out from selling their home, the finish line is in sight! Once you complete the following four steps, you're ready to take offers.
Hire A Cleaning And Staging Company
Decluttering a home can be challenging, so hiring a cleaning company is best to get your home into top shape. In addition, hiring a staging company will ensure your home looks its best for professional photos.
Get Professional Photos Taken
Most buyers view homes online before seeing them in person. As a result, your professional photos are a key component to attracting buyers. High-quality professional photos of your squeaky-clean home can prevent your home from languishing on the market for months.
Determine List Price
Your list price has an enormous impact on your home sale. Since most home buyers search online, your home must fall in their price range to appear in their search results. By working you're your agent, you can come up with a competitive price that benefits you and appeals to buyers. A house with multiple price drops over time can be a turnoff for buyers, so pricing it right the first time is highly beneficial.
List Your House
After you set the price, it's time to list your house. If you've followed this guide, your agent should have no obstacles and can immediately upload the photos and details about your home to the MLS. Additionally, they can start showings or host an open house to kickstart your home sale.
Average Days A Home Is On The Market
The real estate market moves with blinding speed in most regions. On average, it will take 18 days to receive and accept an offer from a buyer. As long as the home inspection doesn't reveal any glaring problems and the buyer's financing doesn't fall through, it should be smooth sailing to closing day.
The Bottom Line: Your Home-Selling Process Timeline Depends On The Current Market
The timeline for selling a house can vary from person to person, depending on location, home type, and how much work the home needs before listing. Your real estate agent also plays a crucial role, as their expertise and efforts can accelerate the home selling process.
If you're thinking about selling your home and immediately buying a new one, contact a real estate agent. It's common to buy and sell a home simultaneously, and it's a good idea to get an initial approval if you're planning to purchase a house soon.
Apply for a mortgage today!
Apply online for expert recommendations with real interest rates and payments.
Start Your Application