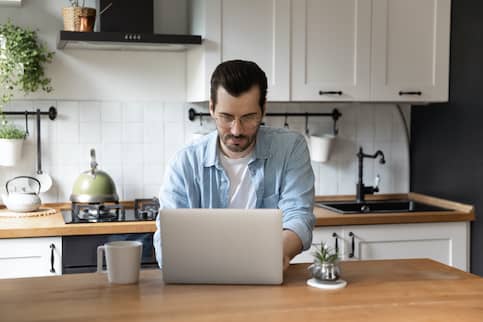 How Long Does A Refinance Take And Tips To Speed Up The Process
Published on Septermber 2, 2021
A refinance of your home's mortgage could lead to big savings. With lower interest rates, it's possible to save thousands over the lifetime of your loan.
The potential savings may entice you. But the paperwork and verification process associated with refinancing your home may seem less exciting. So, how long does it take to refinance a house?
How Long Does It Take To Refinance?
The exact timeline for your refinance will vary based on your unique situation. However, a refinance will typically take 30 – 45 days.
With a refinance, one of the most significant delays may be your ability to secure an appraisal. When the demand for refinancing is high, it can be challenging to quickly secure an appointment with an appraiser.
You can speed up the refinancing process by promptly providing any necessary documents. But there is only so much within your control. With that, don't be discouraged if the process takes several weeks.
The Mortgage Refinance Process: A Timeline
The goal of the refinance is to take advantage of lower interest rates or better terms through a new mortgage. So, why does the mortgage refinance process typically take several weeks?
Let's take a closer look at the mortgage refinance process to better understand it.
Apply For A Home Loan
When you refinance your existing mortgage, you'll need to apply for a new home loan. Essentially, the new home loan will replace your existing mortgage.
Lock-In The Rate
Once you apply for the home loan, you can choose to lock in your rate.
When you lock in your rate, the lender is agreeing to honor the current interest rate when the loan actually closes. Since mortgage rates fluctuate from day to day and week to week, locking in your mortgage rate can provide the peace of mind you need while committing to this major financial decision.
Get A New Appraisal
When applying for a refinance, the lender will require a new appraisal to confirm the value of the house. Although this step can be time-consuming, it makes sense from the lender's point of view.
In the past, appraisals were strictly an in-person affair. Recently, COVID-19 has pushed lenders to experiment with hybrid appraisals that can be conducted entirely online or via a drive-by.
Depending on your lender, you may experience a hybrid appraisal which could take less time. But a traditional appraisal with an in-person assessment which takes more time may be required.
Order A New Title Search
As with your original mortgage closing, the lender will order a new title search. The goal of the title search is to ensure that there are no new liens on the property.
Beyond that, lenders will require you to pay for a title insurance policy. In general, it should take 3 – 5 business days to complete a title search.
Close The Loan
After working through all the steps above, the time will finally come to close the loan. At this point, homeowners will sign any final documents and pay closing costs.
If you don't close the loan, then you will not finalize the refinance. With that, you will miss out on any potential savings or benefits that you would have enjoyed through a refinance.
Refinance Calculator
Get loan options at today's interest rates that show what your new monthly payment could be. Just answer a few simple questions.
Calculate Now
Why Is My Refinance Taking So Long?
You should expect it to take a few weeks to close on your refinance.
Depending on your situation, a large amount of paperwork may be required of you, which can take some time. Beyond that, you may run into appraisal problems which often slow down the refinance process.
Here's a closer look at the main reasons why a refinance can take longer than you expect.
Strict Government Regulations
The government has strict rules surrounding the refinancing process. With that, the intensive regulations may cause friction throughout the process.
If the refinance you are seeking doesn't fall within the specifics of the regulations, your refinance could slow down or be impossible to complete.
Low Appraised Value
A critical piece of the refinance process is the new appraisal value. The lender will use the new appraisal value to make decisions about your refinance. If the appraised value is lower than expected, you may not be able to get the loan, delaying the refinance process.
Concerned about your home's new appraisal coming in lower than you hoped? Consider taking the time to spruce up your exterior with some simple tweaks for curb appeal. Additionally, it doesn't hurt to tidy up the house before the appraiser comes by. Finally, take the time to walk through your home with the appraiser to point out any important features.
Credit Issues
A credit score helps a lender determine whether to proceed with the refinance process. If you have a bad credit score, then you may run into a dead end with your refinance. Unfortunately, most lenders will need borrowers to have a fair credit score to continue with the refinance.
What You Can Do To Speed Up Your Refinance
Want to speed through the refinance process? Here are some helpful tips to help you move forward quickly.
Determine Your Financial Goals
A refinance can help you accomplish different financial goals. With that, it's important to sit down and determine exactly what you hope to achieve with a refinance.
A few reasons to refinance include:
Lowering your monthly payment to reduce the burden on your budget.
Reducing your interest rate to help you save money over the course of your loan.
Accessing equity you've built in your home through a cash out refinance.
Without understanding why you want a refinance, it can be difficult to move forward confidently.
Prepare Paperwork
In order to speed up the process of applying for a new home loan, you can collect the documents you need ahead of time. A few of the big documents you'll need include:
Two most recent W-2s
Two most recent pay stubs
Recent bank account statement
With these documents ready to go, you will make the home loan application process smoother.
Check Your Credit Score And Report
A quick check of your credit score can help you determine whether or not you'll qualify for the best interest rates. If you have a relatively low credit score, you may want to delay the refinance process to build your credit score.
Shop Around For The Best Mortgage Deal
The importance of shopping around for the best refinance rate out there cannot be understated. You could save yourself thousands by shopping around for a lender that can offer you the best interest rate.
Beyond comparison shopping mortgage lenders, you should also explore the refinance programs available. A few include a conventional mortgage refinance and an FHA refinance. Each can help you achieve different financial goals. With that, it's important to compare your options carefully.
Ask For Loan Estimates
Loan estimates can help you understand the expenses that will come along with a particular loan. If possible, ask for loan estimates from two to three of your top lenders.
With the loan estimates in hand, take the time to review the costs of working with each lender. You can make the final decision about a lender when you have all of this information available. It's important that you compare apples to apples with the loan type and term when reviewing loan estimates.
Ensure That You Qualify
A refinance is a loan like any other. With that, you'll have to prove your qualifications to the lender to move forward.
Take an honest look at your finances. If you have a bad credit score or an unstable income, you may not qualify for a refinance. But if you have a good credit score and a significant amount of equity in your home, then a refinance could be smooth sailing for you.
The Bottom Line
The refinancing process has multiple steps, so it's not uncommon for a refinance to take several weeks.
However, the process can be worth the rewards. You could change your financial situation for the better by closing a refinance mortgage.