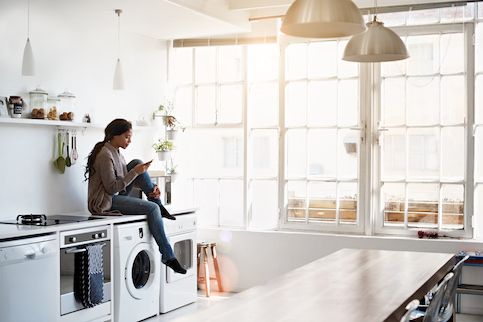 What To Do When A Home Appraisal Is Lower Than The Offer
Published on October 5, 2023
Let's suppose a potential home buyer has made an offer, you've accepted and your home is under contract. Nothing can stop your home sale now, right?
Not necessarily. After you and a buyer sign a contract, the mortgage lender will order an appraisal of the property to determine that the value of the home allows for the transaction to go forward based on a client's anticipated loan terms.
What happens, though, if the appraisal is lower than the agreed-upon sales price?
In just a moment, we'll break down the steps you can take to save your home sale if your home's appraisal comes in lower than the offer price. But first, let's look at why low appraisals occur.
Why Does A Low Appraisal Happen?
A low appraisal happens when the appraiser assigns a property value that comes in below the contract price or lower than expected. In the next few sections, we'll explore common reasons for a lower-than-expected appraisal valuation.
Changing Real Estate Markets
The real estate market and the appraiser's understanding of local influences can have the largest impact on the property valuation. Often, the valuation is out of the seller's hands due to fluctuating market trends and outside factors. It's important to note that while the appraiser offers the opinion of the home's value, the mortgage underwriter evaluates this opinion to make sure all applicable guidelines have been followed and that the appraisal is of sufficient quality.
Inflated Prices
For some time now, housing inventory has been very limited throughout much of the country. Given this, sellers may be able to list their home for well above the appraised value and still receive many offers.
For sellers, pricing a home can also be subjective, and it may be tempting to have a higher asking price for a home filled with great memories. However, as the homeowner, you'll want to work with your real estate agent to list your house at a price that strikes the right balance between a market-worthy price and the sale price you desire.
Local Factors
Depending on the neighborhood or area where the property is located, other factors can affect the appraised value of the property. A property's value can suffer if:
It's a unique property with few, if any, comparable properties in the area
Under-maintained properties are nearby
The property itself or other local properties have an inaccurate property valuation
Foreclosures or short sales are ongoing in the neighborhood
How Often Do Home Appraisals Come In Low?
Appraised prices rarely come in at below the asking price or contract price. However, when housing markets heat up, it's possible that appraised values may need a little time to catch up.
According to a recent National Association of REALTORS® (NAR) report, only 6% of contracts had their closing delayed due to appraisal issues in July 2023. This is an improvement from 9% 1 year earlier.
What Happens If A Home Appraisal Is Lower Than The Offer?
Let's say you offer to purchase a home for $300,000 and the seller accepts your offer. But then the appraiser values the home at only $270,000. What happens next will affect both the buyer and the seller.
Issues For The Buyer
In the scenario described above, if the down payment you plan to make is high enough, the loan may still be approved. For example, if you buy the home for $300,000 and plan to put 10% ($30,000) down, your lender shouldn't have a problem since your requested loan amount will equal the appraised value of the home.
However, if you've already had your bid accepted and don't have or want to spend the cash to make up the difference between the appraised value and the contract price, an appraisal gap could delay your home purchase or ultimately not allow it to happen as planned. You may try to negotiate a lower price with the seller, but if a compromise can't be reached – or you can't pay the difference to cover the appraisal gap – the sale could fall through.
Also keep in mind that a low appraisal can ultimately affect how much equity you have starting out in your new home. This could mean a higher interest rate and mortgage insurance requirements as well.
Issues For The Seller
If you're selling a home that's appraised at less than the asking price, there's a real possibility the buyer won't be willing to make up the difference. But if the deal falls through, you may be able to move on to another offer from a buyer who can afford to make a larger down payment.
However, if the appraisal gap is significant or you need to sell quickly or the housing market has cooled, it may be a sign that you need to negotiate with the buyer or lower your asking price.
Compare And Save
Have control over your money. Shop all your financial options in one place.
Find Your Best Offer
How Do You Negotiate With A Seller After A Low Appraisal?
If you find that the home appraisal comes in lower than your offer on the home you want to buy, don't panic. You may have ways to negotiate with the seller and your lender to ensure everyone gets a fair deal. We'll consider some of these negotiation strategies next.
1. Dispute The Appraisal
You can dispute the appraisal by submitting a reconsideration of value (ROV). However, before doing this, you should thoroughly review your valuation with your real estate agent (who might also be a REALTOR®). They can help you see if any real estate comps – sales of similar homes nearby – can act as evidence to support a higher appraised value.
Winning an appraisal dispute isn't easy, though. You'll need hard evidence to back up your claims, and this evidence will usually take the form of favorable home purchase prices not far from where you're looking to buy.
One other tip: Every appraisal is dated, so any sales that took place more recently than the date of the appraisal can't be considered on appeal.
2. Get A Second Appraisal
If the original appraiser rejects your request for an ROV, you can ask your lender to order a second appraisal to be used in lieu of the first.
All valuations are supposed to be reviewed for accuracy and fairness by the rules put in place by laws, guidelines and regulations. So, while you're free to request a second opinion on the appraisal, that doesn't mean a new report will be ordered or issued upon that request, nor does it mean the appraised value of the property will change.
Not only that, but you may end up paying for two appraisals that deliver the same result.
3. Ask The Seller To Lower The Price
Although the seller may have accepted an offer, as a buyer, you can ask the seller to lower the asking price to something closer to the appraised value. This will reduce the seller's profit, but it may be worth it to them to keep the home sale on track.
4. Ask For Seller Concessions
If the seller is unwilling to lower the price, they may be willing to "sweeten the deal" through seller concessions. For example, the seller may agree to cover closing costs so you can free up cash to cover the appraisal gap.
5. Increase Your Down Payment
As mentioned earlier, if you can increase the size of your down payment, you may be able to decrease or completely eliminate your appraisal gap. This may mean looking for down payment assistance programs or asking a family member for a tax-free gift.
6. Find A New Lender
Sometimes the appraisal gap may be due to the lender's choice of appraiser or the lender's risk tolerance. Working with a new lender may lead to a more favorable appraisal, or the lender may be willing to extend more latitude. However, you risk possibly paying more in interest.
7. Be Willing To Walk Away
As disappointing as it may be, the best option sometimes is to let the deal fall through. An appraisal contingency may allow a buyer to walk away from a purchase if they're not happy with the appraisal. After that, the buyer can look for another home, and the seller can relist the property on the market.
Your real estate agent should be especially helpful in determining whether walking away is best for you.
Tips For Sellers If A House Is Appraised For Less Than The Offer
Much of what determines an appraised value – your home's age, size, condition and location – can't be changed. As a result, your power to influence an appraisal is unfortunately limited. Below are some strategies that can help, however.
Renovate Before You Sell
In theory, if you update your kitchen or add a primary bedroom, you might increase your chances of earning a higher appraised value. But these are big, expensive renovations that – while helping to boost your home's value – should be completed prior to listing your home for sale, long before an appraisal is even conducted.
Check out our guide to the best home improvements for resale. It features some ideas on a project that can increase your home's value and help you avoid a low appraisal.
Find Proof Of Higher Comps
One of the best ways to boost your odds of a higher appraisal is through the efforts of your real estate agent. You can't share anything prior to the appraisal report, but if you later on find that the appraiser missed comparables sold before the report date that would support a higher value, your real estate agent will be a resource.
Be Ready To Negotiate
As mentioned above, the buyer may need your help as the seller to make the purchase go through. If the buyer is willing to negotiate fairly, it may be in your best interests to lower the price or offer concessions to help make the deal work for everyone.
Be Willing To Let The Buyer Walk
Depending on the market, walking away from the deal could give you an opportunity to receive a higher offer – or even a cash offer – later. One benefit of a cash offer is that the appraisal could be waived.
The Bottom Line
For buyers, as well as homeowners looking to sell, receiving a low appraisal is never welcome news. A low appraisal can put your dream home out of reach if you're a buyer. Meanwhile, for a seller, a low appraisal can impact not only the sale of your current home but also the purchase of your next home.
Looking to buy a home in the near future and avoid appraisal issues? Our Home Loan Experts can help you find the right mortgage and carefully guide you through the process so that it runs as smoothly as possible.
Find A Mortgage Today and Lock In Your Rate!
Get matched with a lender that will work for your financial situation.
Get Started