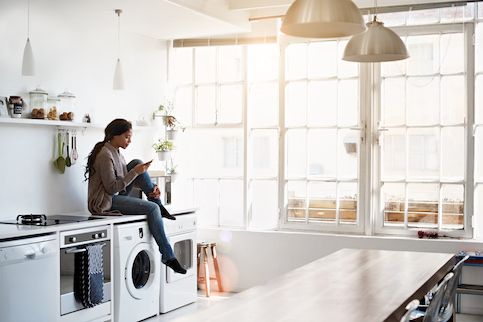 What To Do When Your Home's Appraisal Is Lower Than The Offer
Published on May 13, 2021
Disclosure: This post contains affiliate links, which means we receive a commission if you click a link and purchase something that we have recommended. Please check out our disclosure policy for more details.
A potential buyer has made an offer, you've accepted, and your home is under contract. Nothing can stop your home sale now, right?
Not necessarily. After you and a buyer sign a contract, the mortgage lender will order an appraisal of the property. This appraisal will determine the actual value of the home in today's housing market to ensure that the home value is such that the transaction can go forward based on a client's anticipated loan terms. This process protects the lender and helps the borrower avoid paying too much for the home.
What happens, though, if the appraisal is lower than the agreed-upon sales price?
In this article, we'll break down the steps you can take to save your home sale if your home's appraisal comes in lower than the offer price. But first, let's look at why low appraisals occur.
Apply for a mortgage today!
Apply online for expert recommendations with real interest rates and payments.
Start Your Application
Why Does A Low Appraisal Happen?
A low appraisal happens when the appraiser's opinion of value for the property comes in below the contract price or lower than expected. Some of the most common reasons for a lower-than-expected appraisal valuation are:
Changing markets with rapidly increasing or decreasing values

Artificially inflated prices

Overpricing by the seller

A unique property or market where comparables may be limited

Under-maintained properties

Inaccurate property valuations

Foreclosures or short sales in the neighborhood
The real estate market and the appraiser's understanding of local influences can have the largest impact on the property valuation. Often, the valuation is out of the seller's hands due to fluctuating market trends and outside influences. It's important to note that while the appraiser proposes the opinion of value, this is then evaluated by the lender underwriting the loan to make sure all applicable guidelines have been followed and that the appraisal is of sufficient quality.
As the homeowner, you'll want to work with your real estate agent to list your house to balance between market-worthy price and the profit you desire.
Your ideal price point depends on timing and conditions within your local market. Right now, inventory is extremely tight across much of the country. Given this, sellers may be able to list well above what might be the appraised value and receive many offers. When the market is tilting toward buyers, on the other hand, sellers might find themselves taking a loss.
How Often Do Home Appraisals Come In Low?
Home prices are rapidly moving up and appraisals have struggled to keep pace. According to recent data from Case-Shiller, appraisals in 2021 came in below the contract price 19% of the time. When an appraisal is below the asking price or the buyer's offer, the contract is often renegotiated.
Compare And Save
Have control over your money. Shop all your financial options in one place.
Find Your Best Offer
Why A Low Appraisal Is Not Ideal
Let's say a buyer offers to purchase your home for $200,000, and you accept their offer. But what if the appraiser values your home at only $180,000? What happens next depends on how your loan is structured.
If your down payment was high enough before the appraisal, the loan may still be approved depending on value that comes back on the appraisal and your loan amount. It's just important to know that if the seller is unwilling to renegotiate the sales price, you'll be paying not only the difference between the appraised value and the contract price, but also tacking on your down payment for the loan in addition to closing costs.
Another thing to keep in mind is that you'll have less equity going into the transaction than you would have if the appraisal came in at the purchase price. Depending on the circumstances, this could mean a higher rate and potentially mortgage insurance requirements as well.
If you're the buyer and have already had your bid accepted and you don't have or want to spend the cash to make up the difference between the appraised value and the contract price, an appraisal gap could delay your home purchase, causing a stressful degree of limbo. You may try to negotiate a lower price with the seller, but if a compromise cannot be reached – or you can't pay the difference to cover the appraisal gap – the sale could fall through.
How To Dispute A Low Home Appraisal
You can dispute the appraisal by submitting a reconsideration of value (ROV), but your first step should be to thoroughly review your valuation with your REALTOR® to see if there is evidence to support a higher appraised value. You should also know that winning a dispute isn't easy. You'll need hard evidence to back up your claims, and this evidence will usually come in the form of other nearby home sales.
One other caution: Every appraisal is dated, so it's a snapshot in time. The recent sales that you find have to be recently sold as of that date. More recent sales than the date of the appraisal can't be considered on appeal. You and your real estate agent have to be able to find similar homes that weren't considered in your appraisal before that date.
Brandon Hays, a real estate broker with Stellar Realty Northwest in Portland, Oregon, says that the key to contesting an appraisal is to work with your agent to find real estate comps that prove your case. Appraisers study recent sales of nearby homes that are similar to yours – what are known as comparables – when determining the value of your residence.
Hays notes that if you can find recent similar comparable home sales that fetched a higher price, you might be able to successfully contest your appraisal.
How To Overcome A Low Appraisal
But what if you can't find comparable home sales to use in your argument? Susanna Haynie, broker/owner of Colorado Real Estate Group in Colorado Springs, Colorado, says that buyers and sellers can work together to overcome a low appraisal. But this may require financial sacrifices.
Reduce Your Asking Price
As a seller, you can reduce your asking price to the appraised value. You might have accepted an offer of $200,000 for your home. However, if the appraisal says your home is worth $180,000, you can agree to accept that amount from your buyers instead. This will reduce your profit, but it will keep your home sale on track.
"If the seller reduces the price to the appraisal, we are golden and are moving forward," says Haynie.
Compromise On The Final Price
Sometimes you might be able to convince the buyers to bring some money to the table to save your real estate deal. For instance, if the buyer's lender will only loan them $180,000, but you and the buyer agreed on a sales price of $200,000, you might try to lower the sales price to $190,000 while the buyer agrees to pay $10,000. This will cover the appraisal gap.
This type of compromise requires buyers who are willing and able to pay out of pocket. Finding such buyers is rare.
"There are times, then, when a low appraisal really does doom a home sale," according to Haynie. "If the seller is not budging in price, the buyer can walk. If this happens, it is very, very unfortunate."
Get A Second Appraisal
In the case where a lender feels that the appraisal is deficient in some way event leads to an inaccurate value or causes eligibility concerns, they'll try to rectify that with the appraiser. If they can't get issues corrected to their satisfaction, a second appraisal is ordered to be used in lieu of the first.
All valuations are supposed to be reviewed for accuracy and fairness by the rules set into place by laws, guidelines and regulations. So, while you're free to request a second opinion on the appraisal, that does not mean that a new report will be ordered or issued upon that request, nor does it mean that the appraised value of the property will change.
Can A Seller Back Out If The Appraisal Is Too Low?
While an appraisal contingency allows a buyer to walk away from a sale if they're not happy with the appraisal, sellers who are put into this position are also able to back out.
As disappointing as it may be, sometimes the best option is to allow the deal to fall through and relist the property on the market.
Walking away from the current deal could give you the chance to receive a higher offer – or even a cash offer – later. One benefit of a cash offer is that the appraisal could be waived.
Your real estate agent will be especially helpful in determining if walking away is best for you or not. Their knowledge of current market trends will help you understand what your best chance will be for selling your home for a better price once you put your property back on the market.
Decreasing The Odds Of A Low Appraisal
Much of what determines an appraised value can't be changed: your home's age, size, location and surrounding neighborhood. So, your power to influence an appraisal is unfortunately limited.
For example, if you update your kitchen or add a primary bedroom, you might increase your chances of earning a higher appraised value. But these are big, expensive renovations that – while helping to boost your home's value – should be completed prior to listing your home for sale, long before an appraisal is even conducted.
The best way to boost your odds of a higher appraisal is through the efforts of your real estate agent. You can't share anything prior to the appraisal report, but afterward, if you find that the appraiser missed comparables sold before the report date that would support a higher value, your real estate agent will be a resource.
The Bottom Line: What Low Appraisals Mean For Sellers
As a homeowner looking to sell, receiving a low appraisal is never something that you want to experience. A low appraisal can impact not only the sale of your current home, but the purchase of your new home as well.
One way to avoid a low appraisal is to complete a renovation or upgrade that will increase your home's overall value. Large-scale home improvement projects – such as a bathroom or kitchen remodel – take advanced planning, so we recommend that you begin working with a trusted professional long before you put your home on the market or get an appraisal. Read our guide on the best home improvements for resale to get some ideas for a project that can increase your home's value and help you avoid a low appraisal.
Apply for a mortgage today!
Apply online for expert recommendations with real interest rates and payments.
Start Your Application