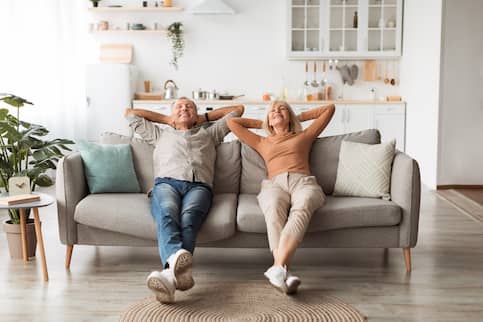 What's A Good Credit Score To Refinance Your Home? Minimums And Loan Types, Explained
Published on November 1, 2023
Are you looking to refinance your home loan? With so many different loan types and varying requirements, it can be hard to keep track of what you need to qualify. One of the most common worries among borrowers is whether they have the required minimum credit score to refinance their loan. To help you solve this issue and get you on your way to a new home loan, we cover the minimum credit scores needed for multiple loan types below.
What Credit Score Is Needed To Refinance Your House?
The table below shows the minimum credit scores needed to qualify for some of the most popular types of refinances. As you peruse the table, keep in mind that the minimum requirements can differ depending on the loan type and the lender you're working with. For example, certain government-backed loans have no specific minimum credit score requirements to receive a loan, but the lenders that provide the loans do.
You will notice that all but one of the scores below fall into the same credit score level. Credit scores between 580 and 669 are considered "fair," the second lowest of five categories, ranging from poor, fair, good, very good and excellent. Fair credit scores are considered higher-risk, but many lenders are happy to provide loans to borrowers within this range if they meet the other requirements to get a mortgage.
| | |
| --- | --- |
| Loan Type | Minimum Credit Score |
| Conventional loan | 620 |
| FHA Streamline refinance | 580 |
| VA Streamline refinance (VA IRRRL) | 580 |
| USDA loan | 640 |
| Jumbo loan | 680 |
| Conventional cash-out refinance | 620 |
Credit Scores For Refinancing By Loan Type
Follow along below for more details on the loan types mentioned in the table above.
Conventional Loan Refinance
You will need at least a 620 credit score in order to qualify for a conventional loan refinance. A 620 credit score puts you right in the middle of a "fair" credit score.
A conventional loan refinance will typically require a credit check as well as employment and income verifications. While this analysis may make the application process more time-consuming than the upcoming streamline refinances, the confidence your lender can obtain from knowing you are in a good financial position may get you a better deal on the refinance.
FHA Streamline Refinance
The credit score to refinance using an FHA Streamline refinance depends on the loan provider you work with, not the Federal Housing Administration (FHA). The goal of an FHA Streamline refinance is to allow borrowers to refinance their loans quickly with minimal paperwork. To make this possible, the FHA may require less documentation regarding your credit score and income. This is known as a non-credit qualifying streamline refinance. This less detailed analysis makes the entire process much easier and faster for the borrower. However, the loan provider may require a credit check.
VA Streamline Refinance (VA IRRRL)
The credit score needed to refinance using a VA Interest Rate Reduction Refinance Loan (VA IRRRL, also known as a VA Streamline refinance), is similar to an FHA Streamline refinance. While the Department of Veterans Affairs (VA) does not require a credit check, an appraisal or employment verification, the loan provider you work with may require all of these things.
VA Streamline refinances are unique in that they are reserved for military veterans that have served at least 181 days of active service during peacetime or 90 consecutive days during wartime or their surviving spouses. National Guard or Reserves veterans can also qualify after 6 years of service. The VA created this avenue for veterans in 1980 to lower their interest rates or monthly payments in a quick and easy manner.
USDA Loan Refinance
Similar to the previous two government-backed loan programs, there is no specific credit score needed for a USDA loan refinance, but the lender may require a minimum score. Many lenders require a credit score of at least 640 to qualify for a USDA loan refinance.
You may notice that a 640 credit score is slightly higher than the previous loan types. This is partly due to the fact that while the USDA does not require borrowers to have a minimum credit score, they do require additional documentation and verifications if the borrower's credit score is below 640. For example, if you have a FICO® Score lower than 640, the USDA requires your loan originator to obtain verification that you previously paid your rent or mortgage on time. They also may require reference letters from previous landlords or mortgage providers.
If you have a credit score of 640 or above, you will have access to a more streamlined application process that will allow you to receive your refinance without these additional verifications.
Jumbo Loan Refinance
The credit score to refinance a jumbo loan is at least 680. This is the highest required credit score of the loan types mentioned for a good reason. These loans, which are higher than conforming loan limits, are simply a larger risk to lenders due to their immense value. Naturally, lenders will want borrowers to have higher credit scores to make up for the risk of such large loans. Jumbo loans are also nonconforming, meaning that they do not conform to Fannie Mae or Freddie Mac's purchasing standards. This makes them much harder to sell on the secondary market, increasing their risk even further and requiring increased borrowing standards.
Conventional Cash-Out Refinance
The credit score needed for a conventional cash-out refinance is the same as conventional loan refinance: at least 620. The difference between the two loan types is that a cash-out refinance allows you to take out a larger loan on your home and keep the difference between the new mortgage amount and what is owed on the current loan.
Improving Your Credit Score To Refinance
If you're looking to refinance but your credit score has seen better days, it may be wise to wait to rebuild your credit score before going through the refinance process. For example, if you have a credit score lower than 580, you are very unlikely to qualify for any of the loans mentioned above.
To improve your credit score, start by organizing your finances and make a budget to cover all of your future bill payments. Never missing another payment is the best way to start building back your credit score. Another key factor to monitor is your credit utilization, which is the percentage of your available credit that you use on average. Keeping this percentage low, perhaps by paying off credit card bills, is a great step toward building your credit.
The Bottom Line
If you can maintain your credit score at or above the minimums mentioned earlier, there are multiple options available to you. Whether you're looking for a conventional, government-backed or jumbo loan, find the best deal to refinance your mortgage.