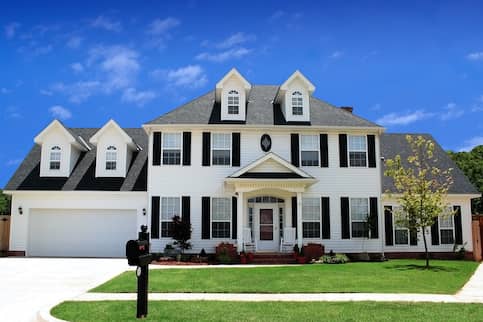 FHA Vs. VA Loan: What's The Best Option For Veterans?
Published on February 15, 2022
The federal government rewards veterans of the U.S. military in several ways. Many programs, from education reimbursement to disability compensation, employment services and life insurance, are available to active and former armed forces members. Another benefit of military service is home loan assistance in the form of the VA loan. However, many veterans have not used or are unaware of the VA loan benefit provided to them.
If you are a veteran, member of the active military or even the surviving or current spouse of a veteran, you may need more information about the two most popular government-backed loans available to you today: the VA loan and the FHA loan.
Buying a home or refinancing is a big decision, so it's best to be fully informed. Let's take a look at FHA versus VA loans to help you make an informed decision on which mortgage is best for you.
What Is
The Difference Between FHA And VA Loans?
Although FHA and VA loans are both backed by the government and offer significant benefits to first-time or low-credit home buyers, there are major differences between the two mortgage options. It's important to understand how both loan options work before deciding which one is right for you.
FHA Loans
Federal Housing Administration (FHA) loans are a popular government-insured option among many non-veterans. Easy refinancing, more lenient qualifying credit criteria and low down payment requirements attract many people who may not otherwise qualify for a conventional loan. This program through the U.S. Department of Housing and Urban Development helps interested borrowers buy a home without worrying about the stress of not being able to afford homeownership through a conventional mortgage.
VA Loans
VA home loans, offered through the Department of Veteran Affairs, are almost identical to most FHA loans, only they offer many extra benefits. With no down payment requirements, lower qualifying credit scores and loan fees that can be packaged into the mortgage, this type of loan is a great option for qualifying borrowers.
Loan Requirements: What Do You Need To Apply For FHA Or VA Loans?
Like other home loan types, FHA and VA loans each have their own set of qualifications. Let's take a look at what you'll need to be eligible for each type of loan.
FHA Loans
One of the most attractive benefits of using an FHA loan is that homeownership can still be possible even with a lower credit score. There are no income limits, but there are limits on how much you can borrow. To obtain this loan, you'll need to meet the following FHA requirements:
Rocket Mortgage® has a median credit score requirement of 580 or higher.

You'll need a minimum down payment of 3.5%.

You can have a debt-to-income ratio (DTI) of no more than 57%, although this is taken on a case-by case basis.

You'll want money to cover the upfront mortgage insurance premium payment – around 1.75% of your loan. If you don't have the money up front, this can be built into the loan.

You'll require enough to cover your closing costs (around 2 – 6% of the purchase price)
VA Loans
VA loans are available to eligible active-duty military members, reservists, National Guard personnel, veterans and qualifying surviving spouses. VA loans have eligibility and service requirements that must be met before a veteran or active military member can be approved for the loan. A certificate of eligibility will be issued to qualified persons and include an entitlement amount (the portion of the mortgage that the VA will guarantee for each service person).
The VA can issue the eligibility certificate or your mortgage lender can obtain a certificate for you. In most cases, you can ignore the amount shown on the certificate. It only matters if you have impacted entitlement, meaning you either have a previous VA loan you're still paying off or you defaulted on a prior VA loan.
Here's what you should know about the qualifications to obtain a VA loan:
Although the VA doesn't require a minimum credit score, you'll need a median score of 580 or higher if you're obtaining a loan through Rocket Mortgage.

There is no official maximum debt-to-income ratio for VA loans, but some individual lenders may set their own parameters.

There is no down payment required.

VA loans technically have no loan limit, though lenders are allowed to set their own qualification requirements. Generally, loan limits apply to VA loans in the case of impacted entitlement or with a VA Jumbo Loan.
You'll need enough money to pay the VA funding fee (around 1.25% – 3.3% of the loan amount). As with FHA loans, this can be built into the loan amount or paid at closing.
Private Mortgage Insurance: FHA Loan Vs. VA Loans
One of the biggest differences between FHA and VA loans is private mortgage insurance (PMI). VA mortgages don't require you to pay PMI; however, FHA loans require you to pay the government equivalent of PMI, called MIP (mortgage insurance premium). This fee is charged as an upfront and annual fee. You'll pay an upfront premium at closing or have it built into the loan amount. Then there's an annual premium broken into monthly payments.
An upfront FHA MIP fee equals about 1.75% of your loan amount, and an annual MIP fee is equal to about 0.15% – 0.75% of the loan. This charge ranges depending on the size of your down payment.
Although a VA loan allows you to avoid this extra expense, there is still a funding fee that you'll need to pay for when taking out a VA loan. This fee is approximately 1.25 – 3.3% of your loan amount.
This fee can be lowered by making a larger down payment. All VA loan borrowers must pay this expense; however, there are some exceptions for certain qualified veterans. For example, those who have military-related disabilities and receive compensation for their injuries, recipients of the Purple Heart who have returned to active duty and eligible surviving spouses may be eligible to avoid the funding fee.
Can You Use An FHA Loan And A VA Loan Together?

FHA and VA loans can't be combined to pay for a single home, but you can use both loans on separate houses. To do this, a homeowner will pay for a home and then turn it into a rental property when they're ready to finance another house. One of the houses will need to be a rental property because both loans require you to be the primary resident.
What's The Better Loan Type For Veterans?
So how do you decide whether to go with an FHA or VA loan? As a veteran, most of the time you'll find that a VA loan is the better option for a variety of reasons.
Let's go over some of the benefits VA loans have over FHA loans for veteran borrowers.
No Down Payment
VA loans, in comparison to FHA loans, do not require any down payment. This can be significant in helping make homeownership a reality or saving extra money for home repairs, furnishings or keeping an emergency savings account.
Lower Interest Rates
Due to the low risk that VA loans have for borrowers and lenders, interest rates tend to be lower than other types of loans. VA loans can even run slightly lower than FHA loans most of the time.
No Mortgage Premium Insurance (MPI)
Not having to pay mortgage premium insurance on a VA loan is a major benefit. The additional fees that FHA borrowers incur through MIP can add up over time. These savings can help VA borrowers save thousands of dollars a year. The funding fee
The Bottom Line: VA Loans Are The Top Choice For Veterans
If you're a qualifying military member, a VA loan is a great way to take advantage of today's low mortgage rates. Many people aren't sure if they want to deal with the perceived hassle of a VA loan. With the right Home Loan Experts, getting a VA Loan can be easy and painless. If you're a veteran with no available VA entitlement due to a past foreclosure, FHA loans can make a lot of sense. Whichever option you choose, Rocket Mortgage is here to help.
You can get started online or give us a call at (888) 452-0335.