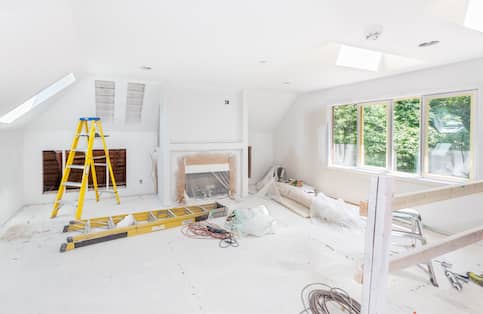 How Much Does It Cost To Remodel A House In 2023?
Published on April 18, 2023
If your home is no longer meeting your or your family's needs, there are two main options you can choose from: buy a new house and move, or remodel your current home.
There are advantages to both strategies, but remodeling is a good option for homeowners who like their current property and don't really want to move. A home remodel involves updating your house to make it more functional and enjoyable to live in.
However, remodeling isn't cheap, so it's a good idea to understand the potential costs before getting started. Costs cited in this article are averages according to HomeAdvisor as of April 12, 2023.
What Is The Average Cost To Remodel A House?
The average cost to remodel a house is $48,384. However, most projects typically range between $17,697 and $79,125, depending on the scope of the project. Many factors contribute to the total cost, including the home's build and size, the quality of materials and how much labor you need. The price can also vary greatly depending on whether you're updating plumbing and electrical and making changes to the floor plan.
On average, home remodels can start around $3,000 on the low end and go up to around $167,000 on the high end. Here's which home improvements fall into the different types of remodel ranges:
Low-end home remodel:

This may include smaller projects and

cosmetic work like painting, landscaping, flooring, stock cabinetry, low end appliances, inexpensive countertops.

Midrange home remodel:

This can include

the above options using some above-average materials and appliances, new light fixtures, hardwood flooring.

High-end home remodel:

This may feature

high-end materials, custom cabinets, built-ins, foundation repair, layout changes, roof replacement, basement or attic conversion.
House Remodeling Cost By Type
Home remodeling costs vary depending on the scope of the project and the type of work performed. Here's a look at what you can expect to pay for your home remodel.
Whole House
The average cost to remodel your whole house is between an average of $10 – $60 per square foot. So on the low end, a 2,500-square-foot home costs at a minimum about $25,000 to remodel.
This includes improvements like painting, landscaping, and updating the trim and flooring. You might also replace the cabinetry, appliances and countertops. However, you'll pay more for things like foundation repair, a full bathroom or kitchen remodel and HVAC and roof replacement.
Gut And Remodel
A gut and remodel is a much more extensive renovation that involves updating every surface, appliance, and fixture. It often involves taking walls down to the studs, replacing windows, and replacing the plumbing and electrical. The average cost to gut the home down to its studs is between $2,500 – $9,800. Then, you'll need to add on the cost to remodel.
Home Addition
A home addition involves adding a room or structure to your home. Homeowners may do this to add more square footage to their existing home or to make better use of the space they have. For example, you could add a bedroom or sunroom onto the side of the house or an accessory dwelling unit (ADU) to your garage.
The average home addition costs between $22,372 and $81,164. You'll pay the most to build a room addition since that involves making changes to the home's floor plan.
Historic Home
A historic home is any structure that's at least 50 years old and meets one of the following criteria:
It's connected to a significant, historical event

It's connected to a historically significant individual

It embodies a particular historic style

It provides important historical information
It's challenging to take a historic home and update it to today's safety and environmental standards. You may have to repair structural elements of the home and you'll need to hire licensed contractors who have experience updating historical homes. You may also have to pay for higher insurance costs.
Your Remodel Is Waiting.
Explore personal loan options to finance your home improvements.
Get Started Today
Cost To Remodel A House By Room
Many people aren't interested in remodeling their entire home, and instead, choose to focus on a specific room. Here's what you can expect to pay to update different rooms in your home.
| | |
| --- | --- |
| Room | Cost Range |
| Living Room | $5,000 – $10,000 |
| Bedroom | $10,000 – $15,000 |
| Bathroom | $3,000 – $25,000 |
| Kitchen | Over $6,000 |
| Garage ADU | $3,000 – $30,000 |
| Home Office | Over $5,000 |
Cost To Remodel A House By Square Foot
You can expect to pay between $10 to $60 per square foot to remodel your house. Here's the average cost to remodel a home by square footage.
| | |
| --- | --- |
| Square Feet | Typical Cost Per Square Foot |
| 900 | $9,000 to $54,000 |
| 1,000 | $10,000 to $60,000 |
| 1,200 | $12,000 to $72,000 |
| 1,500 | $15,00 to $90,000 |
| 1,800 | $18,000 to $108,000 |
| 2,000 | $20,000 to $120,000 |
| 2,500 | $25,000 to $150,000 |
Common Factors Associated With Home Remodel Costs
Here are some of the most common costs that go into a home remodeling project and what you can expect to pay for each.
Labor
Labor is an essential cost to consider when remodeling a home. These costs range from $20 to $150 per hour, depending on the contractor and their experience. You may need to hire a general contractor to coordinate the project and hire subcontractors.
Materials
The cost of materials depends on what room you're updating and whether you're using low- or high-end materials, like vinyl vs hardwood floors or marble vs laminate countertops.
Permits
If you're making a structural change or adding an addition, you may have to apply for a permit. Costs range from $50 to $1,800 depending on the scope of the project. In addition, you may have to hire an architect and have someone do a property survey.
Taxes
Remodeling can improve the value of your home, but that means you'll also have to pay more in property taxes. For example, remodeling your basement can increase the assessment value of your home by $50,000. That could drive up your tax bill even if the tax rate doesn't change.
Unforeseen Costs
With every home improvement project, there will be unexpected costs you need to plan for. It's a good idea to add an extra 20% to your budget to account for these costs.
Type Of House
The type of house makes a big difference when it comes to the overall cost of remodeling your home. For instance, you'll pay less money to remodel a condo or townhome. A farmhouse or historical home will cost the most to remodel.
Additional Home Remodel Costs To Consider
Here are some additional potential costs to consider during a home remodeling project:
Timeline and living arrangements:

An extensive home renovation could take up to 6 months to complete. You may need to make different living arrangements during that time, which will add to the total cost of the project.

The home's age:

Renovating an older or historical home will cost more than a newer build. That's because you may have to update the structure or major systems in the home.

Floor plan changes:

Altering the floor plan is considered a high-end renovation and will cost you more money. You'll likely need to hire a structural engineer to ensure you do this reno safely.

Foundation repairs:

Foundation and structural repairs can be important to consider when remodeling your home. This type of renovation costs between $2,159 and $7,765 on average, depending on the repairs needed. However, if extensive work is needed, it can cost upward of tens of thousands of dollars.

Mold or asbestos remediation:

Mold or asbestos remediation will also cost more — usually between $1,200 and $3,500.
How To Estimate Your House Remodel Costs
The best way to estimate your home project costs is by talking with an experienced contractor. This individual can evaluate the scope of your project and factor in important information like the size of your home and materials used.
However, you should always receive quotes from multiple contractors so you can compare your options. It's also a good idea to add an extra 10% to 20% to the final estimate for additional labor or unforeseen circumstances.
Ways To Save Money On House Remodeling Costs
Home remodeling projects can be costly and the costs of updating even one room can quickly add up. However, there are ways you can save money on a home remodel project:
Choose to DIY:

DIYing home projects can be a great way to save money when remodeling your home. Even if you can't DIY the entire project, you could save money by doing basic tasks like replacing doors, painting or surfacing the floors yourself.

Get quotes from multiple contractors:

Before hiring anyone, it's a good idea to get quotes from multiple contractors. Ask for recommendations from friends and family and then get at least three estimates to compare. And you should never pay for the entire project upfront — come up with a payment schedule you'll follow as the work is completed.

Start demolition yourself:

If you have the tools, safely doing some demolition work yourself can be another way to save on your remodel project.

Choose budget-friendly materials:

Choosing budget-friendly materials can save you a lot of money when remodeling or building a home.

Purchase floor models:

Purchasing floor models is a great way to save money on expensive appliances. Floor models are appliances that have recently been on display at a retail location.

Maximize your current space:

You'll pay a lot less if you choose to renovate your current space as opposed to building additions. An addition requires changes to your home's foundation and floor plan, which costs more money.

Avoid moving plumbing:

Keeping the plumbing in place, like the toilet and sink, is another way to save money on a renovation project.

Check for federal grants:

You may be able to find a federal grant to help you offset some home renovation costs. The requirements and eligibility will vary depending on the grant you're applying for.

Start small:

If you don't have the budget to do everything you want at once, you can complete the project in stages. For instance, you could start by updating your floors, and then move on to your cabinetry once you're ready.
Financing A Home Remodel
It may make more sense to finance a home renovation or remodel rather than taking the money out of savings or paying for it out-of-pocket. Here are some financing options you can consider:
Home equity loan:

A home equity loan allows you to borrow from the equity you've built up in your home. You'll receive a one-time, lump sum payment, so home equity loans are better if you know what the cost of your project should be.

Home equity line of credit (HELOC):

Like home equity loans, HELOCs let you tap into your home's equity. But instead of receiving the money upfront, you'll receive a line of credit you can draw from on an as-needed basis. HELOCs are a good option if you don't know what the full cost of your project will be. At this time, Rocket Mortgage® does not offer HELOCs.

Cash-out refinance:

A cash-out refinance involves refinancing your home for more than it's worth and receiving the difference in cash. However, you'll have to pay closing costs.

Home improvement loan:

You may also be able to apply for a home improvement loan with a bank or online lender. The benefit of this type of loan is that you won't be using your home as collateral.
House Remodel Cost FAQs
Here are the answers to some additional questions you may have about home remodels.
What's the difference between a house rehab, remodel and renovation?
A home rehab involves remodeling a property to make it more visually appealing and may require extensive work and large repairs. Meanwhile, a remodel involves improving the functionality of the home and requires building something new in the home. Whereas a full renovation involves changing the functionality and design of the house.
Is it cheaper to remodel or build a new house?
It depends on how extensive your remodeling project is and what kind of home you're renovating. In most cases, it will be less expensive to remodel your current home than to buy a new one.
Which remodeling projects have the highest ROI?
A kitchen and bathroom remodel will do the most to increase your home value and give you a good return on your investment.
Your Remodel Is Waiting.
Explore personal loan options to finance your home improvements.
Get Started Today
The Bottom Line: Start Remodeling Your Home In Small Ways And Expand From There
Remodeling is a good option for many homeowners, and there are ways to be strategic and save money. Make sure to receive quotes from at least three different contractors so you can find the budget and timeline that work for you.
There are many different financing options available to help you complete your home remodel project. If you're ready to move forward, you can apply for a cash-out refinance to fund your home remodeling project today.