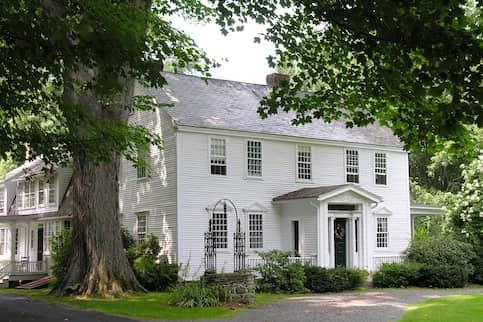 Owning A Historic Home: A Guide With Pros And Cons
Published on May 13, 2022
There is something magical about owning a historic home. From butler's pantries to Dutch doors to gothic-style windows, historic homes are not only uniquely charming but hold a piece of American history. Besides all the beauty they offer, their age makes them costly to repair. So, what started as a dream home can quickly turn into a money pit.
Therefore, if you're enamored by the charm of a historic home and think it's right for you, here are some factors you should consider first.
What Is A Historic Home?
In addition to the old-world aesthetic of historic homes, they must play a significant role in the history of the nation. The National Park Service (NPS) manages historic landmarks and the National Register of Historic Homes (NRHH), which determines if a home is historic and worthy of preservation.
Additionally, many state and municipal governments have historic districts with homes designated as historic. However, the rules can differ at the state and local levels than those of the NRHH, sometimes being far stricter.
Buyers interested in buying a home designated as historical need to be aware of the joys and constraints of owning this type of home and some of the challenges they may face when applying for a mortgage or buying homeowners insurance.
What Makes A House Historic?
While it may seem like old or vintage homes and historic homes are one and the same, this is simply not the case. Historic homes have an official designation or are located within a historic district; old homes are properties that are usually 50 years or older.
NRHH Criteria
For a home to be designated a historic property by the NRHH, it generally needs to be at least 50 years old (with some exceptions) and fall into one of these categories:
The house is associated with events that significantly contributed to American history.
The house was significant in the life of an important historical figure.
The house is characteristic of a type, period or method of construction that represents the work of a master or possesses extraordinary artistic values.
The house has yielded or may be likely to yield, important historical information.
Examples of Important Historic Houses
There are historic homes all over the country. Homes that have an infamous story behind them. Homes that are a landmark to a historical event, that inspired movies, or that held through a disastrous storm. Here are some examples of historic houses.
The Wrigley Mansion In Arizona
William Wrigley Jr., the chewing gum tycoon, built his Spanish-style home overlooking Phoenix in 1929. Shortly after construction was completed, he passed away. To keep his spirit alive, the home is now visited by many tourists and has been nickednamed "Doublemint" or the "Juicy Fruit".
San Francisco's Painted Ladies
Developed between 1892 and 1896, the famous Postcard Row in San Francisco was not only the backdrop of the American sitcom "Full House," it is one of the most photographed streetscapes in the Golden State. The iconic pastel homes, knowns as the "seven sisters," are now privately owned. So, while you can't take a tour inside, you can admire them from Alamo Square.
Oheka Castle In New York
Huntington's Oheka Castle is the second-largest private residence ever built in America. The estate has made cameos in many popular Hollywood films. This is also rumored to have been some inspiration for the infamous Gatsby estate from F. Scott Fitzgerald's "The Great Gatsby." Currently, this beautiful estate is a favorite wedding venue.
Bishop's Palace In Texas
Bishop's Palace is Galveston's best-known building. Inside is a fireplace lined with pure silver; this was originally built for Walter Gresham by Nicholas Clayton. Clayton was Galveston's most distinguished architect at the time. The home held strong and practically untouched through the Great Storm of 1900. Although, they say Grisham's ghost comes around to inspect his home whenever a storm blows through.
Your Remodel Is Waiting.
Explore personal loan options to finance your home improvements.
Get Started Today
Historic House Vs. Old House: What's The Difference?
Again, old homes and historic homes have a few key characteristics that set them apart. Historic homes have historic building designations that make them subject to preservation rules and regulations. On the other hand, owning a charming old home comes without those restrictions.
For folks interested in obtaining historic home designation for their home, the National Park Service has a wealth of information and guidance to offer. It recommends that if you're interested in moving forward with the process, begin by contacting their state and local historic preservation offices.
What Is A Historic District?
Historic districts are groups of buildings, properties or sites by different real estate that has historic or architectural significance. Historic districts are selected at the federal, state, or local levels. Because the overall charm of the neighborhood generates revenue for the community, local designations tend to have the strictest and strictly enforced rules.
In some cases, a home may not meet the criteria to be a historic home on its own. But, if it is a part of a historic district, it may gain the rights to historic preservation. On the other hand, some houses may avoid the historic protections if there are considered "noncontributing."
Here are a few examples of historic districts around the nation.
Henderson Place Historic District In New York
On 87th Street between York Avenue and East End Avenue sits Henderson Place. With three roadblocks and a private road sitting on one side, the buildings were once included in a development of 32 houses.
Eight of the remaining buildings have been demolished, but the ones that remain are in Queen Anne architectural style. Also among the historic district are the houses located across East End Avenue. This district has even homed some famous residents: Horace Green and the Duke and Duchess of Richelieu.
Victorian Row Historic District In California
Representing the most cohesive surviving portion of the 19th-century business district in Oakland is The Victorian Row Historic District. This is a vital part of the district's role in commercial development. This small district, located in the leading city in the East Bay, represents how extremely detailed commercial design was in the 19th century.
While this district is small, it emanates the period's sense of time. All the while showing how this era was a period of the 19th century's most significant commercial expansion.
Thornton Park In Florida
There are six local historic districts nestled in Orlando. Thornton Park is the most popular district, filled with restaurants, salons, and boutiques. This revitalized community commemorates its history while incorporating fun, contemporary attractions. The homes have diverse styles, from Craftsman-style structures and 1920s bungalows to Tudor Revivals. These beautiful structures span across restored brick streets with impeccable landscaping.
Pros Of Owning A Historic Home
There is plenty of things to love about owning a historic home such as the quirky features and old-world charm. Here are some other advantages of owning a historic home.
A Showcase For Your Love Of History
History buffs often love the art, history and architecture that comes with owning a historic home. The enchanting features and aesthetic of the home make owning such a unique property special. Buying a historic home is not only about putting down roots, but the emotional connection buyers feel with the property.
A Community That Protects Its History
When you purchase a historic home, you're protecting a home's historical significance and its neighborhood. Preserving its significance can maximize tourism and protect home values.
So, you know that your neighbors also have a duty to maintain the character and history of the district. Which may give you peace of mind, knowing they must uphold the standard set by the community.
Greater Appreciation
Well-preserved historic homes in a designated historic district can outpace existing home values generally. While official figures aren't kept regarding the increase in value of historic homes, a study from New York City indicates that historic designation does raise home values faster, while a study from Washington, D.C., offered mixed results: residential home values rose while condominium prices fell.
Possible Tax Benefits
There is the possibility of tax incentives for historic preservation, particularly at the state and local levels. For example, the Federal Historic Preservation Tax Incentives Program may offer you a 20% tax credit for restoring a historic building with the intention to rent. Visit local and state preservation departments to learn more about tax relief you may qualify for.
Financial Assistance
If a historic home seems out of reach, there are grants or other forms of financial assistance to pay for historic preservation efforts. To review the grants available, visit HistoricFunding.com, which manages a comprehensive funding resource for historic preservation efforts.
Your Remodel Is Waiting.
Explore personal loan options to finance your home improvements.
Get Started Today
Cons Of Owning A Historic House
Although owning a historic property has plenty of advantages, it may require more care and upkeep than you initially bargained for. So, before buying a historic home, here are some of the drawbacks worth considering.
Historic Home Renovations Are Closely Regulated
Being a homeowner in a historic district is like joining a very conscientious homeowners association. While neighbors may share a love of history, they'll also have a say in any changes homeowners want to make that could impact the district as a whole.
Also, it's important to point out that some historic districts, such as those in tourist heavy locations, may be monitored very closely. In such districts, the constraints may be even stricter than in many HOAs.
Renovations Will Cost More And Take Longer
When completing renovations or repairs on a historic home, methods and materials will need to be approved. The approval process can delay renovations and add to costs and labor, as more highly trained specialists may need to be hired. Additionally, you must apply for permits when the renovations impact the exterior of the home. Renovations alone create enough headaches. Therefore, the oversight may seem obstructive.
Also, due to the age of the home, you may find that renovations or repairs are required more often. Again, while some state and local districts don't require certain upkeep, others may, which can add to the expenses of maintaining the property.
Insurance And Financing Will Be More Costly
Insuring and financing a home can be a little more challenging than doing so with a traditional home. The cost of rebuilding or repairing a historic home can be expensive, which makes it an unattractive prospect to insurers. But there are insurance companies that specialize in insuring historic homes. So, while you might have to pay more for coverage, you will find an insurance company willing to sell you a home insurance policy.
Additionally, lenders might also shy away from a historic home outside of a well-established district because its value may be unique or niche.
The Bottom Line: Historic Homes Offer A Sanctuary From The Modern World
Owning a historic home comes with unique benefits and challenges that might be more than worth it to a history lover. But, before you purchase a piece of history, make sure you understand the requirements of ownership, and if the purchase outweighs the hurdles you'll experience.
Start searching for your historic dream home by getting preapproved for a mortgage online today!
Apply for a mortgage today!
Apply online for expert recommendations with real interest rates and payments.
Start Your Application