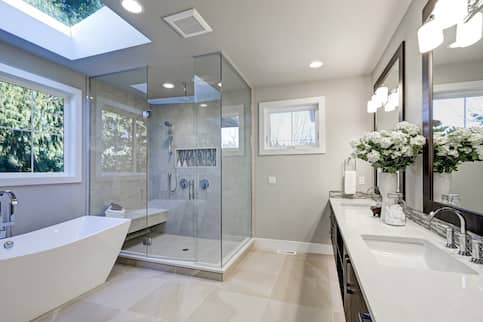 How Much Does A Bathroom Remodel Cost?
Published on June 9, 2023
If you're a homeowner yearning for a bathroom that exudes pure luxury, you're not alone. The possibilities for bathroom remodels are endless – from mid-sized makeovers to lavish transformations entailing a complete overhaul with high-end materials. Alternatively, you can embark on a smaller-scale project, spending under $500 to upgrade individual elements like a toilet, shower stall or faucet.
A bathroom remodel typically entails updating your flooring, toilet, tub/shower and fixtures. Remember, your project is a remodel, not a renovation, because you're changing and enhancing the space instead of restoring functionality to a defunct room or changing the layout. Fortunately, every upgrade is an excellent home improvement investment because bathroom improvements can provide up to 70% ROI for your home's value. In addition, you don't have to let the bathroom remodel cost inhibit the creation of your dream bathroom. Here's a guide for what you can expect in your budget and how to reduce expenses. These price ranges are from Angi and current as of May 2023.
Average Cost Of A Bathroom Remodel
While costs vary by location, the average cost of a bathroom remodel is $11,398. Although numerous factors influence the final number, you can calculate bathroom remodel cost by square footage. Specifically, it'll be between $70 and $250 per square foot. Remember, you can fit more cabinets, a larger tub and multiple sinks in a large bathroom. On the other hand, a tiny bathroom may only require a handful of tiles, a small sink and a toilet. Therefore, your bathroom size is critical to consider for the remodel.
See What You Qualify For
Congratulations! Based on the information you have provided, you are eligible to continue your home loan process online with Rocket Mortgage.
If a sign-in page does not automatically pop up in a new tab, click here
Average Cost By Size Of Bathroom
You can make a preliminary estimation of your project when you know your bathroom's square footage. Here are the most common bathroom sizes and their average costs for remodeling.
| | |
| --- | --- |
| Bathroom Size (Square Feet) | Average Cost Of Remodel |
| 25 | $1,800 - $6,300 |
| 40 | $2,800 - $10,000 |
| 50 | $3,500 - $12,500 |
Next, here is how your bathroom type affects project costs:
Half Bath ($2,100 - $7,500)
Half baths are usually about 30 square feet. Using the average cost per square foot, remodels can cost around $2,100 to $7,500. This size of the room doesn't require a new shower and fits one sink and toilet. Plus, you might lay new tiles, install a vanity and repaint.
Guest Bath ($5,600 - $20,000)
Next, guest baths are around 80 square feet on average. They are full-service bathrooms containing a tub/shower, toilet, sink and vanity. Therefore, they cost more to remodel. Budgets for this based on size may be around cost between $5,600 – $20,000.
Ensuite/Primary Bath ($8,400 - $30,000)
The ensuite is the most luxurious bathroom in the house and therefore the most expensive to remodel. In addition, it's usually larger than a guest bath, requiring more flooring materials. Plus, homeowners are more likely to install sprawling counters and multiple sinks. The estimated remodel cost is between $8,400 and $30,000 (based on an average size of 120 square feet).
What Factors Affect Bathroom Remodeling Costs
Now that you have an overview of average remodeling costs, it's time to move on to specifics. Each bathroom feature increases the project cost, including materials, fixtures and labor.
Cabinetry
Different manufacturers offer cabinets with varying price ranges, so it's advisable to explore your options. In addition, installing cabinets yourself may not be the best choice, as mistakes are expensive to rectify in the future. Instead, hiring a contractor is worth considering to ensure a satisfactory outcome. Cabinet installation costs can range from $1,500 to $42,000, depending on the cabinets.
If you want to reduce costs, a bucket of paint can replace your cabinet budget. A fresh, vibrant color can refresh outdated cabinets and add years to their life.
Countertops
When selecting countertops for your bathroom, consider your specific needs. While bathrooms experience high traffic, they generally don't require the same level of durability as kitchen countertops. Many homeowners opt for laminate countertops due to their affordability and easy installation. On average, countertops and vanities range from $100 and $4,300.
Shower And Tub
A new shower has a wide range in cost, running between $500 and $5,000. The price depends on the chosen features and the material used for the shower. For example, showers with stone flooring and integrated seats are more expensive, typically costing $4,000 to $5,000. Likewise, freestanding tubs alone cost about $3,700, dramatically raising your costs. On the other hand, smaller acrylic showers are at the lower end of the price spectrum, costing approximately $500.
Tile And Flooring
The expense of renovating the bathroom floor depends on the chosen material, so it's best to contemplate the aesthetic you're aiming for before installation. For instance, linoleum is a budget-friendly option, with an average cost of $45 for a standard-sized bathroom. On the other hand, heated bathroom tiles cost $20 to $40 per square foot. Remember, flooring usually calls for professional installation, increasing the final cost.
Sink
The price range for sink installation varies from $215 to $625, and the choice of sink should match the type of vanity you select. For instance, say you envision having dual sinks placed side by side or a stylish vessel sink that sits above the counter. In both cases, it's essential to consider the sink's compatibility with fixtures, plumbing and the surrounding countertops.
Here are specific numbers for various sink types:
Wall-mount sink: $350-$650
Drop-in sink: $60-$500
Undermount sink: $170-$2,000
Farmhouse sink: $360-$2,000
Pedestal sink: $330-$730
Vessel sink: $450-$5,000
Faucets And Toilet
While faucets and toilets aren't usually a large chunk of the budget, added features can inflate costs. That said, the materials and installation of a toilet are inexpensive compared to other remodel expenses. For example, basic toilets that fulfill their purpose can be purchased for around $80, while high-end and stylish models can cost up to $8,000.
Paint

Paint can provide high value for your investment because it's one of the least expensive aspects of a remodel. However, it can significantly improve the room's appearance. Painting the bathroom typically costs between $350 and $750, and it's one of the most manageable DIY portions of the remodel.
Plumbing
Unlike painting, plumbing tasks are best handled by professionals. Water- and pipe-related work often requires the expertise of plumbing professionals, and DIY-induced mistakes can cause thousands of dollars' worth of damage.
Plumbing material expenses can reach up to $1,450, while labor costs can go as high as $16,000. Although plumbing can be expensive, it is essential to have it done correctly, making it a worthwhile investment. As a result, this item should be a top priority in any remodeling budget.
Walls, Doors And Ceilings
The structural elements surrounding your bathroom are crucial to the remodeling process. For example, installing a new door typically costs $360 to $1,200. The cost will depend on whether you choose a pre-hung door or opt for customization, such as a pocket door. Additionally, trim will cost $2 to $3 per linear foot, and hardware expenses amount to around $200.
If you're introducing a new door or window, consider the cost of installing a wall. For instance, creating a new wall opening will generally cost between $120 and $200. Adjusting the wall may also require the assistance of an engineer or a mold specialist if your contractor discovers unexpected issues.
In addition, new walls can mean new windows. Replacing an existing window, including materials and labor, costs approximately $280. However, if you intend to install a completely new window and cut an opening, the cost can reach around $6,400. Alternatively, consider investing in glass block windows, which you can purchase for about $710, or adding frost to traditional windows to enhance privacy.
Lighting And Ventilation
Ensuring effective moisture control is crucial in safeguarding your bathroom against mold and water damage, so installing a bathroom vent fan with a light is an excellent idea, typically costing around $400. Alternatively, you have the option of hiring a professional to handle the installation of vent fans. More intricate vent systems incorporating heating lamps can cost up to $425, while unfussy wall-mounted vents can be as affordable as $130.
Aside from ventilation, bathroom lighting serves both functional and aesthetic purposes in your bathroom's design. Installing a new light fixture can range from $150 to $930. You can choose a simple ceiling-mounted light for as little as $90 or indulge in an antique chandelier that may cost up to $2,000. Recessed and track lighting are also options that can help define different areas within the bathroom, such as the vanity space and the tub or shower.
Labor
To bring your bathroom remodel to life, it's best to hire a skilled and accomplished team of professionals. Labor costs typically account for 40% to 65% of your overall remodeling budget, translating to an hourly rate of $50 to $75. Remember, labor expenses will vary depending on the complexity of the project. Additionally, your region will influence the total labor cost.
Here are the typical fees associated with hiring a bathroom remodeling team:
Contractors: 10% to 20% of the total project cost
Plumbers: Hourly rates of $45 to $200
Interior designers: A rate between $50 and $200 per hour
Electricians: Prices range from $50 to $200 per hour
HVAC repairs: Hourly rates for HVAC repairs typically range from $50 to $100
While you may be able to handle minor upgrades, such as a paint job for your cabinetry, more complex bathroom renovations will require the expertise of a professional team.
Need extra cash for home improvement?
Use your home equity for cash-out refinance.
Start My Approval
Additional Costs And Things To Consider
Even the best-laid plans can suffer disruptions after your remodel begins. Unfortunately, unexpected costs can break your remodeling budget, and the best way to avoid this is to plan for additional expenses. Here's what to preempt in your budget.
Permits
You may need building permits depending on your municipality and the project's scope. These can cost between $100 and $1,000. Fortunately, your contractor and other hired professionals can help you identify what permits you need and streamline the application process.
Floor Plan Changes
If you decide to alter the layout of your bathroom during the remodel, expect an additional cost of $5,000. Unlike simply rearranging furniture in the living room, you'll relocate fixtures connected to plumbing and purchase tiles to align with your new vision. The remodel may also require rewiring, framing, drywall installation, and insulation. The overall expense of adding a new bathroom to your home ranges from $5,000 to $35,000.
In some instances, it may be necessary to enlist the services of a structural engineer. Their expertise covers inspections and recommendations related to modifications involving walls, ceilings, windows, doors and the addition of a heavy bathtub.
Additionally, bathroom construction is subject to strict building codes, which can contribute to increased costs. For instance, a sink should be at least four inches away from the nearest wall. These kinds of rules could mean reconfiguring your floor plan even if you didn't originally intend to do so.
Universal Design And Accessibility
Universal design means your bathroom is accessible and usable for everyone, regardless of age and medical conditions. As a result, it's best that homeowners who want to stay in their homes long-term and safely age in place remodel their bathrooms with universal design in mind.
Bathrooms can present unique challenges, but there are various fixtures you can install at appropriate heights to enhance accessibility, including toilets, sinks, countertops, cabinets and towel racks. Additionally, widening the door frame and removing the shower curb may be necessary for wheelchair users.
The average cost of building an accessible bathroom from scratch is $9,000. Alternatively, if you prefer to add individual fixtures to improve accessibility, the cost can range from $100 to $3,000. Installing a walk-in bathtub, which is a popular option, typically falls between $4,000 and $12,000.
Another popular choice for enhanced accessibility is converting the bathroom into a wet room, eliminating the need to step over a shower threshold and addressing concerns about waterproofing. The cost of installing a wet room can range from $2,000 to $30,000, with an average cost of $9,000.
Budgeting For A Bathroom Remodel
Next, it's helpful to consider specific factors before taking on a remodel. Doing so can help you control your budget and get what matters most from the project.
First, identify your goals. For instance, you might remodel the bathroom to boost your home value and sell the home within a few years. On the other hand, staying in the home for decades to come can mean focusing on accessibility.
Next, draw up a budget. This way, you'll define the project's scope and assess its cost-effectiveness. In addition, a budget can help you anticipate the likely causes of budget overruns. Then, you can decide on your funding source, whether you use personal funds or financing. Remember, you can finance a remodeling project with a personal loan, cash out refinance, home equity loan or home equity line of credit (HELOC). Rocket Mortgage® does not currently offer HELOCs.
Finally, it's wise to consider how to reduce your costs. For instance, while hiring a contractor is essential, you can DIY a portion of the project, such as swapping out hardware, repainting cabinets or installing the toilet. Similarly, retaining your layout eliminates the costs of switching the plumbing.
DIY Vs. Professional Bathroom Remodel
Because labor expenses comprise between 40% to 65% of the total bathroom remodeling project cost, it can be tempting to DIY the entire project. For example, a DIY approach can save you approximately $1,500 to $5,300 on labor for a full bathroom measuring around 40 square feet. However, it's vital to note that only specific tasks are suitable for DIY, and contractors often have access to more affordable materials.
For larger projects like these, hiring a contractor to ensure the job is done correctly can be worthwhile. Costly errors, such as improper flooring and wall tile sealing, incorrect plumbing modifications or compromising electrical components, can accumulate expenses beyond the initial remodeling cost when handled without professional assistance.
Furthermore, enlisting the services of an insured bathroom contractor provides coverage in case of mishaps. This level of protection is typically not available when you handle the project independently, leaving you responsible for any scratches, cracks or accidental drops.
Bathroom Remodeling FAQs
Here are the answers to three frequently asked questions to round out your understanding of bathroom remodels.
What is a realistic budget for a bathroom remodel?
The average cost of a bathroom remodel is about $11,400 nationwide. However, your bathroom size, materials, DIY ability and location will influence the cost.
What is the most expensive part of a bathroom remodel?
Generally, labor is the most expensive part of a bathroom remodel. Hiring contractors and professionals for your project usually costs between 40% and 65% of your budget.
Why is a bathroom remodel expensive?
A bathroom remodel can be expensive because of a confluence of factors. First, the space requires plumbing and electrical work, meaning you'll hire multiple workers for the project. In addition, the remodeling options are endless, from redoing your flooring layout to upgrading your toilet and tub, which can each cost thousands of dollars by themselves.
The Bottom Line
Remodeling your bathroom can cost over $10,000, even for a modest project. Because it's crucial to have correct wiring and plumbing, paying contractors is inevitable for most remodels. However, you can reduce expenses by DIYing the simpler parts of the project, such as replacing a new toilet or putting a new coat of paint on old cabinets. Overall, it's best to create a budget ahead of time and spend on your priorities.
If your budget is bigger than your bank account, financing is available. For instance, you can use a home equity loan or do a cash-out refinance to tap your home's worth and finance your bathroom remodel.
Apply for a Home Equity Loan online.
The Rocket Mortgage® online application is simple and secure.
Start My Application