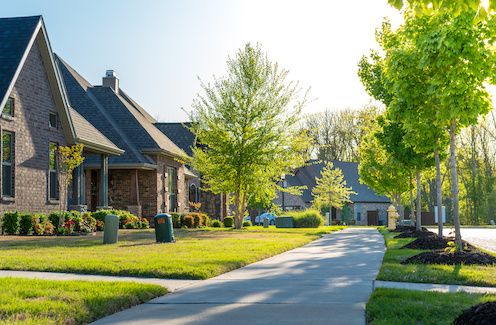 How To Buy A House Out Of State In 10 Steps
Published on December 8, 2021
A new job. A sense of adventure. A desire to be closer to family, or to even have a second home as a rental property. There are many reasons home shoppers might be looking to purchase a home in another state. While a fresh start in a new locale can be exciting, it also adds a few more layers to the steps for buying a home.
Moving in general can be stressful, and moving to another state requires additional planning, communication, logistics and costs. Luckily, advancements in technology have made the prospect of buying a home out of state more manageable, even when you have limited ability to travel.
If you're thinking about moving to another part of the U.S., we're here to help. Below, you'll find a step-by-step guide for buying a house in another state.
1. Do Your Research
Getting to know a new place from afar – especially one in another state – can be difficult, but there are several ways to research an area.
City Website
If you know what city you'll be moving to, or have a list of areas you're interested in, visit each area's website.
There, you may find information on services, facilities and parks for resident use, parks and rec activities offered by the city, various services provided for residents and city laws and ordinances. You may even find news stories that are specific to the city.
This brings us to our next resource.
Local News
Start by reading local news articles online to learn about events and other happenings, (virtually) meet community members making a difference, discover new businesses popping up and even learn more about the drama or crime happening in the area. This can help you decide if it's the right fit for you and your family.
Google Maps
Use Google Maps to find your new home's proximity to schools, hospitals, parks, grocery stores, restaurants and other attractions. Once you have the names of the nearest school, businesses and spaces, look them up and do your research on each one so you know which to attend or avoid and what to expect. Check out their websites and read reviews. Then, visit their social media sites and see how they interact with their clients.
Resident Groups On Social Media
If you already know the city you're moving to, request to join the community group through social media platforms such as Facebook or Nextdoor. There, you'll be able to read posts from residents about things they're experiencing as they live in the city.
These groups provide a more personal view of life from actual residents who are a part of the community. You'll be able to find hidden gems from people raving about their experience, uncover common problems many residents face and see how neighborly people within the city act towards each other. You can even post in the group – introducing yourself as a new resident, asking questions about the area and getting tips and recommendations from people who know it best.
2. Make New Friends Online
Networking is a powerful thing. Technology makes it easier than ever to find people who know people who know people. Along with connecting with your new neighbors in social media groups, reach out to people you already know. Ask if they know anyone who lives in or near the area you're moving to, and if so, ask to be put in touch with them. People are happy to talk about their city and make recommendations on their favorite neighborhoods, and the best local restaurants and entertainment.
If you have a job lined up, reach out to your future co-workers if you can. That will be an easy way to introduce yourself and get to know them better because the convo can start with questions about the area.
You could also check out other online communities, like Meetup, to find people with similar interests or job skills in your area and learn about various events happening that may interest you.
3. Contact Relocation Experts
A relocation expert's job is to make the moving process as smooth as possible. Their services may include helping with the logistics of the move, including finding a moving company, shipping service and storage facility for you; coordinating travel for you, your family and your pets; enrolling your kids in school and even overseeing contract work that's being done to your new home. If you're not interested in paying for all the services they offer, you can often ask for relocation materials at no cost. While the information might not be as personalized, it'll still provide some insight and answer any relocation questions you might have as you begin to narrow your search.
Many companies offer relocation packages that may cover moving expenses and offer a relocation specialist for employees moving from out of state. If your new company can't supply you with one, you can find relocation experts just by looking up "relocation experts" and the ZIP code or name of the city nearest to where you're moving.
A relocation specialist may also help you sell your current home and purchase a new one. If you can't find one to help with those services, finding a good real estate agent will be your next step.
4. Find A Good Buyer's Agent
One of the most important things to do while looking for your next home is to find good buyer's agents who specialize in working with home buyers. It's even better if you can find one who focuses on working with out-of-state buyers.
A buyer's agent has a fiduciary duty to the buyer, meaning they must act in your best interest throughout the real estate transaction. A few of the services they may provide include finding homes for sale that meet your needs and preferences and attending open houses on your behalf if you can't travel to view the homes in person. They can also assist in negotiations, home inspections and the closing process. A buyer's agent can recommend professionals for any other services you may need.
To find a buyer's agent, search for local listings online and then visit each agent's website to learn more about them and read through their online reviews. You may also consider contacting listing agents who appear frequently in online listings and asking them for referrals to buyer's agents. If you're not sure where to start, try browsing the collection of top-rated, verified real estate agents on Rocket HomesSM.
5. Get Lots Of Pictures And Videos
Since you may not be able to view the home in person, it's imperative that you get as close to viewing the home in person as you can. That means looking over as many photos and videos of homes you love as possible. Ask a friend or relative in the area to attend open houses of the homes you love and video conference you in so you can walk through with them. Or attend a virtual walk-through if one's available. You can also ask your agent to visit the homes and send more pictures or videos as well.
6. Keep An Eye On Home Sales
Staying up to date on the local housing market will help you determine the type of house you'll likely get within your budget and desired area and make an informed offer once you find the right home.
If you're selling a home, too, keeping an eye on the sales trends in your current area may help you better gauge your own listing price and the offer you should accept, and estimate how long it may take to sell your home.
If it's a seller's market where you're selling your home, you may be able to sell it fast and for a higher price. However, a seller's market in the area you're purchasing a home may mean you'll have to pay more and compete with other buyers.
On the flip side, if it's a buyer's market where you currently live, your home may be on the market for longer and may sell for less than you hope. However, a buyer's market in your search area will work in your favor because you may be able to purchase a new home for less and you won't necessarily have to compete with other buyers.
To stay on top of market trends in either area, you should window-shop for online listings in the neighborhood, attend local open houses, sign up for local agent newsletters or review a neighborhood trend report for stats and predictions in your specific area.
Working with an agent who knows the local market will also be instrumental when it comes to finding homes within your budget, making a fair offer and negotiating with the seller.
7. Organize Your Financing
The cost of living varies from state to state. When you start to familiarize yourself with local home prices and cost of living, it can be a shock – in a good way or bad.
If you're moving from an expensive market to a less expensive one, you may be relieved and excited by how much house you can afford and what kinds of lifestyle changes you can make with a lower monthly payment.
Of course, if you're moving from an area with a lower cost of living to a higher one, you may have to reconsider your housing options and your current lifestyle.
When budgeting for the home purchase, keep in mind the approximate closing costs and mortgage rate as well, and consider meeting with a mortgage lender to go over how much you should have saved up.
Along with a budget for your home purchase, you may also want to create a new budget for your other living expenses. Do your research and see what the average household in the area pays for things like utilities, groceries, health care and entertainment. You'll also want to figure out your updated transportation costs since your new home may be closer or farther away from school, the office, restaurants, stores and more.
8. Assemble Your Team
By this step, you should've found an agent you feel confident working with and have narrowed down your search or made an offer on the home. As you work through the rest of the process of buying a house out of state, you'll need the help of a few more people in your new area.
A buyer's agent can make recommendations for things like a home inspector or local real estate attorney, but it's also important to research and verify those recommendations online. Asking a relocation specialist or other people in the community for recommendations is another great way to find these kinds of professionals. Hopefully, by this part of the process, you've found success with steps 1 – 3 and have these resources you can turn to.
9. Familiarize Yourself With Your New State's Real Estate Laws
You may have dreams for what you'll do with your new property, but your new state may have other plans. All states have their own quirks when it comes to real estate law, so you'll want to be familiar with them before purchasing a new home.
Do some research to get familiar with things like zoning laws, building codes, property lines and even fencing in your selected area. That way, you can ensure there are no surprise restrictions when you want to make changes or improvements to your new property.
Your real estate agent and real estate attorney will be good sources to start with for gathering this type of information.
10. Work With A Reputable Title Agency
When it comes to buying a house in any state, a clean title is important. This shows the seller has the right to sell the property to you, the buyer.
The title is so important that you'll want to make sure you work with a reputable title company, which will perform the title search, survey the property and complete a legal document that states the seller has the right to sell the property.
The title company may also provide lender's and owner's title insurance.
The mortgage lender's title insurance is required and protects the lender's investment in the home should someone come along in the future and claim they own the property. An owner's title policy protects the homeowner's equity. Owner's title insurance is not required but recommended.
When choosing a reputable company, shop around. Ask for recommendations, get referrals and investigate the reputation of each company.
Bonus: Take A Trip
There's nothing that can substitute taking a trip to your new location, even with today's technology helping close the gap between virtual and real life. If you're able, go to the area and see for yourself what feels right.
If you're still in the home search phase, plan to visit a number of cities within your desired commuting distance from your job. Visit the downtown area, if there is one, and walk through a few of the neighborhoods. Note what you like and don't like about each one to help narrow your search to one area. If you have time, you may be able to attend a few walkthroughs or open houses.
If you've already purchased a home or had a bid accepted, take a trip down to walk through it before closing. Drive through the neighborhood, meet your neighbors and visit nearby restaurants and businesses to get a feel for what life will be like in the coming months.
The Bottom Line
: Follow These Steps And You'll Be Home Soon
Buying a house in another state may require a few extra steps and a little creativity. After all, you want to find a home you love from afar and figure out all of the logistics of your move. Technology is helpful, but nothing beats the work of friends, family, new neighbors, relocation specialists and a skilled real estate agent.
Ready to begin your home search? Get started on the home buying process with Rocket MortgageⓇ today.
See What You Qualify For
You can get a real, customizable mortgage solution based on your unique financial situation.
Get Started