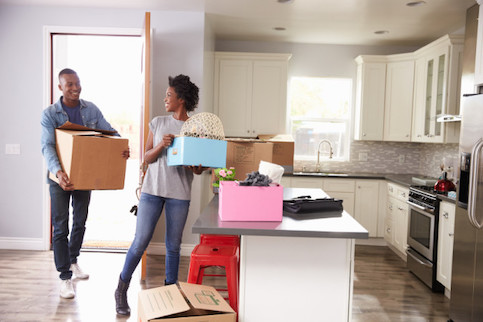 Tips On How To Find The Best Moving Company
Published on March 25, 2016
When I was planning my move from Washington, D.C., to Detroit, I didn't know how to find a reliable moving company in my area. Since I knew very few people there, I was unsure how to find solid referrals. I didn't have a ton of furniture but just enough that I didn't want to sell everything and start over again in Michigan.
I felt like mover hunting was more daunting than other tasks due to a lack of information. At the time, I wasn't aware of online resources like Angie's List. Angie's List is a service listing and review website where you can find a variety of companies in your area. So I ended up finding a small moving company on Craigslist. Overall, the cost and customer service was decent so I was glad that I had a good experience.
Melissa Moravec works as a Detroit-based senior relocation coordinator for the Quicken Loans Family of Companies. Every month she helps dozens of new hires and transferring employees with their relocation needs.
"The majority of the people I support are moving to Detroit, but I often help with moves all over the country, including Hawaii," said Moravec, who has worked in her role for two and a half years. "I've learned some helpful tips just from getting feedback from people after their move."
Here are Melissa's five pointers.
Tip #1: Word of Mouth Rules
The first thing to do is to ask your family members, colleagues and friends whether they would recommend a moving company in your area. You can also ask them for any helpful tips they can share.
"I know a lot of people rely on Internet searches to find a moving company, but I am a firm believer in word of mouth," she said. "Ask the people you know about their moving experiences; it's the best way to find a reliable mover."
Moving scams are common, and you want to ensure the company you work with is legit. Pay a visit to the company to see whether it seems like it's a reputable establishment. Are the trucks labeled clearly? You can search for your prospective company's motor carrier license information on the Federal Motor Carrier Safety Administration's website. Put in the company's USDOT number, which should be listed on their website or other company-related collateral, to see if everything looks acceptable.
Tip #2: Assess Your Needs
While a national moving company is best for an interstate move, it may ideal to use a local business for a move that's across town or within your state.
Determine what you need from a moving company since each one varies in costs, services and claim coverage they offer. Consider: truck size, packing services, moving supplies, long-distance movers or even short-term storage.
"It's so important to know how fast you'll need your stuff delivered because this may determine whether you need short-term housing," Moravec explained. "One guy I worked with told me that his stuff took almost a month to arrive in his last move! So specifically ask for a delivery date estimate so you can plan accordingly."
Moravec said she's found that some people don't fully understand how long-distance moves work.
"Some people don't realize that some movers load your stuff along with two or three other families' stuff onto a big truck," she began. "They aren't going to trail your family car on the route to your new city. You'll probably have to wait two or three days for your stuff to arrive on the truck."
Decide whether you plan to box your own belongings or whether you'll need the company's packing services, she said.
"The benefit of using a mover's packing services is it allows you to use their full insurance protection," Moravec said. "Then you can get the full coverages in case something gets damaged or broken in the move. They offer it when they do the packing because then they know the quality that went into packing."
Tip #3: Don't Rely on Internet Reviews
Moravec suggested not relying primarily on a company's website reviews when selecting a mover.
"I would be cautious about believing everything you read online. I've heard of companies creating fake reviews to make them look good," she said. "And on the other hand, there are some customers that you can never satisfy. Sometimes those are the ones that write bad online reviews that really hurt the business."
I do think the company's website is helpful to start your research but a personal recommendation is always better, Moravec said.
If you can't get a personal recommendation about a moving company, usually the company is willing to provide references from previous customers. Once you've narrowed down your choices, do an online search for any negative customer service reports.
Tip #4: Go with Your Gut
It's a common practice to have a moving agent come to your home to provide a free cost estimate. They'll come to assess your moving items and create an inventory list. This is when you can tell them that you'll be moving a boat, a piano or other unique items that require special moving instructions.
"I always tell people to use that initial visit to determine the vibe they get in terms of agent's attitude and their attention to detail," she said. "If you have a couple different companies come over, go with the one that you feel most comfortable with and not necessarily the cheapest quote."
Moravec warns that some companies are just out to make money and that going with the lowest quote may not always be the best idea.
"In some cases they're moving your family heirlooms and your valuables so good customer service is really important," she said. "Sometimes I hear complaints about the quality of service. So even if a company doesn't provide the cheapest quote, I would always go with quality over price."
Tip #5: Cover Yourself
Once you have selected a company, don't neglect to insure your belongings, especially if you're moving long distance, Moravec said.
If you had renters' or homeowners' insurance at your old address, that doesn't cover you while on the road in between homes. Most companies offer several insurance packages from which to to choose.
"Paying for moving insurance may take some stress off of your plate," Moravec said. "We all know someone who has shared a horror story about things coming up missing or broken. So avoid that if you can."
The moving company should issue you a bill of lading, a legal contract between the customer and the mover. Your contract should cover rates and charges, the mover's liability for your belongings, dates for pickup and delivery, and claims protection. Read it carefully to make sure you understand the agreement prior to signing.
Hopefully you've gained some new insight to help you choose your next moving company. If you have other selection tips, please add them below.