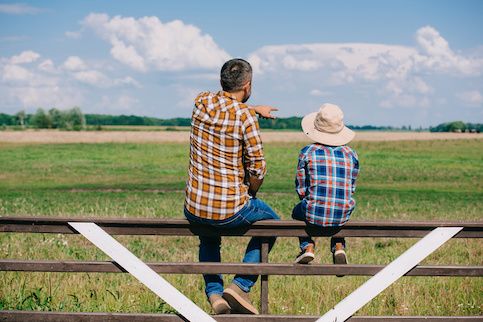 Property Lines: What They Are and How to Find Yours
Published on June 15, 2020
Disclosure: This post contains affiliate links, which means we receive a commission if you click a link and purchase something that we have recommended. Please check out our disclosure policy for more details.
If you own a piece of property, you probably have a general idea of where it begins and ends. To gain a precise sense about the property you own, learn more about your property boundaries and how to determine your property lines. With this knowledge, you'll know where you can and can't build or expand your real estate.
What Is A Property Line?
Property lines are the legal boundaries of your property. They clearly define who owns what pieces of land by dividing it. These boundaries can be obvious – like roads, ditches or fences – or they can be completely invisible. Knowing property lines is an important part of buying a home and being a homeowner.
Why Are Property Lines Important?
Property lines are important because they eliminate gray areas when it comes to property ownership. Because of property lines, you know exactly what land you're getting when you begin the process of buying a house. Your mortgage lender and/or title insurance company will need to verify the property lines to help you qualify for a mortgage.
Knowing your property lines is also helpful when starting a home improvement or major landscaping project. You'll want to have an understanding of where your yard ends and a neighbor's begins. That way, you won't end up accidentally building a new addition on your home or putting up a fence around your yard that encroaches on your neighbor's property.
Finally, being aware of your property lines shows that you're respectful of the neighboring premises. Knowing the boundaries of your property can help you avoid disagreements with your surrounding neighbors, especially ones that could lead to legal disputes.
Start Your Next Home Project Today.
Discover your personal loan options with just a few clicks.
Apply Now
How To Find Property Lines
Find your property line by visiting your local county recorder or assessor's office. You can access public maps of your street and locate your boundaries.
Many counties also let you access property lines online. If your property is on platted land, you may be able to access the plat maps online. A plat map is that of a town, section or subdivision that indicates the location and boundaries of individual properties. These maps show aerial views of your property, as well as detailed measurements of its dimensions.
How Property Lines Are Determined
We know that fences don't line every landowner's plot, so how do we define where one yard ends and the neighbor's begins? It's a little less than precise, but to help make things more standardized, nearly the entire country has adopted a protocol called the Rectangular Survey System (RSS).
Land surveyors use RSS to develop a system of rectangular parcels of land that can be added and measured to create an outline of the property. RSS works by dividing all land parcels into roughly 1-mile sections. The word "roughly" is used because these sections are hardly ever perfect.
Roads, creeks, rivers, lakes and tree lines often get in the way of the perfect mile. The lines are then separated into two types: meridians and baselines. Meridians run north and south, baselines run east and west.
The RSS system was first used in eastern Ohio in an area called the Seven Ranges. The epicenter of the system is on the Ohio – Pennsylvania border near Pittsburgh. County lines regularly follow this survey, and the creation of it in the Midwest explains why many counties are rectangular in shape. This system has since become the nationwide standard of how we calculate property lines today.
Property Lines And Home Appraisals
So, what does this mean for home appraisers? While conducting an appraisal of a given property, the appraiser will visit the county assessor's office in the local municipality to acquire property records. They will look at the parcel ID and legal description to verify the basic description of the property location.
If the property is in a subdivision, then it will most likely be measured by RSS, and property lines can often be identified on the associated plat map. If the appraiser cannot verify the property boundaries, they will have to request a copy of a survey that would have to be performed by a licensed surveyor.
Compare And Save
Have control over your money. Shop all your financial options in one place.
Find Your Best Offer
Boundary Line Agreements
Boundary line agreements are written legal contracts between neighbors made to settle disputes over property boundaries. They vary slightly by state, but the point is to have a way where property owners can agree on property line usage outside of going to court.
Boundary line agreements are not the same as boundary line adjustments. Boundary line adjustments are made when property owners want to exchange land, redefining the property line between them, typically done without involving money. Boundary line agreements are specifically used when there is a dispute over land and its use.
How Boundary Line Agreements Protect From Encroachments
One of the most common reasons for a boundary line agreement is when a neighbor has encroached on your property by building a structure on it. Often, this issue is only made known because you did a land survey for another project and discovered your neighbor built on your land.
In order to retain the title to that piece of property, you can create a boundary line agreement with your neighbor. In this agreement, your neighbor acknowledges their mistake in encroaching on your property and you allow the structure to remain standing. This allows you to retain legal ownership, your neighbor to use what they built and for you both to stay out of court. You retain the right to the property and if the structure is torn down or destroyed, the neighbor must rebuild it on their property.
If you wish to cede the property to your neighbor, you can file a boundary line adjustment, though you'll need to pay review fees, and the process takes longer than an agreement. Regardless of your decision, you need to do something if you ever intend to sell or transfer the property. A neighbor's structure on your property may make things more complicated the longer it goes unaddressed.
The Bottom Line
Knowing property lines is an important part of both buying a home and owning a home. When buying, property lines lay out in black and white what you're buying. For homeowners, property lines let you know what you're responsible for. If a tree falls across a property line after a storm, it's important to know who's liable for cleaning it up and covering damages.
If you're looking to make home improvements, understanding your property lines also ensures you don't build on your neighbor's land by mistake.
Are you interested in taking on a landscaping or renovation project in the future? Make sure you know your property lines before getting started. Then, get preapproved for a cash-out refinance to fund your home improvements and create your dream home.
Take the first step towards buying a house.
Get approved with Rocket Mortgage® to see what you qualify for.
Start My Approval