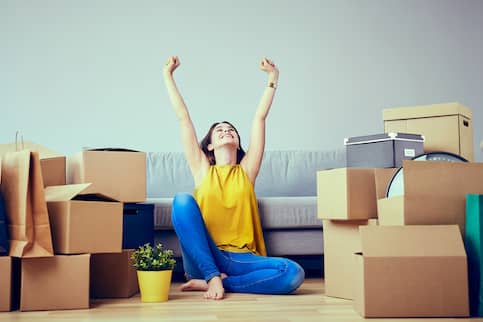 Where To Live Between Selling And Buying A House
Published on August 4, 2023
If you're selling a house, you likely have a lot on your mind. It's an exciting time before the next chapter in your life, with plenty of possibilities and choices to make. Unless you're buying and selling a home at the same time, though, it might be challenging to avoid a gap in housing. If you find yourself facing a gap, you'll need to weigh some options and decide where to live between buying and selling.
Luckily, lots of options are available to consider. Let's look at some popular strategies for finding temporary housing – along with the advantages each strategy has to offer.
Consider A Rent-Back Agreement
A rent-back agreement might be one of the simplest solutions. With a rent-back agreement, your real estate agent (who might also be a REALTORⓇ) will negotiate terms with the new owner for you to stay in your home after your closing date. This arrangement works best if the new home buyers aren't planning to move in right away. If you go this route, expect to sign an agreement with the new owners. It will outline how long you can stay in your old home as well as the monthly rent, utilities and more.
See What You Qualify For
Congratulations! Based on the information you have provided, you are eligible to continue your home loan process online with Rocket Mortgage.
If a sign-in page does not automatically pop up in a new tab, click here
Find A Short-Term Rental
Short-term rentals and sublets can be a perfect solution, but they'll take some planning. Landlords may be open to a short-term rental agreement depending on the location, time of year and the local real estate market. You can usually find 3- to 6-month rentals online or through a real estate agent's office. Short-term rentals or sublets might come furnished or unfurnished, so consider your storage needs as well as your living space.
You can expect to pay slightly more for the convenience of flexibility. A higher monthly rate or safety deposit is fairly typical. If you don't know your move-out date, you could negotiate a month-to-month lease. This type of arrangement can simplify renting between buying and selling – since you can extend your stay as you look for your new home.
Rent With Airbnb Or Vrbo
If you're planning short-term or last minute, an Airbnb, Vrbo or similar vacation rental services might be your best solution. These homes may only be available for a few days, and they're generally cheaper than a hotel stay. Many owners of vacation properties are open to longer reservations and some will even offer discounts for stays longer than a week, depending on availability.
Vacation rentals can be a great choice for families who want a seamless transition with the comforts of home. If your belongings are in a storage unit, knowing you'll have the ability to cook, park and stay in a safe neighborhood can be worth the extra money. You can even find animal-friendly rentals so you can stay with your pets during your transition.
I use airbnb a lot, and this is very common. I thought it was worth mentioning, but feel free to delete if it's inappropriate!
Check Into An Extended-Stay Hotel
An extended-stay hotel might be the right option if you're relocating, especially if your new job is picking up the bill. If this is your situation, remember to negotiate an appropriate stipend with your new employer. Some companies have deals with specific hotels and can arrange your accommodations while you look for a permanent home.
This type of hotel room provides a kitchen, a work area and a living area. However, the living space is likely to be smaller than a rental – which can get tricky if you're moving with a family.
Original wording suggested they are too expensive otherwise, when they are often fairly affordable in the suburbs.
Stay With Family Or Friends
Staying with family members or friends is a common solution when you're between homes – especially if you're in a tight spot with money or timing. This can be a great way to save for a larger down payment, particularly if your house sells for less than expected. If you choose to stay with friends or family members, you'll want to make sure your stay won't strain your relationships.
If you don't stay with family members or friends, perhaps consider asking them whether they have a rental property or know someone who does. A connection might help you get a better deal on a short-term lease. Using your personal network could even help you find a new home.
Apply Online with Rocket Mortgage
Get approved with Rocket Mortgage® – and do it all online. You can get a real, customizable mortgage solution based on your unique financial situation.
Apply Online
Rent An Apartment, Condo Or Rental Home
If available housing options don't fit your long-term goals, you might want to consider whether you should buy a house in the current market. That's especially the case if you're moving into a strong seller's market. Waiting a year and renting an apartment, condo or home might be the right choice for you. This means committing to temporary housing for a bit longer, which might help you avoid paying for a storage unit. You'll need to cover extra moving costs, though, if you're relocating short-term by changing rentals.
Another reason to rent between buying and selling is to take advantage of changes in the real estate market or changes in interest rates. A year-long rental might also offer the opportunity to go month-to-month at the end of your lease. This can be a great way to maintain flexibility so you can buy a house on your timeline.
Live In Your New Home
If you're buying and selling your home at the same time and all goes as planned, you might be able to move into your new home without a temporary stopover. But for this to happen, you'll likely need to close on your new home before selling your current home.
However, since many homeowners use the proceeds of their home sale to partly or completely fund their new home, this option can get complicated. You'll need enough money on hand for a down payment or you'll likely need to be approved for a bridge loan while you complete the home-selling process.
What Factors Can Influence Where You Live Between Selling and Buying?
Still not sure where to stay between selling and buying a house? Here are a few factors to consider.
Storage
Renting a storage unit long-term can be costly and inconvenient. If you or your family need your possessions on hand for health or happiness, storing them long-term might not be a good idea. If you won't have access to essentials, staying at an Airbnb or an extended-stay hotel or crashing with friends and family might be your best bet.
Sale Price
The sale price of your old home can have a big impact on your transition period and the purchase of your new home. If you make a profit from selling your home, the extra money can help ease your financial burden or go toward a new down payment. You'll have more flexibility to make choices based on your preferences versus your price point.
Market Conditions
The market you're moving into might influence whether you buy soon or delay purchasing a new home. If you sold your home when market conditions were good, you might be able to buy right away. But if you're moving into an expensive market, you might want to pick a cost-saving solution like staying with family for a while so you can continue to save for a down payment.
Neighborhood
Your new neighborhood might impact your temporary housing choice in a number of ways. Moving to a city usually means an array of options. However, options might be sparse when moving to the suburbs or a rural area. The limitations of your new location can affect your choices, either in price or availability.
Period Of Time
The length of your stay is a crucial decision-making factor. Short stays are likely going to make staying with family, renting an Airbnb or subletting a furnished space a more attractive option. Longer stays make a rent-back agreement or a long-term lease better for stability and cost. If you sign a lease, make sure to ask about a month-to-month lease option for greater flexibility.
The Bottom Line
No matter where you rest your head between selling your old home and buying a new one, planning is essential. You'll need to take personal factors like your timeline, storage needs, financial circumstances and new neighborhood into consideration.
Knowing your options ahead of time can make a big difference, especially if your new job is covering your move or you need to stick to a strict budget. Choose the solution that best fits your situation, whether that's a rent-back agreement or going the temporary housing route.
Looking for the perfect permanent solution to your housing needs? Apply for initial mortgage approval today and start shopping for your new home.
Take the first step toward buying a house.
Get approved to see what you qualify for.
Start My Approval