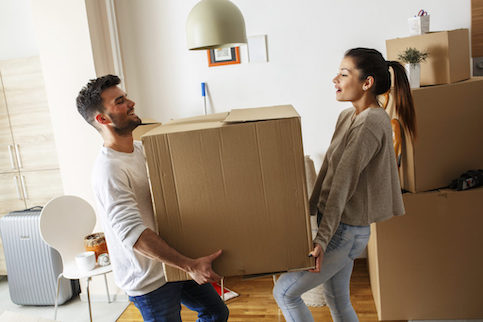 6 Things to Know if You Don't Use Professional Movers
Published on September 16, 2016
With the big time commitment and requisite heavy lifting, planning a big move without professionals may not be high on your list. In many instances, it can save money, despite stress that comes with undertaking moving day. I spoke recently with seven people brave enough to move without hiring experts.
Jessica Levi has literally moved about 15 times in the past 10 years! From New York City to Charleston, SC, to Chicago to Detroit, the film and video production assistant braved every move without the help of professional movers.
"I guess I inherited my philosophy of moving without professional help from my dad," Jessica admitted. "When I was a kid, my dad would say, 'I'm saving my money! Movers aren't something I'm willing to pay for.'"
Her dad once enlisted help from her brother's entire high school football team to avoid paying a professional company. The New Jersey native said that at times, it's been a challenge relying only on her trusty sedan as a moving truck. But, Jessica says it has saved a lot of money over the years.
"Through my countless moves, my motto has always been, 'If it won't fit in my car, then I'm leaving it or donating it to someone.'"
If you're also considering a move without hiring a company, here are the top six things you'll likely need based on the comments I've received. They are:
No. 1: Have a Moving Plan
A smooth move requires plenty of strategizing and packing. Pick a time and date in advance and don't forget to reserve a truck or van large enough for all of your belongings. If you don't plan on reserving one, be sure you can count on a friend or family member with a reliable vehicle to transport everything.
Try to estimate the costs to move and take the time to compare rates for truck and equipment rentals if possible. It may also be valuable to get a price estimate from a full-service moving company so you know how much you're saving.
"I think my move went well primarily because I really tried to plan and pack ahead," said Brittany Baker about her move into her first home. "My biggest pain point was probably maneuvering my furniture through the narrow doors and around tight corners was a challenge in my house. I admit that is probably something that would have gone smoother with professionals."
Brittany started packing her boxes weeks in advance and had the luxury of gradually moving into her home over the course of two weeks with help from her family.
"I schedule the painting and installation of new carpet ahead of time," she said. "I also worked to coordinate schedules and availability of everyone helping me."
No. 2: Get a Truck or Van
Check online or call a local truck rental company for price estimates of a do-it-yourself moving truck in your area. Ask detailed questions about the range of truck sizes, moving supply expenses and mileage rates. Keep in mind that most moving truck companies charge higher fees when you try to schedule a rental in the summer, on weekends and over holidays. If you're flexible, you can select a non-peak day to schedule your move.
"We didn't schedule a truck in advance of our last move," explained Jennifer Englemann, who bought a home with her fiancé last year. "Unfortunately our moving truck company didn't have a truck big enough for all of our stuff," she said. "So we were stuck making multiple trips between our houses —which took a lot of extra time."
Jennifer said she and her fiancé had to move an entire house of stuff minus kitchen appliances.
"We had a king bed, two full-sized beds, armoires, desks and a big television that got busted during our move," she said reluctantly. "It was truly a nightmare and we definitely learned a lesson."
No. 3: It's All About Boxes
Heather Rockensuess suggested getting free moving boxes from grocery stores or other local businesses. Those with whom I spoke emphasized the importance of labeling boxes to save time when they're unloaded from your truck.
"Use towels, sheets and clothing to wrap around your breakable items," said Heather. "Also, take the extra step to put your boxes into the right rooms rather than just throwing stuff anyway to empty your moving truck or car. If you don't, it's like you're moving your stuff all over again!"
No. 4: Valuable Tools
One of the most important pieces of equipment to make any move easier is a dolly. It saves time and reduces physical strain while moving heavy items up or down stairs. Consider renting one if you won't have access to an elevator.
"I strongly suggest investing in dolly," said Heather, speaking from recent experience after she and her husband moved from New York to Michigan. "Rolling three boxes at a time onto the dolly saves extra time with flights of stairs.
Other items to keep handy include:
Screwdrivers, assorted wrenches and pliers to assemble beds and shelving
A utility knife to open and break down boxes
Duct tape for boxes
A ladder to access light bulbs or high cabinets
Various cleaning products
Measuring tape to gauge door size or room dimensions
"Measure everything to help you plan ahead," warned Heather, who struggled to fit her kitchen table into her new house. "Then you'll know how you're going to fit your furniture in your house without busting a lightbulb or something in the process."
No. 5: Enlist Strong Helpers
Everyone I talked to agreed that moving day is the time you'll need support from your family and friends. Be sure to enlist help from reliable people who are physically capable to lift and carry boxes up and down stairs. Reliable help could likely translate to fewer trips.
"Somehow, I picked the coldest week of the year to move with no help," explained David Witkowski, of his recent move into his new Detroit-area home with his wife. "It took about seven separate trips for us with our rented moving truck!"
Chrissy Brackel agreed that helpers can make all of the difference.
"Moving is expensive enough, and since we had family who was willing to help, we saved a few hundred bucks by not hiring movers," she said. "We had a few strong guys who could lift the heavy pieces. We couldn't have done it without them!"
No. 6: Leave Ample Time
Since moving can be pretty exhausting, be sure to take a couple of days off from work to get everything done. Moving typically takes more time than anticipated so if you're moving out a rental, be clear on the time and date that you have to vacate your old place.
Also be sure that those agreeing to help have taken enough time off to assist with the bulk of your move. I've moved at least twice in the past 10 years where my helpers have abandoned me in process. (Big pain).
"My post-college move took over a day since I started moving my stuff out the night before," said Brianna Budny, recalling her last move. "I don't think I realized how much stuff I had acquired over the previous few years."
She said that going it without professionals was definitely an uphill battle, especially since she had only her mom to help.
"I had three flights of stairs!" she exclaimed. "I definitely could have used more helpers to make the time go faster. We were seriously dripping with sweat after that hard day's work."
I'm grateful that all seven people shared tips to reduce the stress and anxiety that comes with moving on your own. That was a consistent theme with everyone I interviewed. Hopefully these six moving tips save you grief and time. If you'd like to share wisdom you've gained from moving without professionals, please leave a comment below.